For the busy mom, father, or couple who want to add variety to their meals and make them healthier. An air fryer dehydrator combo can make all the difference in how many veggies your family eats. But how do you know which air fryer with dehydrator combo to get? To help you find the perfect one for your needs, we've put together this guide on the best air fryer with dehydrators available today.
We'll cover what to look for in each model, highlight some of our favorites from each category, and let you know how they stack up against each other.
Air Fryer Vs Dehydrator
What's the difference between an air fryer and a dehydrator? Both appliances are designed to cook food, but they use different methods. Air fryers use heated air to cook foods, while dehydrators use warm air to dry out the moisture from inside food. Since there are similarities between the two, there are also plenty of differences that set them apart from each other and make them great tools in different situations.
To learn more about how these appliances compare, check out our guide on Air Fryer Vs Dehydrator!
Top 5 Best Air Fryer Dehydrator Combos
You must know by now that an air fryer is different from an oven or electric fryer. It makes food crispy and crunchy with very little oil, compared to deep frying. In fact, an average of 1/2 tablespoon of cooking oil is used per one pound of food. But when it comes to dehydrating foods, you would like to save on space and cut down your electric bill too. So why not combine these two appliances into one that provides multiple functions?
Let's take a look at the best air fryer with dehydrators.
Our team of experts thoroughly researched each product we considered in our review. For more, read our review policy. We may earn an affiliate commission if you buy from our link at no extra cost to you.
Chefman 6.3 Quart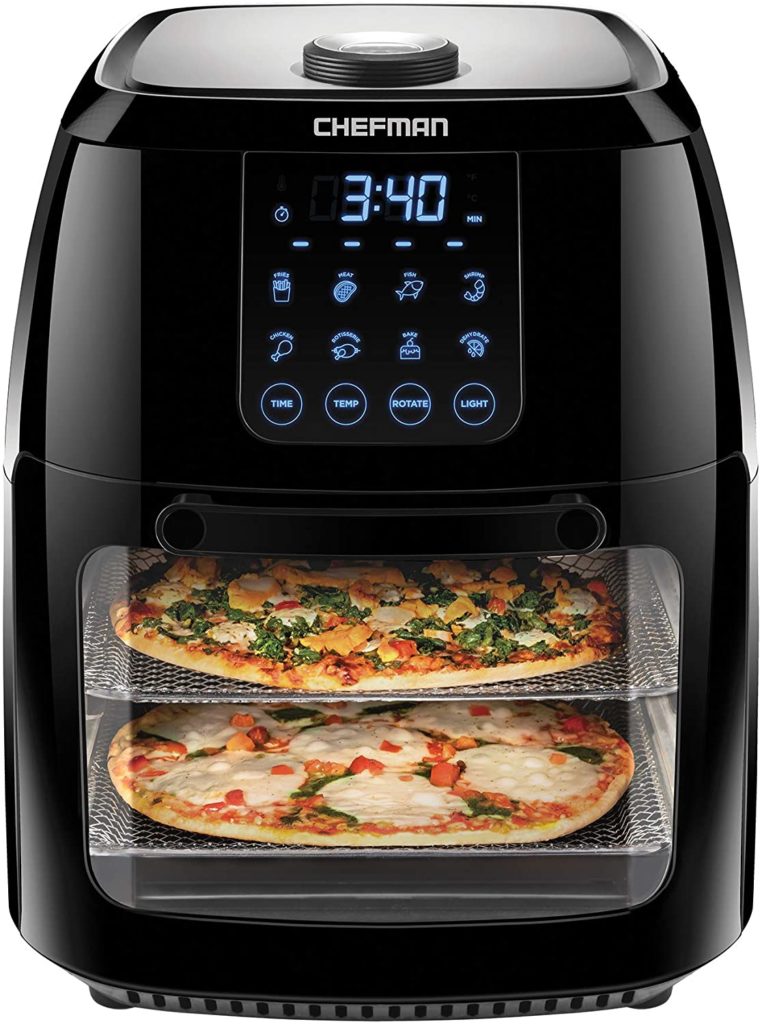 The only thing I regret is not buying this sooner!

– Says One verified reviewer on Amazon
With the innovative Chefman 6.3 Quart Air Fryer & Dehydrator, you can fry your favorite foods with little to no oil and also dehydrate your favorite snacks and treats. All in one appliance! Not sure what temperature or time combination to use? No problem! Chefman has included 8 preset automatic cooking functions with easy-to-use digital controls.
Thanks to its unique design, the heat is concentrated at the top of the unit so your dehydrating trays are not exposed to direct heat and will not overheat. The Chefman 6.3 Quart Air Fryer with Dehydrator is more than just an air fryer. It handles almost any cooking, baking, or dehydrating task!
A perfect gift for families or anyone who loves fresh, homemade food!
Features
Brand: Chefman
Watts usage: 1700 Watt/120 Volt
Accessories: 2 dehydrator Racks, a drip tray, and a rotisserie spit and basket
Weight: 11.05 lbs
Capacity: 6.3 Quarts
Reasons you should consider Chefman
The Chefman Air Fryer Dehydrator combo comes with 8 preset touch controls so you can make a variety of foods without guesswork.
With an adjustable temperature range from 90°F-450°F and a built-in 60-minute auto-shutoff timer, you don't have to worry about overcooking or undercooking your food.
Included accessories are a rotisserie spit, rotisserie handle, 2 airflow racks, drip tray, and rotating basket.
Reason you should not consider Chefman
Requires large counter space.
Cosori CS100-AO 26.4 Quart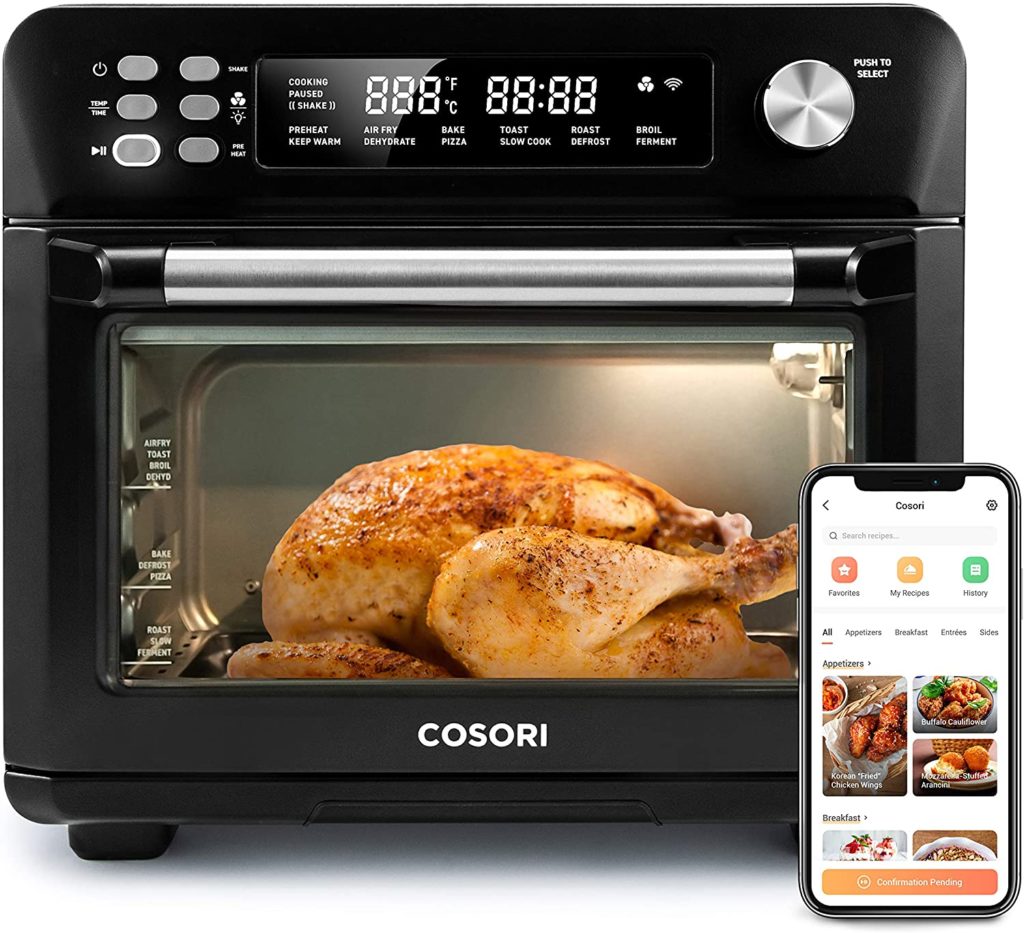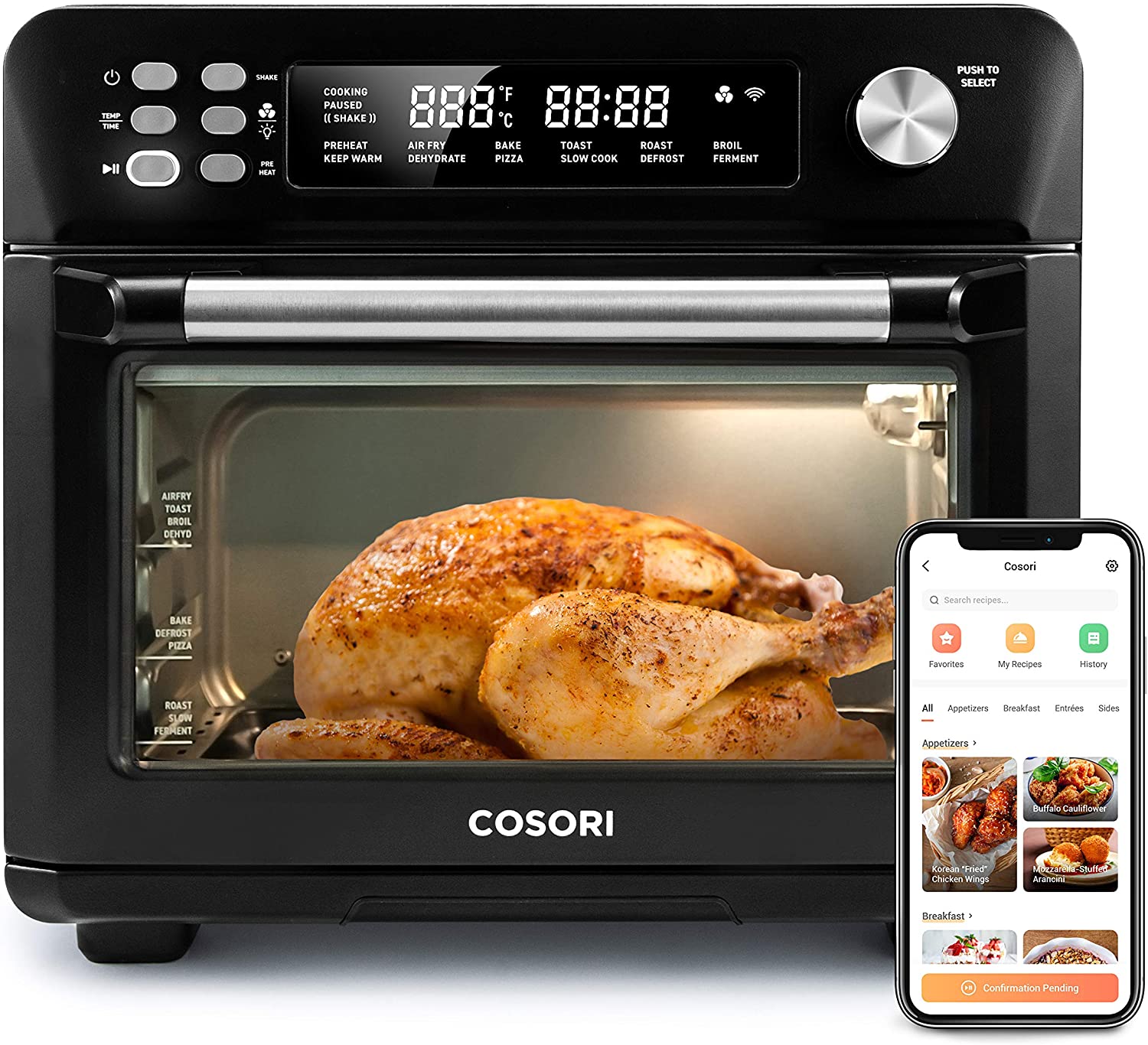 Cosori CS100-AO, a Wi-Fi-enabled smart air fryer that works with Alexa is one of the best rated air fryer with dehydrator on our list.
This multi-purpose air fryer dehydrator is the perfect tool for creating delicious meals for the whole family. It's built with 12 preset functions that make cooking almost anything easy, including dehydrating and broil to prepare dishes like air fryer fries, roasting and baking, rotisserie foods like chicken and pork, and more. Made from black brushed stainless steel with an elegant digital control panel and an interior large enough to hold a 12-inch pizza or 8 pieces of toast. This versatile appliance will be your new favorite kitchen gadget.
We think this air fryer/dehydrator combo is a great buy. It's easy to clean, fast, and efficient at what it does.

– Kitchen Deets
Features
Brand: Cosori
Watts usage: 1800 Watt
Accessories: 1 dehydrator rack, 1 drip tray, and 1 air fry basket
Weight: 22 lbs
Capacity: 25 Liters
Reasons you should consider Cosori CS100-AO
This premium appliance has a 26-quart capacity, allowing you to cook for the entire family.
The Cosori air fryer dehydrator combo integrates with Alexa, allowing you to use voice commands to turn on the device and set the time and temperature.
You'll not only reduce your oil use by 85%, but you'll also cut down on prep time by up to 30 minutes.
Reason you should not consider Cosori CS100-AO
Mobile App needs improvement.
GoWise USA 17 Quart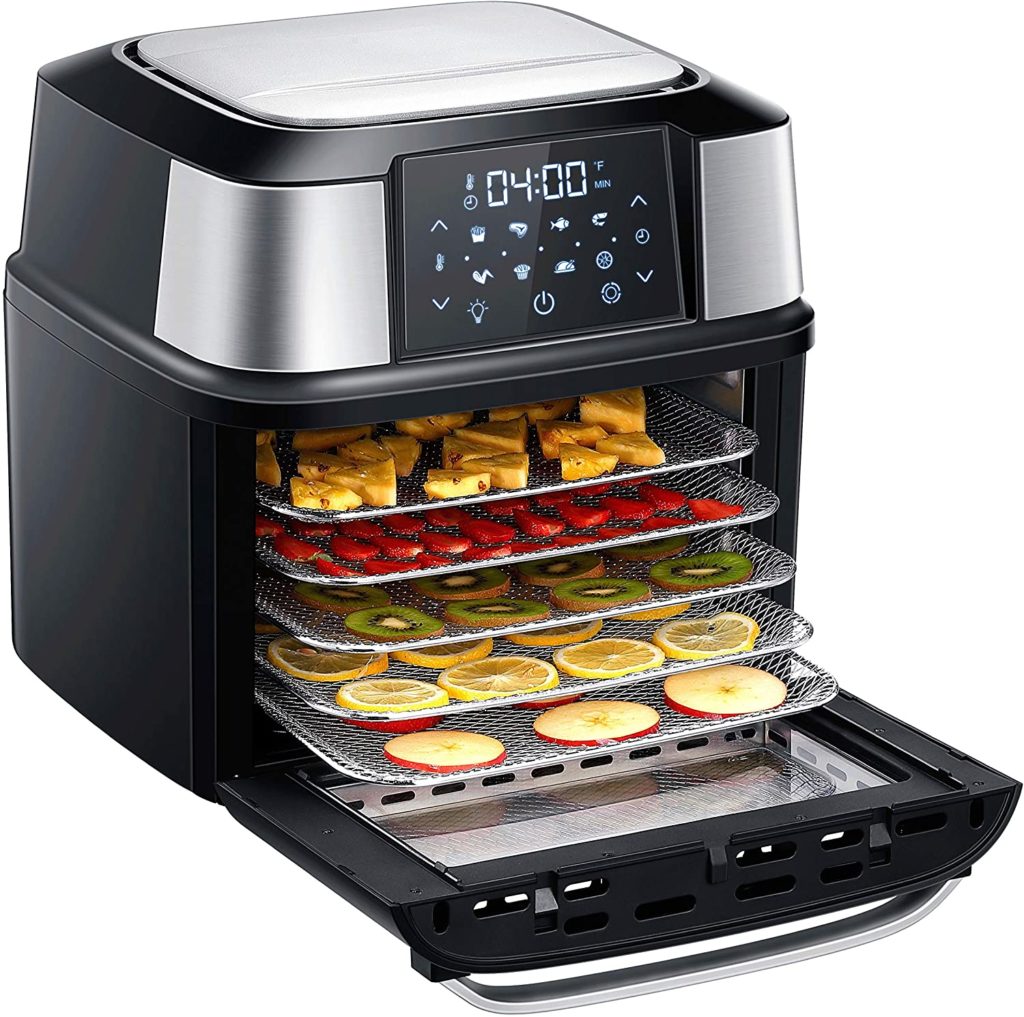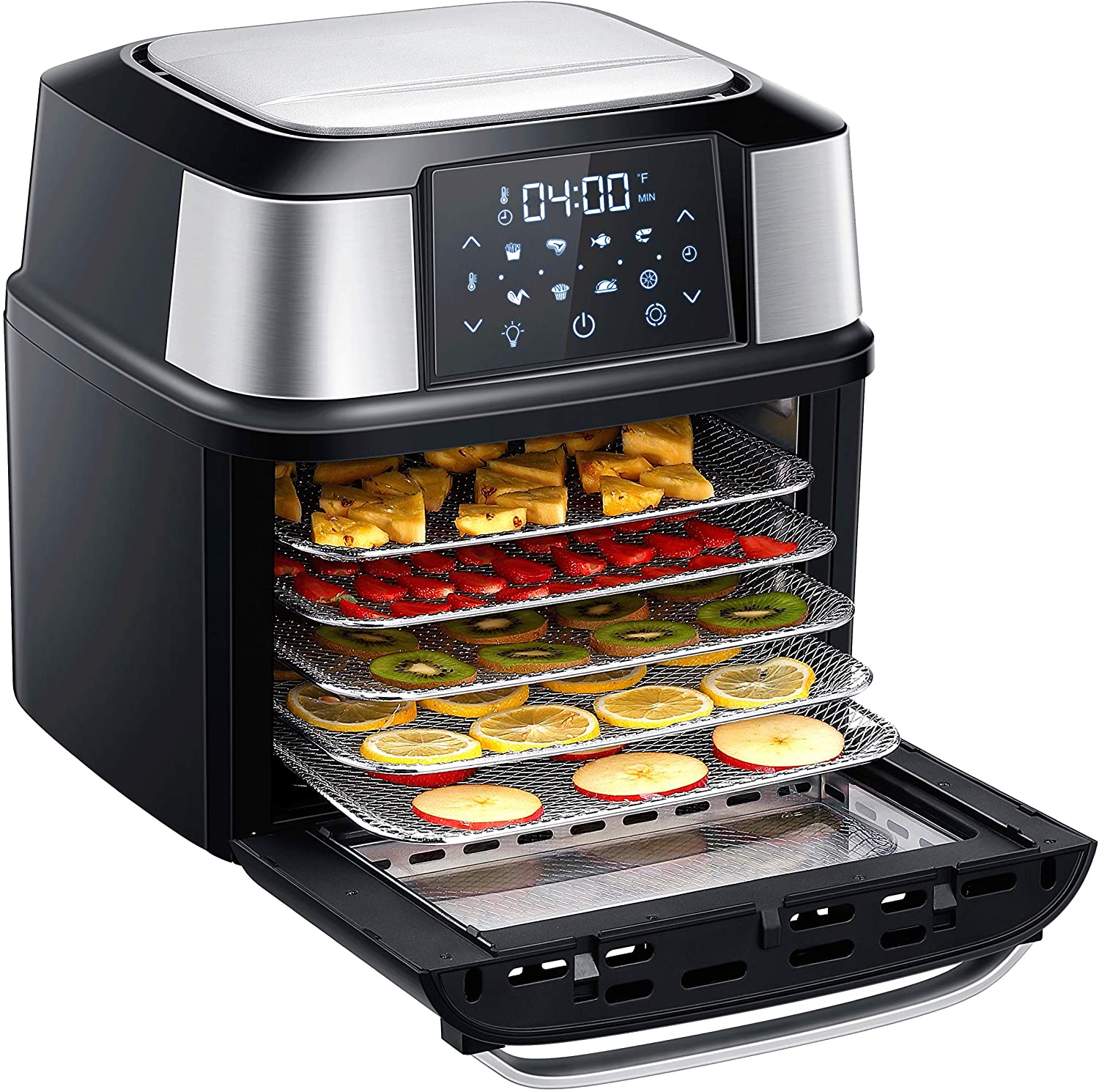 The GoWise USA air fryer with dehydrator is the perfect combo of 2-in-1 gadgetry. This item, with a 30% larger basket than the previous model can air fry, roast, bake and reheat food that has been prepared ahead of time.
From fries to wings, GoWise 17-Quart Air Fryer Dehydrator helps you make all your air frying favorites one batch at a time. And when the feast is over, simply use it as a dehydrator and save your fruits and veggies for use in smoothies, ski snacks, and more.
This Air Fryer Dehydrator combo is not just easy to clean due to its stain-resistant housing and detachable dishwasher-safe parts. It is also safe to use for your nightly meals with automatic shut off preventing overcooking and overheating.
I've never had anything bad to say about this product. It has a nice stainless steel finish, the functions are easy to operate, and it works great. I'm especially happy with the air fryer and rotisserie functions.

– Editor in Chief and Founder Kitchen Deets
Features
Brand: Go Wise USA
Watts usage: 1800 Watt
Accessories: 5 dehydrator Racks, 1 drip tray, 1 air fry basket, and a rotisserie skewer and cage
Weight: 22 lbs
Capacity: 17 Quarts
Reasons you should consider GoWise USA
17 quarts of cooking space make this air fryer one of the largest on the market, while still being compact enough to fit easily on your countertop.
GoWise Air fryer dehydrator combo has a wide temperature range of 90F to 400F and 8 preset cooking functions: Warm Up, Dehydrate, Roast, Air Fryer, Bake, Reheat, and Grill.
It comes with 11 accessories and 2 recipe books for endless cooking combinations.
Reason you should not consider GoWise USA
Poor customer service
Ninja Foodi DT201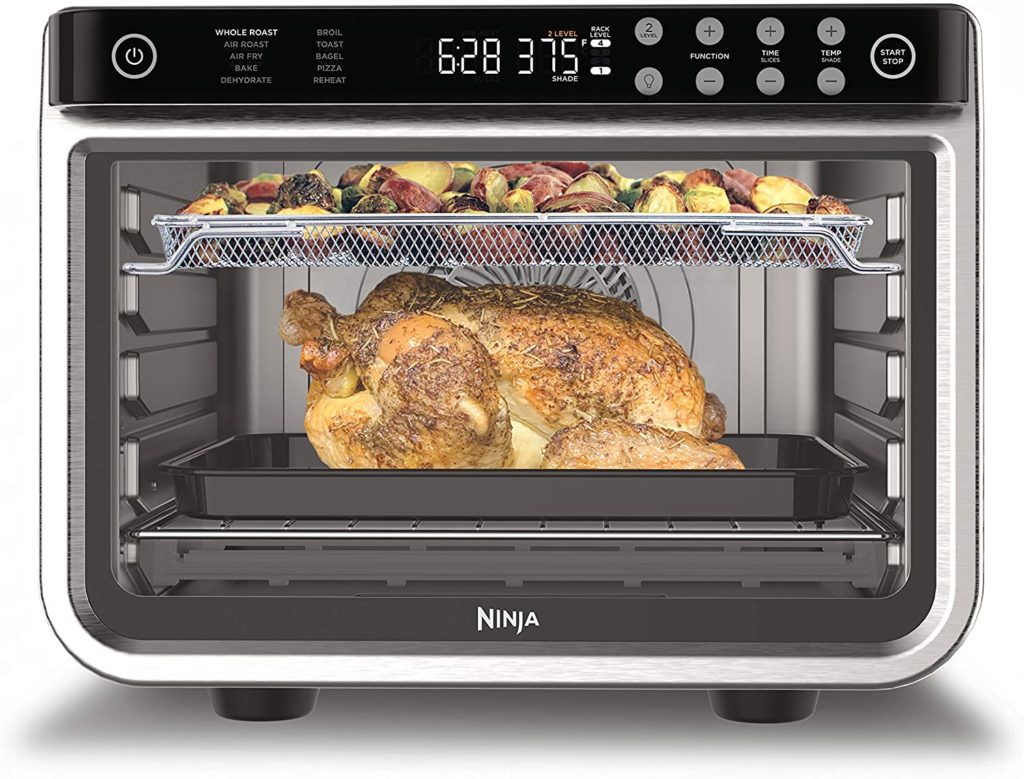 The Ninja Foodi Digital Air Fry Oven packs a lot of features and cooking capacity in a small countertop footprint. It's not only an air fryer. It's also an air roaster, air broiler, bake, bagel, toast, and dehydrator.
Air roasts juicy chicken drumsticks and extra-thick cuts of bacon with super-heated cyclonic air to lock in flavor while dehydrating fresh fruits and veggies for healthier snacks that are full of flavor.
Re-imagine your favorite recipes in the Ninja Foodi Digital Air Fry Oven. Dehydrate the freshest fruit slices, herbs, and more, or put your dehydrating skills to the test with jerkies and other preservative-free snacks.
We loved testing Ninja DT201, It has all the features of its bigger brother DT251 yet costs less!

– Kitchen Deets
Features
Brand: Ninja Foodi
Watts usage: 1800 Watt
Accessories: 2 dehydrator racks, 2 sheet pans, 1 air fry basket, and a roast and crumb tray
Weight: 33 lbs
Capacity: 17 Quarts
Reasons you should consider Ninja DT201
The super convection setting reduces cooking time by up to 30%.
The wide temperature range of 105f–450f and variable fan speed enable 10 fast, versatile cooking functions. Bake it, toast it, and dehydrate it with the Ninja air fryer oven.
Ninja Foodi Air fryer with Dehydrator has two rack levels for multiple food options.
Reason you should not consider Ninja DT201
Doesn't come with a smart thermometer like Ninja DT251
Check out our article on Ninja DT201 Versus Ninja DT251
Galanz Combo 26 Quart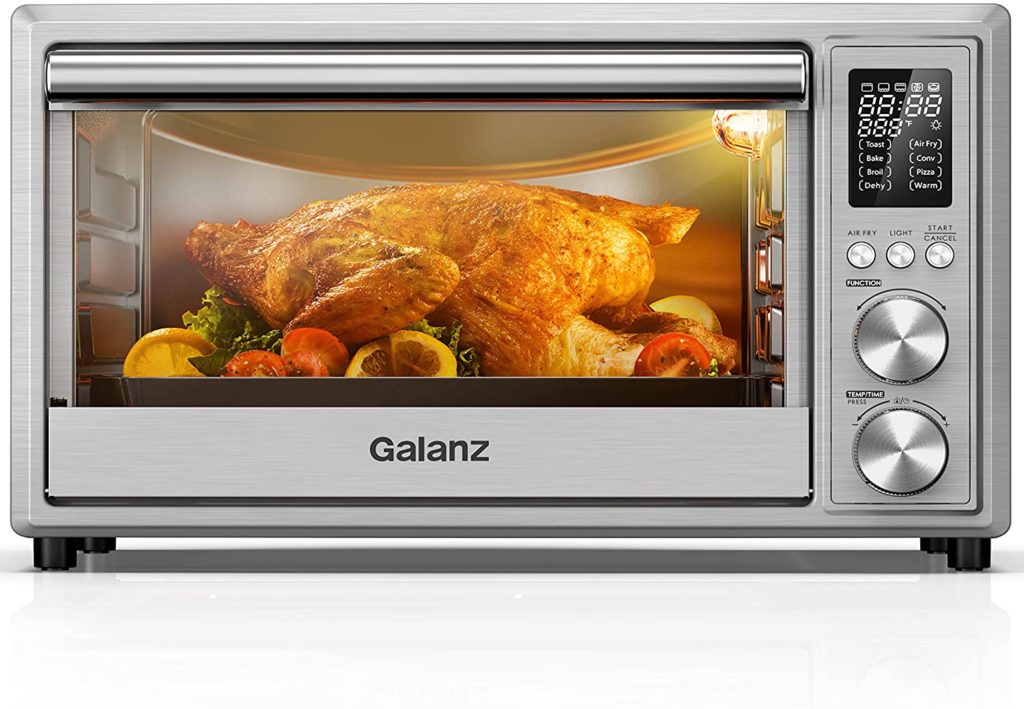 The Galanz air fryer dehydrator combo offers 8 in 1 functionality and comes with total fry 360 technology.
The 25-quart fryer is perfect for large families who want to eat healthy and crisp. The large capacity works better for larger loads and it can dish out great results for fries and tempting fried chicken or any other of your favorite fried foods
The device features a sleek stainless steel housing that is sure to look great on any kitchen countertop. You can switch between preset functions and check the food without opening up the appliance thanks to its LED display and interior light.
When you use the air fryer with dehydrator total fry 360 technology you can give your food up to 80% less fat without sacrificing taste, crispy on the outside, tender on the inside.

– Kitchen Deets
Features
Brand: Galanz
Watts usage: 1800 Watt
Accessories: 1 dehydrator racks, 1 air fry basket, 1 roast and crumb tray
Weight: 15 lbs
Capacity: 26 Quarts
Style: 2 Knobs
Reasons you should consider Galanz Combo
The stylish stainless steel housing on the outside is matched by thoughtful design and the use of technology on the inside.
Thanks to its fully-adjustable temperature control up to 450°F, this air fryer can be used on anything from frozen vegetables to jerky and fruit leathers. Plus, its digital interface makes it super easy to use.
Galanz Air fryer dehydrator combo is one of the most affordable appliances that has 8 in 1 functionality and comes with total fry 360 technology
Reason you should not consider Galanz Combo
Digital controls are hard to use.
Requires some preheating time.
Buying Guide for Air Fryer with Dehydrators
Here we will give you all the information you need to choose a model that suits your home and lifestyle without breaking the bank. We'll talk about what features make an air fryer with dehydrator functions great and how you should go about choosing the best model for yourself or someone else as a gift.
We will also give you our top pick!
Size
Size is one of the first and most necessary factors to consider when you're shopping for an air fryer/dehydrator combo. Ideally, you'll want one that's at least 6 quarts. The bigger the size, the more variety of foods you can cook in it.
All of the air fryer/dehydrators on our list are 6 quarts or bigger, so you can be sure you'll have enough room for everything you want to make.
Power
When shopping for an air fryer dehydrator combo, look for one that uses a minimum of 1500 watts. This will be the most efficient option. For instance, an air fryer with 1500 watts of power or more is ideal, because it can cook food faster than one with a lower wattage.
Most air fryer dehydrators can get up to 1800 watts, depending on how many functions they can do.
Extra Features
Make sure to find an appliance that gives you as many features as possible. Ideally, the appliance should have a dehydrator function, a rotisserie function, and even a toaster function.
This will help you get the most out of your appliance and allow you to cook the widest variety of foods. You'll also be able to use it for all your cooking needs, from making toast in the morning to drying fruit for later snacking or cooking a whole chicken for dinner.
Adjustable time & temperature
Adjustable time and temperature are one of the main things you should consider when buying an air fryer with a dehydrator combination. It's best to find a combination that has a temperature range between 90°F and 450°F.
Also, look for a model that has pre-programmed dehydrator functions, so you don't have to spend time researching what temperature and setting you need to use.
Multiple racks
One of the most important things to consider is the number of racks that come with the appliance. The more racks your appliance has, the more food you can dehydrate at a time. This is why we have added racks count in the features of all devices we reviewed above.
If you're looking to buy an air fryer dehydrator that offers maximum racks, consider buying the GoWISE USA.
Easy cleanup
Easy cleanup is often overlooked by many people before buying an air fryer with a dehydrator combo. An appliance that has stain-resistant housing and detachable dishwasher-safe parts is the one you should prefer to buy, so you can spend less time cleaning and more time enjoying the benefits of your new kitchen gadget.
Our Top Pick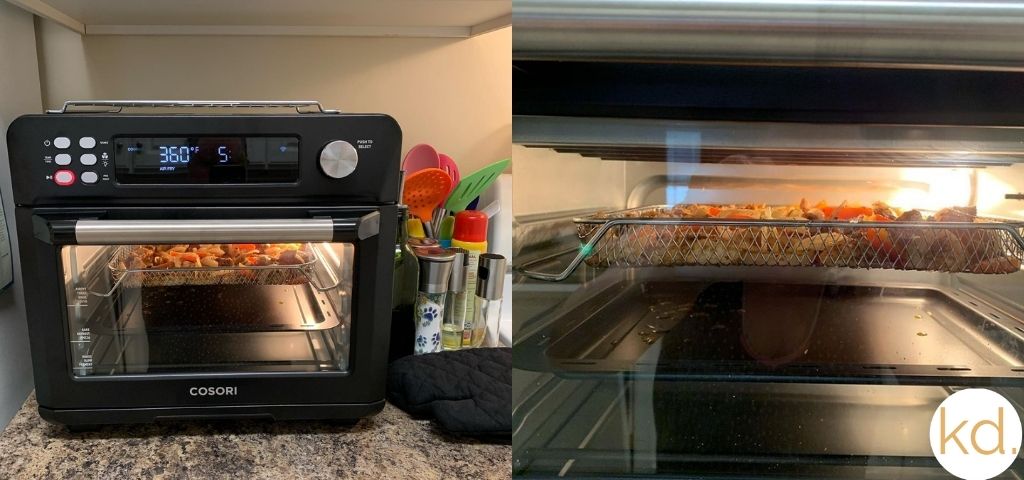 If you're unsure which air fryer with dehydrator combo to buy, we highly recommend Cosori CS100-AO. It has the best combination of quality, design, function and cost-effectiveness of all air fryers with dehydrators we reviewed. While there are cheaper options available, the extra money spent on this appliance is well worth it.
Frequently Asked Questions
Is It wise to Invest in an Air fryer with Dehydrator combo?
It's a good choice if you want to save some money since these two appliances can be bought in one unit. If you want to get the most out of your food preparation and the convenience that these two devices provide, it would be wise to invest in an air fryer with a dehydrator.
What are the benefits of Air fryer with Dehydrators?
Air fryer with dehydrators can benefit any kitchen with their dual functionality and ease of use. The best part is that some models are even smart, which means they integrate with other smart home appliances and can be controlled using your smartphone. So if you're looking for an upgrade, consider adding one of these devices to your kitchen today.