Air fryers are the new innovative appliance for cooking healthier. They're a cross between a convection oven, a deep fryer, and a toaster — all in one. Simply add your food and air fryers will suck the moisture out of the food, giving it delicious crispy texture, while locking in all the flavour. It's an excellent way to cook fried foods while using less oil and fewer calories.
These machines are the perfect addition to any kitchen that wants to cook healthier meals, or just wants to create a more convenient cooking environment.
In this guide, we'll be going over all of the best air fryers in the market today — from small to large, family-size to those with rotisserie attachments.
Best Air Fryers In 2023:
Investing in an air fryer to help you prepare delicious and healthy meals can be one of the best decisions you'll ever make, as long as you know what to look for and where to get it from. To help you with this task, we have compiled a list of the top 11 best air fryers on the market today and explain why each one of them is worth your money.
Chefman TurboFry 2-Quart: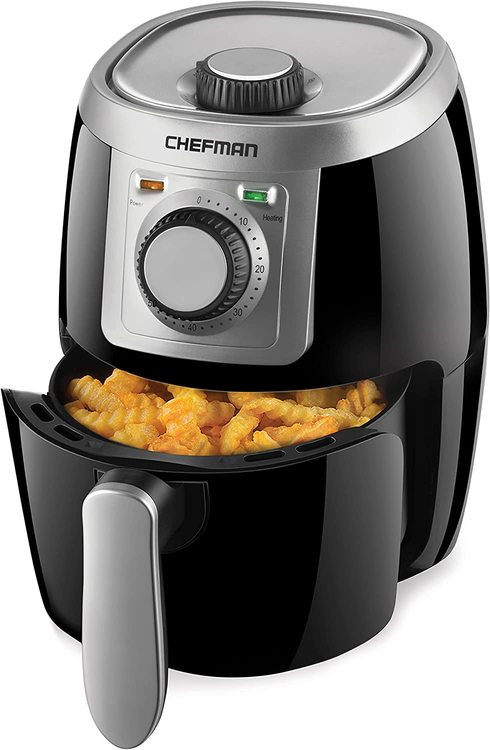 The Chefman TurboFry is a powerful machine that lets you fry food with 98% less oil. You can fill the 2-quart basket with your favourite foods, flip the switch, and try delicious new recipes within minutes.
The Chefman 2-Quart Air Fryer combines the simplicity of a deep fryer with the healthy benefits of air frying. It's a great choice for cooking air fried food at home. With its built-in temperature control system, you can get crisp-on-the-outside, hot-and-juicy-on-the-inside chicken wings and onion rings.
If you're cooking for two, the basket's capacity of 2 quarts will hold plenty of food. Lastly, It comes with auto shut off functionality for added safety.
Related: Chefman air fryer reviews
Pros
Uses 98% less oil
Built in temperature control
Removable basket and dishwasher safe
Auto shut off functionality
Best for small use
Cons
Many have complained about burning plastic
Emeril Everyday 360 Deluxe: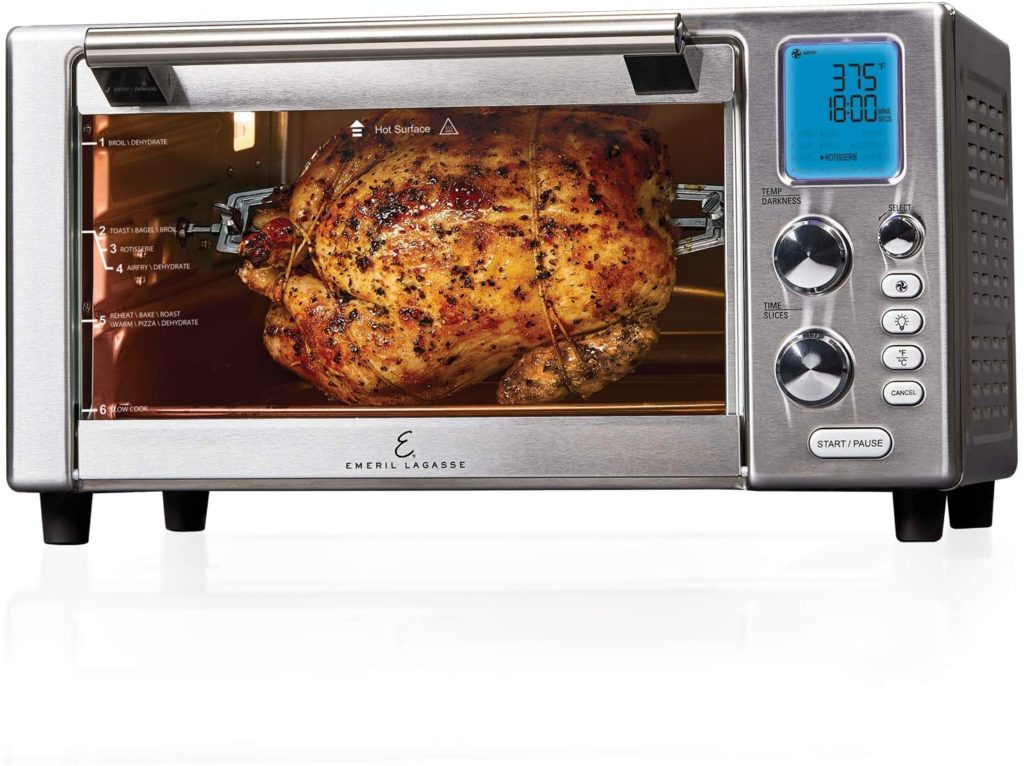 The Emeril 360 Deluxe air fryer is a 9-in-1 device that functions as an air fryer, a toaster oven, a rotisserie, a slow cooker, and more. The device has 5 different heating elements and boasts an astoundingly wide array of cooking modes, from cookie baking to pizzas to slow stewing.
Deluxe air fryer is a unique household appliance that allows you to cook for various occasions, from romantic dinners with your loved one to hosting large family brunches. The Air Fryer has the capacity, power, and features you'd expect from one of the most trusted names in cooking.
Emeril is a great choice, if you're looking for multifunctional air fryer oven.
Pros
Uses 5 different heating elements
Deluxe Air Fryer lets you fry, bake, roast, broil, and more — all without using a stove.
360° Advance cooking technology
Can slow cook up to 10 hours
LCD Display and one touch control buttons
9 in 1 functioning device
Cons
Air fryer needs monitoring
Pro Breeze – Large Toaster Oven-12.7 QT: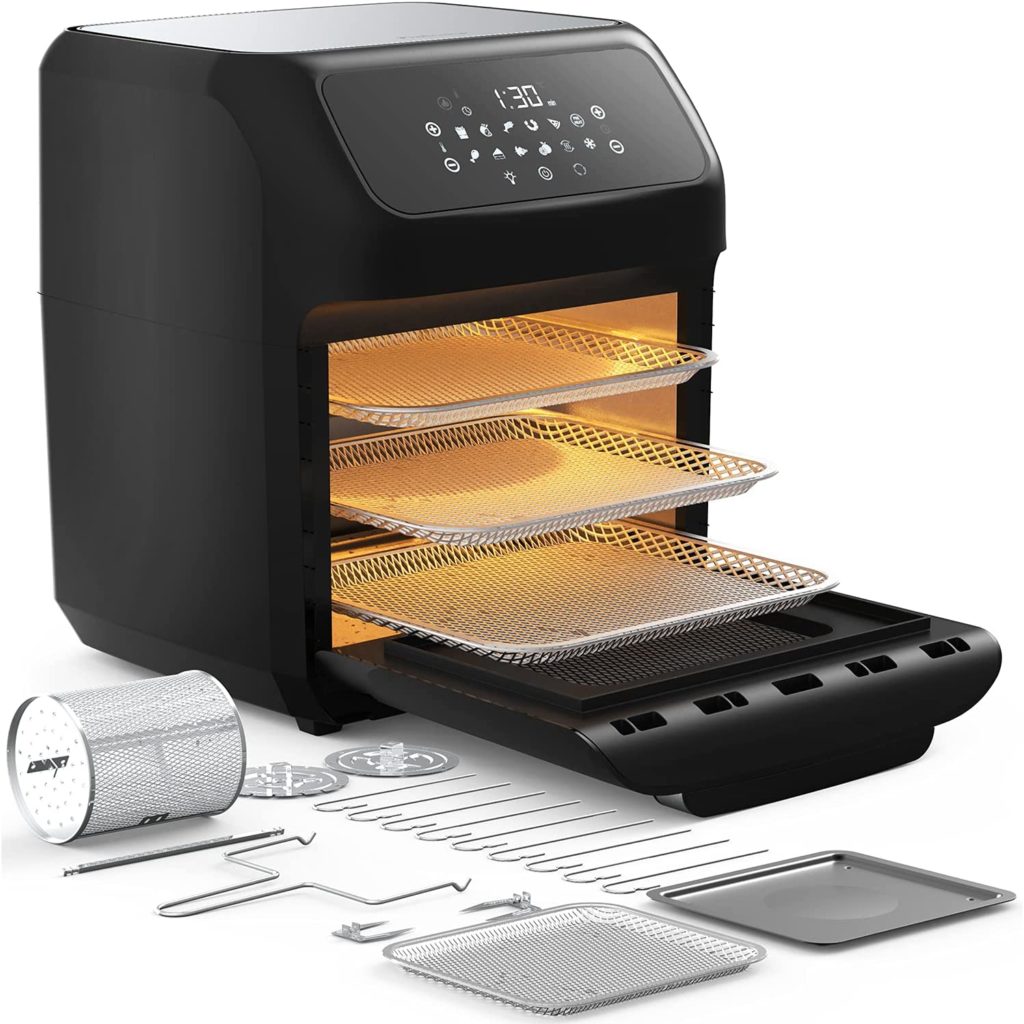 Pro Breeze's Air Fryer is known for its vortex technology. Powered by super-hot cyclone circulation, it cooks your foods perfectly in just minutes.
This air fryer can do much more than you might expect. It comes with 12 preset cooking modes that let you prepare a variety of foods, including fried chicken wings, grilled cheese sandwiches, toasted bread, French fries, and other healthier items. And Its large capacity is great for preparing dishes on the go or sharing with the family.
Although this fryer is large, it's effortless to clean.
Pros
Top Quality cyclone technology
12.7 Quart large capacity
Easier to clean
19 included accessories
Ideal for preparing large dishes
Cons
Some people find it hard to use
Instant Vortex Plus 10 Quart: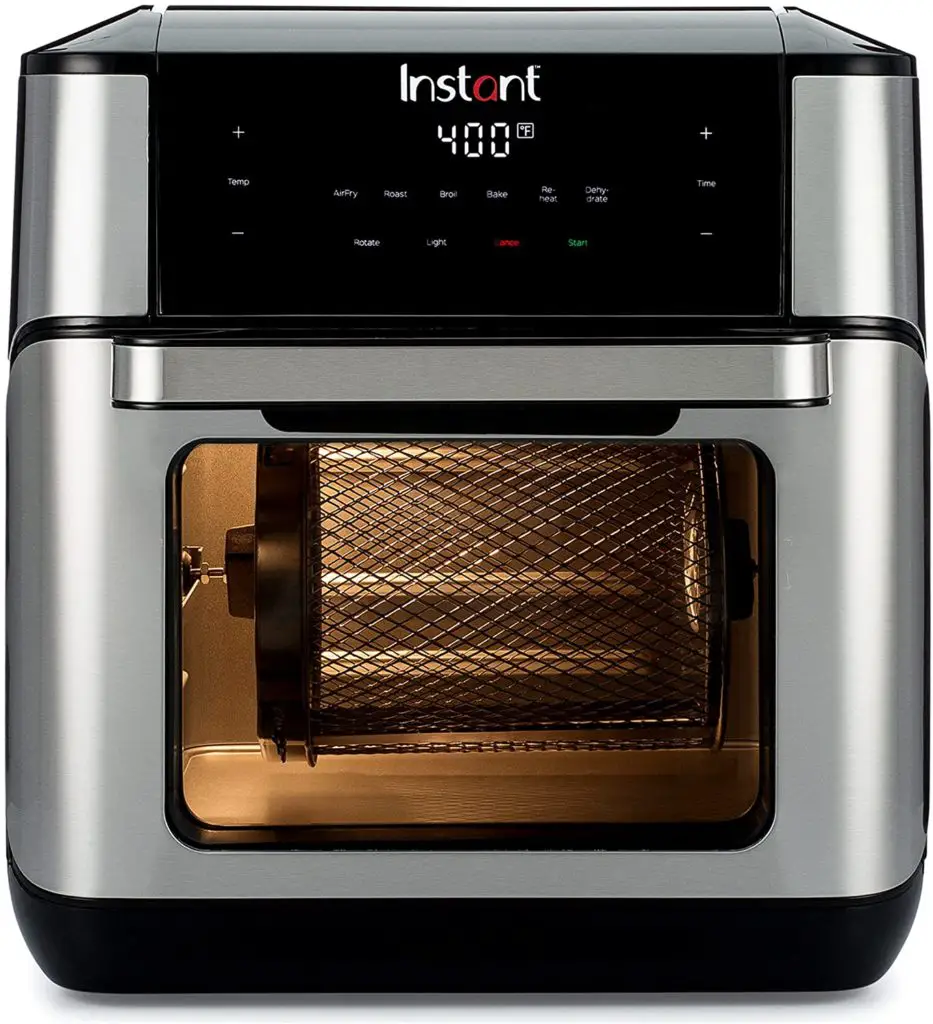 The Instant Vortex Air Fryer lets you cook your favorite foods in a new way. This fryer is capable of cooking up to 10 quarts of food at once, making it easy to quickly cook meals or party appetizers.
The 10 Quart air fryer capacity allows you to prepare a variety of healthy foods. Whether you're looking to fry, steam, roast, boil, bake or BBQ a healthy meal, the Instant Vortex Air Fryer does it all in one appliance!
Furthermore, a smart cooking program automatically calculates the optimal cooking time for your favorite meals, and an easy-to-read digital touch panel displays the time left for complete control over your food.
Pros:
It is the best air fryer with rotisserie.
No preheating is needed.
It has convenient 9 preset programs, including chicken wings, potato wedges, roasted veggies, and fish sticks.
The glass lid windows allow you to check.
Cons:
Doesn't last long if used roughly.
Chefman TurboFry XL 8-Qt Capacity for Family Cooking: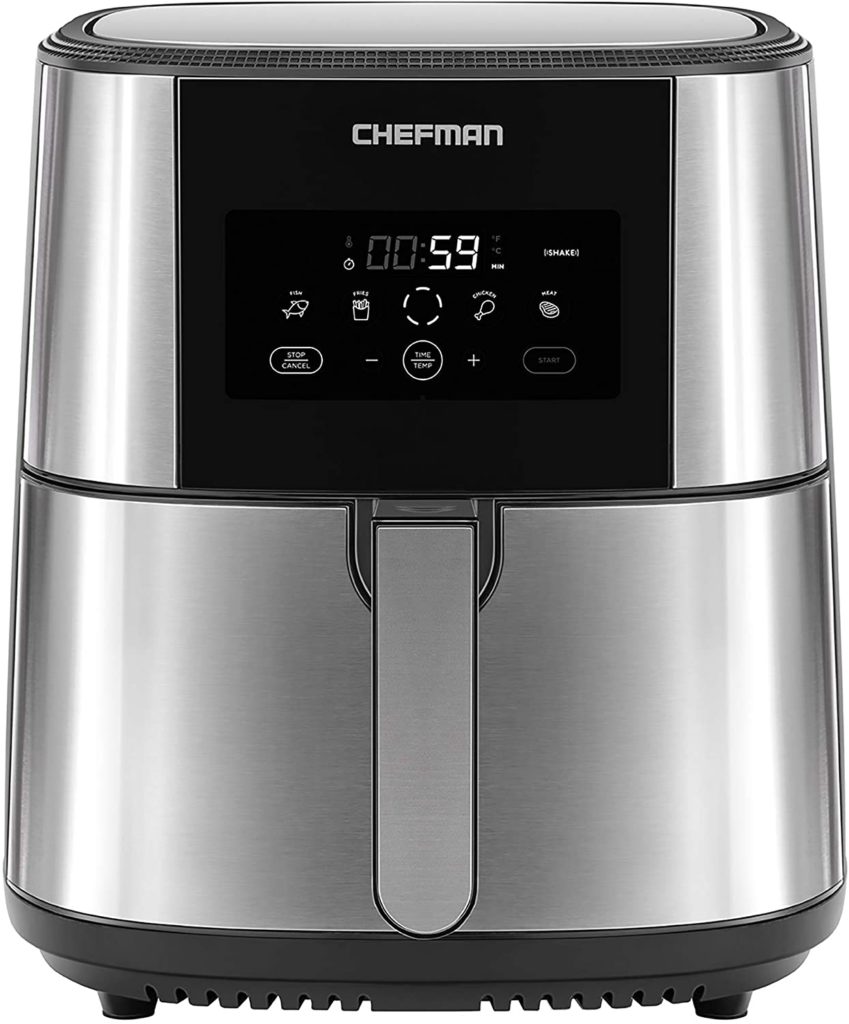 Chefman has created the ultimate solution for anybody who wants to eat healthier. The TurboFry XL 8 Quart capacity is designed specifically for home cooking. The air fryer offers 4 essential presets: French fries, chicken, meat and fish — and all with just one touch of a button. Its temperature range is 200⁰F to 400⁰F — ideal for preparing healthy recipes that don't sacrifice taste.
The TurboFry XL 8 Quart Air Fryer is the best air fryer for family of 4 or more. Furthermore, with its stainless steel housing and nonstick basket, the machine is sure to add a bit of glam touch to your kitchen counter.
Pros
Designed for Home cooking
Perfect for family of 4
Fries with 98% less oil
Stainless steel body
It has heat-resistant grips and a moisture collection tray so you can easily pull food out and clean the basket.
Preset button controls
Comes with a user manual
Cons
Some people will find it hard to clean
Besile Oven 5.8 QT Large Capacity: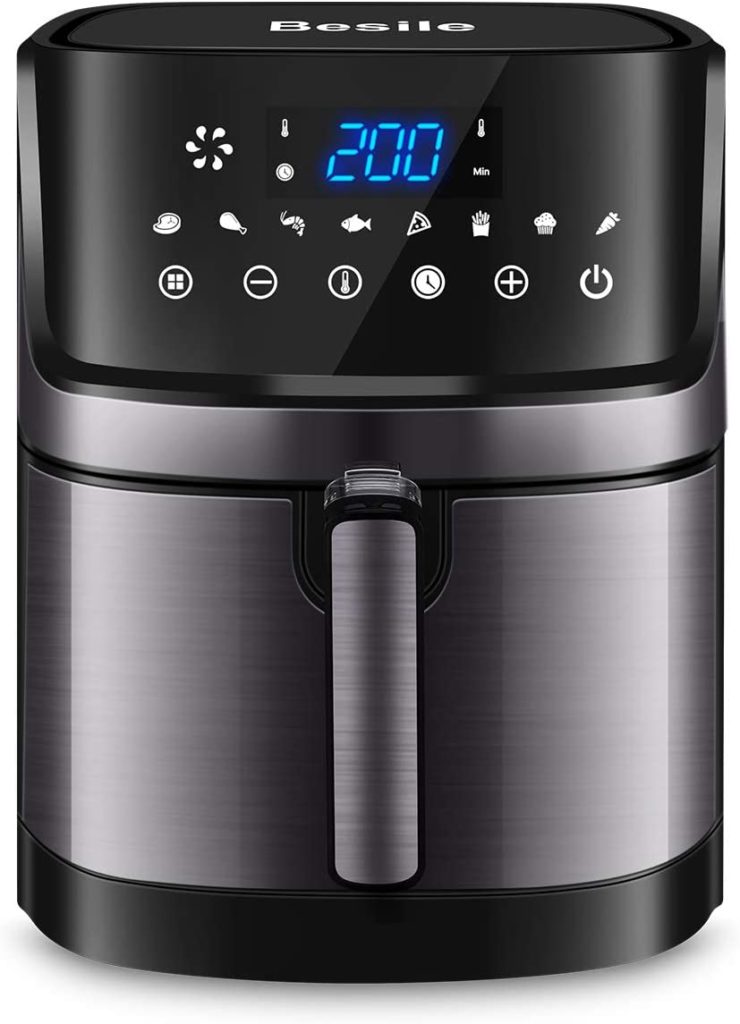 Besile's 5.8 Quart Large Capacity Air Fryer is the perfect tool for people who like to make large meals. This air fryer can hold up to 5 lbs. of food at once and uses 360° hot air circulation technology to ensure your food is cooked evenly and thoroughly without any burnt bits.
Air fryer's digital touchpad allows you to make your food exactly how you like it. Just select the cooking preset and the time you want the food to cook, and press start. Also, the basket is removable and easily wipes clean (after all, no one would want to get their greasy fingers on the screen).
This air fryer is a top choice if you're hosting a Thanksgiving dinner or larger gatherings with friends and family.
Lastly, it's entirely BPA free and made with FDA-certified materials. Thus, you can be sure that your food will come out healthier than takeout.
Pros
360 degree hot air circulation technology
An elegant stainless steel body that's both durable and easy to maintain.
Removable basket easily wipes clean
BPA Free and FDA Approved
8 presets for your convenience
Best for large gatherings
Easy to use
Cons
PowerXL 4 Quart Maxx Classic Special Edition: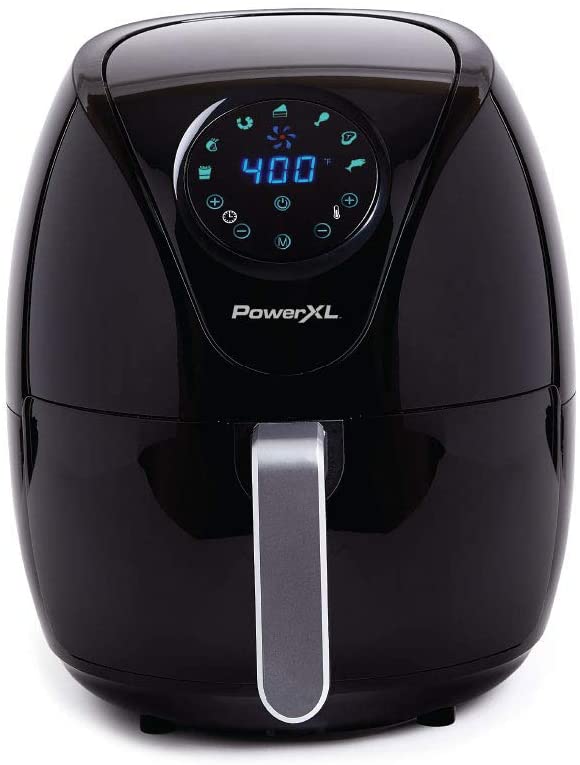 The Power XL Air fryer is a best-selling commercial model that uses rapid air technology for faster airflow to create your favourite fried food. It lets you cook your favourite meals at home with as little as one tbsp. of oil.
This air fryer features 4 preset functions, and an LED display with a nonstick fry basket that can hold up to 1 lbs. of French fries or 13 chicken wings — giving you the option to cook meals for one or the whole family. Fast, powerful, yet easy to use, PowerXL air fryer lets you make food like never before. Meanwhile, its nonstick basket makes cleaning and maintenance very simple.
The Power XL 4 Quart Air fryer has best technology, the best performance, the best customer service — when it comes to better-for-you cooking, Power XL has no rival.
Pros
Rapid air technology for faster air flow
Cooks healthier, without adding any grease or unhealthy seasonings.
4 preset functions allow you to cook common fried foods without having to fuss with buttons or programs.
Has a nonstick fry basket that can hold up to 1 lbs. of fries
4 preset functions
Cons
Related: Read our article on Air Fryers Made in USA
Ultrean XL 8 Quart: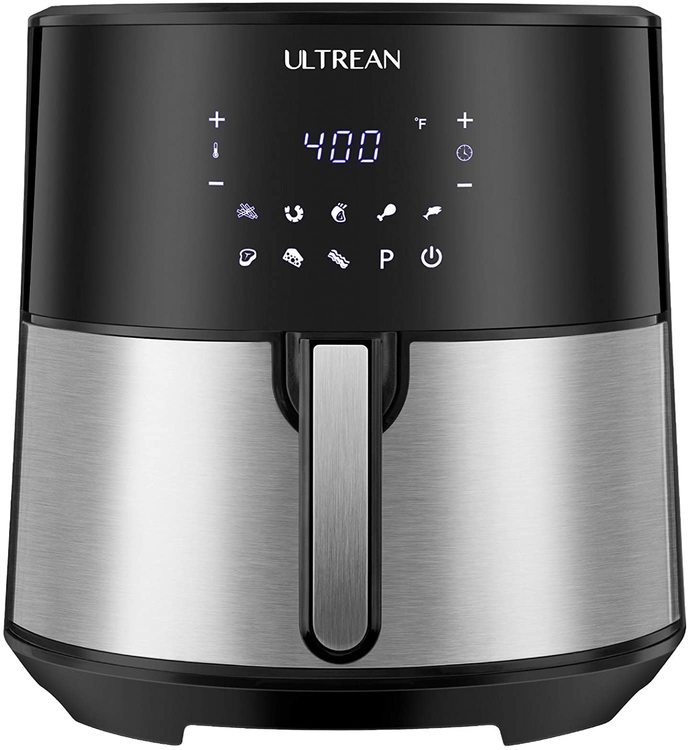 A perfect balance of technology and design, the Ultrean 8 Qt. Digital Air Fryer delivers both crispiness and flavour like no other. Offering complete control over your food without the need for oil. The device's patented Rapid Air Technology delivers unparalleled results with 360° of cooking power, resulting in up to 80% less fat than traditional deep frying methods.
If you loved air fried food, but were disappointed by the smoke created during the cooking process, the Ultrean 8 quart digital air fryer is your golden ticket. It uses sophisticated technology to eliminate smoke without skimping on taste. Meanwhile an integrated fan circulates hot air into a basket filled with foods, pan-frying from all angles and sealing in natural juices for a healthy snack.
Additionally, Its 12 presets mean you can get straight to cooking without fiddling around with controls.
Check out our article on Air fryer vs Pressure Cooker
Pros
The Ultrean digital air fryer is a fast, easy way to cook your favourite foods without deep frying.
Comes with 12 presets so you can cook feasibly.
Worth the price.
Cooks food quickly with little to no fat.
Doesn't create smoke during cooking process
Controls are easy to use
Easy to clean
It's awesome for fries, chicken fingers, wings, egg rolls, bacon and so much more!
Cons
Temperature control is complicated
Check out our article on Air fryer vs Microwave
Kalorik 26 QT Digital Maxx: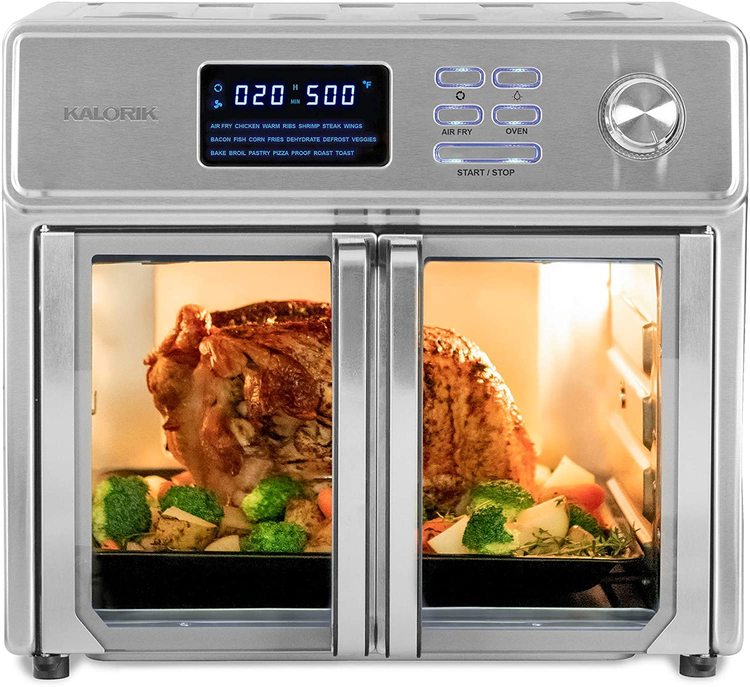 There are few things that make life taste better than delicious fried food. While frying is easy enough to do at home, it's still messy, dangerous, and time-consuming when you're in the middle of making dinner for the whole family. The Kalorik Digital Max Air Fryer solves these problems with its 21 preset settings and digital control panel. From seafood to poultry to snacks and sides, you can fry or roast anything so much easier than ever before.
Additionally, The temp can go up to 500F, so it's perfect for some crispy chicken wings or delicious French fries, while the meat rack makes it perfect for roasting a whole chicken.
If you're looking for the best air fryer that has digital air frying functionality and a great countertop design, Kalorik Digital Air Fryer is the answer. It is the epitome of convenience and style, the elegant air fryer looks good on the countertop.
Finally, it is ETL (Electrical Testing Labs) Certified and comes with a 1-year warranty.
Check out our article on Air Fryer vs Instant Pot
Pros
The Kalorik 26 Quart digital Max air fryer allows users to cook your favourite meals quickly and effortlessly.
Kalorik have all the tools you need to cook a wide array of foods.
Cooks effortlessly
Comes with 21 presets.
Temperature can go up to 500F
Easy to use.
Rotisserie is perfect.
Cons
Ninja DZ201 Foodi Dual Zone Technology 8-Quart: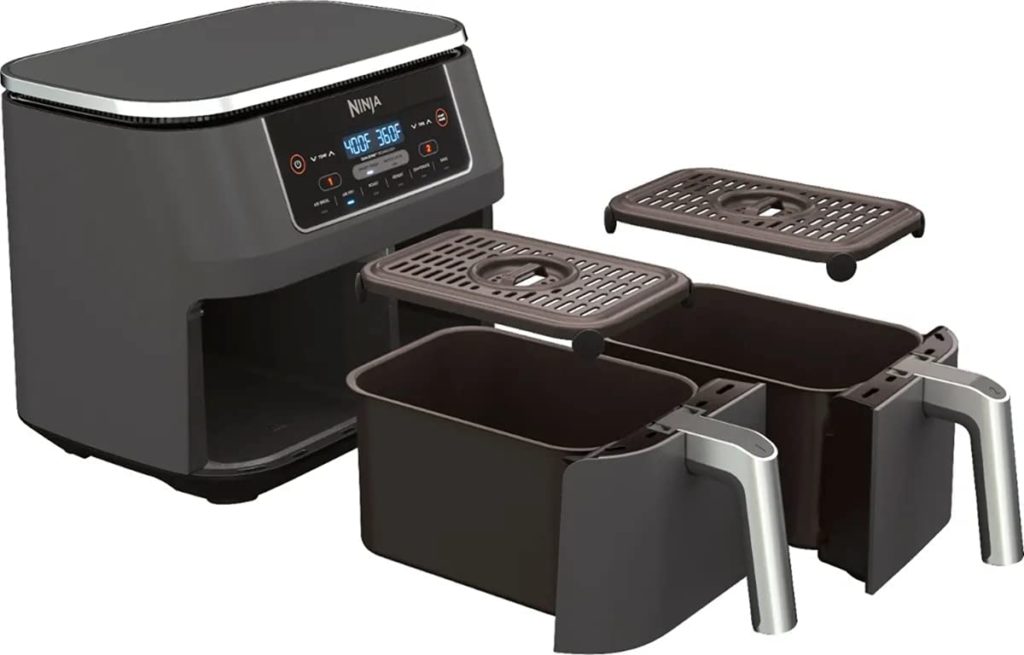 Ninja DZ201 8 Quart 6-in-1 Air Fryer is a real masterpiece in air fryers. Equipped with dual zone technology makes cooking easy, and free from stress.
Its two independent baskets can cook two types of food simultaneously in a way that saves a lot of your time in the kitchen. The match cook button offers six preset functions for ease in cooking. This allows for frying in up to 4 lbs of food at one time — great for large family gatherings.
Check out our article on Ninja Air Fryers vs Cosori Air Fryers
Ninja DZ201 lets you choose the best method for your recipe — whether you prefer frying, baking, roasting, grilling, or using the machine's built-in function for dehydrating.
This Air fryer lets you create and customize recipes at will and in mere minutes — something the old school deep fryers can't do.
It is undoubtedly an excellent piece of equipment for cooking small or large batches of food, powerful enough to help you cut down on calories and enjoy healthy cooking.
Check out our article on Best Air fryer Pressure Cooker Combo
Pros
A masterpiece one of its kind.
you can make crispy fries or juicy chicken wings alongside healthy sides like broccoli or cauliflower.
Dual Zone technology
Can cook up to 4 lbs. at one time
Customize recipes at will
Turbo convection
Air frying made easy with ninja DZ201
Cons
Check out our article on Ninja Af100 vs Af101
Cuisinart CTOA-130PC1 Toaster Oven: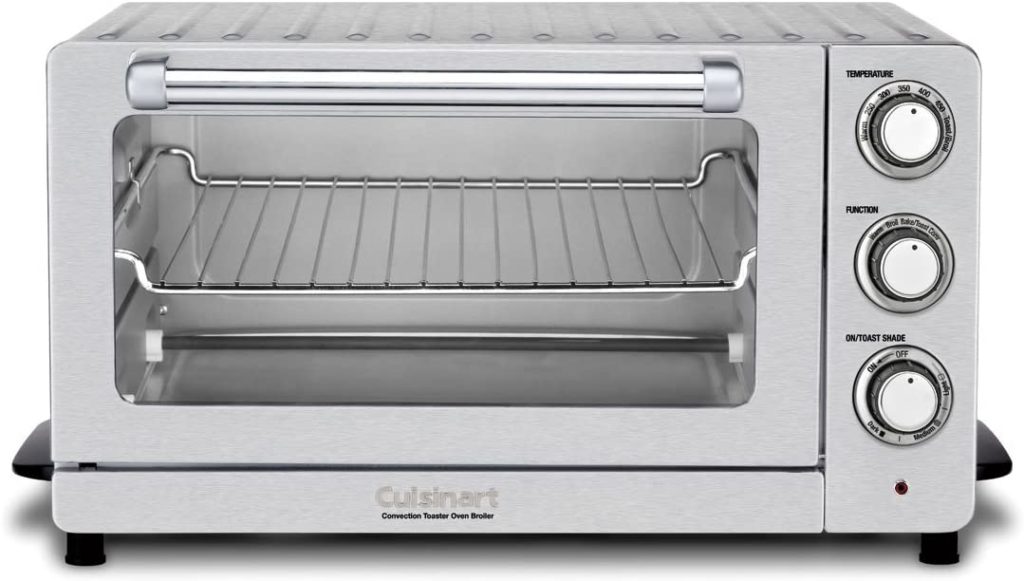 The Cuisinart TOA 60 NV Air Fryer is a handy kitchen appliance that will provide you with complete cooking and baking solutions. With 1800 watts of power, this fryer can cook up to 500 degrees Fahrenheit — allowing you to prepare frozen foods without adding extra calories.
The Cuisinart TOA 60 NV is made out of stainless steel, with a nonstick coating that makes clean up simple and easy. Moreover, it features a toast shade control knob that allows you to adjust the brown tone you're aiming for without having to go through multiple settings.
TOB-60N1 air fryer prepares crispy, delicious versions of your favorite fried foods, all in one convenient appliance! In addition to cooking food to an ideal crispness, it can also be used as a convection oven for baking, broiling, and toasting.
For those who love fast food, but hate the long waits and greasy fingers that come with it, Cuisinart's Air Fryer will give you the best of both worlds. This innovative kitchen appliance lets you enjoy meals from fried chicken to roast beef patties without any of the hassle.
Lastly, it comes with a beeping alarm that lets you know when your food is ready to eat and A 5 piece kitchen knife set with cutting board.
Pros
Can cook up to 500 degree F
Cuisinart's Air Fryer cooks food without using a drop of oil.
Made out of stainless steel
Best for small counters
Easy to use
Value for money
Cuisinart TOA 60 NV Air Fryer is one of the best products in Cuisinart's history.
Includes free Kitchen knife set with cutting board
Cons
Final Thoughts
Every air fryer is made to serve a different purpose, but there are some features they all share. Similarly, how an air fryer works is different per brand. When deciding which one is the best for you, make sure to take note of its size, ease-of-use, taste, and reputation.
We know how difficult it is to make a good choice when faced with many options.
This is why, we've made sure to include information on every aspect of air fryers — from what they do to how to choose them — so that you can learn as much as possible before making your decision.
Even though we tried to cover all aspects, there can still be some small details that may not have been mentioned in this article. In case of any questions you can email us through our contact page.
How much should I spend on an air fryer?
When buying an air fryer, Price is not the only factor you should consider; other factors like durability and capacity are equally important. Unfortunately, many people make the mistake of getting the cheapest product available on the market. The problem with low-cost models is that they break down after a few uses.
Therefore, a thorough understanding of one's budget and needs is a must before buying an air fryer
What are the different styles of air fryers?
There are two main air fryer styles: the oven-style and the counter-top style. The oven-style air fryer can be placed on top of the kitchen oven while the counter-top air fryer sits on top of the kitchen counter.
Choose they style according to your kitchen needs.
What size air fryer do I need?
A small fryer will work fine for a small family while a large model is more suited for entertaining guests. Do you intend to use your fryer daily, or just on special occasions? Answering this question will help you determine the amount of space available for placing your fryer in your kitchen.