How do Kamikoto knives compare to other knives on the market? Are they worth the price? You've heard so much about them, but maybe you don't know what makes them special compared to other brands and why they cost so much more than your average knife set. In this article, we'll answer all of these questions and more, as we dive into everything you need to know about Kamikoto knives and why they're so popular among chefs around the world!
Don't worry though, I won't make this an overly technical review of their metallurgy or something! This will be in layman's terms so that everyone can understand just what makes these knives so fantastic.
Use links below for easy navigation
Japanese Knife Culture and Kamikoto:
Japan has a rich history of artisanship and craftsmanship. The Japanese people are exceptionally skilled at working with steel, and it is no surprise that one of their specialties is making knives. Although there are many brands of Japanese knives on today's market, only a few can compare with Kamikoto knives in terms of quality.
Kamikoto craftsman takes great pride in every single knife they make, as each one reflects their commitment to quality and excellence. Their passion for excellence can be seen in every piece of cutlery that leaves their factory.
Let's start the Kamikoto Knives Review and see their Advantages and Limitations.
Our team of experts thoroughly researched each product we considered in our review. For more, read our review policy. We may earn an affiliate commission if you buy from our link at no extra cost to you.
Kamikoto Senshi Dual Knife set: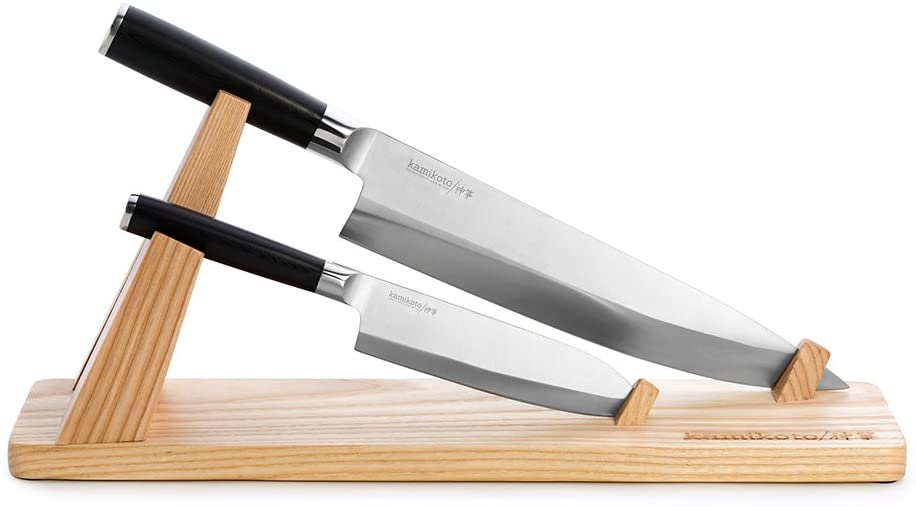 Welcome to the Kamikoto Senshi collection. This charming kitchen knife (10-in chef and 5.5-in utility) set brings more function and beauty to your kitchen that will open a new world of cooking for you. Both knives feature comfortable natural-colored ash wood handles and a traditional Japanese D-shaped handle design.
The blades are generously contoured for comfort and precision when cutting, slicing, and mincing. This amazing knife set also comes with a beautiful wooden stand for storage and an attractive Japanese design box to keep it all in.
All of Kamikoto products are sharpened by craftsmen in Japan with 25 years+ of experience, so they stay sharp longer than similar Japanese knives.
Advantages
Beautifully handcrafted and the completed look can fit into any kitchen or bar thanks to its elegant display stand.
Both knives have a razor-sharp edge that makes it easy to slice without bruising the items being cut.
This set makes a perfect gift or addition to your own kitchen!
Limitations
Single bevel knives.
Expensive as compared to Shun or Zwilling.
Quick Facts
Made in China
Features Japanese High-Quality Steel
Lifetime Guarantee
Kamikoto Ryoshi Knife Set: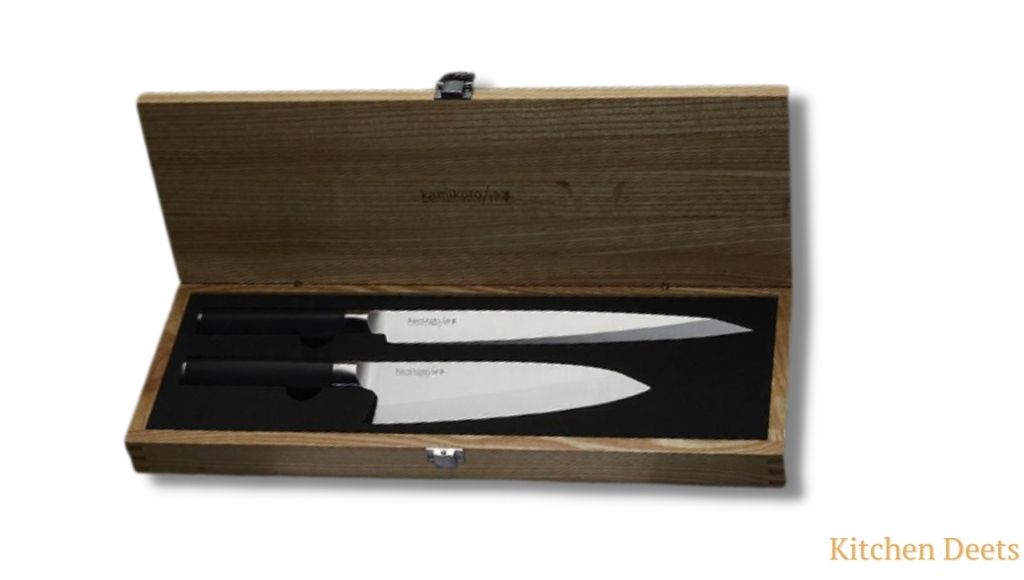 Kamikoto Ryoshi is a 2 Knife set. The Yanagiba design is made to cut meat thinly, and the Deba is perfect for cutting fish or meat fish bones. This knife set is designed with the same high quality that sets all Kamikoto knives apart.
Kamikoto Ryoshi knife set is the perfect knife set for any fish lover. It has everything you need to fillet a fish and serve your favorite sushi without ruining its form. With an elegant traditional-looking wood handle and a sharp blade made of high carbon steel, that stays sharp after being rigorous use, Ryoshi is the complete fish slicing kit.
Check out our Review on Cutco Cutlery
Advantages
The blade of this knife won't rust due to its natural anti-corrosion finish.
This knife is used for slicing and serving Sashimi and sushi.
Provides users with a sense of pleasure when slicing fish products.
The convenient storage box keeps your knives scratch-free and safe to handle.
Limitations
Costs more than $150.
Quick Facts
Made in China
Lifetime Guarantee
Lightweight and Agile.
Kamikoto Kensei Knife Set:

Elegantly crafted by renowned artisans in Japan, these fine knives are an impressive addition to any cook or chef's collection. Kamikoto Kensei knife set features a 9.5-inch Kiritsuke knife and a 6.5-inch boning knife.
The Kiritsuke knife is ideal for fish and vegetables, as it has a perfectly balanced weight and a razor-sharp edge that makes even the most delicate cuts effortless.
On the other hand, the boning knife is thin, nimble, and light with a reverse tanto tip. This blade is ideal for poultry.
Like Senshi and Ryoshi this set also comes with a wooden box for easy storage.
Related: Check out our Review on Cangshan Knives
Advantages
An eye-catching elegance that will make you want to keep them out on display.
They are well-balanced and designed especially for use by novices, as well as by chefs who want to slice quickly and efficiently.
These impeccably made knives are the perfect gift for any chef or foodie.
Limitations
Single bevel blade.
Expensive than most other competitors.
Quick Facts
Made in China
Lifetime Guarantee
Light yet substantial
Offers Free International Shipping If bought from them directly
Kamikoto Kanpeki Set: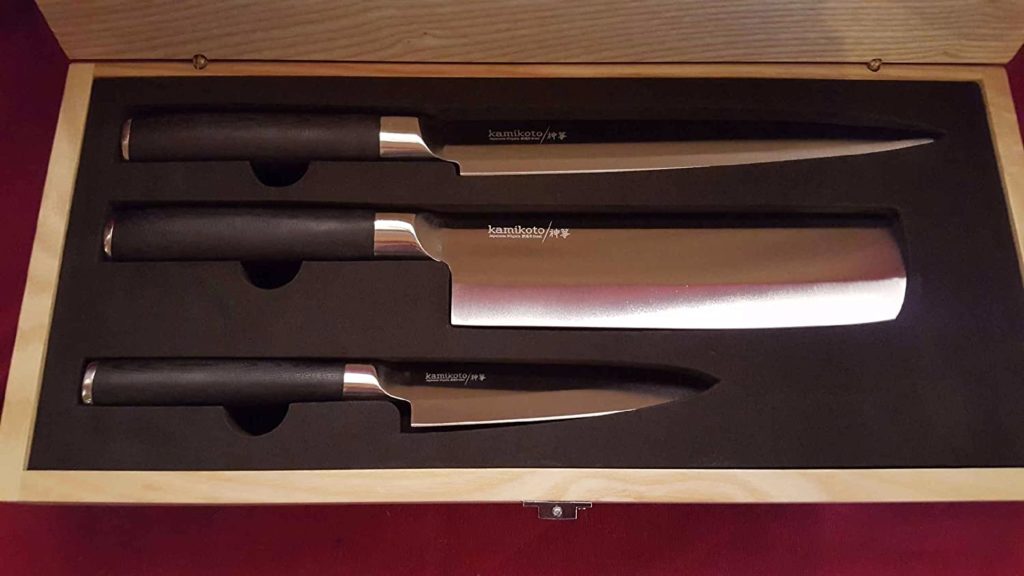 The Kamikoto Kanpeki knife set is handcrafted entirely from the finest materials, including the highest quality Japanese steel.
The set includes an 8.5″ slicing knife, which is the perfect choice for thin slices of sushi or other ingredients. Next is the 7″ nakiri knife, which is used in preparing vegetables or cutting meat and also doubles as a slicer. And lastly, the 5″ utility meat knife which is essential for boning meats or trimming fat off of meat. Each knife is precision balanced for sharpness and durability.
This knife set, like others, comes with its own beautiful Ash Wood storage box for safe storage.
Check out our review on Tuo Cutlery
Advantages:
Each knife is handcrafted and precision balanced for easy-to-use cutting.
The hot drop-forge process creates lasting edge retention.
Graceful design and comfortable weight.
Limitations:
Only for right-handed people since it is a single bevel.
Pricier
Quick Facts
Made in China
Forged Construction
Lifetime Guarantee
Kamikoto Kuro Knife Set: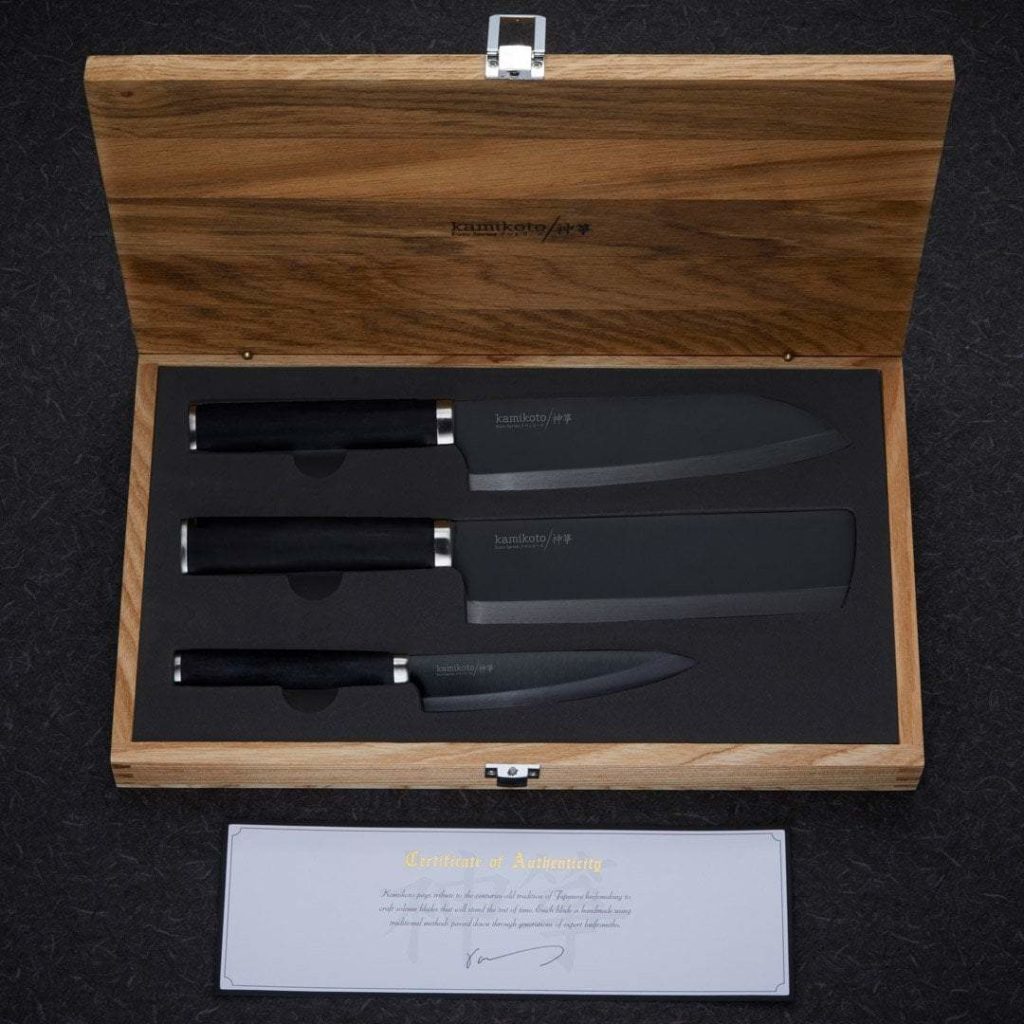 If you're a professional chef, or just really into cooking, you'll be happy to know the Kamikoto Kuro series knife set is here. This knife set includes three of the most popular knives: a 7-inch Santoku, a 6.5 Nakiri, and a 5-inch Utility knife. The blades are made from zirconium dioxide, which is an extremely hard material that will last for years with proper care.
These knives are great for people who want to invest in high-quality knives that will last them a long time. However, it's important to note that these knives are very delicate; too much pressure can chip or break them! Make sure to avoid using these knives on freezed items or tough meats.
"I recommend using these knives for professional chefs who have experience handling this type of material, as well as for people who are looking for an alternative to hard steel knives." – Noor Khadija, Senior Editor
Advantages
It has a super-hard material
The set is great for professional chefs
Craftsmanship is outstanding
Limitations
These knives cannot be used on freezed items or tough meats.
Quick Facts
Double Bevel Ryo-ba Blades
Hand wash only blades
Forged Construction
Lifetime Guarantee
Thoughts on Kamikoto Knives Review:
Forged and designed by hand, these blades have been passed down through generations – developed into their current forms based on hundreds of years' worth of knowledge and expertise.
Overall, we enjoyed testing Kamikoto knives. The quality and design of the knives are stunning. They can compete with other big brands, but they're not cheap by any means. If you're looking for a fancy new knife set or just want some everyday chef knives then we say give Kamikoto a go!
Frequently Asked Questions
Is Kamikoto made in China?
Kamikoto knives are made in China, but the materials are imported from Japan. Kamikoto have been around for many years now and they have been making their way into homes across the world. They make high quality knives that last for a long time.
Is Kamikoto a good brand?
Kamikoto is a wonderful brand and they have a huge variety of different knives. You can be rest assured that you will get your money's worth when you buy one.
What tasks are best Kamikoto Knives used for?
Kamikoto knives are best used for cutting vegetables and fish, as they are not great to cut thick pieces of meat or anything that is too tough. The blades on Kamikoto knives are made from high carbon steel which makes them very sharp and durable at the same time.