Cutco and Shun are both reputable companies with many loyal customers and much appreciation from professionals in the culinary industry. Choosing between these two knife brands can be quite difficult. If you're trying to decide between these two, it's a good idea to look at them both as equally as possible before making your decision.
In this article, we compare Cutco vs. Shun knives to help you make an informed choice that best suits your needs and preferences.
Use links below for easy navigation
Cutco Knives History:

In 1949, Alcas Corporation was founded as a seller of knives and kitchen products, including a line of Cutco knives, which is still one of their most popular products today. Since these first offerings, Cutco has expanded its product line to include various cutlery items and cooking utensils.
Shun Knives History:

Shun has been making knives since 2002 and is still leading in quality and design innovation today. They offer a wide range of cutlery products, from traditional Asian-style blades to Western-style chef's knives. Their line of kitchen knives comes in a variety of different styles for every need, whether you're looking for a single-blade knife to chop herbs or an 11-piece block set with all your essential cooking tools included.
Check out our Review on Shun Knives
Are They Worth It?
Are Cutco or Shun knives worth it? Are they better than your average, run-of-the-mill, everyday knife you'd pick up at your local grocery store? Or should you stick with what you know and use what you already have in your kitchen drawers? To learn more about these popular, top-of-line cutlery sets, read on!
Cutco vs Shun In-depth Comparison:

Cutco and Shun are two of the most popular brands of kitchen knives on the market today, but they each have their own distinct style and key features that you'll want to make sure your new knives have before you invest in them. Let's take a look at how Cutco vs. Shun knives compare.
Design: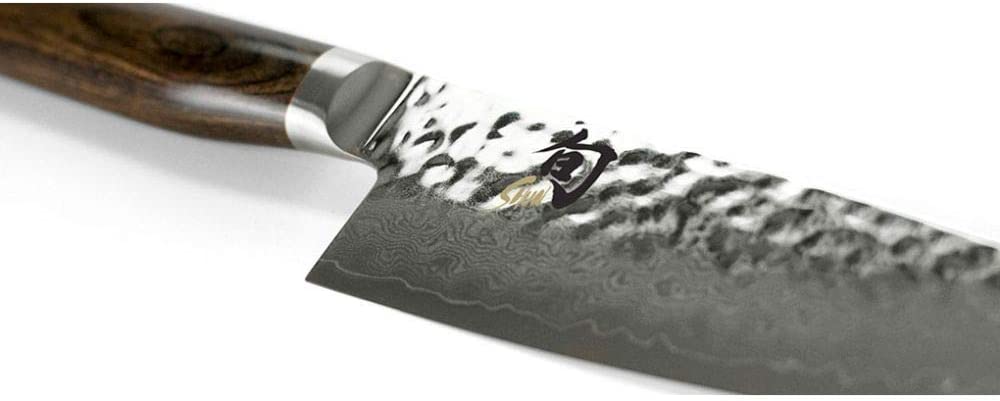 Cutco uses a double D design whereas Shun uses Damascus steel on their knives. While each design has its pros and cons, overall, consumers find both designs to be aesthetically pleasing. Each brand also has its own weight distribution; Cutco is heavier on one end than it is on another. Whereas Shun blades are more balanced out across the blade's length.
Cutco knives are generally larger and bulkier than their counterparts. The handles on these knives can feel awkward for someone who is used to traditional Japanese-style knives.
Blade Material & Edge Retention:
Cutting performance is largely dependent on blade material and edge retention, so it's important to know what you're working with when it comes to these characteristics. Both of these factors are strongly influenced by hardness, which is traditionally measured by Rockwell hardness scale (HRC). Cutco Knives have Rockwell hardness of 55-62. Whereas, Rockwell's hardness of shun knives ranges from 60-62.
Generally speaking, harder blades retain their edge longer than softer blades do; therefore, high-hardness steel makes for a great blade material that can cut through tougher ingredients with ease.
Steel:

Both Cutco and Shun knives are made of high-carbon steel. However, Cutco uses 440A steel with a carbon content of .75%. Whereas Shun uses VG-MAX and VG-10 steel with a carbon content of .95%. Both brands' blades will require sharpening eventually—but, in general, Cutco knives tend to be more durable than those of other companies, like Wusthof or Henckels.
Blade Shape:
Shun and Cutco offer different blade shapes, which affect their respective cutting ability and usefulness for specific applications. The classic Japanese single-bevel edge of a Shun knife means it's great for making precise cuts, such as those on meat or vegetables that will be eaten raw. It can also be used to create decorative garnishes on plates with high-end cuisines, such as sushi and sashimi dishes.
The choice between a knife's blade shape will depend on your intended use for it, but ultimately there is no perfect answer to that question—it depends entirely on you and your style.
Handle Style:

The most noticeable difference between these two knife brands is their handle style. Cutco knives feature a durable polypropylene handle, while Shun knives sport an elegant, Pakkawood ambidextrous handle that is ergonomically designed for comfort and ease of use—even when you're cutting meat with its blade.
The Cutco knives have handles designed to keep your fingers from slipping onto their blades, but they're not as comfortable as those on some other brands. The handles are made of polypropylene, a plastic that some people may find harder to grip than more traditional materials such as wood or rubberized plastic.
Price Difference:
The Cutco comes in at a hefty $180, while you can buy a Shun Classic 8-in. Chef's Knife for about $80 to $140, depending on where you buy it and what type of blade steel you choose (Shun also offers its knives with slightly different handle shapes). Despite its much lower price tag, though. I think that when it comes to performance, there is no real difference between Cutco and Shun knives.
Warranty:
Cutco and Shun knives both come with warranties that cover defects in material and workmanship. Cutco's warranty covers both its lifetime warranty and other guarantees: For as long as you own your Cutco product, the company guarantees that it will perform as advertised or they will replace it free of charge…Guaranteed Forever!
Lastly, both brands offer free sharpening services for a lifetime.
Which One Should You Buy?
Cutco and Shun knives can be a matter of personal preference, as both have their own strengths and weaknesses.
Cutco knives are made in the USA using high-quality, high-carbon stainless steel. The company offers a lifetime warranty and sharpening services. Shun knives, on the other hand, are Made in Japan using VG-MAX steel, which is a high-quality, high-carbon stainless steel. Shun cutlery Offers a limited lifetime warranty.
Ultimately, the decision will depend on your specific needs and preferences. If you are looking for a knife with a lifetime warranty and sharpening services, Cutco might be a good option. If you prefer a traditional Japanese handle design and precise cutting performance, Shun could be a better choice. I recommend trying out both knives, if possible, to determine which one feels better in your hand and meets your cooking needs.
Conclusion:
Overall, these knives have a lot of things in common. Both Cutco and Shun have been in business for decades and both provide very high-quality knives with excellent edge retention at a great price point. I'm not going to try to pick a winner here because they're both fantastic knife brands with many similar qualities, but if you have personal reasons for choosing one over another then by all means go ahead! You won't be disappointed either way.