Do you know why almost everyone owns at least one kitchen knife? The answer is easy. It is because kitchen knives are one of the most used tools in our kitchens and they make all of those cooking chores easier.
Now, we don't have to think twice if we need a new kitchen knife – if anything gets broken or chipped or becomes useless due to constant usage, we buy the first set of knives we come across at the supermarket. However, not many people know that there are several types of kitchen knives available on the market and some of them may be quite expensive.
In this article, we will talk about the most expensive kitchen knives in the world and whether you should buy them or not.
What if we told you that there is a certain kind of kitchen knife that's more expensive than a car? And we're not talking about a Ferrari here; just your normal run-of-the-mill car! That's right! Knives made from special materials from Japan can cost as much as $6,000 per piece. And how many times would you need to use these knives in one year? Probably less than ten times if that.
Let's jump in to check the list of Most Expensive Kitchen Knives today
5 Most Expensive Kitchen Knives 2021
List of 5 Most Expensive Chef's Knives in 2021
Yoshihiro Honyaki Shiroko Mirror Polished 8.25 Inch
Shun Dual Core VG0017 8-Inch Kiritsuke Knife
Zwilling Kramer – Damascus Collection 8- Inch, Chef's Knife
Wüsthof IKON Cook's Knife 8 Inch Brown
Misono UX-10 Chef's Slicer
Yoshihiro Honyaki Shiroko Mirror Polished 8.25 Inch: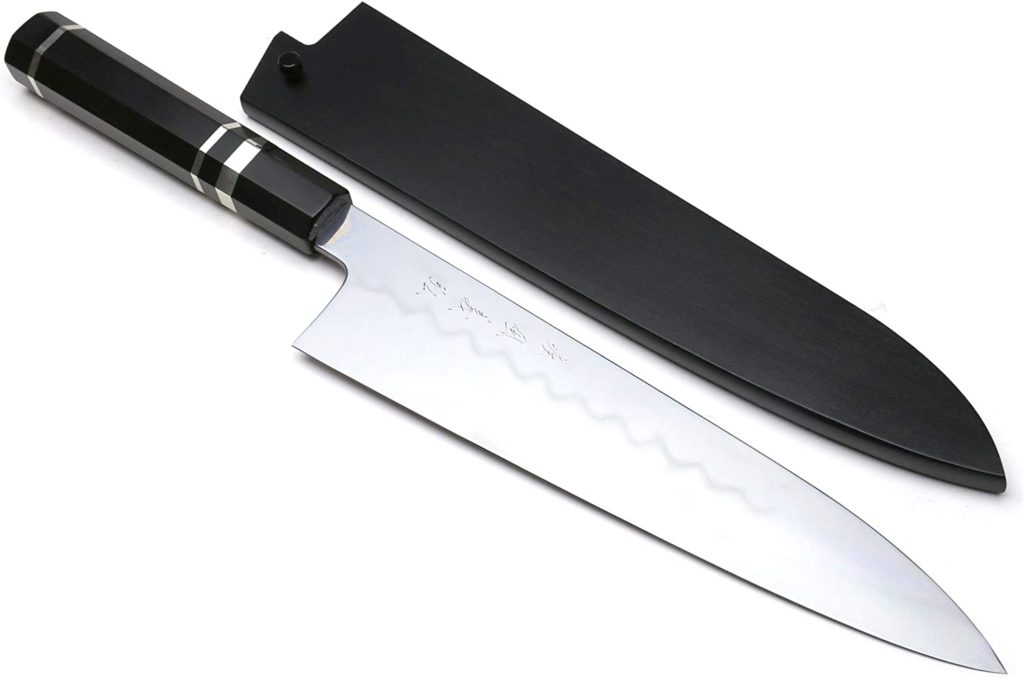 Yoshihiro Honyaki Shiroko 8.25 Inch beautifully mirror finished handmade knife is a masterpiece of craftsmanship. It is designed by a renowned Japanese knife makers.
Material Used In Knife:
"Honyaki" in its name means true hand forged from the highest quality carbon steel, meanwhile the mirror finish is applied to the blade before heavy grinding is done, giving the knife an unparalleled shine.
This not only makes the knife incredibly strong, but also a beautiful work of art.
Each knife is made by hand and its hand-carved wooden handle makes it a chef's favourite. The high-quality blade is perfectly balanced for both left and right-handed users, making it lighter and easier to use than other knives in its class.
Can you use it for everyday cooking?
In the hands of a skilled chef, a high-quality knife can transform a home into a modern restaurant. This 8.25" knife can slice cucumbers into paper-thin ribbons and can chop through dense potatoes like they're butter.
You can make delicious meals with it. And it can also be used for dicing, slicing, chopping, yet its sharpening can only be done with water whetstones.
Yoshihiro knives are made to be cherished for many years. The octagonal design on the handle doesn't just look good — it allows for an easy grip when you're cutting with the knife.
How expensive is it?
Honyaki Shiroko is a beautiful artisan knife that will turn you into a master chef, and it costs about $1,200!
NOTE: After washing, care must be taken to wipe the knife dry immediately to ensure optimal hydration and corrosion resistance.
Shun Dual Core VG0017 8-Inch Kiritsuke Knife:

Shun's VG series of kitchen knives are some of the sharpest on the market. And their blades are made with a dual-core concept that maximizes blade strength while minimizing weight. As a result, each knife in the series is light, thin, and easy to handle.
Material Used In Knife
The Shun Dual Core VG0017 8″ Chef's Knife is made from VG-10 stainless steel. A blend of 71 micro layers that results in a razor-sharp edge and very impressive edge retention. The core of this knife is based on a well-known and widely used Japanese blade pattern, the Gindara (Goindara), which features a flat section with gently curved edge.
The high-carbon chromium steel is often used to make single-bevel knives like this one, so it holds its edge much longer than other knives.
Can you use it for everyday cooking?
VG0017 8" Inch Knife is perfect for home cooks who are looking to purchase their first high-end kitchen knife or for chefs who are in need of a versatile, multipurpose knife.
It is more than just a sharp, durable knife — it's an excellent multipurpose kitchen knife that can be used for chopping, mincing, and slicing.
How expensive is it?
The knife comes with a price of under $500 which makes it exceptionally well as compared to other most expensive knives.
Zwilling Kramer – Damascus Collection 8- Inch, Chef's Knife:

Zwilling J.A. Henckels' line of knives is a favourite in many homes. Now, the company has collaborated with Bob Kramer, one of the top professional knife makers in the world, to create a line of distinctive knives that are aimed at culinary connoisseurs.
Material Used In Knife
This stainless steel chef's knife was created with master bladesmith Bob Kramer. Made of 100 layer chevron Damascus pattern, with each side containing 63 HRC hardness, at an edge angle of 9-12 degrees. This knife will surely let you perform precise, multi-step tasks with ease.
Can you use it for everyday cooking?
This 8-inch chef's knife has a balance and utility that makes it perfect for all kinds of kitchen tasks — from dicing vegetables to chopping meats.
If you want a chef's knife that can handle just about anything, then you can rely on the Zwilling JA Henckels 8″ Chef's Knife.
How expensive is it?
For the value and qualities it provide, it sure costs less. The 8 inch knife comes with a price of less than $500.
Wüsthof IKON Cook's Knife 8 Inch Brown:

Wusthof Cook's Knife is the chef's go-to knife due to its excellent blend of sharpness, smoothness, and strength. It may seem like a simple kitchen knife. But in reality, it's a work of art that can be passed down from generation to generation.
Additionally, with German engineering and laser-controlled precision, it can skillfully chop through all of your most difficult kitchen tasks without sacrificing its edge.
Material Used In Knife
Made from one piece of high carbon stainless steel, this knife boasts a laser-controlled edge that allows for enhanced precision and accuracy when cutting through fruits and vegetables. It comes equipped with an ergonomic handle made from African Blackwood. It is designed to fit the human hand.
Can you use it for everyday cooking?
Cook's 8 inch Knife offers a unique design that makes slicing, chopping, and cutting a breeze. This knife's smooth performance has made it a top choice among professional chefs. But it's not just for chefs — this knife is also great for carving or mincing an array of foods.
How expensive is it?
The best part about this knife is that it has a price tag that makes it affordable for beginners and seasoned chefs alike. This German Made Chef's knife costs less than $300.
Some people may still find it a bit expensive.
Check out our article on Japanese vs German Knives
Misono UX-10 Chef's Slicer:

The UX10 may look like your average Western chef's knife, but it's definitely not your average knife. Misono UX10 Chef's knife is an example of the best that Japanese knife makers have to offer.
Material Used In Knife
UX10 Chef's knife is crafted using Swedish high carbon stainless steel. The blade extends 8.2 inches and has a 61 Rockwell hardness rating. The dimple-ground surface acts as air pockets and increases airflow, meaning less friction and better control of the blade during meat and vegetable cutting.
The handle is made of durable Composite wood and styled like Japanese Santoku knives — three times lighter than comparable Chinese-style chef's knives and with a thinner blade.
Can you use it for everyday cooking?
If you're looking for a knife that can deal with meat, fish, fruit, and vegetables alike, look no further than the Misono UX10 — and its cutting edge gives you better food preparation results than lower-quality alternatives.
How expensive is it?
This knife is the most expensive chef's knife in the world and it does provide value for money.
Final Thoughts:
You've probably heard hundreds of times that kitchen knives are the most important tool in the kitchen. Choosing the wrong knife means you're not only limiting your cooking creativity, but also likely to get yourself hurt.
There are four important things you should take into consideration before buying kitchen knives: Design, Quality, Value, and Brand.
The first step is to determine what kind of cutting knife you need — it could be an all-purpose chef's knife, something for peeling fruits or light chopping tasks, or even a paring knife to peel delicate foods.
The second step is to determine how much you are willing to spend on the knife. Are you ready to buy most expensive kitchen knife or are you low on budget?
The Third and final step is to read reviews online and then decided on the basis of it.
We hope the solution provided by us, can help you know more about the most expensive chef's knives and choose the top ones for your kitchen.
Check out our Article on Best Steak Knives
In case of any question, you can always contact us through our Contact Page and we will reply within 24 hours.