The Zwilling JA Henckels Company has been around since 1731, and it's one of the oldest knife manufacturers in the world. The company was founded in Solingen, Germany, and they now produce some of the highest quality knives on the market today. Their kitchen knives are used by many chefs around the world to prepare food because they are comfortable to hold and easy to sharpen.
I've used many Zwilling JA Henckels Knives over the years, and I've always been pleased with them.
In this review of Zwilling JA Henckels knives, we will discuss some of the top series and explain what makes them so great. Be sure to keep reading to discover more about these great knives.
Zwilling Knife Collections:
Inspired by the rich heritage each Zwilling knife is forged from a single piece of specially tempered high carbon no-stain steel to ensure outstanding strength, maximum sharpness, and perfect balance. Every piece of Zwilling Knives is uniquely shaped and sculpted during the forging process to perfectly fit the user's hand. This unique process makes each set a work of art in its own right, combining functionality and beauty with durability for many years of use.
Top collections from Zwilling include:
Zwilling Pro
Professional S
Pro Holm Oak
Four Star
Kramer
Gourmet
Twin 1731.
Zwilling Pro Knives: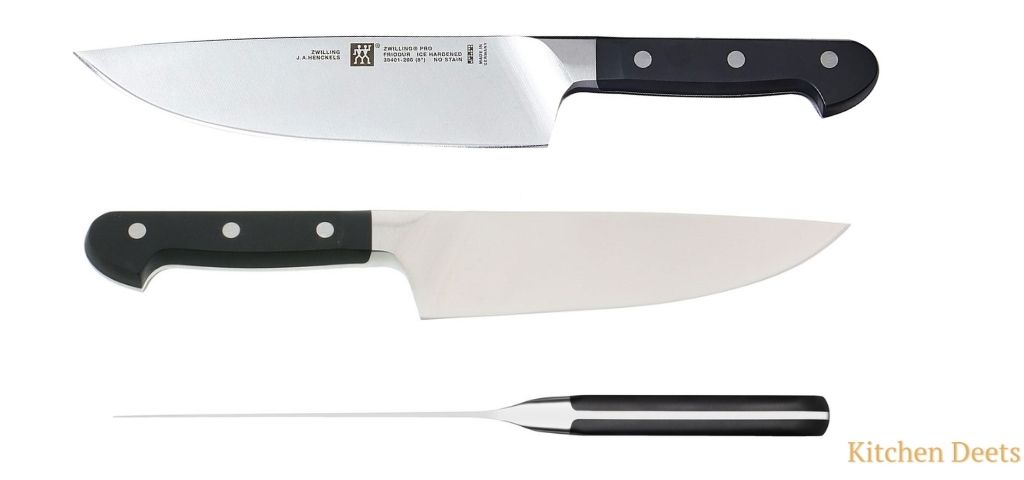 The Zwilling Pro series offers an uncompromising combination of performance and value. Each knife is forged from a single piece of steel, resulting in superior strength and balance. In addition to that, the POM handle material ensures a comfortable grip and is stylishly curved to fit comfortably in the hand during long hours of prep work.
A workhorse in the kitchen. Zwilling Pro knives are ready to go right out of the box.
It is the most user-friendly series that allows you to work faster and more efficiently, thanks to the curved half bolster.
Related: Read our Cangshan Knives Review
Facts about Pro Series:
Zwilling pro has a stainless steel curved half bolster as compared to the Professional S series that have a full bolster.
It comfortably supports the rocking motion preferred by professional cooks.
The Rockwell hardness of Zwilling Pro is 55-58 HRC.
Pro series feature Friodur ice-hardened blade.
Zwilling Pro shines in any setting from the home kitchen to commercial use.
Zwilling Professional S: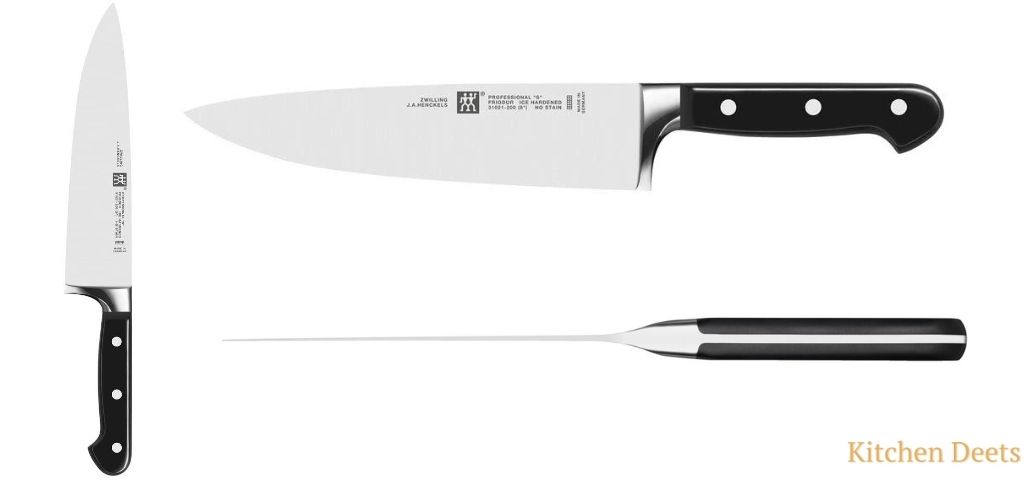 The Zwilling Professional S Series kitchen knives are at the heart of the Zwilling philosophy. These knives represent the ultimate in quality, design, and value. Precision-forged from a single piece of steel into a durable, ergonomic shape with a comfortable and secure grip. This series is extremely sharp and will keep its edge over a longer period of time than most other knives on the market today.
Professional S knives are the perfect in-between for someone looking for a step up from all-purpose kitchen knives, but not ready to invest in a professional knife set. A simple yet versatile design and classic cosmetic touches make this line an easy choice to add to your collection.
This is by far one of my favorite knives.
Check out our article on Zwilling Pro Vs Zwilling Professional S
Facts about Professional S series:
Their excellent strengths and perfect balance makes them fully suitable to carry out professional tasks.
This series features a laser-cut edge.
The cutting edge is ground at 15 degrees on both sides.
The blade has a Rockwell hardness of 57 HRC.
Zwilling Pro Holm Oak: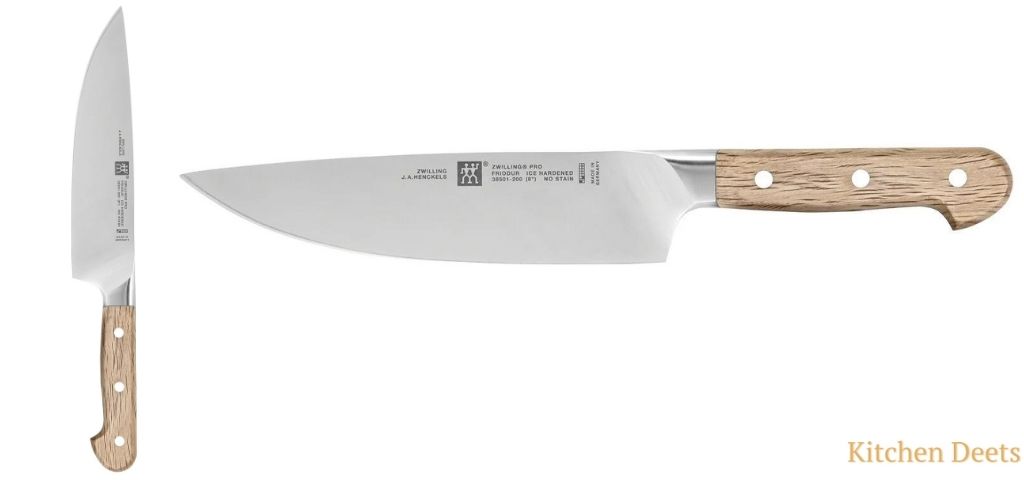 Zwilling Pro Holm Oak is the latest addition to Zwilling's Pro line and features a cutting-edge handle made of Holm oak. This extremely durable and uniquely-textured wood, native to Corsica and Sardinia, offers a striking new design that complements the high-performance, precision-forged blade.
These knives allow for effortless chopping, dicing and slicing. With this complete set in Holm Oak wood, you will be able to handle any kitchen task.
Zwilling Pro Holm Oak is the perfect choice for gourmet chefs.
Facts about Pro Holm Oak:
The beautiful-looking handle is simply coated in Holm Oak wood.
The unique blade angle creates less friction during slicing and foods release easily from the blade.
The high carbon stainless steel blade has an HRC hardness rating of 55-58.
The blade features a 16° angle on each side that combines with the special tang shape.
The Mediterranean handle gives this stainless steel knife a beautiful look.
Zwilling Four Star Series: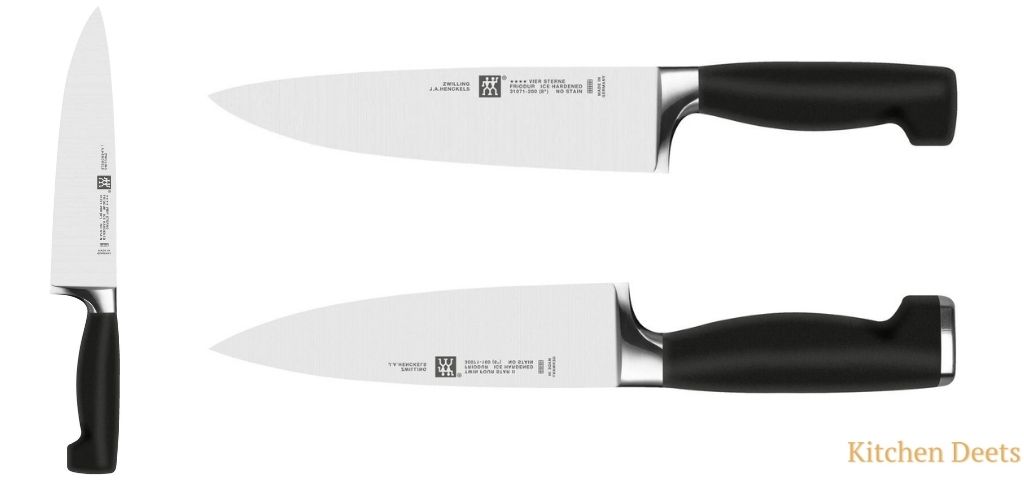 Forged to perfection, the Zwilling Four Star Knife series is honed by the most skilled artisans. The seamless transition from bolster to handle joined seamlessly, distinguishes the four-star knife from all others.
Designed for the professional and discerning cook, this series features FRIODUR blades which are created from a unique combination of high-quality chromium and carbon that provides sharp, long-lasting cutting performance.
Zwilling Four Star knives are a wonderful all-around cooking tool for home cooks. Also, the high-quality, full tang German steel blades come with lifetime manufacturer's warranties and sharpness guarantees.
Facts about Four Star Series
The proven series has been a favorite among passionate home chefs for over 30 years.
This series was first introduced in 1976 by Zwilling.
This marvelous kitchen knife assortment features a stunning cutting edge and offers supreme quality at a great price.
It doesn't have a triple-riveted handle like the Zwilling Pro or Professional series.
Zwilling Kramer Series: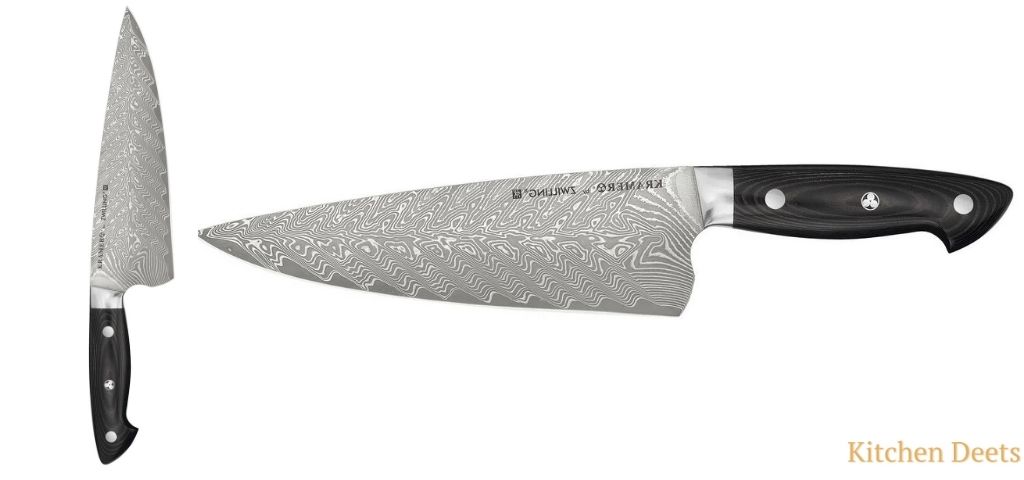 The Zwilling Kramer knife collection is the legacy of Master Bladesmith Bob Kramer. Coming from a background of over 2 decades, this line of cutlery takes full advantage of the artistry and expert craftsmanship. Sporting a beautiful Damascus design and made from SG2 Micro-Carbide powder steel, these knives are sure to make cutting your favorite meal a true pleasure.
Luxury and performance come together in the Kramer series. With the edge sharpened to 9-12 degrees on both sides, this series has one of the best cutting-edge performances among Zwilling kitchen knives.
I personally love the detail on the handle and mosaic pin from the legendary bladesmith Bob Kramer himself. If you have the budget, this is one kitchen knife series that can't be passed up.
Facts about Kramer Series:
The laminated blade is made of SG2 micro-carbide powder steel. And hardened to 62-64 Rockwell hardness.
Knives of the Zwilling Kramer Series are the result of close collaboration between master Bladesmiths, engineers, and designers.
The rivets are arranged in a triangle pattern so that they can never become loose or fall out.
Quality, durability, and beauty are the hallmarks of this high-end kitchen knife series.
A unique mosaic pin complements the gorgeous hilt in this series.
One of the most expensive kitchen knives by Zwilling.
Zwilling Gourmet Series:
The Zwilling Gourmet Series is a go-to knife for home chefs around the world. The series features stamped construction with Zwilling's signature ice-hardening technique.
Zwilling J.A. Henckels' Gourmet series of kitchen knives meet the demands of today's home chefs, who see cooking as a form of creative expression, as well as a way to bond with friends and family. This collection offers performance and precision at an affordable price point.
Facts about Gourmet Series:
The knife features triple-riveted POM handle with a center rivet laser inscribed Zwilling logo.
The HRC hardness of this series is 55-58.
This is a versatile series that will quickly become your go-to knife for everyday use.
It's the little details that set Zwilling Gourmet apart from other knives.
Zwilling Twin 1731: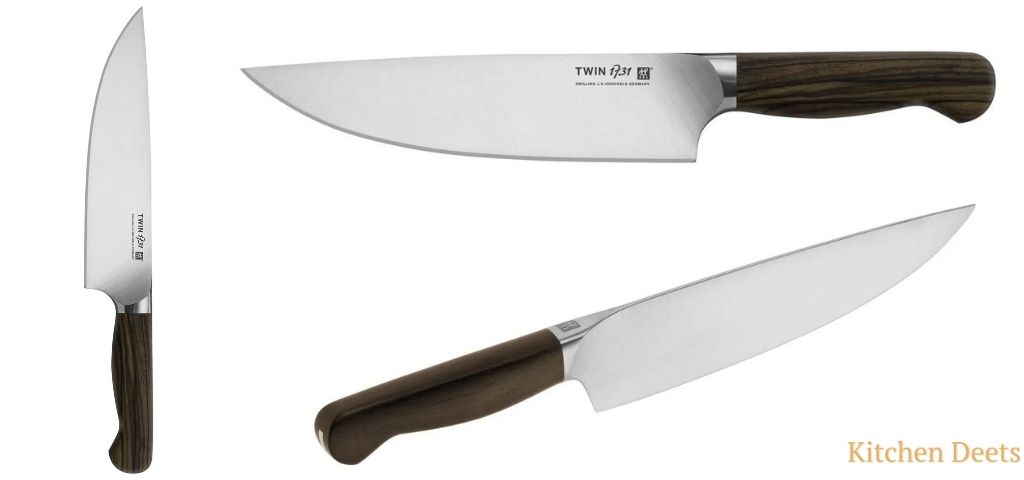 The Zwilling Twin 1731 Series makes a stylish addition to your countertop and kitchen. The simple design with straight edges complements modern décor, making it a functional and beautiful addition to your kitchen.
The knives feature an ebony wood handle that complements the natural beauty of the stainless steel blade. The bolster follows the curve of the handle, allowing you to easily rotate it from the blade's sharp edge without getting your hand in the way.
ZWILLING's Twin Signature 1731 series kitchen knives are the realization of designer Matteo Thun's desire to combine traditional and classic cooking techniques with modern kitchen design.
Facts about Twin 1731:
This Zwilling twin 1731 series features a cronidur 30 steel blade.
The full-tang blades are made of corrosion-resistant high-carbon stainless steel, hardened to 60 HRC.
The ergonomic handle with ebony wood provides a secure, comfortable grip.
Final Thoughts on Zwilling Knives Review:
When it comes to cutlery, Zwilling is one of those trusted brands. What makes them unique is their consistent quality. They are priced higher than many other popular brands, but at least you know what you are getting is of good quality.
For those who aren't sure about purchasing one yet, getting a Zwilling knife would be by far the best thing you will ever do. The craftsmanship, as well as the design of these knives, is superb and many chefs swear by them to prep for their restaurant dishes or even cook for their own families.
What do you think about Zwilling Knives? Let us know in the comment box below