A lot of people these days prefer to buy cookware made in the USA because it's typically known for being more durable, functional, and aesthetically pleasing than other cookware made in other countries. There are several American manufacturers that produce high-quality cookware, and this list contains the four best of them all. If you're looking to purchase your own set of cookware, this guide will help you choose based on features and price range!
Use links below for easy navigation
Top 5 Best Cookware Made in USA
If you're in the market for new cookware, it's important to consider both the function and longevity of the product that you choose. High-quality cookware can be passed down from generation to generation, which means that you should keep durability in mind as you shop around. Luckily, there are many great brands of cookware made in the USA that provide all the features you need without skimping on quality, including these five best brands of cookware made in the USA.
Made In – Best Stainless Steel Cookware Made In USA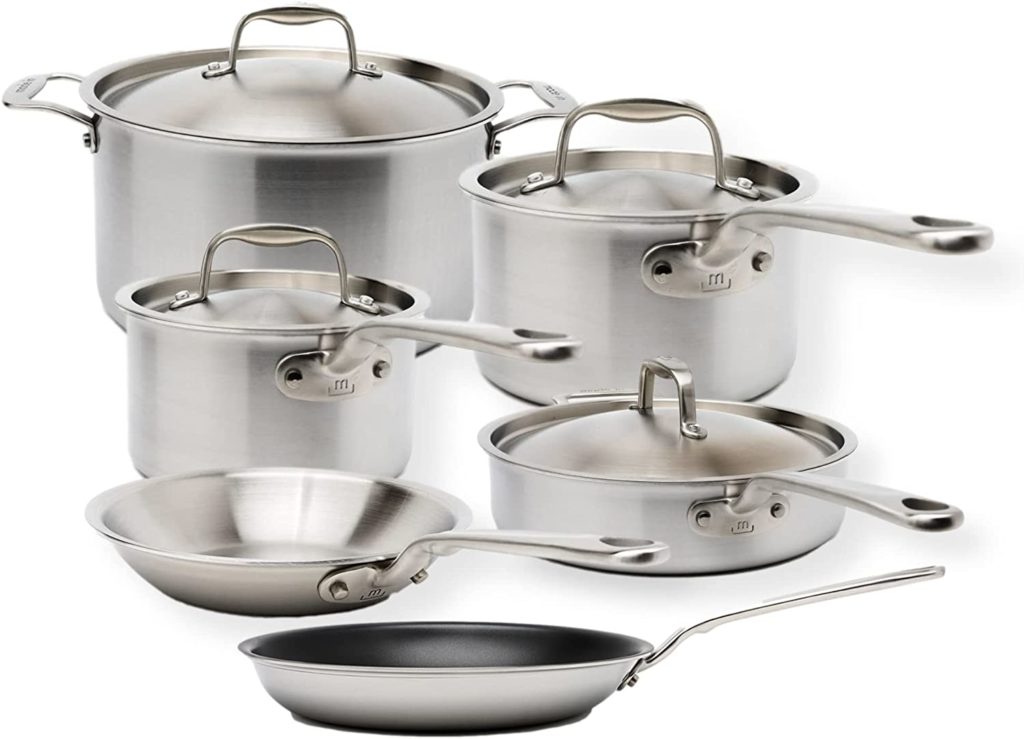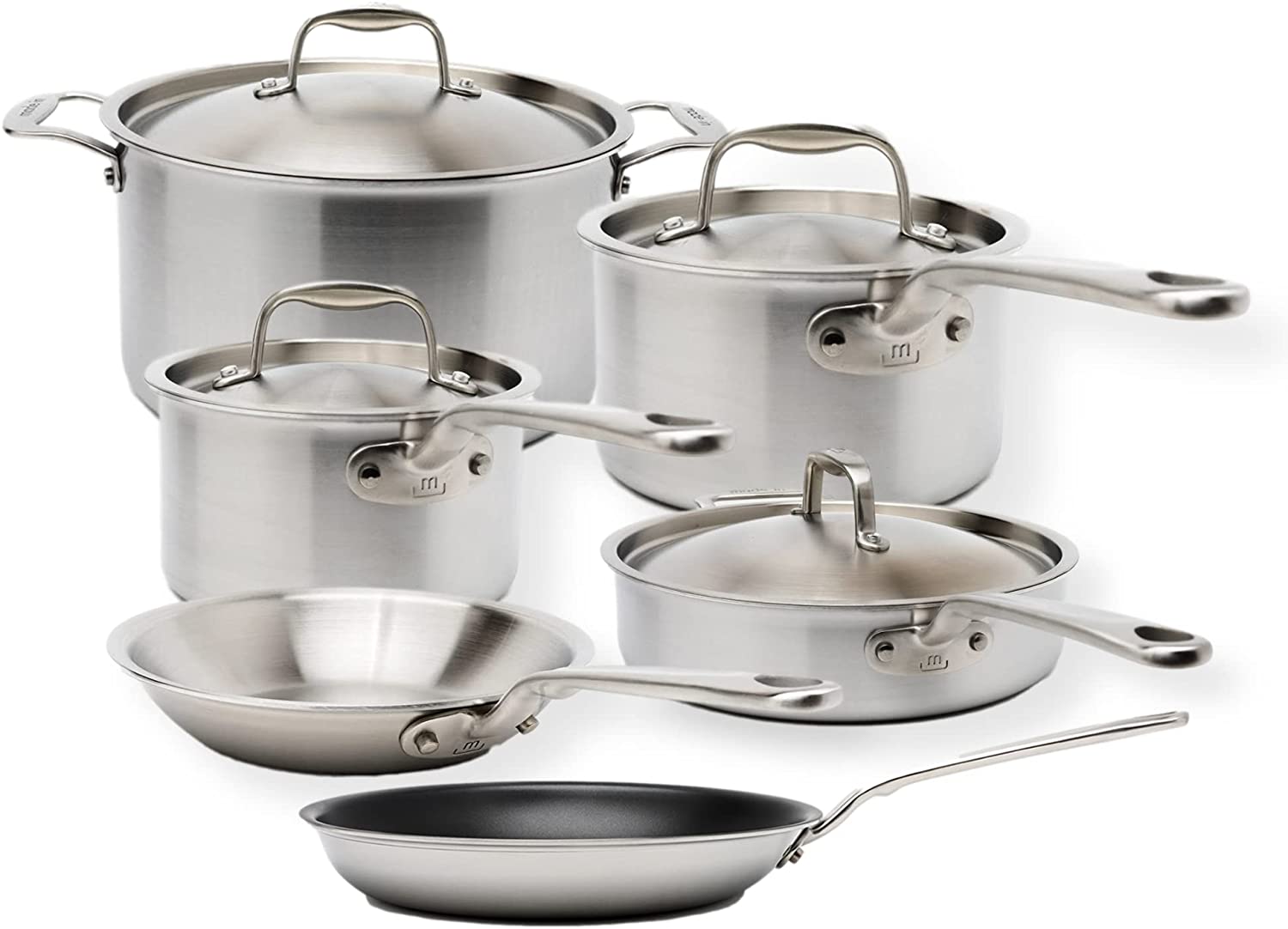 Made In is one of the proudest American cookware brands. Their cookware is made in the USA and is durable enough to withstand heavy use. This company has a hyper-active digital team that is always looking to assist its customer.
In this aggressive market, every company is trying to outshine other companies and make themselves the best in their field. Made-in cookware does not lag far behind and has emerged as one of the most popular brands for stainless steel cookware.
If you are looking to buy the best stainless steel cookware then Made in's 5-ply stainless steel cookware set is the right choice for you.
This cookware set has become quite popular in the market after its launch. It makes an amazing sale rate all over the world due to its durability and handiness factor.
Check out our article on Best Cookware Not Made In China
Facts about Made In:
Launched in 2016
Construction fully clad
Broiler safe
Induction compatible
Limited lifetime warranty
Reasons to consider Made In
We all know that USA-made things are good and reliable by default, this is exactly what this cookware is.
The company provides more than enough material to help you learn more about their quality product.
It is one of the leading cookware brands that have its products made in the USA
Reason not to consider Made In
Limited offerings and does not have any physical shops.
Lodge – Best Cast Iron Skillet Made In USA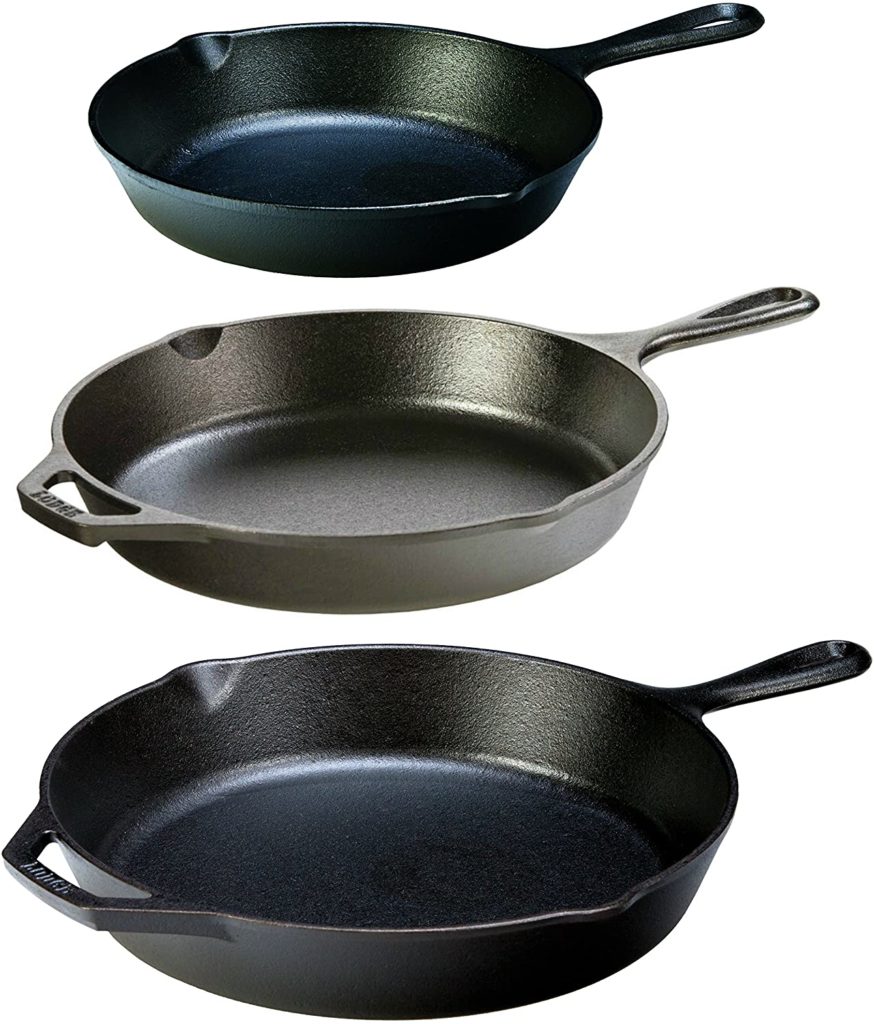 As you know, cast iron has been in use for more than 300 years, ever since the first ones made from pig iron were smelted. It's a very tough material and old pieces of cast iron items can be found that are over 300 years old. Even today, Lodge is known for making high-quality products out of cast iron.
There are many brands out there that make cast iron skillets. However, none can compare to Lodge in terms of performance and durability. This is because Lodge has been a pioneer in the field and has been in business since the 19th century. So if you're looking for a great skillet that can bring back memories of a time gone by or that you can pass on to future generations, Lodge is the Best Cast Iron Skillet American brand to go for.
Related: Best American made dutch ovens
Facts about Lodge
Founded in 1896
Lodge is best cast iron skillet brand made in the USA
Broiler safe
Induction compatible
Lodge promise
Reasons to consider Lodge
Lodge has been around since the 19th century. That's more than 120 years.
The company has a long history of making cast iron skillets that don't only look cool but also work well.
Their cast-iron skillet works with any cooktop, including induction, so it's a great choice for flexible cooking.
It's also nonstick and easy to clean after you're done cooking on it.
Reason not to consider Lodge
Heavier in weight and requires maintenance over time.
Calphalon – Best Nonstick Cookware Made In the USA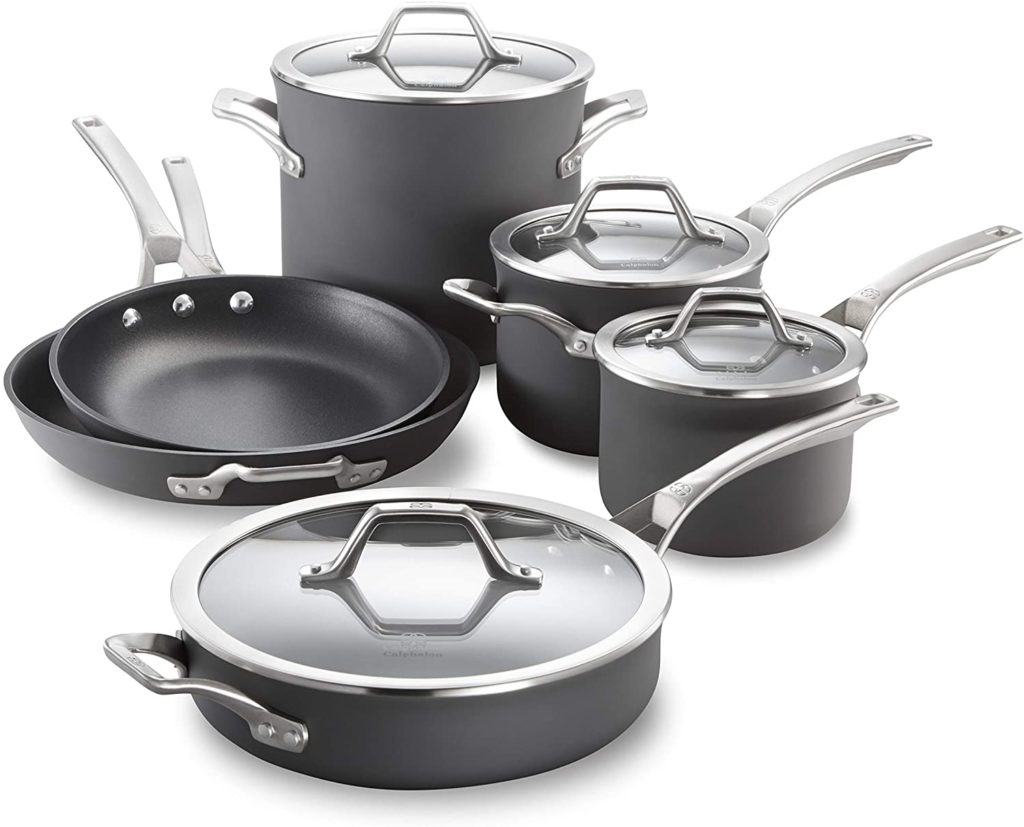 Calphalon is one of the most renowned companies for cookware in the USA. Their signature hard anodized nonstick cookware is made in USA, meaning you can enjoy the benefits of good quality and top-notch service.
As the best nonstick cookware made in USA, Calphalon is a pure joy to own. The exceptional quality of these nonstick pans has given cooks unprecedented freedom and pleasure in the kitchen. Now, imagine cooking with food that doesn't stick while also knowing that it won't be sticking to the pan and burning. How great will that be?
This nonstick cookware is fully dishwasher safe, making clean-up very easy. If you're looking for the finest USA-made quality cookware, look no further than Calphalon.
Related: Henckels Capri Notte Granitium 3-piece Fry Pan Set Reviews
Facts about Calphalon
Calphalon was founded in 1963. The company was first known as commercial aluminum cookware then changed its name to Calphalon in 1992 due to its popularity.
3 Layer nonstick interior
Oven safe up to 500 degrees F
Limited lifetime warranty
Reasons to consider Calphalon
Calphalon is crafted with an industry-leading nonstick surface that works better than any other.
It is so good that you will never have to worry about your food sticking to the pot or burning on the bottom.
With these pots and pans, you can cook meats, fish, and vegetables without worrying about sticking or burning them.
This stylish high-quality nonstick cookware makes your kitchen look great.
Reason not to consider Calphalon
Heavier in weight
Check out our article on Best Copper Cookware Brands
All-Clad Best Value Cookware Set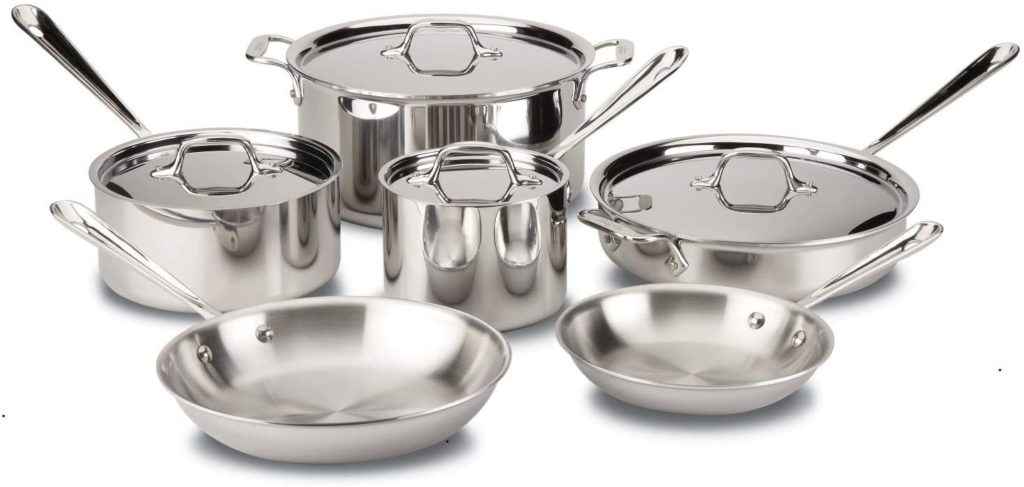 All-Clad USA has been in the business since 1967, and still remains a top choice for many. The brand has been known throughout America and the world as one of the best quality stainless steel cookware that is made of heavy gauge 18/10 stainless steel layered with a shining aluminum core. This mark of the All-Clad cookware makes it worth its cost and is better than any kind of cookware.
All-Clad Stainless Steel Cookware is not just made from heavy-duty stainless steel but also features other features like induction compatibility, thermal core, and longer durability. These features make All-Clad one of the top choices for those who want quality cookware for a reasonable amount of money.
Modern recipes require high heat to maintain food safety, but this will not harm the food or burn it if you use the right combination of pots and pans. This is why we recommend All-Clad stainless steel cookware without any doubt.
Check out our article on All Clad Copper Core Review
Facts about All-Clad
Founded in 1967 by John Ulam
Construction fully clad
Induction compatible
Broiler safe
Oven safe up to 600 F
Limited lifetime warranty
Reasons to consider All-Clad
One important reason that justifies the popularity of All-Clad cookware is its durability and long-lasting life.
The All-Clad Cookware ensures fine-tuned cooking temperatures with their high-quality stainless steel.
These premium pieces of cookware deliver the best results time and time again.
We believe that All-Clad Cookware will bring the joy of cooking to your kitchen.
Reason not to consider All-Clad
Expensive than most other similar brands
Vikings – Stainless Steel Cookware Made in USA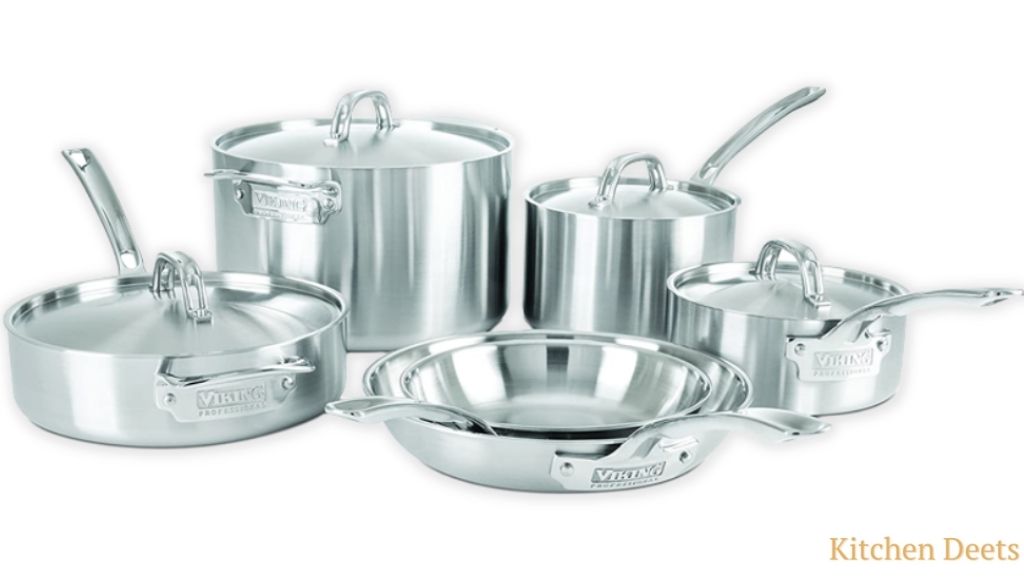 Viking is an American brand based in Mississippi that produces premium cookware. The company offers a nonstick, copper, and stainless steel 5 Ply as well as a 3 Ply collection, all of which are made in the USA.
Their most selling cookware line is 5 Ply stainless steel cookware. The 5 Ply collection is designed to provide even heat distribution and fast heating. The pan's thick aluminum core is sandwiched between layers of stainless steel; this ensures that heat is evenly distributed throughout the pan, so your food will be cooked evenly every time.
The 3 Ply collection also has an aluminum core that provides quick and even heating, so you can get food on the table in no time at all!
The company has been producing high-quality cookware since 1987 and it is still going strong today. Viking cookware is made with premium materials such as heavy gauge carbon steel and cast iron. They are very durable and can last for many years if properly maintained.
Check out our article on Best Stainless Steel Cookware Made in USA
Facts about Vikings
Aluminum Construction
Induction compatible
Broiler and Dishwasher safe
Oven safe up to 600 F
Limited lifetime warranty
Reasons to consider Viking
Viking's 5 Ply collection is made with five layers of stainless steel to provide even heat distribution, durability, and precision cooking
Viking offers products that are designed to last a lifetime and beyond
The pots and pans are very durable
Viking has been manufacturing high-quality kitchenware since 1987.
Reason not to consider Viking
Slightly heavier in weight
What Is The Best Cookware In The United States?
The best cookware in the United States is subjective and depends on individual needs and preferences.
All-Clad: Known for its high-quality stainless steel cookware with even heating.
Lodge: Cast iron cookware known for its durability and versatility.
Calphalon: Offers a range of cookware made of different materials, including stainless steel and hard-anodized aluminum.
Viking: Offers a wide range of cookware made of different materials, including stainless steel and non-stick options.
Ultimately, the best cookware is the one that fits your cooking style, budget, and preferences. It's important to consider factors such as heat distribution, ease of use, and safety when making your decision.
Why You Should Consider Cookware Made in USA
It's no secret that the US is a country of consumers. From food to cars, we love to buy new stuff. And when it comes to kitchenware, we're no different. In fact, most Americans have a kitchen full of tools and appliances that were made in other countries—and we don't even think twice about it.
If you look around your kitchen at all the pots and pans, you'll probably see some made-in-china plastic stickers on them. We don't think twice about it when we buy them, but these pots and pans will break after only a few years of use, and then you'll have to throw them away and buy more—which isn't very eco-friendly!
Here are just a few reasons why you should consider Cookware Made in USA
Quality Material
The materials used to make American cookware are generally of higher quality than those used in foreign products. This means that your pots and pans won't break down as quickly and will last longer than their counterparts.
Related: Dutch oven not made in China
Durability
American products tend to be more durable because they're designed to withstand high temperatures and hard use over long periods of time. They're also designed with the environment in mind, so they won't leach harmful chemicals into your food when heated up.
Sticking to roots
Sticking with American roots is important because we want our economy to thrive! Buying American-made products helps keep jobs in America and keeps our economy strong so that we can continue building great products here at home instead of outsourcing them overseas where labor costs are cheaper but quality control standards are not as high (and sometimes nonexistent).
Bottom Line
Some of us don't care where their cookware comes from, as long as it's good. But some of us want to know that we are supporting American jobs and businesses.
We did a lot of research and came up with a list of the five best cookware made in America that really provide top-notch quality and services.
Frequently Asked Questions
When it comes to selecting cookware that aligns with your values and culinary aspirations, exploring options that are proudly made in the USA can be both a rewarding and conscious choice. This FAQ section addresses the most common inquiries that arise when considering cookware crafted within American borders.
What is the top brand that manufactures pots and pans in America?
If you're looking for pots and pans made in America, you'll be happy to learn that several top brands are manufactured right here on American soil. For example, Calphalon is a household name when it comes to high-quality cookware, and their products are proudly made here at home.
How good is Lodge Cast Iron Skillets?
Lodge cast iron skillets are one of my favorites because it's been used for decades and has a reputation for providing amazing flavor to food. It's also extremely durable and can last for generations with proper care.
Is cookware made in the USA of higher quality?
While quality varies, many USA-made cookware brands emphasize durability, performance, and stringent quality control, contributing to their reputation for excellence.
Are there any specific benefits to using USA-made cookware?
USA-made cookware often adheres to strict regulations, using safer materials and coatings, and supporting local economies, which can provide added peace of mind.
How do I ensure the cookware is genuinely made in the USA?
Look for clear labeling and information from manufacturers. Many reputable brands proudly state their products' origin on packaging and websites.