A gas stove requires the best pots and pans because of the intense heat it produces. If you're in the market for new cookware, the possibilities can seem endless—but what do you really need?
In this guide, we'll explain how gas stoves work, go over what to look for in pots and pans, and recommend some of our favorite products, so you can easily choose your next set of cookware. Whether you prefer stainless steel or cast iron, you can find it here!
Related: Best non stick pans for gas stove
Use links below for easy navigation
Best Cookware for Gas Stoves
There are several differences in pots and pans depending on whether they're intended to be used on gas stoves or electric stoves. For instance, the best pots and pans for gas stoves tend to be made of metal with thick bottoms because the heat distribution can be uneven on gas stoves. So it's important to choose the right type of cookware if you want to maximize the life of your cookware and not end up with damaged cookware or a ruined stove top.
Read on to find out everything you need to know about choosing the Best Pots and Pans for Gas Stoves.
Calphalon Premier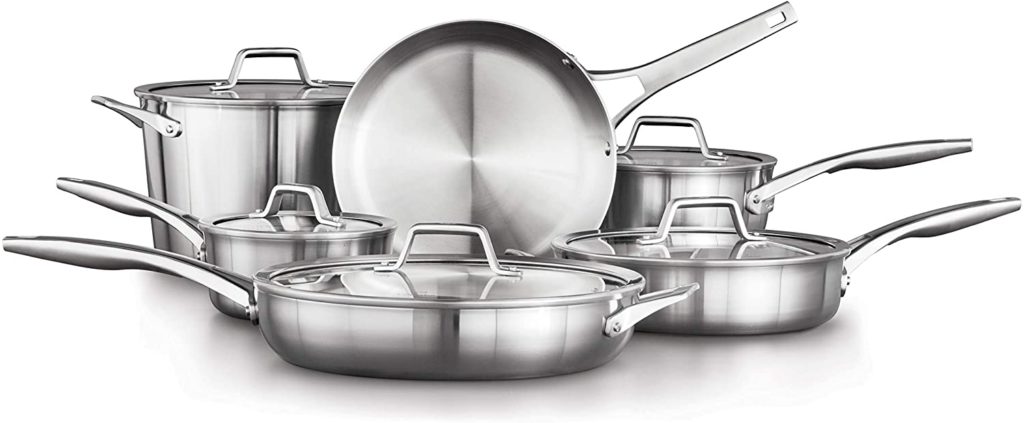 Calphalon premier pots and pans are made with durable multi-layer metal construction that sears, browns, and sautés like high end cookware sets.
The three layer metal construction delivers even heat distribution and consistent cooking results. Additionally, the cookware feature a stainless steel handle material for added durability, comfort, and stability when handling the pots and pans.
Bring home the perfect pots and pans for gas stoves. Calphalon premier stainless steel pots/pans will help home chefs go pro in the kitchen. Thanks to its 3-ply construction and core aluminum materials, it is truly crafted for the culinary enthusiast.

Kitchen Deets
Features
3 Ply construction
Stainless steel handles
Gas, electric and Induction compatible
Oven safe up to 450 Degree F
Weight 25 pounds
Advantages
Perfect for searing, braising and deglazing
Stainless steel handles are ergonomically designed for comfort and stay cool on the stovetop.
Cookware is dishwasher safe for easy cleanup
Cooks at an even temperature on gas or electric ranges
It's compatible with all stovetops, including induction – and oven safe to 450°F.
Limitations
Slightly hard to clean
Rachael Ray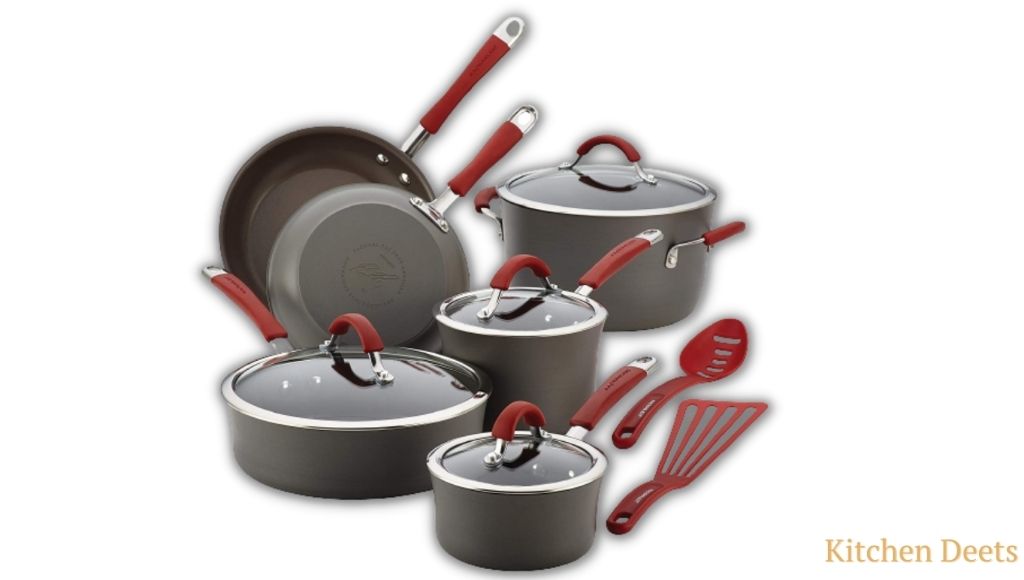 The Rachael Ray Hard Anodized Nonstick Pots and Pans 14-Piece Set is the perfect cookware set for anyone tight on a budget but don't want to give up the quality.
The hard anodized construction heats up quickly, which means faster cooking, and is more durable than regular nonstick cookware making it on top of our list as best cookware for gas stoves. Plus, the dual riveted handles with grippy silicone offers a strong grip for any meal. And the shatter resistant glass lids wrap tight for mess-free cooking.
These pots and pans can be found at a good price and have all the features that you need to make the perfect meal.
Features
Hard anodized nonstick construction
Stainless steel riveted handles
Gas, electric and Induction compatible
Oven safe up to 400 Degree F
Weight 17 pounds
Advantages
The glass lids on the saucepans give you a clear view of cooking progress without lifting the lid
You can even throw them into the dishwasher for easy clean up!
These pots and pans are PFOA free, heats evenly and quickly without having any hot spot
These pots and pans can be found at a good price and have all the features that you need to make the perfect meal.
Limitations
Pans are smaller in size
All Clad D3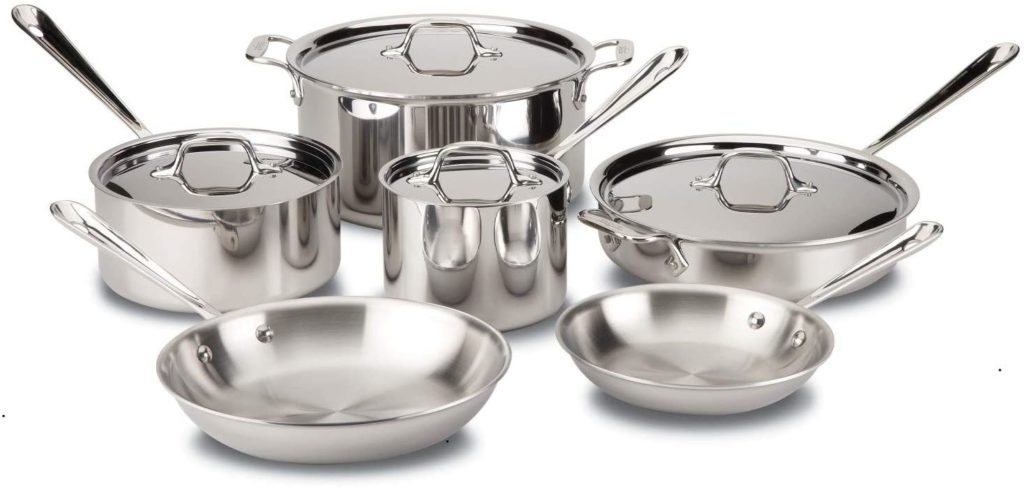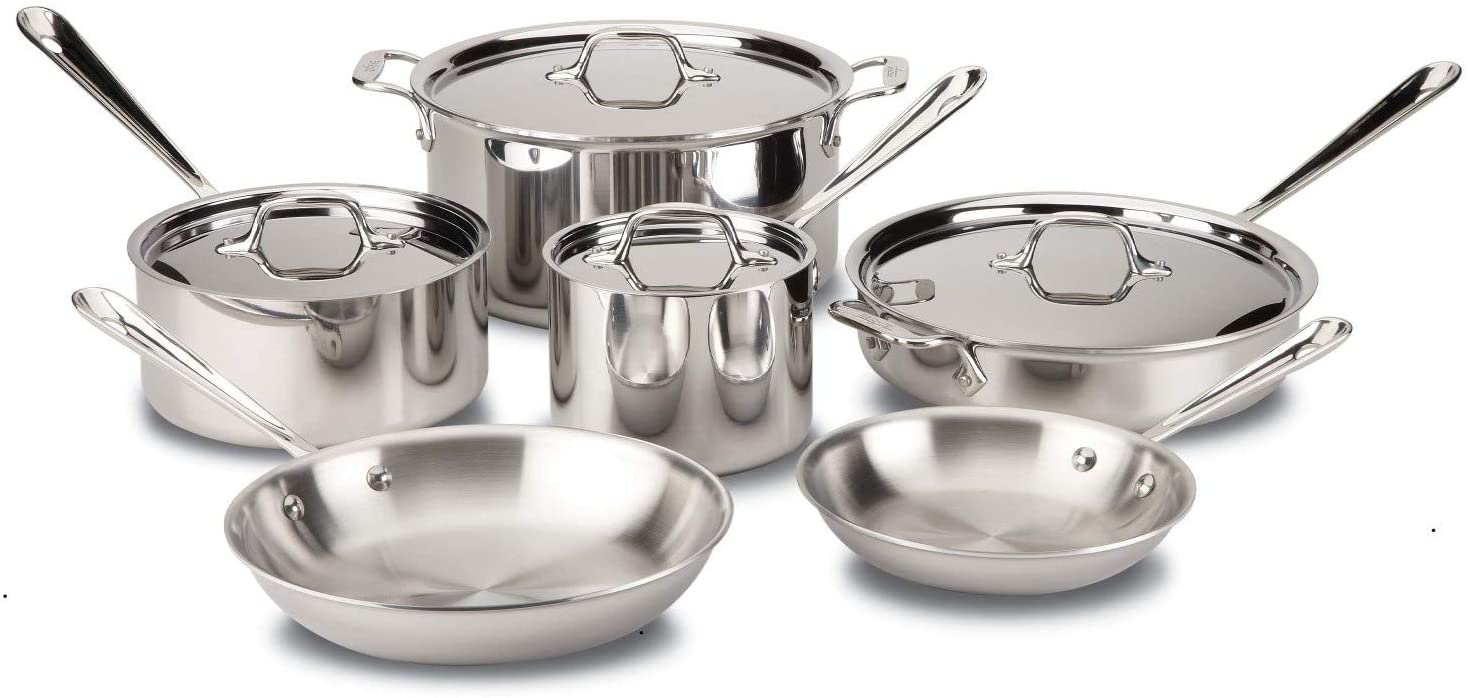 One of the best pots and pans for gas stove, this All Clad D3 Cookware set is made of 3 ply stainless steel.

Kitchen Deets
Its 3-ply bonded construction features an aluminum core between 2 layers of durable, gleaming stainless steel that ensures even heating across the bottom of the pan and all the way up the sides to prevent burning.
The stainless steel exterior layer of this cookware is easy to clean and dishwasher safe, while the PFOA-free interior offers stick-resistant cooking and easy cleaning.
All-Clad pots and pans easily stand up to the demand of any kitchen. We highly recommend this All-Clad D3 set, it will provide you with perfect results on your gas stovetop.
Features
3 Ply aluminum bonded 18/10 stainless steel construction
Stainless steel riveted handles
Gas, electric and Induction compatible
Oven safe up to 600 Degree F
Weight 7 pounds
PFOA free
Advantages
The cookware work well with all types of stovetops, including induction.
Each pan features ergonomic stainless handles with a comfortable grip.
The cookware is bonded with a layer of aluminum to ensure even heat distribution.
The interior layer is pure 18/10 stainless steel, which stands up against corrosion and discoloration.
It's ideal for making sauces, heating liquids, cooking food.
Limitations
All clad is dishwasher safe but it is better to hand wash these pots and pans instead of dishwashing.
Legend Cookware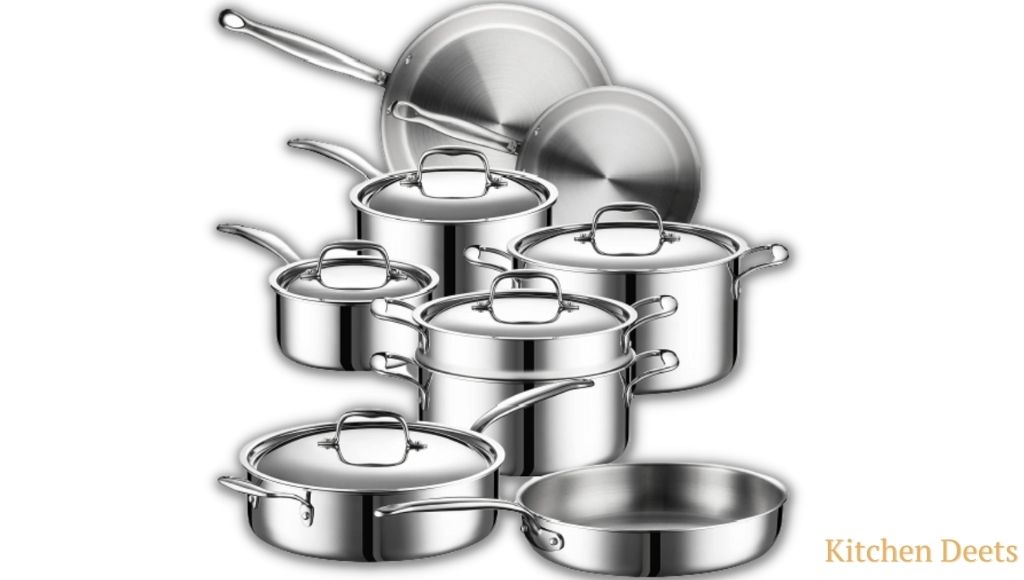 Cook, bake, sear and grill on any cooktop with Legend 5ply Stainless Steel Cookware. Completely nonreactive, legend cookware is compatible with all types of heat sources including induction, which makes it more adaptable than typical aluminum or copper core cookware. Each pan has been tested to make sure that it heats evenly, giving you the best performance possible.
These beautiful and durable stainless steel pots and pans from Legend Cookware come with a 100% satisfaction guarantee, because good things last forever. Each pan has multi-clad, 5-ply construction, made of the 304 highest quality materials for superior heat distribution, performance and durability
These pots and pans are now more stylish and functional than previous models.

Noor Khadija – Content Contributor Kitchen Deets
Features
5-Ply construction with a core of pure aluminum laid in between 2 layers of stainless steel
Stainless steel riveted handles
Gas, electric and Induction compatible
Oven safe F
Weight 40 pounds
Advantages
Whether it's frying, searing or grilling, these pots and pans are legendary in cooking.
Legendary pots and pans heat evenly and thoroughly, and allows you to cook at lower temperatures than most other types of cookware.
A great combination of modern and traditional
They all carry Legend's exceptional lifetime guarantee
Limitations
Hard to clean
Related: Check out our article on Granite Stone Blue Cookware
5 Things to Look For In a Set of Pots and Pans for Gas Stoves
You've decided to move up from a cheap set of saucepans you picked up at a garage sale, or maybe you just don't like your current cookware anymore. Either way, it's time to buy new cookware. With so many sets on offer, you might be wondering which ones will work best with your stove. What are some things to look for in a set of pots and pans?
Here are five features that every good set should have:
Anodized aluminum construction:
This type of metal is non-reactive, meaning it won't taint your food when heated. It also conducts heat very well, making it great for cooking and keeping hot spots away from where you want them.
PFOA-free nonstick coating:
The best nonstick coatings can withstand high temperatures without flaking off into your food. Look for one that has been certified by an independent testing lab.
Check out our review on Best Pots for Cooking Chili
Stainless steel handles:
If they get too hot while cooking, they could burn you; if they get too cold while storing, they could freeze together and become difficult to separate. Look for handles made of stainless steel instead—they stay cool no matter what temperature they're exposed to.
Induction compatibility:
Induction ranges use magnets instead of coils or flames to heat their burners. They're more efficient than other types of ranges, but only certain types of cookware can be used on them. Make sure your pots and pans will work before buying!
Related: Henckels Capri Notte Granitium 3-piece Fry Pan Set Reviews
Quality material:
Make sure you check out reviews before buying a set—you don't want to spend money on something that falls apart quickly.
Thoughts
A gas stove provides quick and easy heating of your pots and pans, making it the ideal appliance for chefs who need to get dinner on the table fast. There are many different pots and pans out there, but above listed one's are best for cooking on gas stove. They have an excellent heat retention and they are also safe to use in gas stoves.