Cooking with stainless steel cookware sets has plenty of advantages over other types of cookware, including an amazing resistance to rust and an ability to keep their shine much longer than non-stainless options. However, it's hard to find the best stainless steel cookware set if you don't know what to look for and it can be even harder to choose the right one when you are overwhelmed by many options.
This article will guide you through choosing the perfect stainless steel cookware set, from price range to size of pot or pan, to material, and more. You'll never have to wonder again which one you should get!
How We Chose Our Top 5 Products?
We spent days, even weeks, researching and reviewing all kinds of cookware sets. We also reached out to professionals in cooking to ask their opinions on what they thought were some of the best stainless steel cookware sets. After all that, we narrowed down our choices and did even more rigorous testing to determine what would make it into our top five picks. And if you're wondering how we decided which of those five picks would be number one—that was a tough decision indeed!
All-Clad D3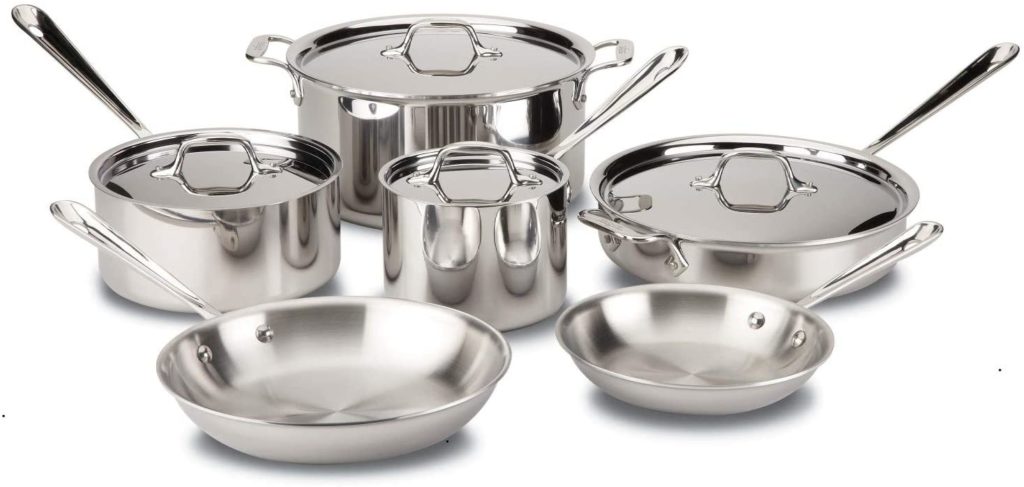 They say that good things come in small packages. And nothing could be truer of the All-Clad Stainless D3 cookware set.
This three-ply stainless steel cookware set is an advanced version of classic two-ply All-Clad Stainless cookware. It features a durable aluminum core sandwiched between two layers of high quality 18/10 stainless steel, making it sturdy and light at the same time. This enables even heat distribution across the pan, for delicious cooking results on all types of stovetops.
Great for all cooking styles, this tri-ply stainless steel cookware set works well on all kinds of cooking surfaces from gas to induction to electric. And it can even hold pots of liquid up to 600°F before they scorch.
Whether you're searing steak in a sauté pan or simmering stock in a saucepan, this three-ply stainless cookware set from All-Clad will help you cook like the pros.
Check out our article on Best Nonstick Cookware
Reasons you should consider All-Clad
Each piece has a hardened aluminum core that's wrapped with two layers of 18/10 stainless steel for durability and even heat distribution.
The riveted, stainless steel handles add a touch of grace and beauty. While the bright mirror finish will compliment any kitchen.
The All-Clad stainless steel cookware gives you the ability to sear, simmer, and brown.
You can use it on any cooking surface. Also, the cookware is dishwasher safe so you can enjoy a hassle-free clean-up process, too.
Reason you should not consider All-Clad
Expensive than most other similar brands.
Tramontina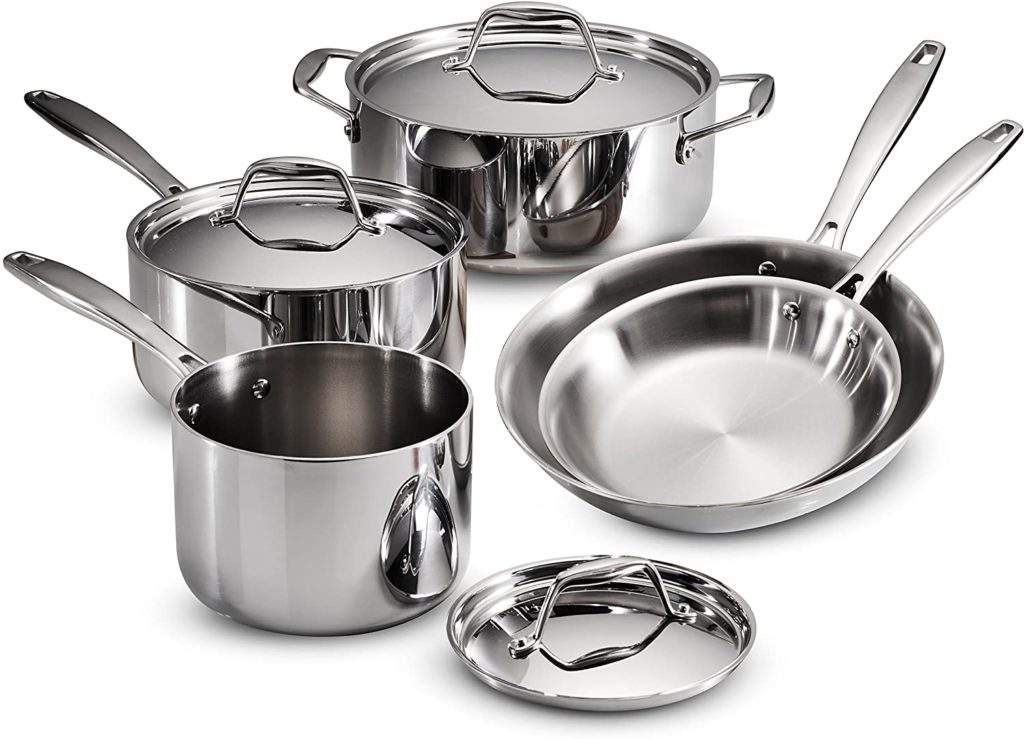 Bring the warmth and convenience of Brazilian design into your own kitchen, with Tramontina cookware.
The Tramontina 8-Piece Stainless Steel Cookware Set comes with tri-ply clad construction of 18/10 stainless steel and an aluminum core, which makes the pots and pans work great on all cooking surfaces.
The cookware set has a unique exterior that makes it the right choice for induction cooking and is oven safe up to 500 degrees Fahrenheit.
Since 1991, the Tramontina Company has been supplying Brazilians with quality home goods. Today, over 100 years later, they continue to manufacture their high-quality products where it all began in the Carlos Barbosa city of Brazil. While their manufacturing facilities have grown and changed drastically over the years. One thing that's stayed consistent is the level of precision and detail involved in every single product. Tramontina is one of the most trusted names in home goods thanks to this unending commitment to excellence.
Reasons you should consider Tramontina
Durable. Versatile. Long-lasting. That's the Tramontina Tri Clad collection, designed to stand up to even your toughest culinary challenges.
This cookware set offers you all-purpose cookware, so it can be used for preparing the main course or steaming vegetables.
The riveted handles make sure you get the perfect grip enabling you to have control over what you are cooking.
It is one of the most affordable cookware set as compared to other expensive brands.
Reason you should not consider Tramontina
Boiling water leaves a mark inside the pot.
Cuisinart Multi-clad Pro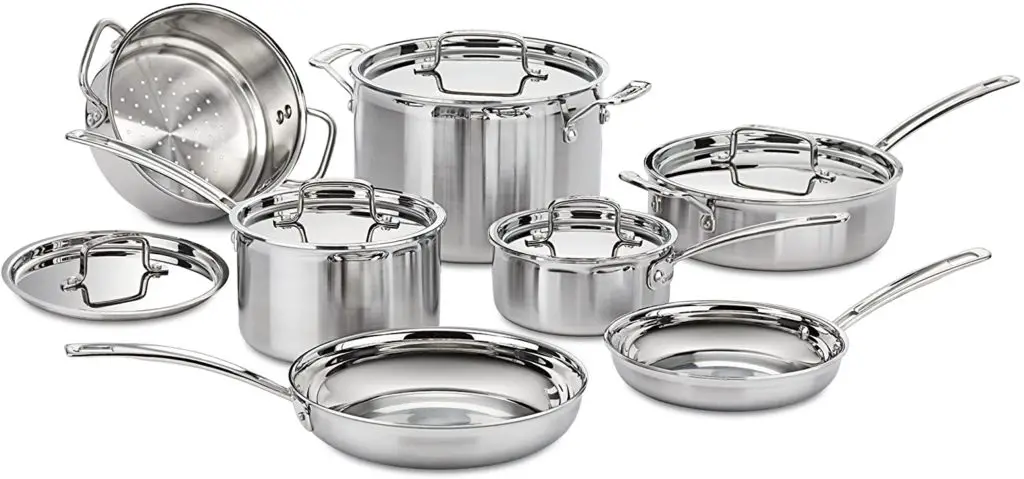 It doesn't matter if you're a novice cook or a professional chef. The Cuisinart Multi Clad Pro cookware set from Cuisinart is an excellent choice for anybody who takes pride in the food they serve.
Now you can go beyond searing, browning, sautéing-and even stir-frying with the Cuisinart Multi-clad Pro stainless steel cookware set. The 3 ply construction distributes heat evenly and efficiently, while the polished exterior makes cleaning a breeze.
These pots and pans are ideal for everyday use, cooking, and baking. In addition to that, the set is oven safe to 550 degrees F so it can be used on many different cooking surfaces.
Related: Best Sushi Rice Cooker
Reasons you should consider Cuisinart Multi-clad Pro
The Multi-clad Pro Stainless steel Cookware set consists of a saucepan, sauté pan, stockpot, and steamer all with excellent Tri-ply construction.
All the traditional cookware pieces you need in one complete set, so there's no need to go looking for additional pots and pans.
The handles are riveted to guarantee heat resistances and the cookware set is oven safe up to 550 degrees F.
Reason you should not consider Cuisinart Multi-clad Pro
Heavier in weight and laborious to clean.
Calphalon Premier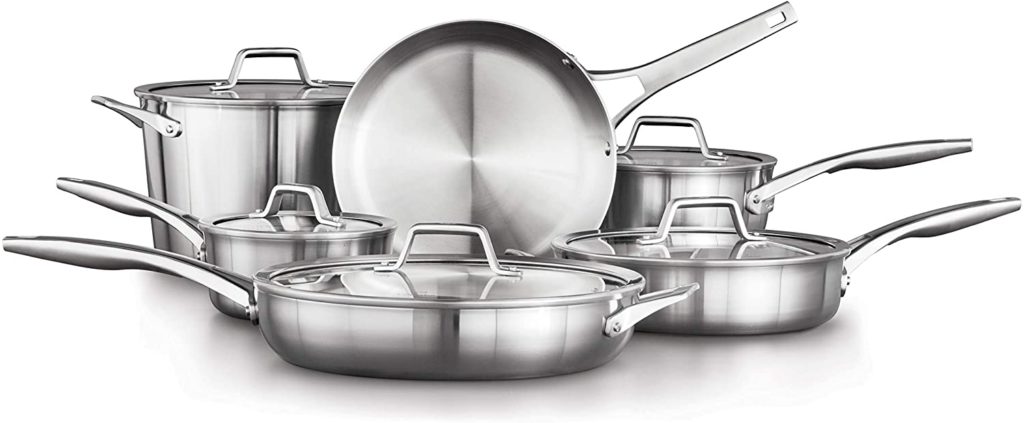 The Calphalon Premier Stainless Steel Cookware Set is designed for those who appreciate the appeal of stainless steel, but don't want to sacrifice performance. The tri-ply construction—three layers of metal—helps ensure even heating and consistent performance over time. While Stay-cool, long handles add a touch of elegance to this essential cookware set.
When it comes to pots and pans, there is no better choice than Calphalon Premier Stainless Steel Cookware.
Made in the USA and featuring tri-ply metal construction, this set will last for years to come. Also, the set is dishwasher-safe for your convenience.
Related: Best Cookware Set Under $200
Reasons you should consider Calphalon Premier
The tri-ply metal construction means it works well on all types of cooking surfaces, including induction.
The aluminum layer has 99% thermal contact with the base of the pot or pan and evenly transmits heat quickly and easily to ingredients in the pan.
Shorter preheating time ensures faster cooking time and less energy usage over gas or electric burners.
Reason you should not consider Calphalon Premier
Slightly hard to clean.
Le Creuset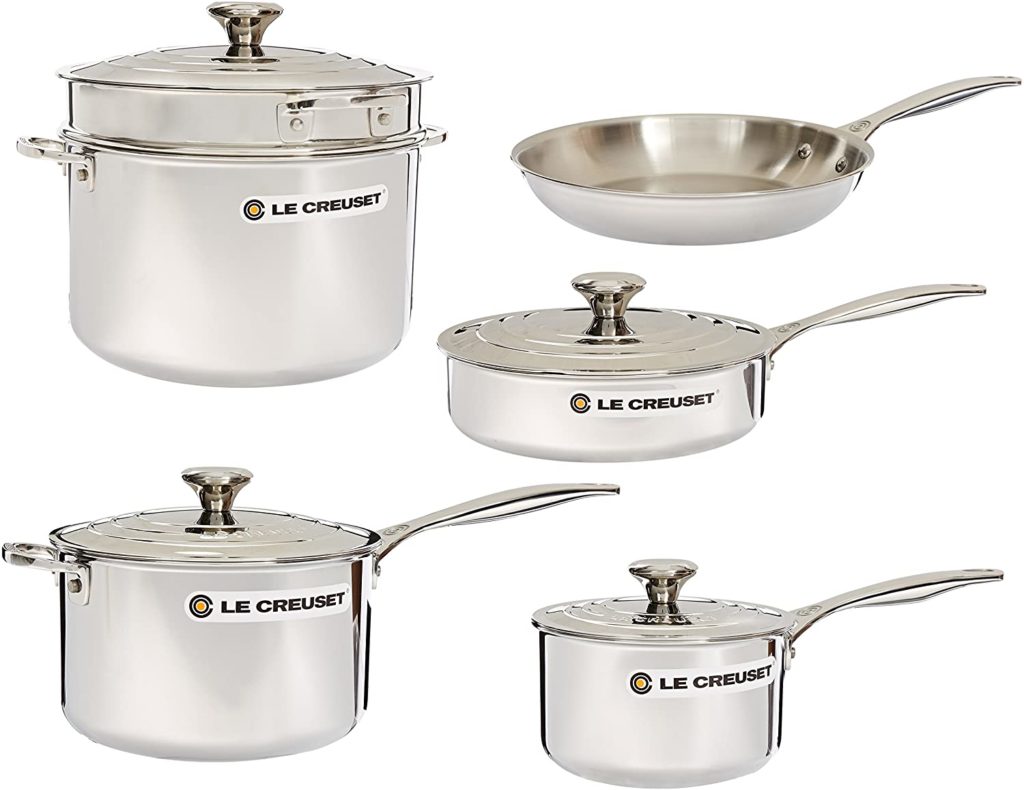 Your search for the perfect set of cookware is over. Le Creuset offers stainless steel cookware with a full aluminum core and magnetic exterior.
Inspired by the love of cooking Le Creuset stainless steel cookware brings enjoyment to the kitchen. Made from 18/10 tri-ply construction, its magnetic exterior keeps the three layers riveted securely together, allowing it to withstand thermal shock and diffusions between each layer.
In addition to that, the ergonomic handles are designed for easy maneuvering while classic looks will enhance the beauty of any kitchen.
To top it all off, it is 500-degree oven safe making it ideal for your slew of culinary needs.
Related: Pans with Detachable Handles
Reasons you should consider Le Creuset
A contemporary and glossy exterior brings a stylish touch to your kitchen.
Specially formulated to resist discoloration so that your cookware will retain its beauty through years of use
The aluminum core distributes heat more evenly for exceptional cooking performance, and the ergonomic handles are designed for easy maneuverability
Reason you should not consider Le Creuset
Expensive cookware and offers only a limited warranty
Frequently Asked Questions
What Features Are Important In Stainless Steel Cookware?
One common trait among high-quality stainless steel cookware sets is that they are all constructed from non-reactive metals such as aluminum, and stainless steel. This means that food won't pick up any unwanted flavors from your pots and pans when cooking. Non-reactive cookware is safe to use on gas, electric, and induction stovetops. Additionally, it's usually coated with a material like porcelain to prevent corrosion on pieces that come in contact with acidic foods.
How Much Should You Spend On Stainless Steel Cookware?
You can buy a new set of cookware for less than $200 to $400. I personally have several pieces that I've bought over time, and they are beautiful and functional. There are also sets that go well into five figures. What's more important is what you plan to use them for, how often you will use them, and how much space you have in your kitchen cabinets.