Gotham gave birth to a mystery blue knight – The Aqua Blue Pan – that saves kitchen enthusiasts from the chaos of sticky mess, harmful chemicals leaking into the food under the cover of shadows, less warranty time, and much more.
In our Aqua Blue Pan reviews, let's reveal Gotham's hero that promises unrivaled cooking perfection. With its sleek and mysterious exterior, it embraces you with the power of its super culinary construction, seamlessly distributing heat like a stealthy vigilante.
But before we unveil our blue knight, let us understand what Gotham Steel promises to its customers and how it has gained popularity.
Use links for easy navigation
Company Behind Aqua Blue Pots and Pans
Gotham Steel, the brilliant minds behind the Aqua Blue Pots and Pans, is a renowned company dedicated to revolutionizing the culinary world. Gotham Steel brings forth a range of cookware that combines functionality, style, and durability.
Driven by a passion for exceptional cooking experiences, Gotham Steel crafts its products using cutting-edge technology and the finest materials. Their Aqua Blue Pots and Pans epitomize their vision, providing a harmony of style and functionality with their striking design and remarkable performance.
Gotham Steel sets itself apart by prioritizing eco-friendly and health-conscious construction, ensuring its cookware is free from harmful substances. By focusing on both environmental sustainability and culinary excellence, Gotham Steel has garnered a loyal following of discerning home cooks and professional chefs alike.
When you choose Aqua Blue Pots and Pans from Gotham Steel, you're embracing a brand that goes the extra mile to deliver outstanding quality, combining innovation, durability, and health-consciousness for an unparalleled cooking experience.
Aqua Blue Pots and Pan Set (12 Piece)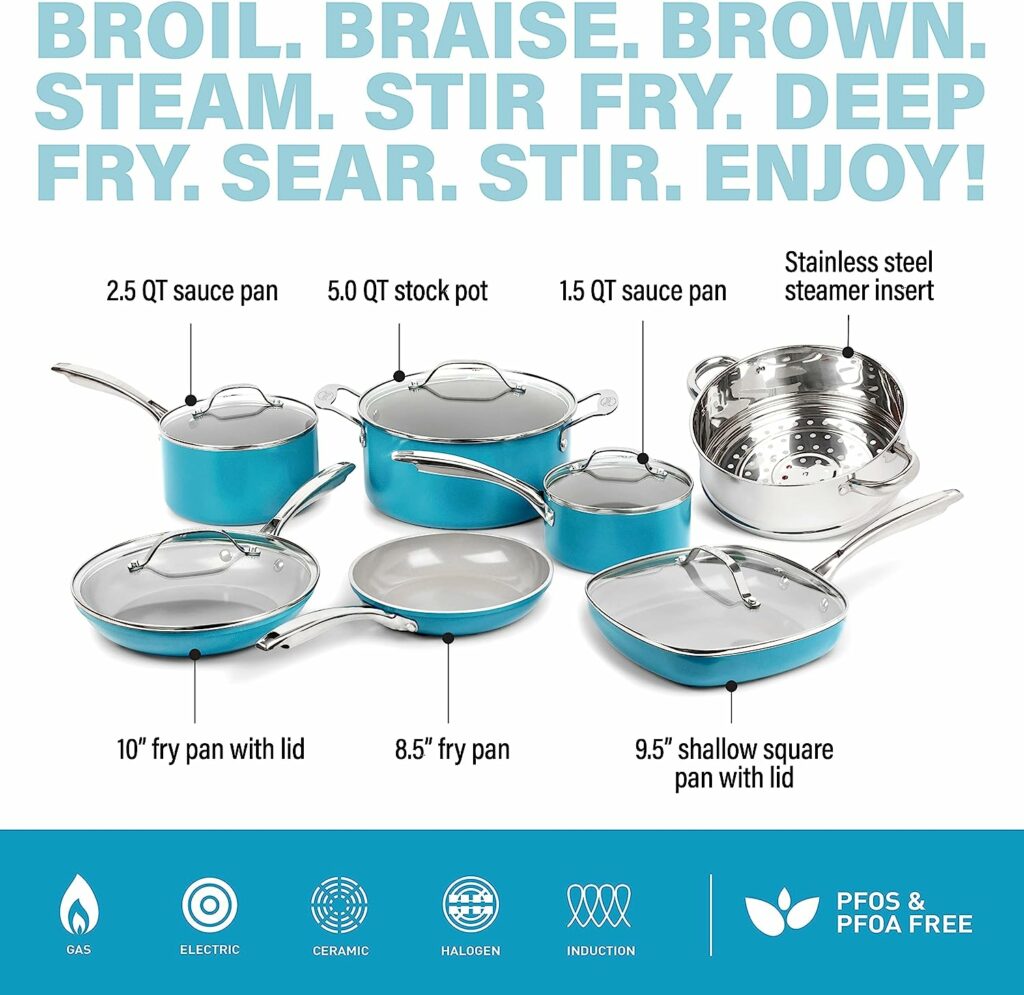 Indulge in the ultimate cooking experience with the Aqua Blue Pan and Pots Set by Gotham Steel. This 12-piece cookware set is packed with features to enhance your cooking passion.
The nonstick cooking surface is coated three times and reinforced with diamonds, providing the ultimate food release without the need for seasoning, oil, or butter. Leave sticky messes behind with this cookware set.
The set includes everything you need for a well-equipped kitchen, from skillets and frying pans to stock pots and saucepans, along with tempered glass lids to seal in flavors.
The Gotham Steel coating, composed of ceramic and reinforced with titanium, ensures a healthy and eco-friendly cooking experience for your entire family, free of harmful substances, i.e., PFOA, PFOS, lead, and cadmium. It also ensures even heat distribution.
The diamond-infused coating makes these pots and pans durable enough to withstand metal utensils and electric beaters, guaranteeing years of outstanding, nonstick use.
The stovetop and oven-safe design allows for versatile cooking, and the stay-cool handles ensure a comfortable grip while the Y-shaped handles allow heat to escape, keeping them cool to the touch.
Features
Material: Aluminum
Number of Pieces: 12
Pros
The nonstick cooking surface is coated three times and reinforced with diamonds.
The 12-piece set includes everything you need for a well-equipped kitchen.
Its coating ensures a healthy and eco-friendly cooking experience that is free of harmful chemicals.
The induction bottom offers even heat distribution and compatibility with a variety of stovetops.
The stay-cool handles provide a comfortable grip and the Y-shaped design allows heat to escape.
Cons
The Aqua Blue Pan set has no cons.
Aqua Blue Pan Reviews
Will Aqua Blue Pan and Pot set be a perfect addition to your kitchen? Let's uncover its features in detail and learn what they offer.
Unboxing and First Impressions
"As I unboxed the Aqua Blue Pot and Pan set, I was immediately struck by the attention to detail in the packaging and presentation. It was evident that the manufacturers had put a lot of thought into ensuring a positive first impression. The cookware was carefully nestled in the packaging, giving a sense of quality right from the start." Says, Noor Khadija Content Contributor On Kitchen Deets
Initial Thoughts and Expectations
"Before taking these beauties into the kitchen, I had high expectations. The Aqua Blue cookware promised to be not only visually appealing but also highly functional. My initial impressions were positive, and I was eager to see if the performance would match the aesthetics. The sturdy weight of the pots and pans hinted at quality craftsmanship, which further fueled my anticipation." Says, Noor
In the upcoming sections of this review, we will delve deeper into the features and performance of Aqua Blue cookware to determine if it lives up to the excitement of the unboxing experience.
Material
The Aqua Blue Pan is made of high-quality materials that ensure durability and even heat distribution. Crafted from a solid aluminum composition, these pans are stamped from a single sheet using a heavy press.
This construction guarantees excellent heat conductivity and eliminates any dead zones or hot spots. The result is perfectly cooked dishes every time.
Nonstick Coating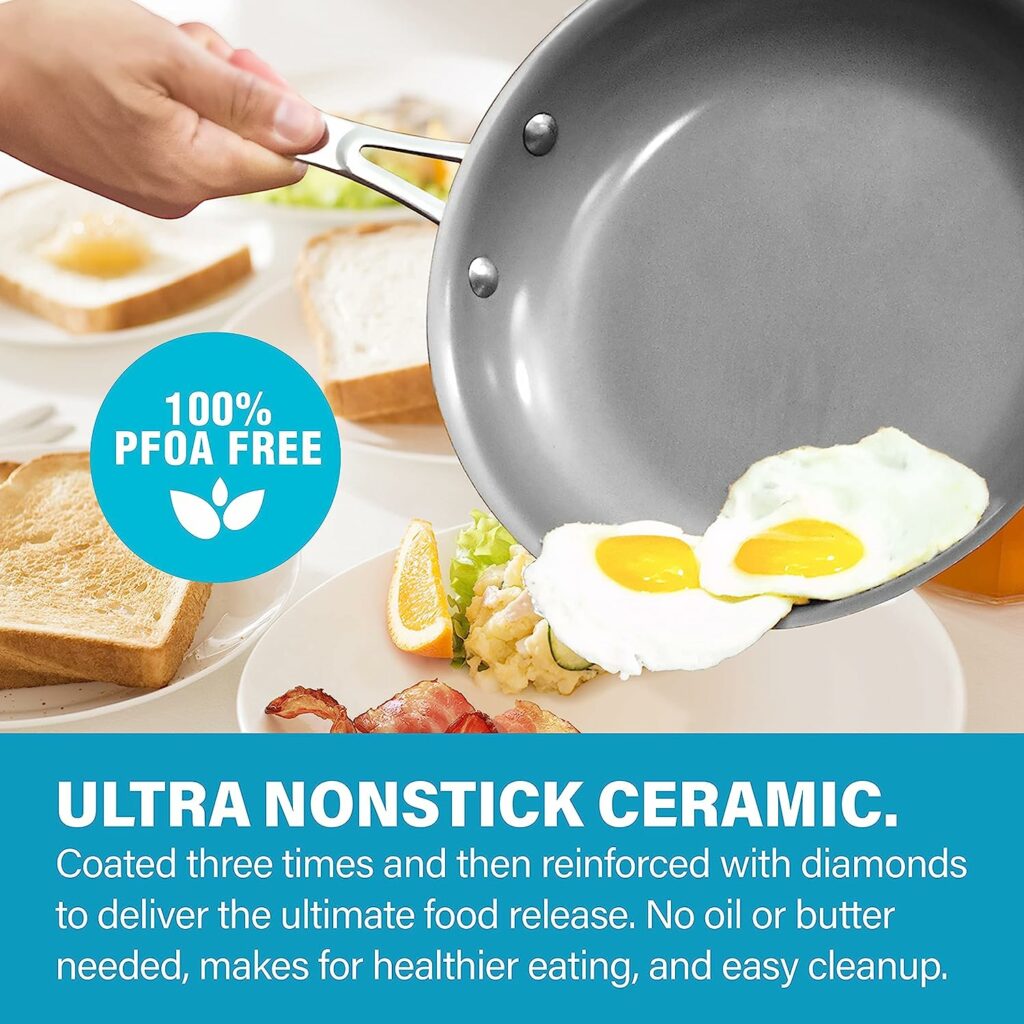 One of the standout features of the Aqua Blue Pan is its ultimate ceramic nonstick coating. This surface is coated three times and reinforced with diamonds to deliver the ultimate food release. Without the need for seasoning, oil, or butter, cooking becomes healthier and effortless.
The nonstick coating is also metal utensil safe, allowing you to use spatulas, spoons, and whisks without worrying about damaging the surface. Additionally, the infusion of diamonds makes the pan exceptionally durable, ensuring years of companionship.
Temperature
The Aqua Blue Pan is perfect for cooking all kinds of delicious meals without having to worry about its durability. Its design makes it capable of resisting high temperatures of up to 500°F, no matter if you're using it on the stovetop or in the oven.
The lids are also designed to tolerate these temperatures, allowing you to cook safely and efficiently with peace of mind.
Cleaning and Maintenance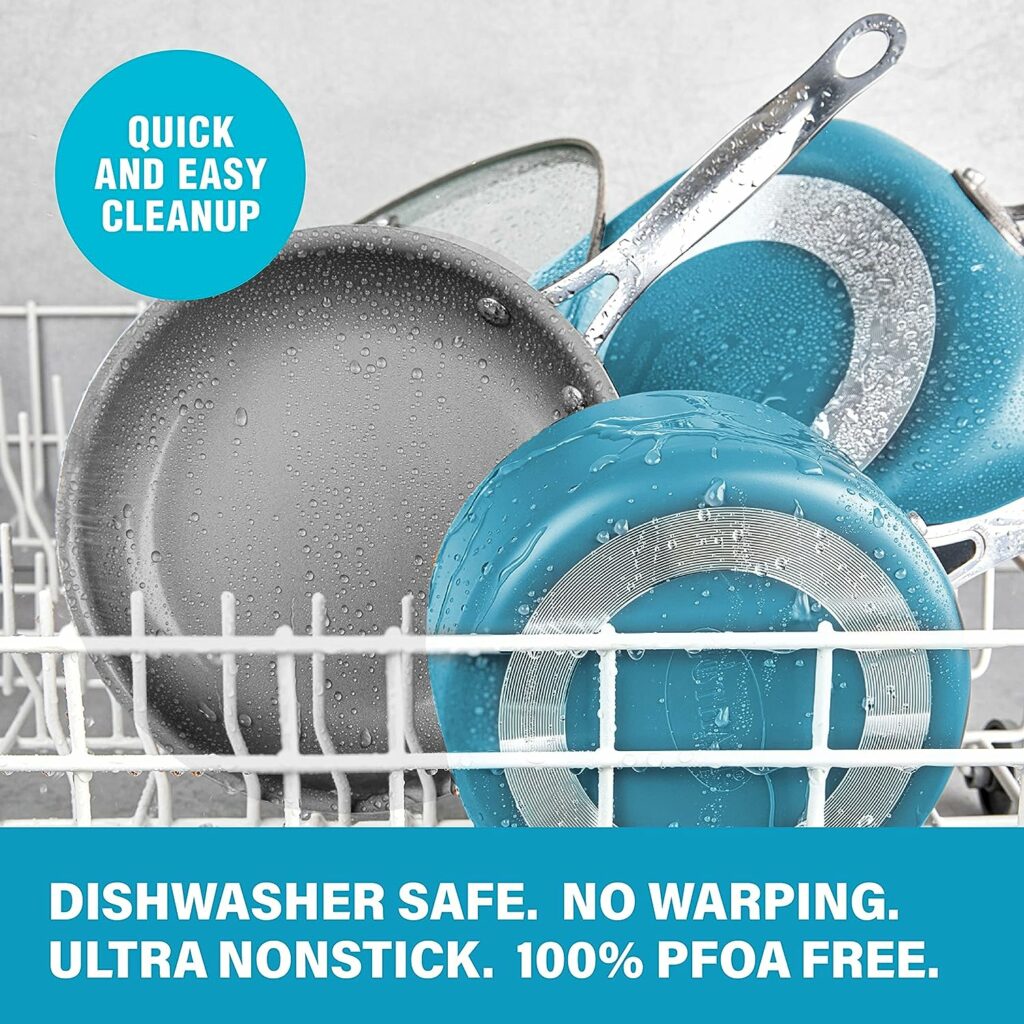 The Aqua Blue Pan is praised for its easy cleaning and low maintenance. Its non-stick surface prevents food from sticking, making it a breeze to clean either by hand or in the dishwasher. This surface is coated three times and reinforced by diamonds.
The non-stick surface is durable and remains in great condition even after multiple uses and washes.
Oven safe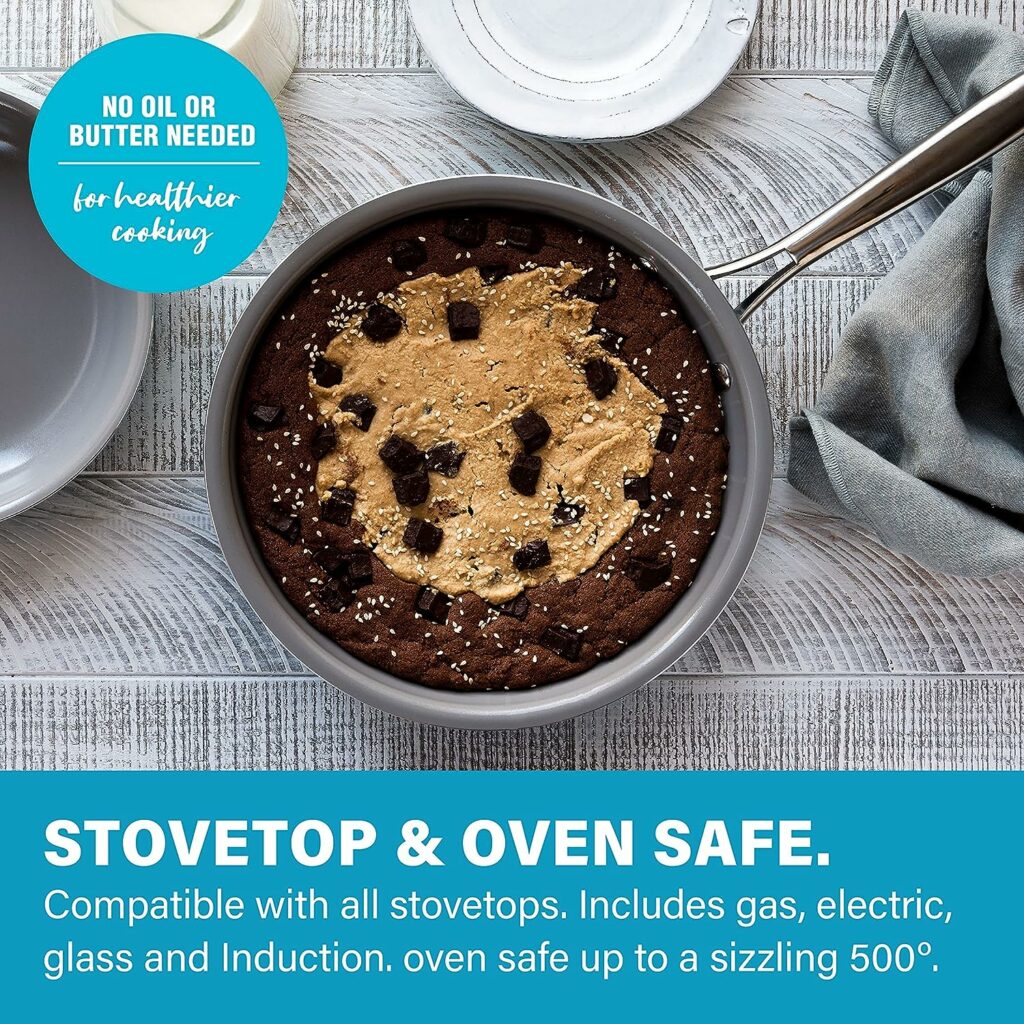 This cookware set is oven-safe, which means without needing to transfer food to a different dish, it allows them to transition from stovetop to oven seamlessly. The cookware set can stand a high temperature of up to 500 Fahrenheit.
This feature adds convenience and versatility to cooking and is especially useful when preparing dishes that require finishing in the oven.
Handles
Crafted to be heat resistant and easy to grip, these handles provide an exceptional cooking experience. Even when the pan is exposed to high temperatures on the stovetop or in the oven, these handles remain cool to the touch.
The stay-cool handles not only guarantee a comfortable grip but also feature a brilliant Y-shaped design that allows heat to escape.
Lid Design
The Aqua Blue Pan's well-designed lid adds scores to the amazing quality of the cookware set. The lid fits securely, helping to retain heat and moisture during cooking.
It also has a vented design, allowing steam to escape and preventing the lid from rattling or creating excessive pressure during use.
Induction Bottom
The Aqua Blue Pan earns high praise from induction cooktop users for its exceptional induction bottom. This innovative feature guarantees rapid and even heat distribution, resulting in efficient and consistent cooking results.
Its compatibility with various stovetop types further adds to its versatility and desirability, making it a kitchen essential.
Nontoxic
The Aqua Blue Pan set has eco-friendly and healthy construction. It is free of harmful substances such as PFOA, PFOS, cadmium, and lead, ensuring your cooking experience remains untainted by toxic chemicals.
With this cookware set, you can enjoy your meal without having to worry about the harmful chemicals that may leak into your food.
Price and Warranty
This cookware set has a reasonable price for such high quality, robust construction, and long-lasting performance. It is worth every penny that you invest.
It comes with 10 years of warranty, which is more than enough to ensure that you get your money's worth. You can rest assured that this product will last for years to come without any issues.
The Aesthetics of Aqua Blue Cookware
The standout feature of the Aqua Blue cookware is undoubtedly its striking and vibrant aqua blue color. It's a refreshing departure from the typical stainless steel or black cookware that dominates the market. This bold color choice not only adds a touch of personality to your kitchen but also sets these pots and pans apart as a statement piece.
Should You Buy Aqua Blue Pots and Pans?
The Aqua Blue Pan by Gotham Steel is a versatile cookware option that offers both style and functionality. Its non-stick surface ensures easy food release and hassle-free cleaning, making it a convenient choice for busy kitchens. With its striking aqua-blue color, it adds a pop of vibrancy to your cooking space.
It is a must-have culinary product that is strikingly beautiful, safe to use and gives plenty of options as it is a 12-piece cookware set. And all of this at an affordable price and 10 years of warranty.
"This cook set is surprisingly good looking. It can be used to cook eggs without oil and they don't stick. It encourages healthy cooking. The set is also very easy to clean. The non-stick surface is durable and no need to worry about chipping. This is a very good buy and well worth the reasonable cost!" Says One Verified Purchaser
How We Tested Aqua Blue Pans
We conducted a rigorous testing process to evaluate the quality and performance of Aqua Blue Pans. Our objective was to provide an unbiased and accurate assessment for potential buyers.
To start, we analyzed the construction materials of the pans, including the aluminum core and the non-stick coating. We examined their durability by subjecting them to various cooking techniques and temperature changes. We also assessed their heat distribution capabilities to ensure even cooking.
Next, we tested the non-stick properties of the pans by cooking different types of food without the need for excessive oil. We noted how easily the food was released from the surface and evaluated the ease of cleaning afterward.
Furthermore, we evaluated the pans' ergonomic design, including the handle comfort and stability. We paid attention to the weight of the pans and their balance to provide insight into their practicality during everyday use.
Finally, we consulted other users' reviews and compared them with our findings to ensure a comprehensive assessment.
Our testing process for Aqua Blue Pans encompassed various factors such as construction, performance, usability, and user feedback. This approach allowed us to provide a thorough evaluation to assist potential buyers in making an informed decision.
Frequently Asked Questions (FAQs)
People also ask the following questions about the Aqua Blue Pan and Pot set.
What can you cook with Aqua Blue cookware?  
Aqua Blue cookware is incredibly versatile and suitable for a wide array of cooking tasks. This cookware can handle sautéing, frying, stir-frying, boiling, braising, and even baking. It excels at browning, crisping, and creating flavorful dishes, while its non-stick surface ensures easy food release. Its adaptability in the kitchen makes it a practical choice for a variety of recipes. Just be sure to follow the manufacturer's care and usage instructions for the best results.
What should you avoid while using Aqua Blue Pan?  
To ensure the optimal performance of the Aqua Blue Pan, it is recommended to avoid using metal utensils rigorously, which can scratch the non-stick surface. Additionally, avoid using it in temperatures above 500 Fahrenheit as it can damage the pan's construction.
How to wash Aqua Blue Pan?  
Washing Aqua Blue Pan is easy, as it has a non-stick surface that releases the food immediately. To wash the Aqua Blue Pan:
-Use a soft sponge and warm, soapy water.
-Avoid abrasive materials that can scratch the non-stick surface.
-Gently scrub away any residue, rinse thoroughly, and allow it to dry.
What to consider while buying Aqua Blue Pan?
When purchasing the Aqua Blue Pan, consider the size that suits your cooking needs, ensuring it has the capacity to accommodate the amount of food you typically cook. Check for a durable construction and a reliable non-stick coating. Look for features like even heat distribution and compatibility with various stovetops. Additionally, read reviews and consider your budget to make an informed decision.