I recently had the opportunity to try out the PowerXL Grill Air Fryer Combo, and after several weeks of testing, I'm happy to share my honest thoughts on this versatile kitchen appliance!
Read on for my full review of this innovative kitchen appliance!
Use links below for easy navigation
PowerXL Grill Air Fryer Combo Review
Capacity
Temperature control
Power
Presets
Material
Control Type
Temperature Gauge
Air fryer lid
Additional parts
Warranty

PowerXL Air fryer Grill Combo Pros
PowerXL Air Fryer Grill Combo Cons
How it's Different from Other Grills
The Good, the Bad, and What We Would Change
Bottom Line
PowerXL Grill Air Fryer Combo Review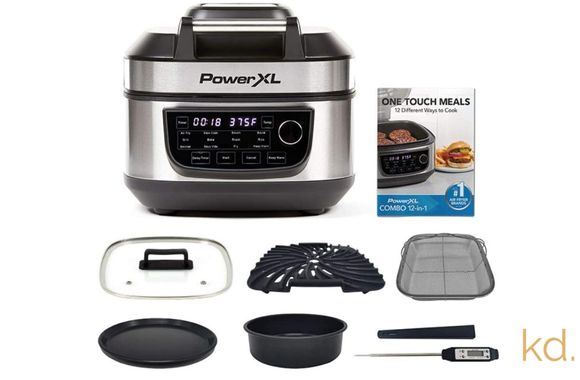 The PowerXL Grill Air Fryer Combo, or PowerXL Combo as I'll refer to it throughout this review, combines two of my favorite kitchen appliances into one convenient machine!
The addition of the air fryer to the grill makes it more versatile than any other grill I've ever used before and gives me more options when preparing food in my kitchen. With all these useful features packed into one device, it's no wonder that this product has received so many positive reviews from its happy customers!
Let's take a look at its notable features.
Capacity
This air fryer grill can hold up to 5.67 liters of food. It has a nice large cooking area and comes with many different features that make it easy to use. You can use this product to cook anything from meats and vegetables to desserts and snacks!
Temperature control
The PowerXL features an adjustable thermostat that lets you choose between temperatures between 180°F and 500°F.
PowerXL grill combo can reach temperatures as high as 500°F, and you can use it on your countertop or take it with you when you're camping.
This grill has multiple levels of temperature control, which means that you can choose the exact temperature that suits your needs. It also features an automatic shut-off function that makes it even safer for use in your home.
Check out our article on Air Fryer Microwave Combo
Power
The PowerXL air fryer grill has 1550 watts of power, which makes it super-efficient. And with an automatic shut-off feature, you won't have to worry about coming home and finding your kitchen in flames!
Related: Lowest watt air fryers
Presets
This air fryer grill is a powerhouse of features. It comes with 12 presets, so you can use it for anything from grilling meat to making French fries.
This product was designed to be versatile so that it can cover all of your cooking needs in one appliance. It's great for people who live alone or couples who don't want to spend money on multiple appliances, but still want an appliance that does everything!
It can cook a variety of foods such as meat, fish, vegetables, and even desserts!
The 12 presets include air fry, grill, indoor BBQ grilling, steam, stew, casseroles, bake, slow cook, roast, soups, sauté, and simmer.
Material
It's got a stainless steel exterior and a nonstick interior, so you can cook up all your favorite foods without worrying about them sticking to the pan. Whether you're cooking up steaks or burgers, or even just frying up some chicken wings, this combo is designed to make sure nothing sticks to it.
Control Type
With a built-in timer, and LED control dial you can get the food you want from start to finish without having to watch over it every second of the way. And if you want to cook something different than what came with the grill?
Don't worry, because this baby comes with an easy-to-use recipe book that'll teach you how to make everything from grilled cheese sandwiches to steaks and burgers.
Temperature Gauge
It even has a temperature gauge so that you can control how hot or cold your food gets! There's no more guesswork involved when it comes time for dinner prep—with this combo cooker at home, you'll never have to worry about whether or not your meat is cooked right or not again.
Air fryer lid
The air fryer lid removes quickly and easily for easy cleaning, and you can use it with any of the other accessories to make all your favorite foods!
Additional parts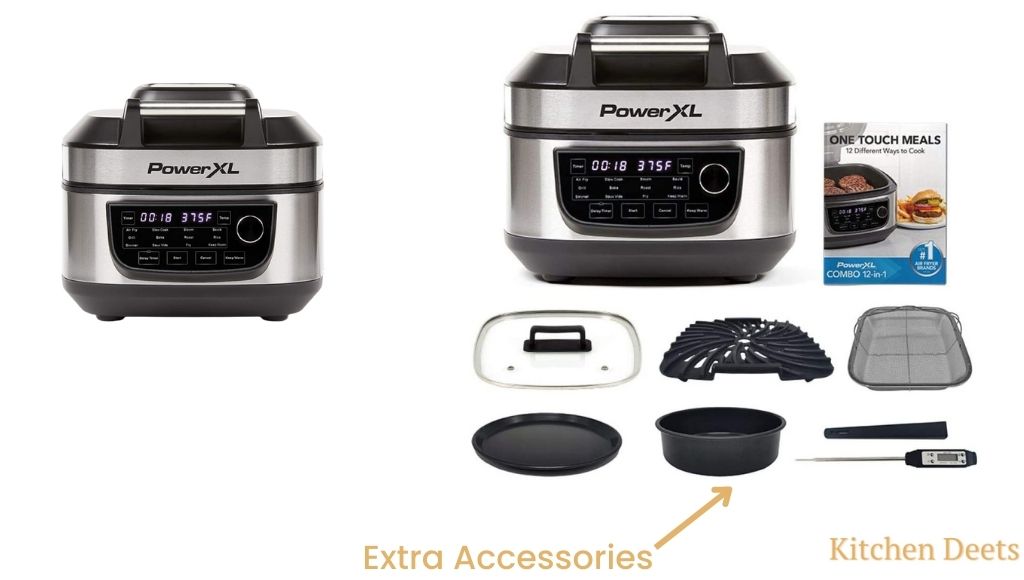 PowerXL Deluxe model includes a die-cast grill plate and mesh frying basket, along with an additional crisper pan and bake pan.
The mesh frying basket is perfect for frying chicken or vegetables, while the crisper pan lets you bake things like pizza or cookies in just minutes. It also includes a baking pan that can be used for baking pies or brownies—the possibilities are endless!
Warranty
This unit comes with a 1-year warranty against manufacturing defects and can be used in the kitchen or on your deck, patio, or balcony.
PowerXL Air fryer Grill Combo Pros
The PowerXL Air Fryer Grill Combo is a great way to get your favorite foods cooked and ready to eat in one fell swoop. Let's take a look at the brighter side of this combo appliance.
Nonstick Interior
The PowerXL Grill Air Fryer Combo's nonstick interior means you can go ahead and use your favorite oils, sauces, and spices without worrying about leaving a mess or having to clean up after dinner.
Easy cleanup
This product is perfect for those who enjoy eating out but don't have time to cook or don't want the hassle of cleaning up afterward. You can save money by purchasing this product instead of going out for dinner all the time!
12 Presets
The Power XL Air Fryer Grill Combo has 12 presets, so you can make anything from crispy fries to juicy hamburgers in minutes.
Easy temperature control
The easy temperature control allows you to choose how hot you want your food cooked, so it will always come out perfect every time!
Indoor-outdoor grilling
It's great for indoor or outdoor grilling and air frying. The removable lids make it easy to access your food while it cooks, but they also keep grease from splattering out onto your counters
Warranty
This product has a 1-year warranty for any defects in the product which means that your investment is fully secure.
Affordable Price
The standard model for the power XL grill air fryer combo costs only $100 whereas, the deluxe model costs almost $170 but it comes with additional accessories.
PowerXL Air Fryer Grill Combo Cons
The PowerXL Grill Air Fryer Combo is a great product, but it does have a few drawbacks.
Heavy
It is a bit heavy and bulky in size. It weighs 20 pounds which is quite heavy for a cooking appliance.
Does not have a smart connection
It does not have any smart features like Bluetooth or Wi-Fi connectivity or even an app to connect it with your smartphone like Cosori Aeroblaze. You will have to manually set the temperature and timer for each mode separately which can be confusing for some users who are new to this technology.
Power
It also requires 1550 Watt power, so it may be difficult to find an outlet with enough available power to connect this device.
How it's Different from Other Grills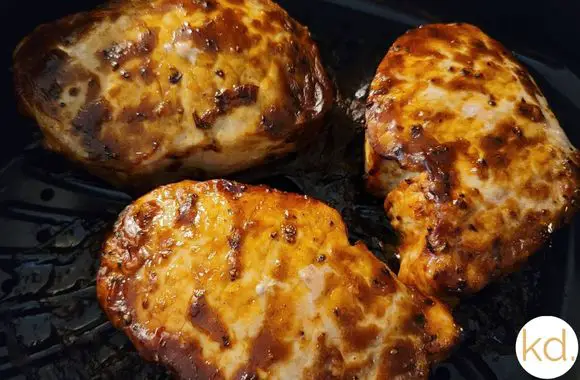 What we loved about this product is, it comes with a thermometer so you never under or overcook your food. Additionally, the preset modes and settings allow you to cook in your own style without compromising quality or flavor. With such convenience in one simple machine, this combo is worth your money.
Related: Crux Air Fryer Review
The Good, the Bad, and What We Would Change
The PowerXL Grill air fryer combo is a heavy-duty, versatile kitchen appliance. We are thoroughly impressed with how well this grill combo works. One of the major downsides to this PowerXL grill air fryer combo is that the griddle sometimes doesn't turn off on its own after a specified time, so you'll need to be mindful when using it on a timer as you may overheat your food if not careful.
How do you cook a steak in a power XL grill air fryer Combo?
You can cook steak in power xl air fryer grill combo by using a preset or you can set the temperature to 400F and set the cooking time to 8-12 minutes, depending on the thickness of meat. For more information, you can check out this video
Is the PowerXL grill air fryer smokeless?
The PowerXL grill air fryer combo is an indoor grill. It's smokeless, so you can use it inside your house without worrying about any lingering odor or irritation.
How do you use PowerXL grill air fryer combo?
Using the PowerXL grill air fryer combo is super easy—it comes with a manual and with preset buttons, so if you're new to using an indoor grill, you'll be able to cook up your favorite foods in no time.
If you still have trouble using the PowerXL air fryer indoor grill combo, consider watching this video from PowerXL
Bottom Line
The PowerXL air fryer grill combo will be a great addition to any kitchen, whether you're looking for an air fryer or a grill. It's easy to clean, and all the parts are dishwasher-safe. Plus, it comes with a die-cast grill plate, mesh frying basket, crisper pan, bake pan, and lid—so you can make everything from burgers to chicken wings and even desserts!