Ninja and Power XL are two big names in the kitchen appliance industry, and they both offer countertop air fryers. Both of these companies offer comparable products at similar price points, but they do have some key differences that you should consider before you make your decision about which one to buy.
In this article, we'll compare two of the best-selling air fryers from both brands, "Power XL Max 4 Quart Air Fryer" and the "Ninja AF101 4-Quart Air Fryer". Both have thousands of glowing reviews, but which one should you buy? We've taken a closer look at both to help you decide!
Continue reading to see how power xl vs ninja air fryer stack up against each other in several categories that matter most, including ease of use, cooking space, design, accessories, and safety features.
Use links below for easy navigation
Power XL Max 4 Quart: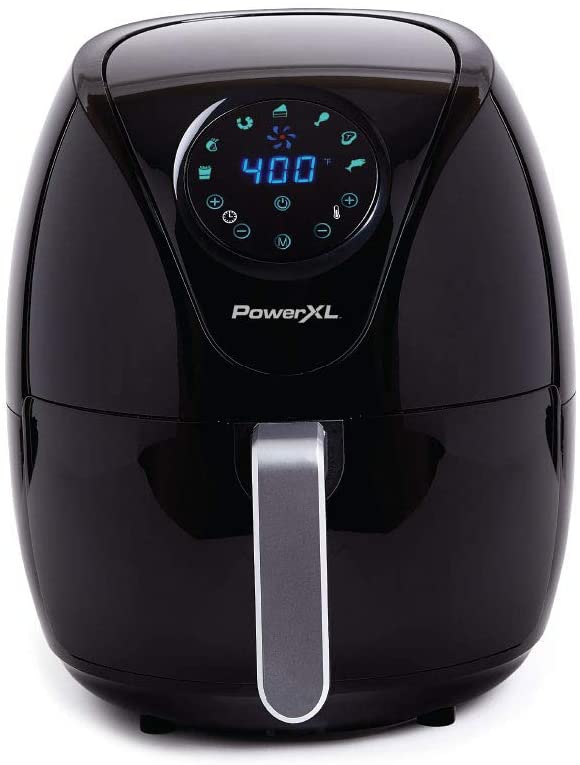 The Power XL 4-Quart air fryer uses revolutionary Air Crisp Technology to cook food. This technology lets you to enjoy the same results with frozen foods that you get from frying in oil, all in one convenient appliance.
Designed to mimic the texture of fried food but without any of the drawbacks. The Power XL Air fryer comes with seven one touch presets so you can fry away with minimal fuss. Additionally, the patented double-wall construction makes PowerXL significantly more energy-efficient than other fryers. Also, the controller allow the users to choose their preferred temperature and cooking time.
Power XL Air Fryer Grill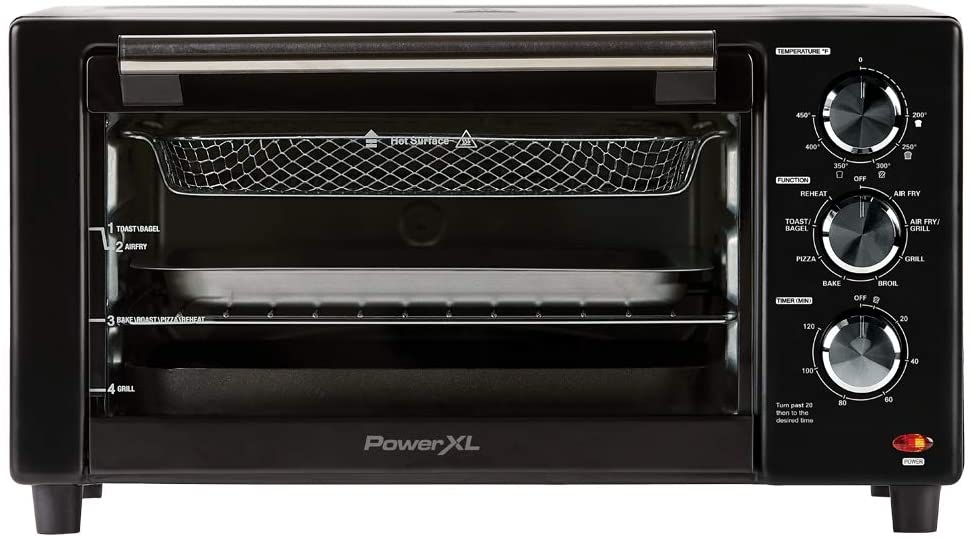 Power XL air fryer grill is the best investment you can make for your kitchen. It is an 8-in-1 multi-purpose appliance that allows you to grill, roast, broil and bake as if you would normally do in the regular conventional way.
This Air Fryer has all of your traditional kitchen appliances built right into one product. Freeing up more storage space in your kitchen as well as allowing you to use one reliable appliance for everything you need to cook.
Check out our review on PowerXL Grill Air Fryer Combo
Ninja SP101 Digital Air Fryer Oven: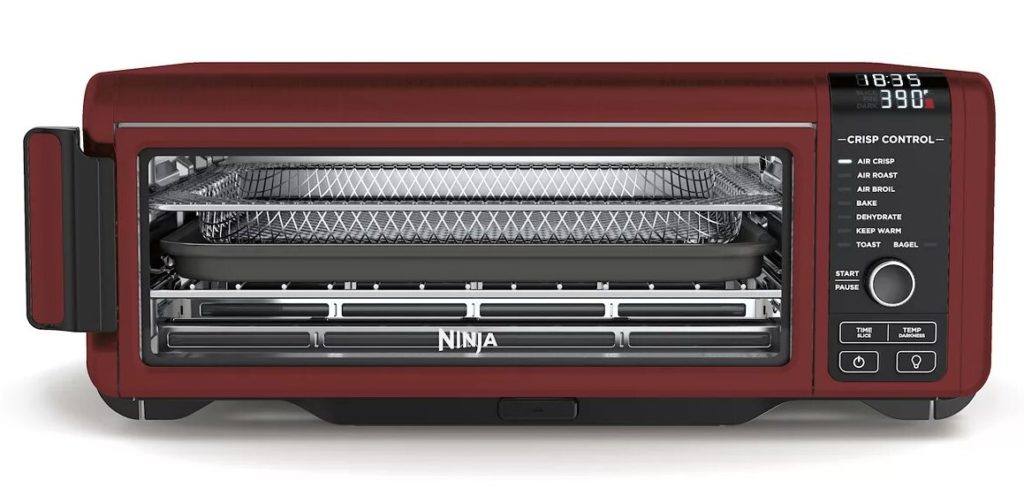 The Ninja SP101 Air Fryer is so powerful that it cuts cooking time for recipes by up to 70 percent. Making it an energy-saving appliance that easily fits into your kitchen décor and is teflon free.
It includes a mini cookbook full of recipes from some of your favorite Ninja celebrity chefs. This Air fryer oven also works as an instant hotpot, steamer, air roaster and cake maker.
The unique round shape fits larger items like chips and pizza so you can now enjoy your favourites with less fat and fewer calories.
Ninja AF101 4-Quart: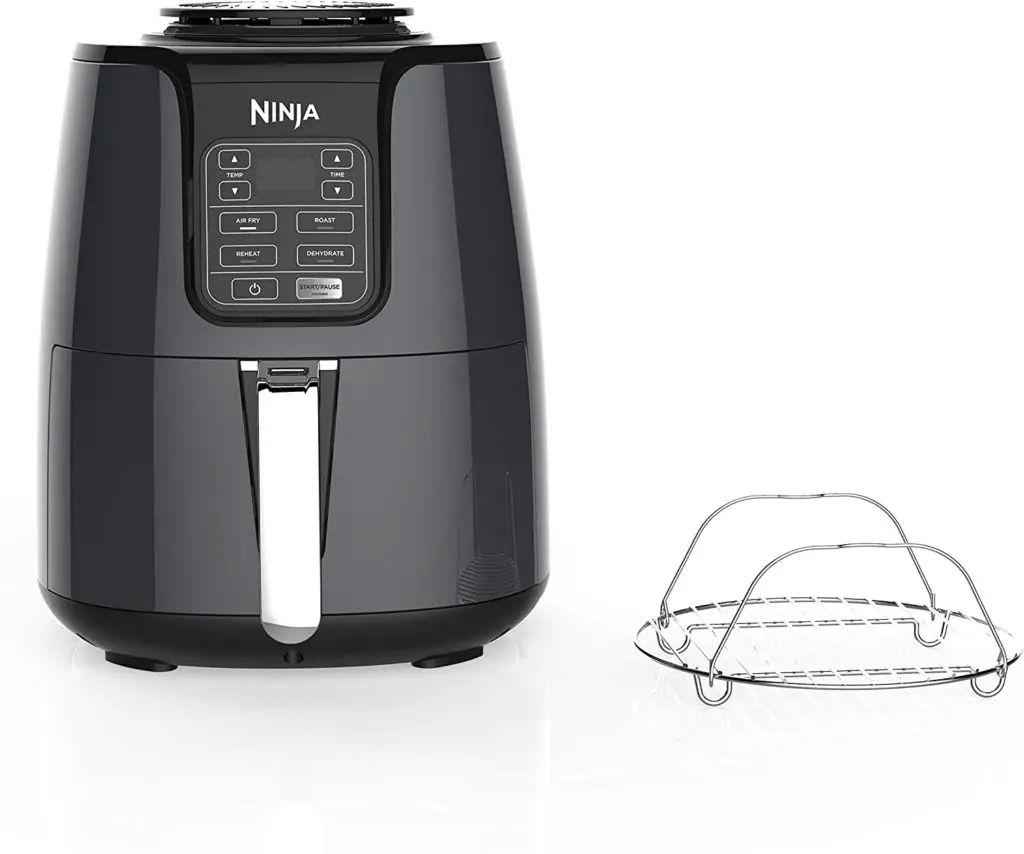 The Ninja Air Fryer boasts an advanced air circulation design that circulates hot air around food for even cooking and crispy results. AF101 provides a healthier way to fry up tasty dishes with 75% less fat than traditional frying methods.
No matter what you air fry, the final result will be overall healthier than traditional methods of cooking. Its powerful 1,500 watt motor enables you to cook multiple foods like French fries, chicken wings, donuts and more in less than 30 minutes.
Lastly, this appliance can also dehydrate and air fryer parts are dishwasher safe for easy cleaning.
Power XL vs Ninja Air Fryer, In-depth Comparison:
How many times have you been at the store looking at air fryers? Or maybe you've been searching online and you're not sure which one to get? That's why we decided to put together this in-depth comparison of Ninja vs PowerXL to help you save time.
Size:
These two air fryers are about equal in size. The Power XL has a 4-quart capacity, while the Ninja also offers the same 4-quart option. Unless you're feeding an army, both of these should be big enough to handle your typical serving size without issue.
Functionality: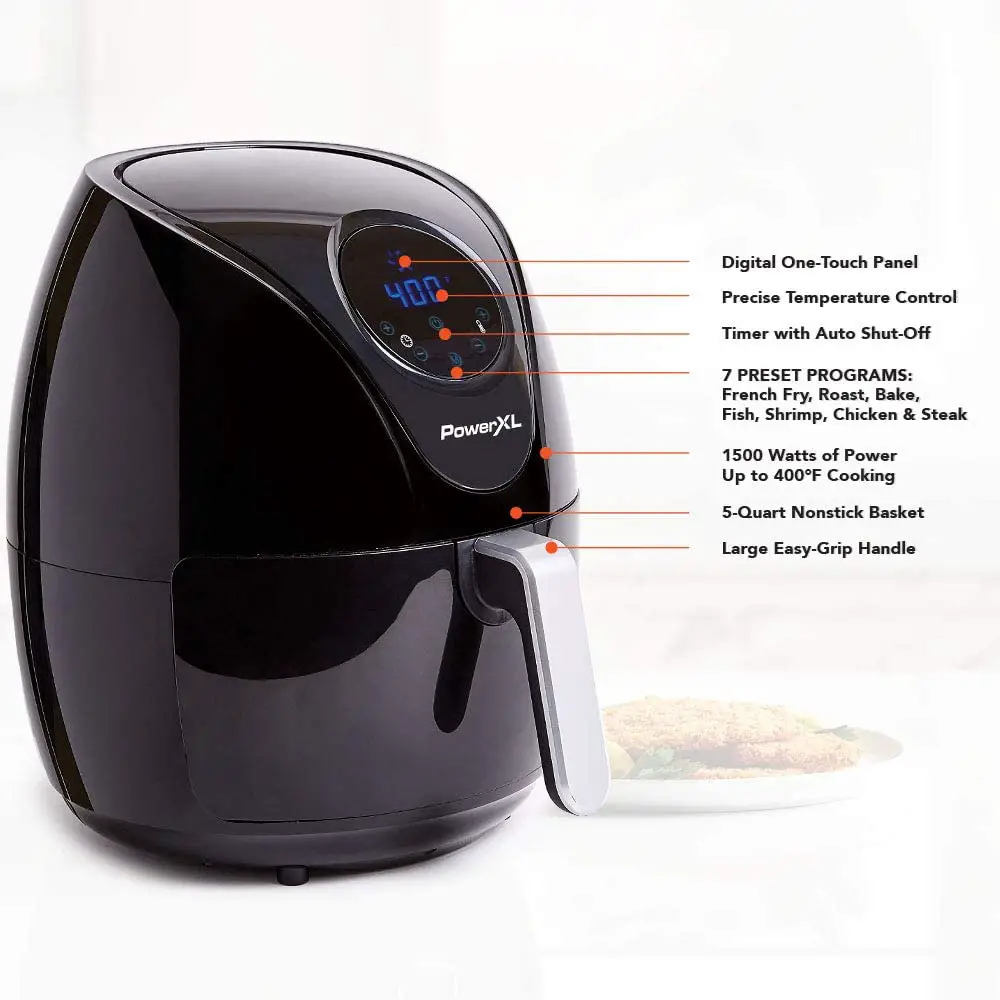 While both air fryers are made to provide similar functionality, there are certain differences between them. The Ninja Af101 can be used as a Dehydrator, oven, and even a slow cooker. The same cannot be said about the PowerXL Air fryer model which is designed primarily for making fried foods.
Cooking Capacity:
The Power XL can cook 1 lb. of fries at once, while Ninja's Af101 can cook 2 lbs. of fries in a single batch. This means that you can cook bigger batches of your favorite fried foods in a single cycle with Ninja's machine. But if you're looking for a smaller capacity air fryer to use in your dorm room or apartment, it may be more convenient to get a PowerXL instead of Af101.
Safety Feature: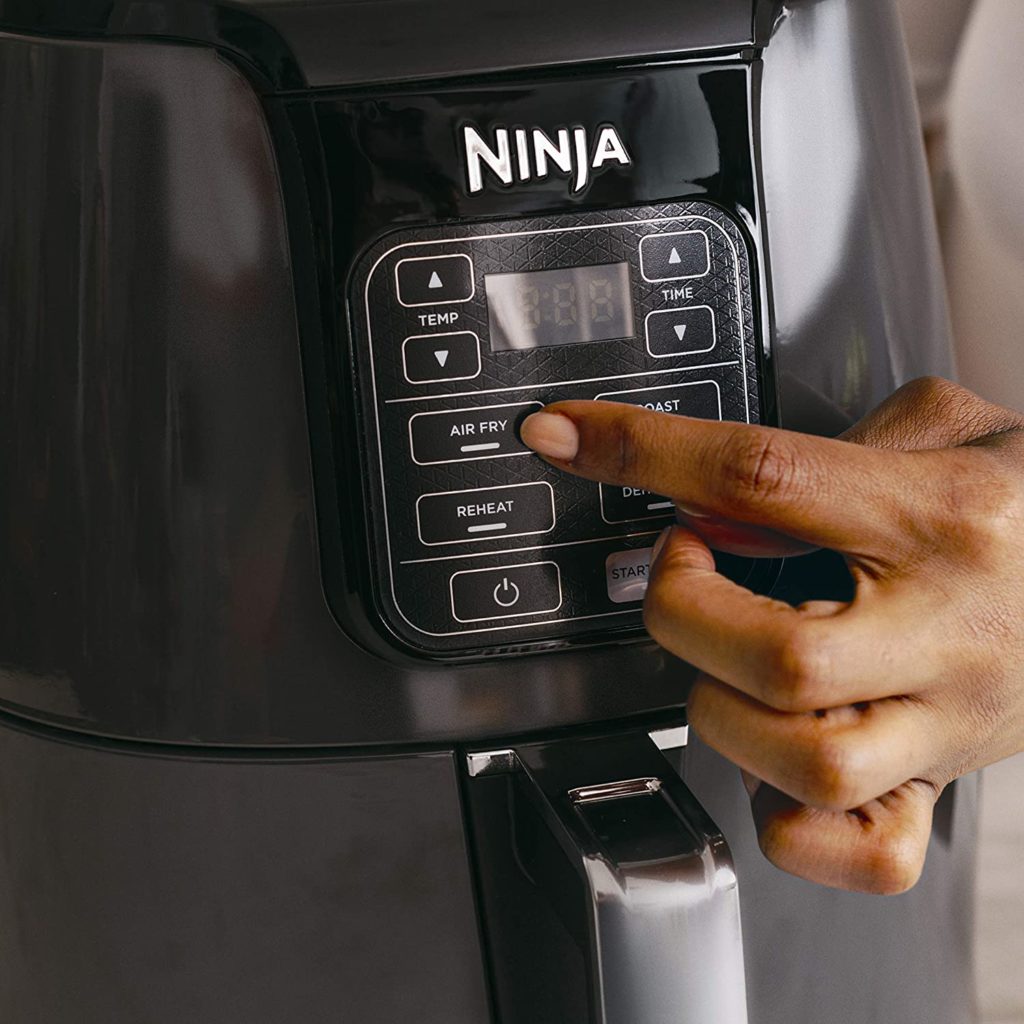 There's no doubt that both of these air fryers get hot when in use. Fortunately, both models have automatic shut-off features which will turn off either fryer if something is left inside unattended for more than 10 minutes. The Power XL 4 Quart comes with a setting called safeguard mode which goes into effect after 15 minutes of inactivity to stop your machine from getting too hot.
Related: Best air fryer with auto shut off
Price:
Power XL is cheaper, though not by much. The Power XL comes in at $89.95, while the Ninja air fryer costs $99.99. While it's not a lot of money, if you have to choose between these two models, chances are the price will play a role in your decision-making process.
Weight:
The Power XL air fryer weighs around 9 pounds while its rival, the Ninja AF100 air fryer, comes in at just 11 pounds. Both models are relatively lightweight, but if you're looking for something even lighter, consider picking PowerXL.
Temperature Range:
This is a pretty important feature because it helps you cook healthier meals. The PowerXL has a temperature range of 100 to 400 degrees Fahrenheit, while Ninja has a range of 105 to 400 degrees Fahrenheit. So, if you want to roast or grill food in your air fryer. PowerXL and Ninja both are top choices.
Power Use:
The Power XL's use of power is much more efficient than that of the Ninja. For instance, PowerXL 4 Quart Air fryer uses 1200 Watt power to cook food. While its competitor Af101 uses 1500 Watt power to cook.
Note: The higher a device's wattage per hour, the higher its power use will be.
Power XL Vs Ninja Air Fryer – What's In The Box?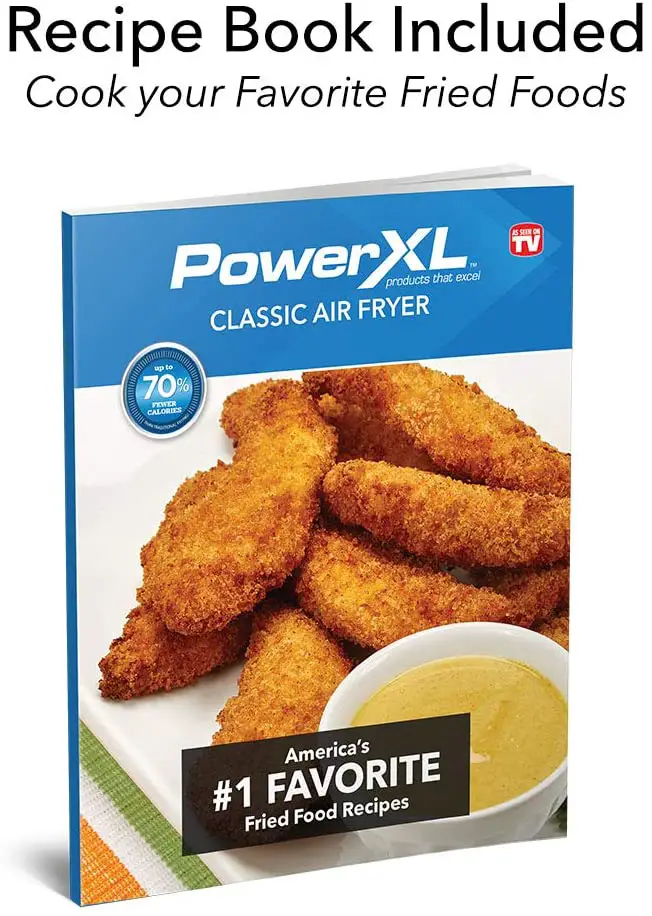 Each product includes accessories and additional offerings. The Power Xl includes a cookbook and a recipe guide; however, both models include an instruction manual for customers' ease.
Which One Should You Buy?
Well, it depends on what your needs are. The Ninja Af101 gives you more features and a bigger basket at a slightly higher price point. But, if all you're looking for is an air fryer with basic capabilities at a low price point, then there's no question that the PowerXL 4 Quart Air fryer is your best bet.