While there are many different kinds of air fryers from many different brands, if you were looking into purchasing a fryer for your home or kitchen, I'm sure that picking between the PowerXL Air Fryer Grill and Emeril Lagasse 360 would be a tough decision to make.
PowerXL Air Fryer Grill has impressed me with its innovative and beneficial features. It precisely cooks your food and is a healthier alternative to other grilling recipes. On the other hand, Emeril Lagasse 360 has extraordinary features like high efficiency and convenience. So, Should you go with the PowerXL Air Fryer Grill or Emeril Lagasse 360?
In this post, we'll look at the pros and cons of each air fryer so you can make an informed decision as to which product will be best for your family. We'll begin by looking at some basics about each of these popular products before diving into their comparison.
Use links below for easy navigation
PowerXL Air Fryer Grill: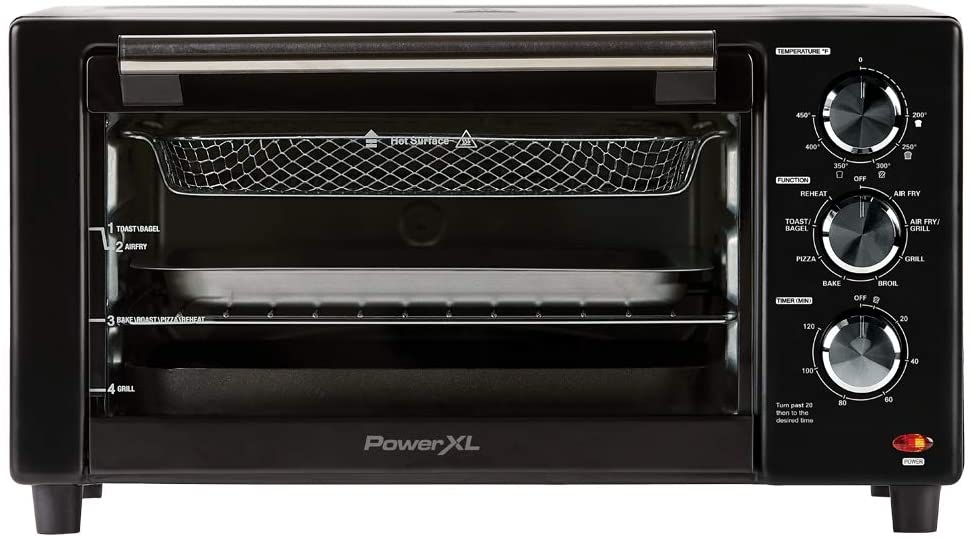 PowerXL Air fryer Grill is an all-in-one solution for homemade, healthy, restaurant-quality food. With 8 different functions, you can cook anything from fresh chicken wings to grilled steak to deep-fried French fries.
This revolutionary kitchen appliance uses 40% less energy than your typical ovens and microwaves. And a controlled ventilation system enables the food to cook evenly without burning or over-cooking.
Imagine preparing juicy steak, crispy chicken wings, potato wedges, and more that taste better than if they'd been deep-fried. This cool kitchen tool can cook it all with its advanced high-pressure convection technology. Just select the Auto setting for Air Frying, Air Roasting, or even Baking. Also the cleanup is so easy, Simply wipe the nonstick grill grid with a damp kitchen towel or sponge.
The PowerXL air fryer combines the versatility of an oven, the speed of a microwave, and the rich, browned crust of a grill. Making healthier meals without sacrificing taste.
Check out our article on Best Air Fryer Grill Combo
Advantages:
It can roast/bake/grill with less than 70% fat, making you enjoy perfect crispy food every time.
40% faster than regular ovens.
Air Fryer. Grill. Roast. Bake. Pizza. Loaf. Stew. Steam. Rotisserie. It's all possible with PowerXL.
It has a 450-degree nonstick grill pan.
Saves energy with its high-efficiency technology.
Just choose your mode on the touch screen panel, and start enjoying delicious food that is crisp on the outside and tender on the inside.
Limitations:
Needs proper ventilation.
The new user may find it hard to use.
Emeril Lagasse 360: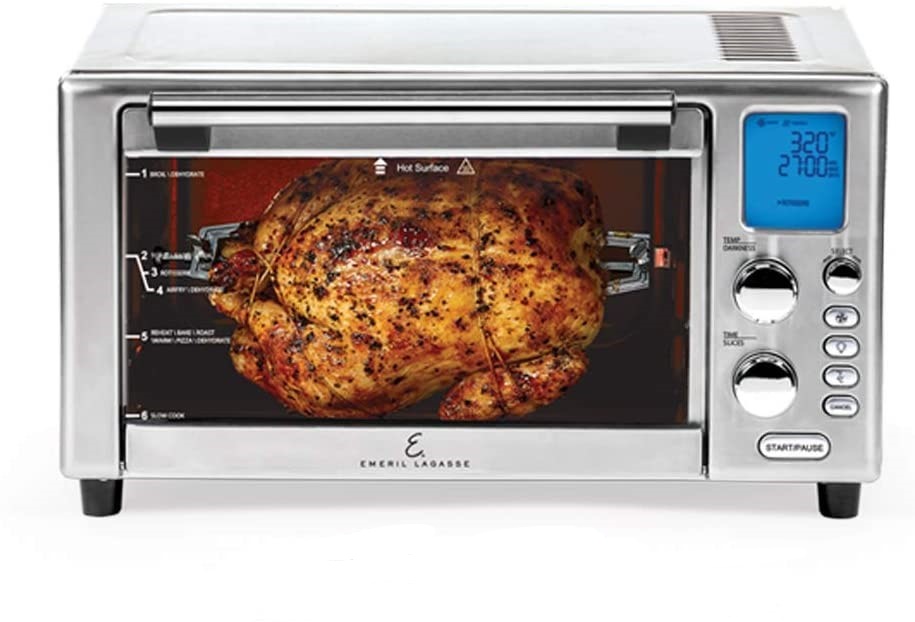 The Emeril Lagasse 360, 9-in-1 Air Fryer and Convection Oven uses its patented rapid air technology to cook food up to 40 percent faster than a microwave oven. It has 12 preset cooking functions for both snack and main meals, including roast, toast, bake, grill, pizza, cookies, and more. Each function is preprogrammed for the exact time and temperature required for great results.
The air fryer's patented convection function ensures even heat distribution and reduces the amount of oil needed for fried foods by as much as 65%. Integrating a toaster, convection oven, and air fryer with a sleek stainless steel design, this revolutionary kitchen tool will change the way you cook.
If you are looking for an air fryer toaster oven that distributes heat for optimal results. Emeril 360 is the best to cook small meals quickly. It uses less oil during frying and provides healthier food for families.
Advantages:
Combines the power of the toaster oven with the cooking results of an air fryer – all in one energy-efficient appliance.
Comes with a free recipe book.
Simplifies your meal preparation while maximizing the flavor.
Easy-to-clean Product.
Patented Multispeed Fan System.
360° rotatable air fryer provides the ultimate versatility.
Disadvantages:
Stops working after 3-5 year.
PowerXL VS Emeril 360, Comparison: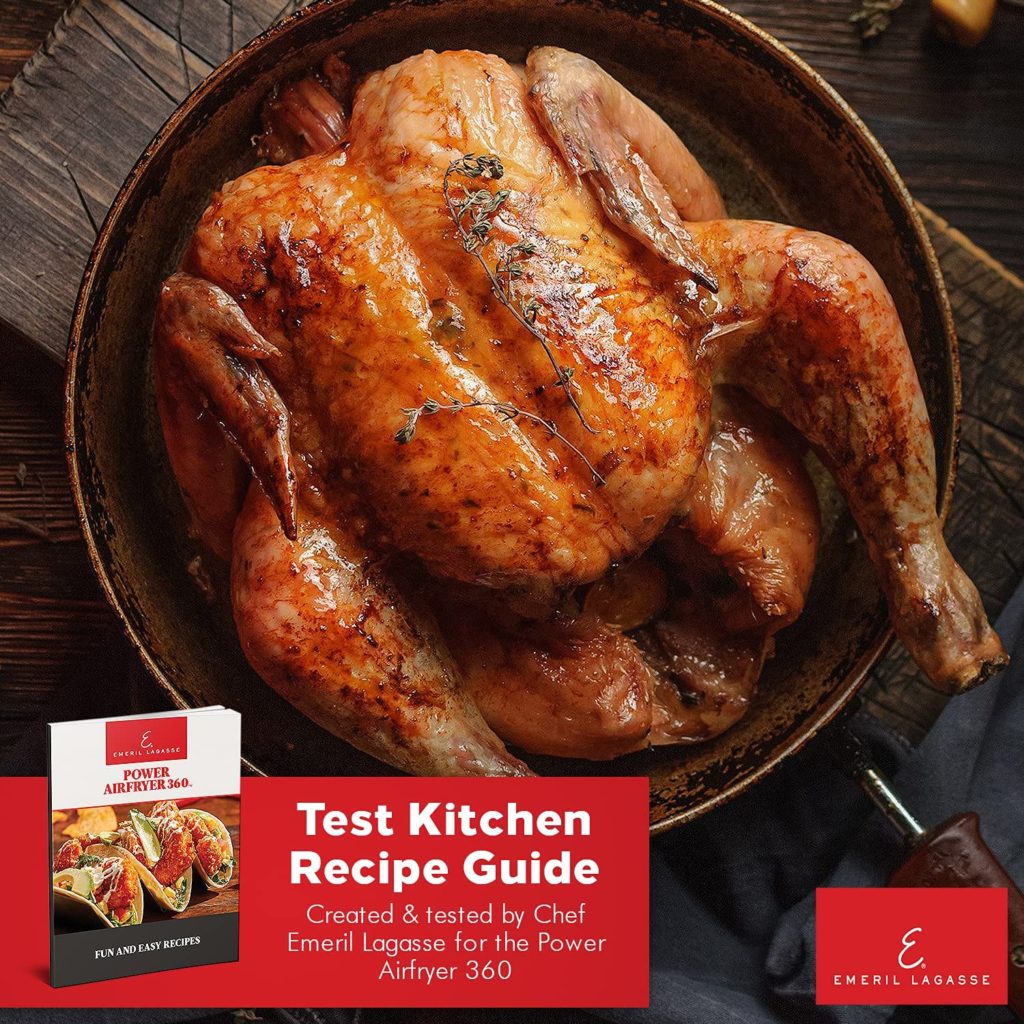 Let's take a look at the specifications to see how they compare against each other in several categories, including price, warranty coverage, capacity, heating time, amount of food cooked per load, and more!
Cleaning:
Comparing both air fryers, I found one major difference between these two. The PowerXL Air Fryer has a unique design, which makes cleaning up much easier than Emeril Lagasse's grill.
Heating time:
Emeril's heater takes longer to heat up your grill than Power XL. This might not seem like a big deal, but when you're hungry and want to cook some burgers or steaks, having to wait is very irritating. And let's face it, no one has time to wait for things these days.
Check out our Power XL Grill Air Fryer Combo Review
Capacity:
The PowerXL air fryer grill and Emeril 360 both have a capacity of 16 quarts, which is more than enough to cook whole chickens and roasts, as well as potatoes and other vegetables.
Warranty Coverage:
In case you're not happy with your purchase, here's a little bonus: PowerXL and Emeril 360 both products come with a limited lifetime warranty. If anything goes wrong, they'll repair or replace it for free.
Related: Crux Air Fryers
Amount of Food Cooked per Load:
The amount of food you want to cook is an important factor in determining what type of air fryer to buy. The PowerXL can cook up to 10 lbs of food. By comparison, Emeril's grill will only hold 5 lbs of food.
Price:
Both air fryers are available on Amazon. The PowerXL air fryer grill's price is $160. The Emeril Lagasse grill, on the other hand, has a price of $175.
Weight:
PowerXL is heavier as it's made from metal rather than plastic. If weight is an issue for you, Emeril Lagasse 360 may be a better choice as it won't cause undue strain on your wrist or hand. However, if portability isn't a concern and you want a cheaper machine, choose PowerXL Air Fryer Grill.
Power XL weight: 25 Lbs.
Emeril 360 weight: 15 Lbs.
Thoughts on PowerXL Air Fryer Grill vs Emeril Lagasse 360:
If you're in search of a state-of-the-art air fryer, then it's safe to say that Emeril Lagasse 360 is your best bet. If you want more power and better performance, then PowerXL Air Fryer Grill would be a wise choice. Although both are highly rated air fryers, both of them have their pros and cons, but for me personally, I'd go with PowerXL because it comes at a lower price point compared to Emeril.