If you love cooking and you're looking to add some new pieces to your kitchen, then you might want to take a look at some French copper cookware. Copper cookware is prized around the world, and many of the best French copper cookware pieces have been passed down through families for generations. This piece takes an in-depth look at the most popular French copper cookware sets on the market today and helps you figure out which one might be right for you. Read on to find out more!
Use links below for easy navigation
Copper vs Stainless Steel
Best French Copper Cooking Set
Mauviel
de Buyer
Baumalu
Matfer Bourgeat
Buying Guide
Frequently Asked Questions
Copper vs Stainless Steel
The debate of which material is better between copper cookware and stainless steel is a never-ending one. We're going to compare them here so you can make an informed decision on what to buy. There are pros and cons to both types, but if we were forced to pick a favorite (but we're not) it would be copper cookware hands down. But don't just take our word for it, read on below and see why copper cookware is best for your kitchen!
Related: Check out our article on All Clad Copper Core Review
Best French Copper Cooking Set
Owning a copper cooking set is not only an investment for your kitchen, but it is also an investment for your health. Here are some benefits you can expect from using copper cookware. First of all, it distributes heat evenly and prevents hot spots on your cookware when cooking on high flame. This feature allows you to reduce cooking time while maintaining food quality and safety. It's non-reactive with acidic foods such as tomatoes and wine, making it suitable for preparing seafood dishes like paella.
Let's find out why more and more people are choosing French copper cookware over traditional carbon pots and pans with this list of the Top four Best French Copper Cookware brands on the market today.
Mauviel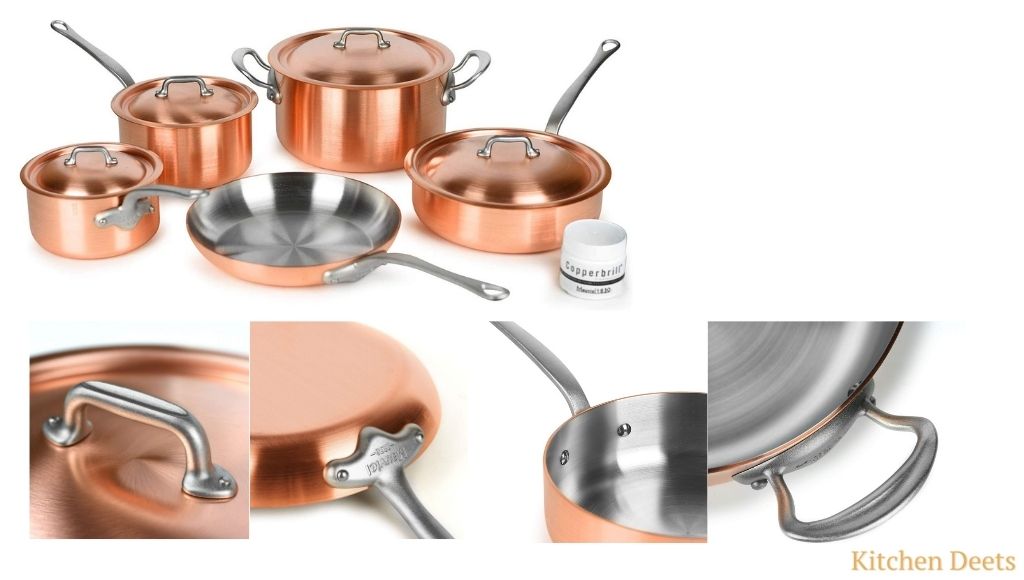 Mauviel is one of the most trusted names in French cookware. With a tradition of excellence dating back more than a century, Mauviel offers the professional and home chef an unparalleled array of equipment that provides exceptional results. Created by craftsmen who have taken their time-honored skills to perfect these culinary objects, Mauviel copper cookware possesses unsurpassed heating properties for more precise control & cooking.
For the ultimate cooking experience, Mauviel offers you this superior collection that every cook would want. The exterior of this set is 2mm thick, 90% copper, and 10% 18/10 stainless steel which prevents food from sticking, preserves the taste of foods, and makes cleaning easy.
For all stovetops except induction, every cookware enthusiast will appreciate this beautifully crafted set for years to come.
Check out our article on Cookware Not Made In China
Interesting Facts about Mauviel
Mauviel has been producing high-quality copper cookware since 1830.
All Mauviel products are made in France and are guaranteed for life against any manufacturing defects (excluding professional use)
Mauviel offers several different lines of copper cookware to professional chefs and home cooks that appreciate the benefits of their high-quality products.
With the Mauviel French Copper Cookware Set, you'll be an expert chef in the kitchen in no time.
Advantages
This cookware set includes all of the essentials to build a well-stocked kitchen.
The handles feature sturdy stainless steel for easy handling and durability.
The heavy gauge copper conducts heat evenly and efficiently.
M'heritage 250 is oven safe up to 680°F / 360°C.
Limitations
This cookware set is only recommended for use on gas and electric stovetops because it's not induction compatible.
de Buyer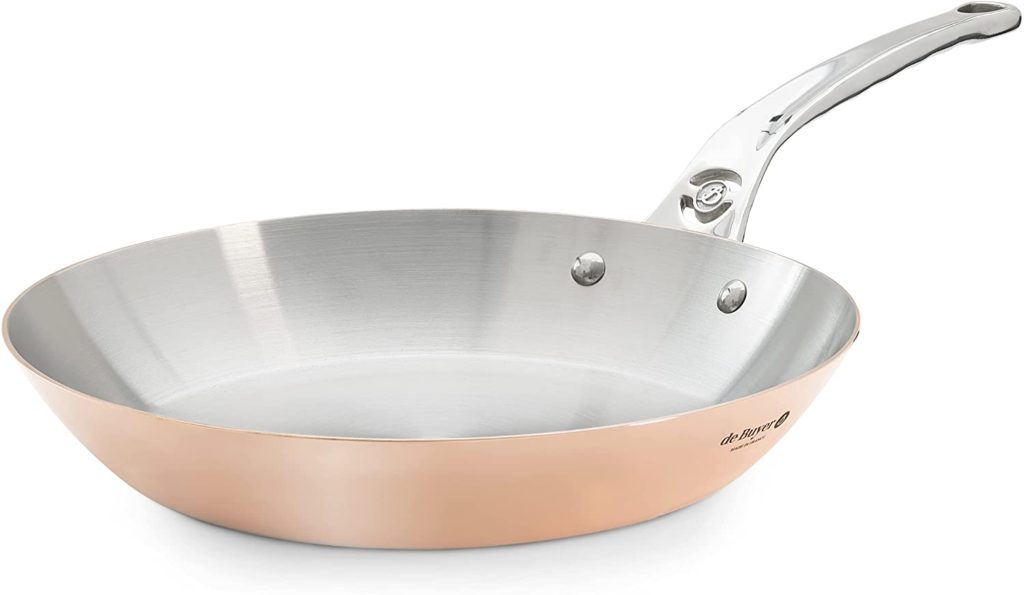 Copper has always been a symbol of distinction and magnificence. Now you can reawaken your kitchen nostalgic memories with de Buyer Prima Matera Copper Cookware. This collection combines the old tradition with modern cooking essentials. Each product is crafted from traditional production methods to assure durability and longevity in use. The copper range is an excellent addition for any kitchen and works well on all cooktops including induction.
As the original and most innovative brand, de Buyer has been in the business of cookware since 1830. Their copper pots excel at using and retaining heat and impart a distinct flavor to foods cooked in them. de Buyer French copper cookware is a great addition to any kitchen. With their quality and long service life, it will be with you for many years.
Check out our article on Best Cookware Made in the USA
Interesting Facts about de Buyer
Founded by Herve de Buyer
The company was started in 1830 in a small village in France. Now they produce different cookware made of stainless steel, copper, nonstick aluminum, etc.
All de Buyer cookware is manufactured in France
de Buyer copper cookware is oven safe and induction compatible
Advantages
The Prima Matera cooking range is oven safe, and suitable for sautéing, frying, steaming, braising, and preparing any type of food.
It offers a delicate texture that does not allow any scratching when used on hot surfaces.
Made of 90% copper and 10% stainless steel, these pans are especially resistant to flaking, fading, or tarnishing.
Limitations
Not dishwasher safe requires hand washing.
Baumalu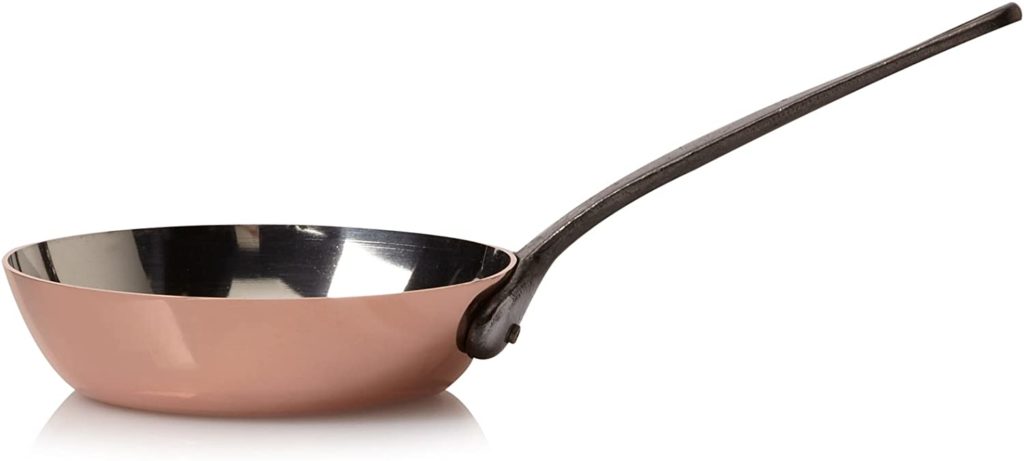 Ensuring the highest quality, Baumalu cookware is made with only the finest materials, including high-grade copper that conducts heat quickly and efficiently. Copper pots and pans from Baumalu have excellent conductivity that makes it one of the best French copper cookware. Also, like Mauviel, Baumalu copper cookware does not work well on induction cooktops.
Baumalu has been manufacturing copper cookware in France since 1971. The brand is well-known worldwide for their quality and reliability, they have the same high standards as other French copper cookware yet they continue to create innovative products that are at the top of their class.
Interesting facts about Baumalu
Baumalu was founded in 1971
Baumalu cookware is impervious to rust, durable enough for everyday use in professional kitchens
Their cookware is free of harmful materials such as PFOA
Advantages
The French cookware brand is committed to producing high-quality pure copper cookware that is certain to last a lifetime.
Incomparable quality and performance that you'll appreciate every time you use them.
This French Copper Cookware is ideal for enjoying the benefits of traditional cooking with a contemporary style.
Limitations
Baumalu copper cookware does not work well on induction cooktops
Matfer Bourgeat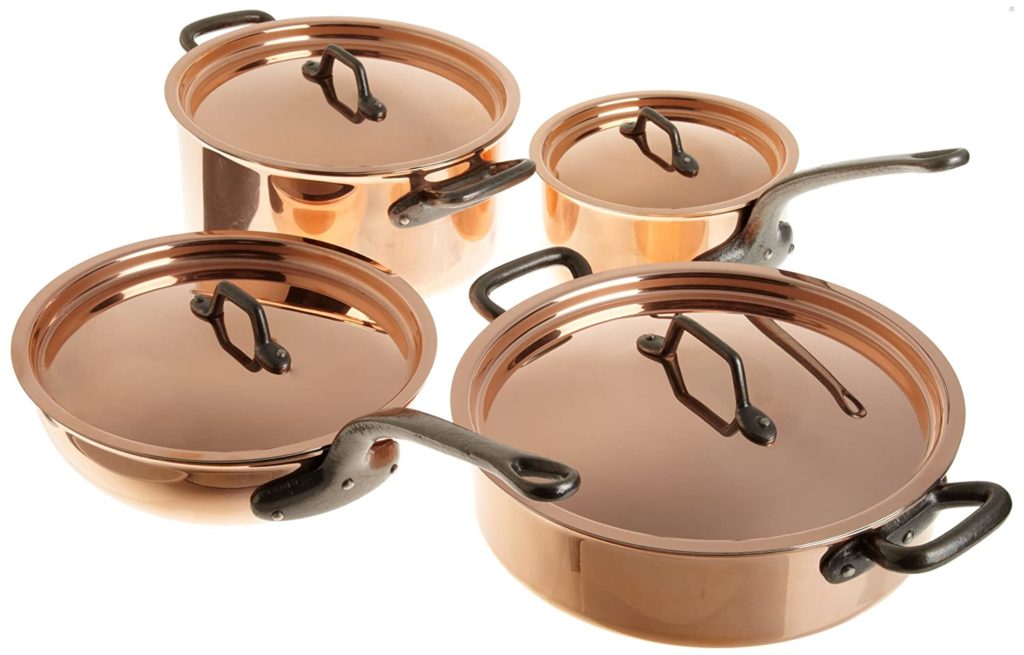 Matfer Bourgeat is one of the world's most popular brands of professional-grade cookware, and their 8-piece set is no exception.
Made with 2.5mm of pure Red Copper stainless steel lining, this cookware set is perfect for everyday use and can also be used in the oven or on a gas stovetop. The brass and cast iron handles are not only stylish but also make it easy to move around your kitchen.
This cookware set has been designed to be lightweight and durable, so you can feel confident about using it every day—and it's sure to last you for years to come!
If you're looking for a professional-grade cookware set, then Matfer Bourgeat 8 Piece Best French Copper Cookware set is the one to go for.
Interesting Facts about Matfer Bourgeat
Mafter Bourgeat is an industrial group full owned by the family.
Mafter Bourgeat has been producing professional-grade copper cookware since 1814.
All their copper cookware is manufactured in France.
Oven-safe and compatible with a Gas stovetop.
Advantages
The first thing that strikes you about Matfer Bourgeat's cookware set is how light it feels.
This set is made with 2.5mm of pure Red Copper 18/10 stainless steel lining.
The 8-piece cookware set comes with different sizes and shapes of pots and pans so you can cook anything from soups to stews, pasta to risotto, etc.
This cookware set has been designed to be lightweight and durable, so you can feel confident about using it every day—and it's sure to last you for years to come!
Limitations
This cookware set costs almost $2000+, but it has several qualities that make it worth it.
Cast iron handles get hot.
Buying Guide: Factors to consider before buying French Copper Cookware
French copper cookware is a great option for those who want to improve their cooking experience. It's a versatile material that can be used on all types of stovetops, including induction. It's also durable and long-lasting, which means it will last you for years to come.
But before you buy, there are some things you should consider first:
Cookware Thickness
The thickness of the cookware can vary from 2mm to 3.5mm. The thicker it is, the more durable it tends to be and also it heats up faster than thinner ones.
The thickness of your cookware is an important consideration because it affects how long it will last you before it starts showing signs of wear and tear. The thicker your cookware is, the longer it will last without developing dents or scratches from regular use. Thicker cookware also heats up faster which means that less energy is wasted during the cooking time which saves money on energy bills!
Hammered Vs Smooth Finish
If you want your French copper cookware to look fancy, then go for a hammered finish as it gives them an antique look but if you want something that looks modern, then a smooth finish should be preferred.
A hammered finish gives off an elegant look while keeping costs low compared to a smooth finish which can cost up to twice as much depending on where you buy it from (and if they offer any discounts). The biggest difference between these two finishes is that hammering creates small indentations into the surface which makes cleaning easier when preparing food in.
Lining
Most manufacturers use stainless steel lining in their products but some don't use any lining at all which makes them unsafe for use in dishwashers or microwaves because they can get damaged easily when washed vigorously or heated too much on high-temperature settings.
Induction Cooking
If you're looking for something that works well on induction cooktops, then make sure that your chosen model has all-metal construction with magnetic induction plates built into its base.
Handles
Handles are important because they help us lift our pots without burning our fingers or hands while cooking. Make sure to buy cookware with stainless steel handles as they work best with copper cookware.
Check out our article on Dutch Oven Made in France
Frequently Asked Questions
How Long Will My Copper Cookware Last?
When it comes to copper cookware, one of our most frequently asked questions is how long it will last. The answer: It depends. Since every pan is unique and not all cookware is created equal, we're going to try and give you an idea for two scenarios. What if you take excellent care of your copper cookware? What if you don't?
Why do French chefs use copper pans?
There are a lot of reasons why French chefs love to use copper pans. First, they provide an even heat surface so that your food cooks evenly. They also heat up quickly, which means you can get your meal on the table faster. And finally, they retain heat well so that your food stays hot until you're ready to serve it.
"Sometimes my wife hits me with her pans. Would these hurt less since they are copper?" Asks, one innocent Husband on Amazon.
Copper is soft but tough—so if your wife hits you with a copper pan, it's going to hurt more than if they hit you with another kind of metal pan! haha!
We would highly request angry wives to not hit their innocent husbands with copper pans.