Shun and Miyabi knives are both some of the finest Japanese knives available on the market today, and while they may look similar, there are plenty of differences between them that make them more suitable for certain situations over others. If you're not sure about what the difference between Miyabi Vs Shun knives is, you've come to the right place!
In this article, we will give you all the information you need to make an informed decision about which company's products are right for you. We'll also give you some helpful suggestions on how to choose the best Shun or Miyabi product from those brands' impressive catalogs. So let's get started!
Use links below for easy navigation
Miyabi Knives:

This Japanese cutlery brand was founded in the 20th century, making it one of the oldest knife manufacturers in Japan. They are known for their hand-forged Damascus steel blades, which are still crafted by an old-world process that involves heating metal to more than 1,100 degrees Fahrenheit before hammering it into shape to form a blade with layers of steel that create an intricate damask design and provide strength and durability.
In 2004, Zwilling Group acquired Miyabi and then made it part of their Zwilling J.A Henckels brand that specializes in premium quality cutlery based out of Solingen, Germany. The company produces many different types of kitchen knives including chef's knives, fillet knives, boning knives, steak knives and other types of cutting utensils made specifically for use in professional kitchens.
Shun Knives:

Shun Cutlery is a division of Kai Group which is a kitchen cutlery manufacturer headquartered in Tokyo, Japan.
Shun is one of Japan's leading producers of kitchen cutlery, which it makes in its 100-year-old factory in Seki, Japan. Shun has always been about making kitchen knives that work better and last longer than other cutlery. These days, with manufacturing plants, its craftspeople continue to produce only tools that perform with unmatched precision and ease of use.
Shun vs Miyabi Knives, Comparison:
The two brands are both top of the line, known for their craftsmanship and high-quality steel, so it may be difficult to know which one will ultimately suit your needs best. Here I'll be comparing Shun Knives vs Miyabi Knives to find out which one's right for you.
1. Construction:
Both of these knives are crafted by using centuries-old techniques that have been passed down for generations. It's unsurprising, then, that you'll see a great deal of similarities between these two high-end knife brands—especially when it comes to construction materials and durability factors.
2. Design:

The initial draw of these knives is their design, which clearly demonstrates a high level of attention to detail. Shun and Miyabi knives come in a variety of colors and handle materials, allowing you to pick a knife that matches your personal style.
3. Materials:
Shun and Miyabi knives look similar and in some cases, perform very similarly when in hand. Both use high quality Japanese stainless steel. Both are very sharp and able to retain their edge for longer periods of time than many other types of knives on the market today.
4. Blade Steel:
Shun uses proprietary VG-MAX super steel that is highly resistant to rust and maintains its edge better than other cutlery steels available today. On the other hand, Miyabi uses a VG-10 cutting core stainless steel that allows them to stay sharper for longer than softer brands like Kyocera or Global knives.
5. Blade Hardness:
When you first start out and don't have a clear idea of what type of knife you're looking for, it can be difficult to know what to look for when shopping around. This is where blade hardness comes in—specifically, what you should be looking for as far as blade hardness goes depends on your intended use of the knife.
Shun uses harder, sharper steel while the Miyabi uses a softer, easier to sharpen stainless steel. This difference in the steel's hardness gives each blade a distinct advantage.
6. Edge Angle:
When comparing knives, people often refer to their edge angle—how much of a curve there is on each side of the blade. Shun knives tend to have very acute edges (edge angles around 16° on each side), while Miyabi tends to have less acute edges (around 9-12° on each side). This will result in food cut more easily with Shun than with Miyabi, though these differences are largely unnoticeable by untrained individuals.
7. Handles: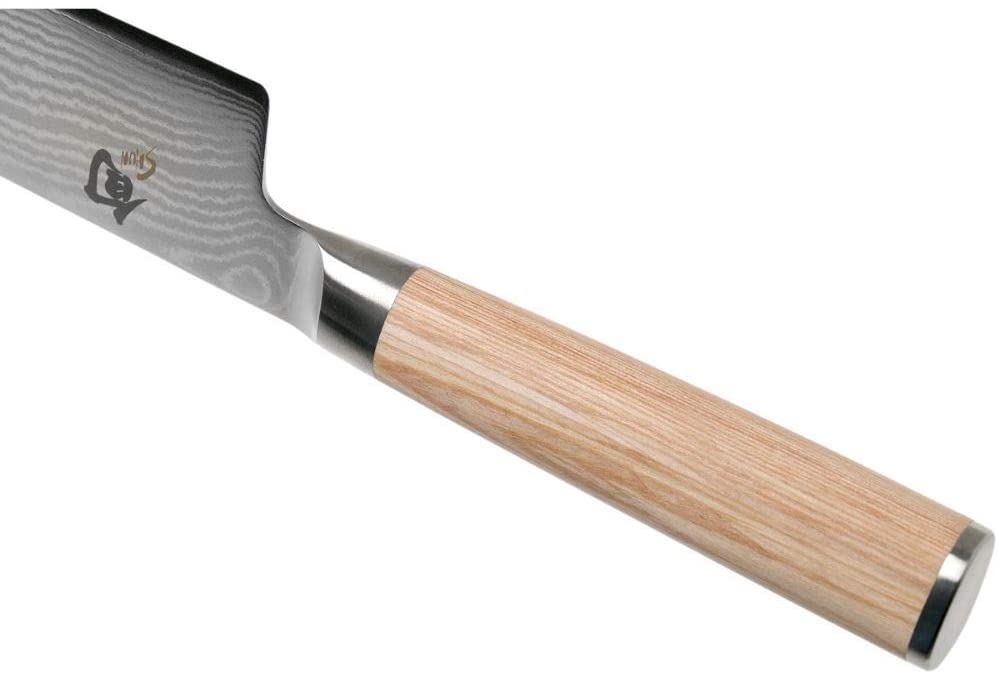 Both Shun and Miyabi knives use tough, well-finished wood handles. However, the materials Miyabi knives use are quite different from those Shun knives use.
Miyabi knives use black ash wood, Karelian birch, Micarta, and Pakkawood. While Shun knives use Pakkawood, Tagayasan wood, or PTE. All these materials are beautiful and of high quality.
8. Usefulness:
Shun and Miyabi knives are both of Japanese origin, and thus have a similar style and method of construction. The main difference between these two brands is that Shun's knives feature a more stylish look than their counterparts from Miyabi, which has an extra-simple design suited for everyday tasks such as cutting vegetables or slicing meat off a bone.
9. Weight:
As a general rule, lighter knives are sharper and cut more easily, but they're also usually harder to keep sharp. Shun knives are lighter than their Japanese counterparts. For instance, Shun Classic Chef's knife weighs 7oz. vs Miyabi Chef's knife weighs 8oz.
10. Versatility:
When it comes to versatility, there are no two knives that rival Shun and Miyabi knives. Whether you're cutting sushi or carving a roast chicken, these top-tier blades are designed to do it all—and then some.
11. Warranty:
Blades from both companies come with lifetime warranties as long as you don't use them as a pry bar or put them in a dishwasher.
In addition, Shun offers free sharpening for life (at any time).
12. Price:
Both of these knives are expensive, but they're built to last and keep their edge for longer than most brands. However, if you don't want to spend much money, go with Shun. For instance, Shun' Classic 8 inch Chef Knife costs: $150+. Whereas, Miyabi 8 Inch Chef Knife Costs almost $299.
Knife Collection by Shun: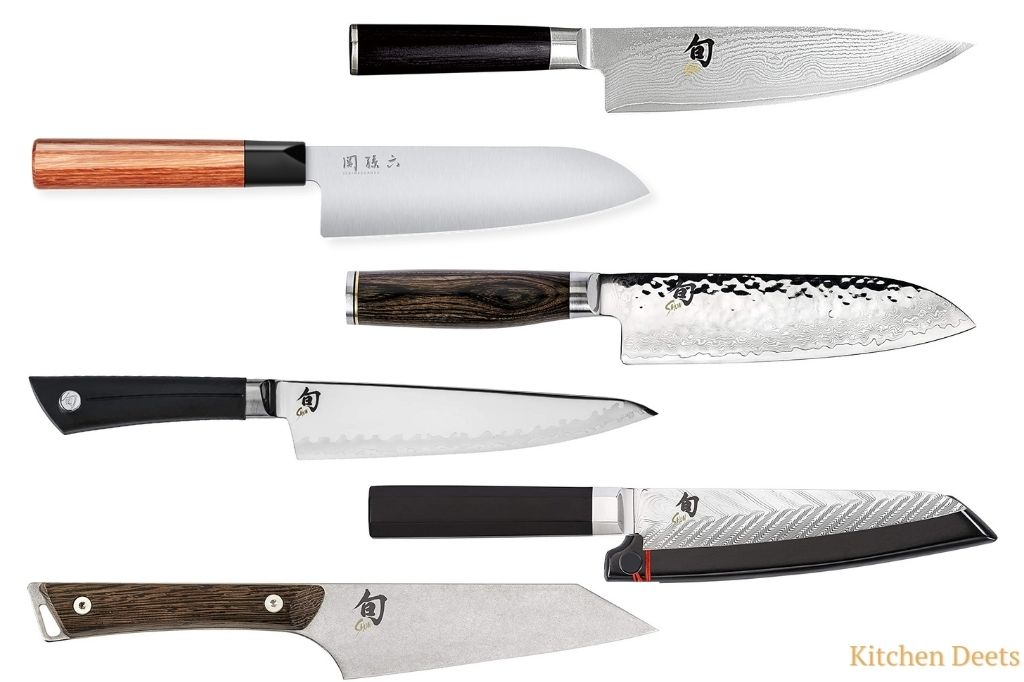 Shun offers 7 different Knife Collections:
Shun Classic
Classic Blonde
Premier
Dual Core
Sora
Seki Magoroku
Kanso
Knife Collection by Miyabi: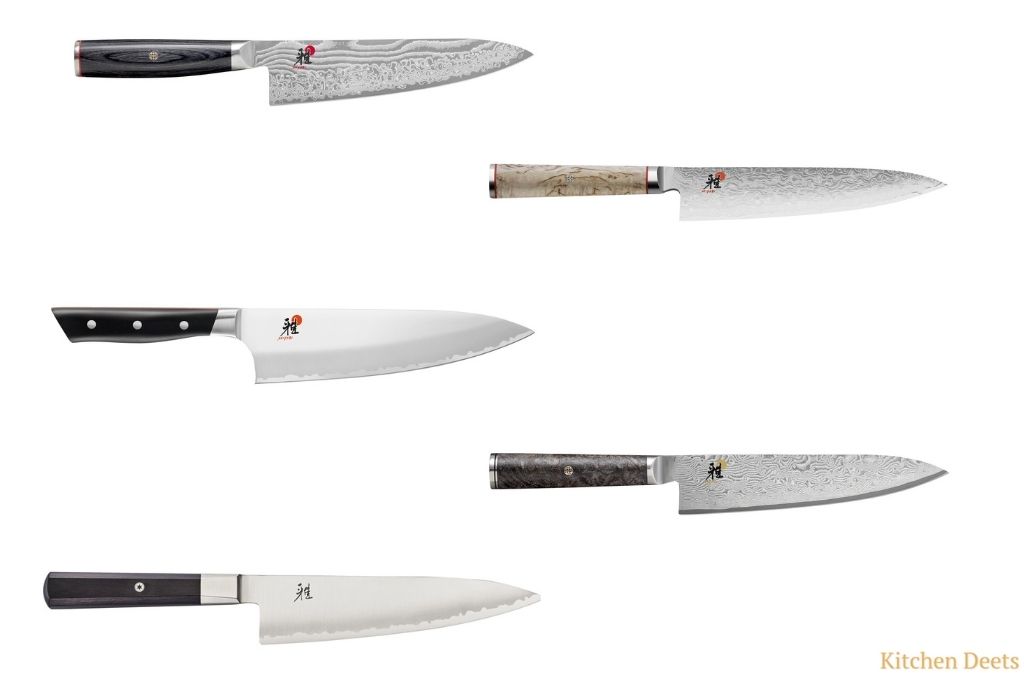 Miyabi offers 9 different Knife Collections:
Miyabi Birchwood
Kaizen
Kaizen II
KOH
Miyabi Red Morimoto
Evolution
Black
Fusion Morimoto
Artisan
Final Thoughts:
Your knife is the most important tool in your kitchen, and finding the right one can be overwhelming with so many options out there. While some knives may look similar, they're not all created equal.
After comparing these two knife brands, it's evident that Shun knives are definitely better than Miyabi knives in terms of craftsmanship and price. Although they may not hold up as well as Miyabi knives, they're great value for money and will certainly last you years if you take care of them!
Ultimately, deciding which brand to buy comes down to personal preference; but if it's my hard-earned cash on the line I would have to go with Shun.