Pakkawood is a composite wood that combines high quality hardwood veneers with plastic resins and fibers, resulting in a material that has properties between those of wood and plastic.
Pakka wood is about as close as you can get to a perfect alternative to natural wood. It's more durable than traditional hardwoods. Also, it is a popular material of choice for high-quality kitchen knives. Furthermore, it is water-resistant, and non-porous, which means no bacteria will cling to it and affect its taste or smell.
What exactly is Pakka wood handle material? Let's take a closer look at this unique material.
What is Pakkawood made from?

It is a composite wood that's made from sawdust and resin. When cured, it turns into a hard wood-like substance that closely resembles regular oak. Because of its composition, Pakka wood is considerably more affordable than real oak. Despite its cheap price tag, you won't find any grain irregularities or other telltale signs of inferior craftsmanship in its construction. No one will know your kitchen knives aren't made from real oak unless you tell them so!
How Strong are Hardwood Veneers?
Hardwood veneers have long been used in making things like fine furniture and musical instruments. This is because they are strong yet lightweight, meaning they can be used in a wide variety of products without changing their appearance or function. Hardwood veneers are glued to another piece of wood to create a stronger composite material with unique visual properties.
What Makes It an Excellent Material For Knives?
It is made from various hardwood veneers laminated together to form a very strong, yet flexible composite wood. The layers of wood are joined together using an adhesive resin, which allows them to move with each other as they bend and flex under pressure. Thus, this makes it an excellent material for creating high-quality kitchen knives.
Perfect Choice for Modern Kitchens:
It is the perfect choice for modern kitchens, where function and aesthetics complement each other. For any woodworking project that requires strength, durability and aesthetic appeal, consider using Pakka wood to craft your wooden handles or knife scales.
Most Common Items That Use This Material: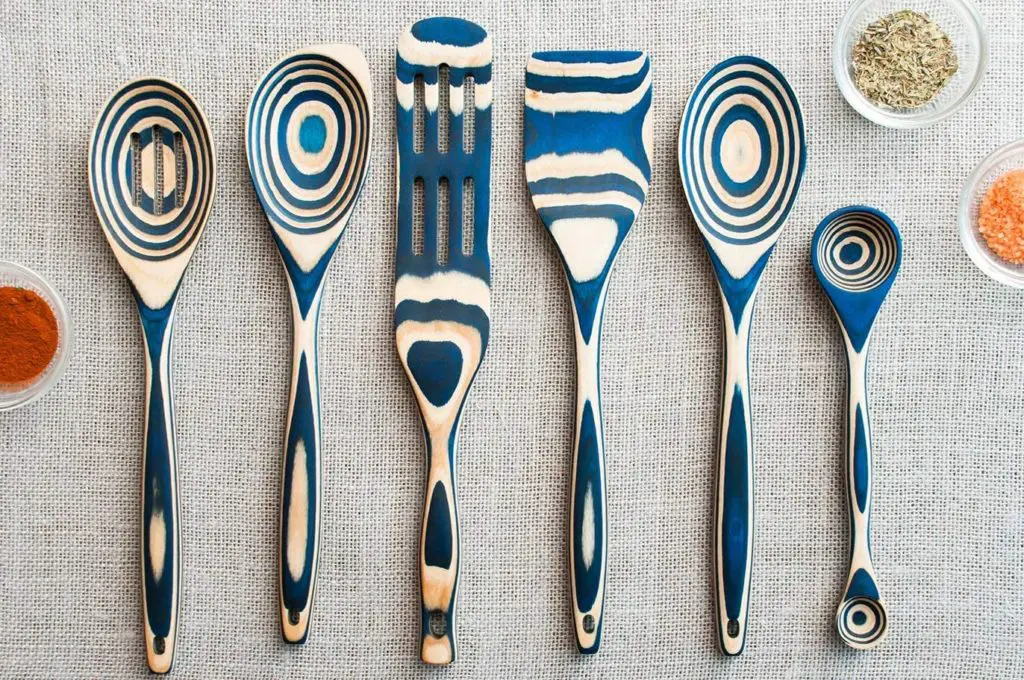 Most common Items that use this material are, tool handles, tabletop items, pool cues, cooking spoons, spatulas, and more.
Tool Handles:
Pakka wood is an eco-friendly material that is used in the production of wood handles for tools. The process of creating these pakkawood pieces requires minimal energy and time consumption.
Tabletop Items:
It is one of the preferred outdoor furniture materials used for tabletops. The material does not get affected by weather conditions like different types of woods do. Hence, this characteristic makes the material ideal for making tables, chairs, and other similar furniture items.
Pool Cues:
A Pakka wood cue will last 3-5 times longer than regular cues. It is better to buy a Pakkawood cue because it will deliver a better playing experience and save you money in the long run.
Cooking Spoons:
Pakkawood cooking spoon is a healthier alternative to plastic and is completely toxin-free. It is a non-allergenic, antibacterial wood that can withstand extreme temperatures. And the heat-resistant pods guarantee you'll never burn your tongue again.
Spatulas:
Have you noticed when you cook, the spatulas tend to melt? Pakkawood wooden spatulas are designed to never melt, stink, warp or misshape. They maintain their shape and color for a lifetime.
Popular Knives that Use This Material:
Utility Knives
Santoku knives
Safety and Care:
If you have a beautiful pakka wood knife, it is very important to take care of it properly. Just like wood, it can be damaged if it gets too much moisture so you should allow your knife to air dry after washing it and avoid the dishwasher.