Global knives are one of the most popular and best-selling kitchen knife brands of all time. If you're thinking about buying this popular kitchen knife brand, then you'll definitely want to check out our Global knives review first. We have taken a look at all aspects of this knife brand – including performance, durability, and value – so that you can make an informed decision before buying a set of knives from Global.
Are You Considering Purchasing A Set Of Global Knives?
In this article, I will be reviewing the 4 different types of Global Knives available and which knife line is best to use in what scenario. The four lines of Global knives are the Global Classic line, the Global Ni line, the Global Ukon line, and the Global Sai line.
I will go over how each of these lines is similar, how they are different from one another, and what type of kitchen tasks each of them is best suited for.
The Global brand was introduced to the world in 1985 and has since gained immense popularity. Global knives are by far one of the best knife brands in the world and it is hard to beat them on quality, durability, and of course value for money.
Global Classic Series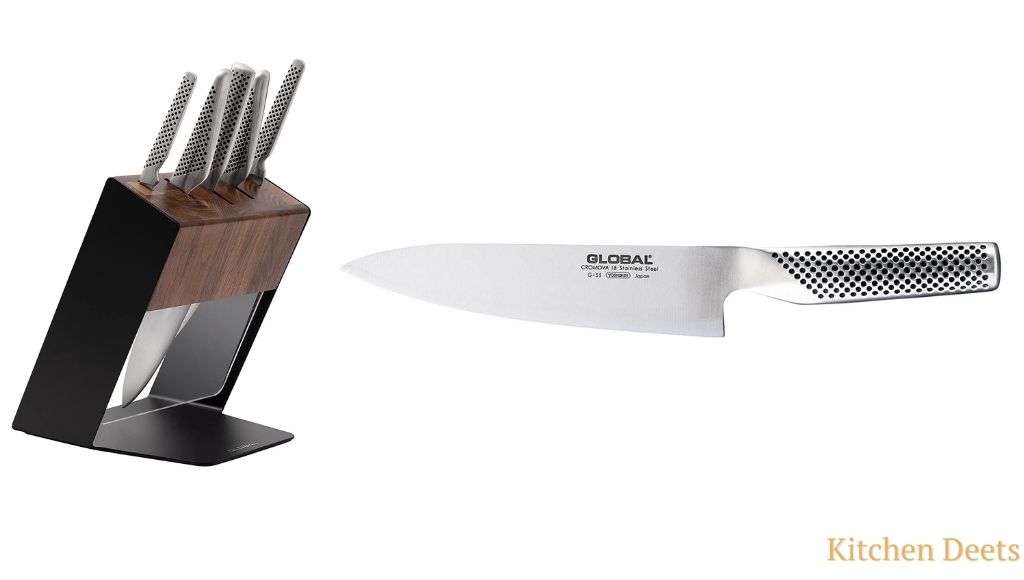 Global Classic knives are a line of kitchen knives that are similar to the other Global knife family. The difference between Classic and the other three lines is, the classic knife has handles that have small dimples that provide a secure grip when in moist conditions. These knives are designed to last because of the high-quality Cromova 18 stainless steel used in production.
"The fact that each knife is a piece of art is what makes them very special. You can't help but appreciate the style that comes along in these knives. While they seem to be normal knives from afar, up close it's easy to see why they are so popular among home cooks around the world!" Says Noor Khadija Senior Editor at Kitchen Deets
Global knives are crafted with an acute 15-degree cutting edge and made of CROMOVA 18 stainless steel, which is ice tempered and hardened to Rockwell C56°-58° so blades stay sharper longer.
Features
Cromova 18 Stainless Steel
Stamped Knives
Dimples for safe grip
Manufactured in Japan
Offers Limited lifetime warranty
Advantages
Many foodies love these knives because they make chopping much easier.
The stainless steel handle of classic line provides strength and durability.
The classic line has the finest construction at an affordable price.
Limitations
Lighter in weight
Global Ni Series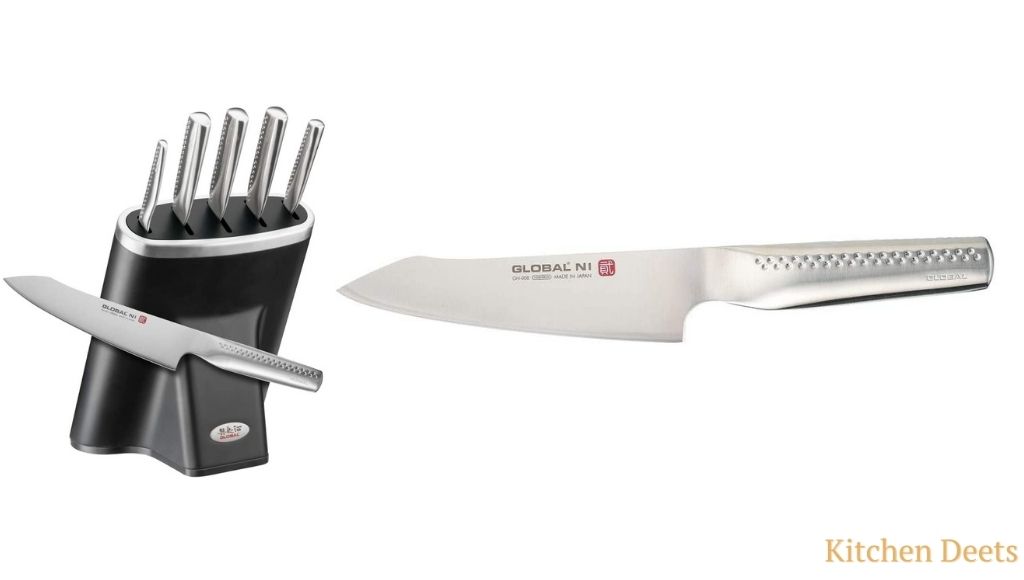 The Global Ni Knives are a perfect kitchen addition. Global Ni knives feature Cromova18 stainless steel for a razor-sharp blade that is easy to sharpen and stays sharp longer. There are four different categories of knives, each category with a specific need in mind. The larger knives are perfect for filleting fish, the medium and small knives great for vegetables and fruits, the forged series is ideal for chopping, slicing, and dicing. Once you try a Global Ni Knife, you will never want to use another knife!
These knives are perfect for preparing fish, meat, and slicing vegetables.
If you're looking for a gift to buy for a cook who uses lots of knives, look no further than Global Ni.

– Says Noor Khadija
Features
Cromova 18 Stainless Steel
Stamped Knives
Lesser dimples as compared to the classic line.
Manufactured in Japan
Offers standard 2 years guarantee.
Advantages
The ratio of chromium, molybdenum, and vanadium in the steel keeps the outer edge durable and the inner core strong, easy to sharpen, and corrosion-resistant.
The Ni series has very keen edges and holds them well when cutting through food.
They are also extremely sharp and will cut your prep time in half.
The new Ni line is perfect for your everyday catering needs
Limitations
Dangerously sharp requires special care while hand washing these knives.
Global Ukon Series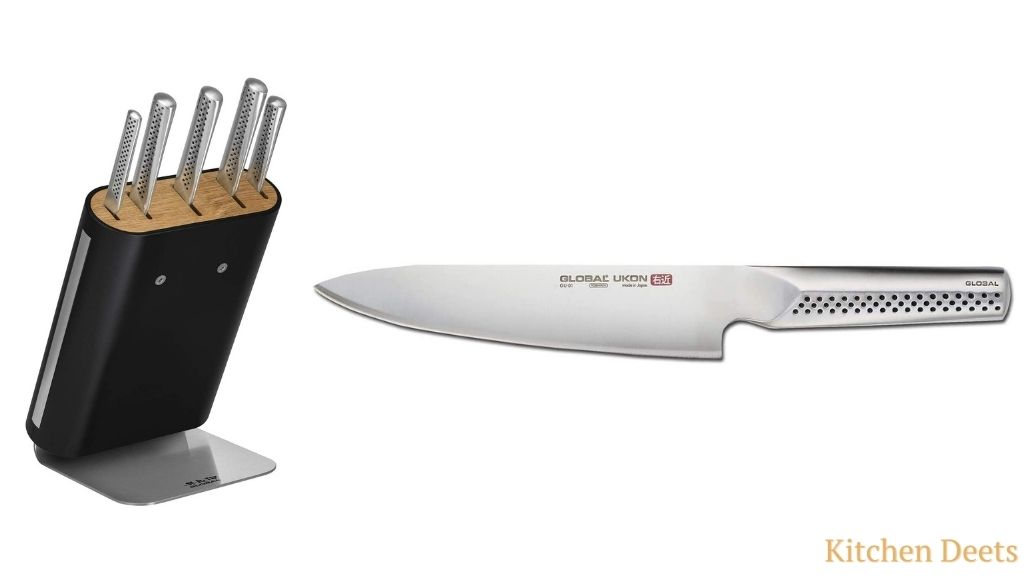 Global Ukon knives are 10 percent sharper than previous collections. Featuring a sleek design and the same high-quality Cromova 18 stainless steel resistant to stains and chipping, the Ukon knives have a unique handle design that makes them stand out from other Global knives.
Global Ukon knives are well-known for precise cuts. The rationale leading to its creation is one of experimentation and a desire to create something unique. Ukon means unification or union in Japanese, so this knife line is a marriage of traditional and contemporary. This line is perfect for professional and aspiring cooks alike.
The unique sharpness found in Global knives is performed at a simple 15 degrees knife blade. This style of sharpness from Global is truly what creates the difference between them and other manufacturers' knives.

– Says Noor Khadija
Features
Cromova 18 Stainless Steel
Stamped Knives
Unique handle design with dimples.
Manufactured in Japan
Limited lifetime warranty
Advantages
The dimples on the handle offer a secure, comfortable grip even when wet.
The knives are sharper and slice through food effortlessly.
The entire knife line is 10% sharper than the previous collections.
Limitations
Handles are slightly different from other Global knives, so it takes time to get used to this series.
Global Sai Series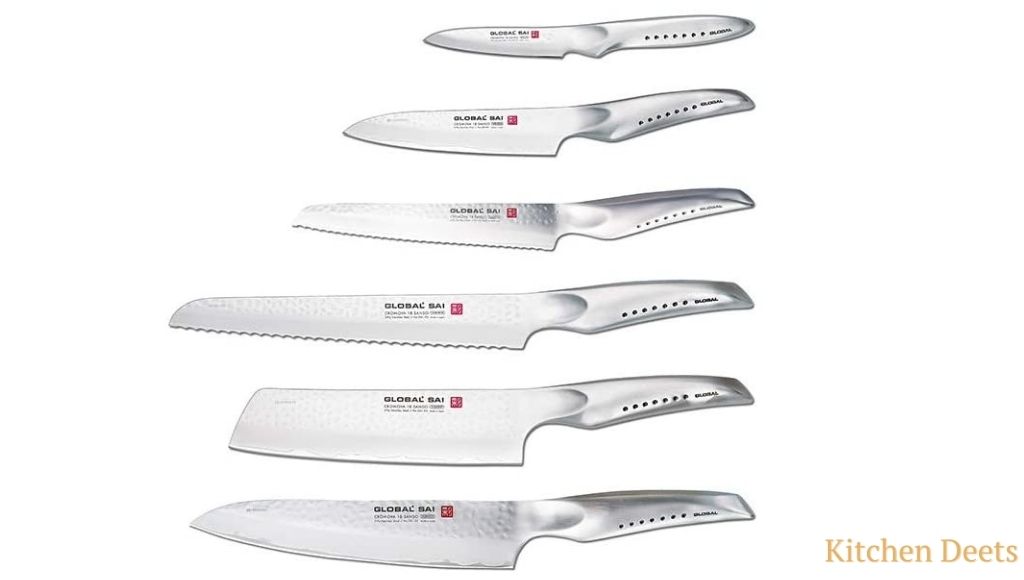 For chefs and foodies alike, the Global SAI knife line will be a welcome upgrade. Made of superior-quality materials and designed to fit comfortably in the hand, these knives offer a bit more heft than their counterparts in the classic Global series. The dimpled handle aids in a comfortable grip while reducing slippage.
With razor-sharp lengthwise grooves that help the blade glide through soft foods (such as tomatoes or lettuces) with ease and a smooth 15° edge angle, this is one set you'll want to add to your collection of kitchenware.
The SAI is one of the core knives in the GLOBAL series.
Check out our Article on Miyabi Knives
Features
Cromova 18 Stainless Steel
Stamped Knives
Unique handle design with dimples
Hammered blade finish
Manufactured in Japan
Limited lifetime warranty
Advantages
The stamped construction ensures longevity and strength.
Sai's basic cook's knife is used for most types of cutting, dicing, slicing and chopping.
It features a streamlined design that's ideal for those new to the cutlery scene.
Limitations
Thoughts on Global Knives Review
To Sum it up, Global Knives is a good buy for individuals or the family who are looking for a budget-friendly kitchen knife. You'll enjoy that fine cut and become a master in your kitchen with its sharpness within a little time of using it.
Frequently Asked Questions
Are Global Knives Accepted Globally?
It is obvious that the Global knives are globally accepted for their quality, affordability, and comfort. If you are thinking of purchasing Global knives or any other quality knife I would definitely recommend Global.
How Good Are Global Knives?
For anyone who is looking for a functional kitchen knife complete with style and rich features, the Global brand might be just the thing you need. The company has been around for four decades and has been manufacturing a lasting collection of high-quality kitchen knives that have served the needs of professional chefs and amateurs alike.