You can hardly talk about knives without mentioning the names Wusthof or Global. Both are very famous companies that make high-quality kitchen knives. Some of you are probably familiar with them because you already have these brands. But others might be shopping for a new knife, and may not know what to look for in order to get the best quality for their money.
If you're looking to buy new kitchen knives, it may seem like you have two options: Wusthof or Global. While they both make top-quality products, they also have their own unique strengths and weaknesses that might not fit your needs perfectly. I'll go over the main features of each knife brand to help you decide which one will work best for you in terms of looks, functionality, durability, and cost.
Let's dive in!
Wusthof Overview:

Wusthof has been handcrafting fine knives since 1814. A lot has changed since then. In 1814, the company didn't even have a name. Today, they're well-known as the Wusthof Company that's specialized in making fine cutlery and kitchen tools.
Wusthof knives and accessories are designed and manufactured with one goal: to be your go-to kitchen helper for years to come.
Global Overview:

Global Cutlery was found in 1985. This year the company will be celebrating its 36th anniversary. It is not as old as Wusthof cutlery but their knives still stand out due to their sleek, modern, lightweight designs.
Global Knives are fine kitchen knives that cut smoothly and safely. Each knife is expertly crafted out of the highest quality steel available. Global knives are an optimal balance of performance, durability, design-and most importantly-safety. Thanks to their stainless steel blade, these kitchen knives don't rust or corrode over time.
Wusthof vs Global – Similarities and Differences.
Wusthof makes German knives that are made in Solingen, Germany, while Global makes Japanese knives that are made in Niigata, Japan. They both make excellent kitchen knives, but there are some differences between them. Many people don't actually notice these differences when they use these knives in their kitchens.
Check out our article on Wusthof vs Henckels
Blade Steel:
Wusthof knives feature a high-quality steel called X50CrMoV15. While Global knives have Chromova18 high-quality stainless steel in their blades.
The Rockwell hardness of Wüsthof knives is 58 HRC, while the Rockwell hardness of Global knives is 56 HRC.
Edge Grinds:
Global grinds their edges straight bevel as compared to Wusthof that grinds their edges standard bevel.
Construction of Knives:
The blade of Wusthof knives is forged from a single piece of special high-carbon steel. The steel is heated and hammered into shape, then quenched in the water while still hot, resulting in blades with superior edge retention.
The blade of Global knives is also made from a single piece of steel, unlike traditional knives, which are built from several pieces of steel. As a result, Global Knives are lighter, more balanced, and sharper than their traditional counterparts. These knives are designed to last a lifetime, even in the most rigorous professional settings, and are guaranteed against defects in materials or workmanship.
Manufacturing Process:
Global knives are produced using pressure and heat, while Wusthof knives are produced by hammering. Each method has its own set of advantages and disadvantages. Wusthof knives are harder and more durable, but they are less flexible and their cutting edge is sharper. On the other hand, Global knives are more flexible and their cutting edge is sharper as well.
Handle Material: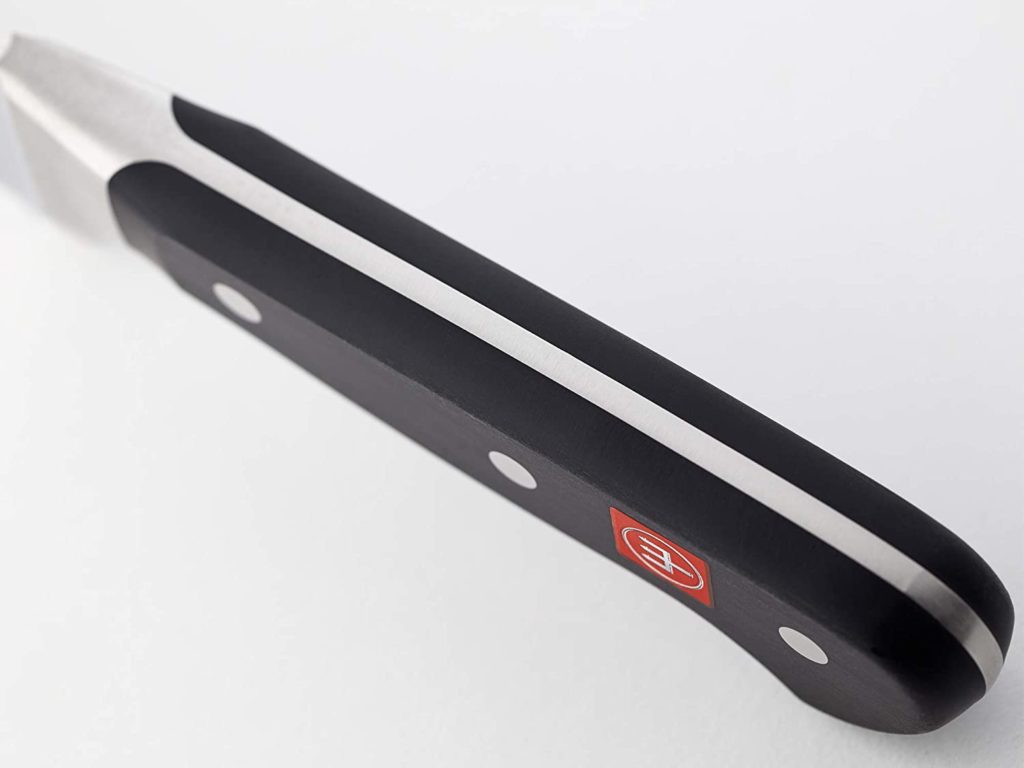 Wusthof knives feature a synthetic handle material known as Polyoxymethylene (POM). Polyoxymethylene is highly durable, non-porous, easy to clean, stain-resistant, and non-allergenic.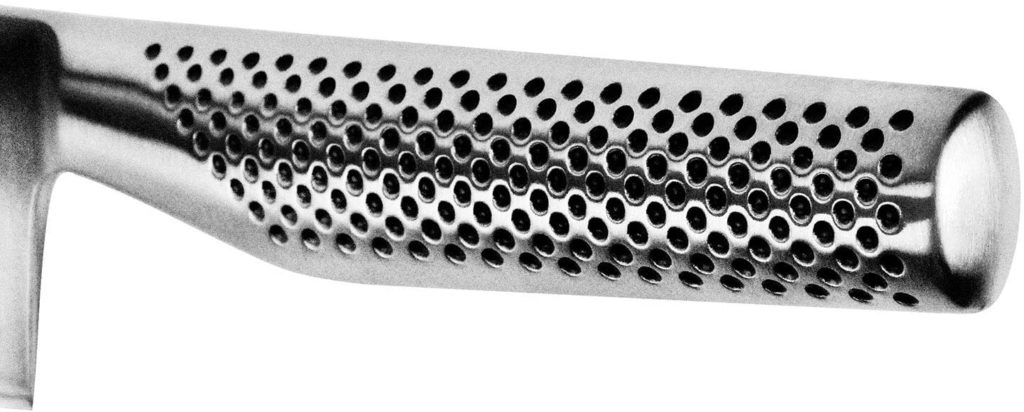 On contrary to that, Global knives feature stainless steel special handles with dimples that provide a comfortable grip.
Sharpness:
Global knives are sharpened at a 15-degree angle per side. On the other hand, Wusthof uses a unique process PETec (precision edge technology) to sharpen all edges at a 14-degree angle on each side.
Note: Make sure you sharpen your knives regularly. This way, you will be able to utilize the knife to its fullest potential.
Durability of Knives:
Wusthof knives are more durable than Global knives. The steel used in Wusthof knives is harder than that used in Global knives. This toughness makes each knife more chip-resistant, and less likely to develop a noticeable scratch or ding during everyday use.
Care and Cleaning of Knives:
Wusthof and Global both knives are dishwasher safe, but hand washing and putting them in a wooden block or magnetic chip will extend their lifespan
Weight:
Wusthof knives are heftier as compared to global knives. For instance, Wusthof chef knife weighs 8 ounces, and Global chef knife weighs 5.6.
The additional weight also adds to the stability, meaning less chance of the knife slipping out of your hand during use.
Price:
Both companies make great kitchen knives, but there are slight differences in terms of quality and price. Wusthof knives cost a bit more, due to their reputation for quality, craftsmanship, and superior design. On average you can expect to pay around $125 USD for a high-quality knife from them.
Warranty:
Global and Wusthof both brands offer a limited lifetime warranty for their knives.
Check out our article on Best Steak Knives
Products Line:
Global has a collection of 4 knife lines. Meanwhile, Wusthof has 7.
Global Knife Collection: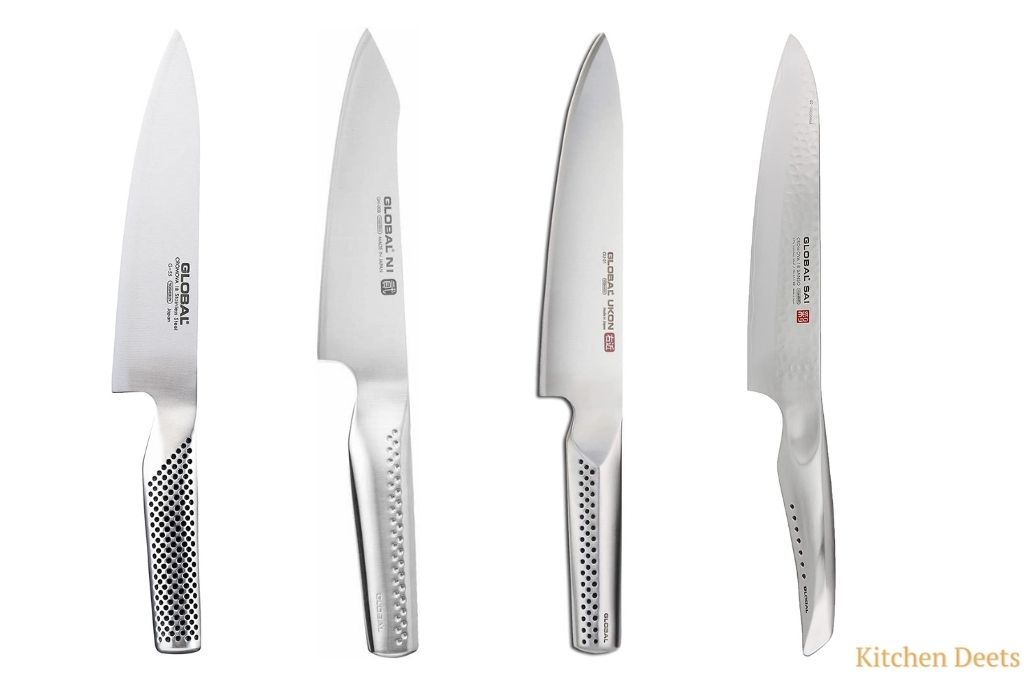 Wusthof Knife Collection: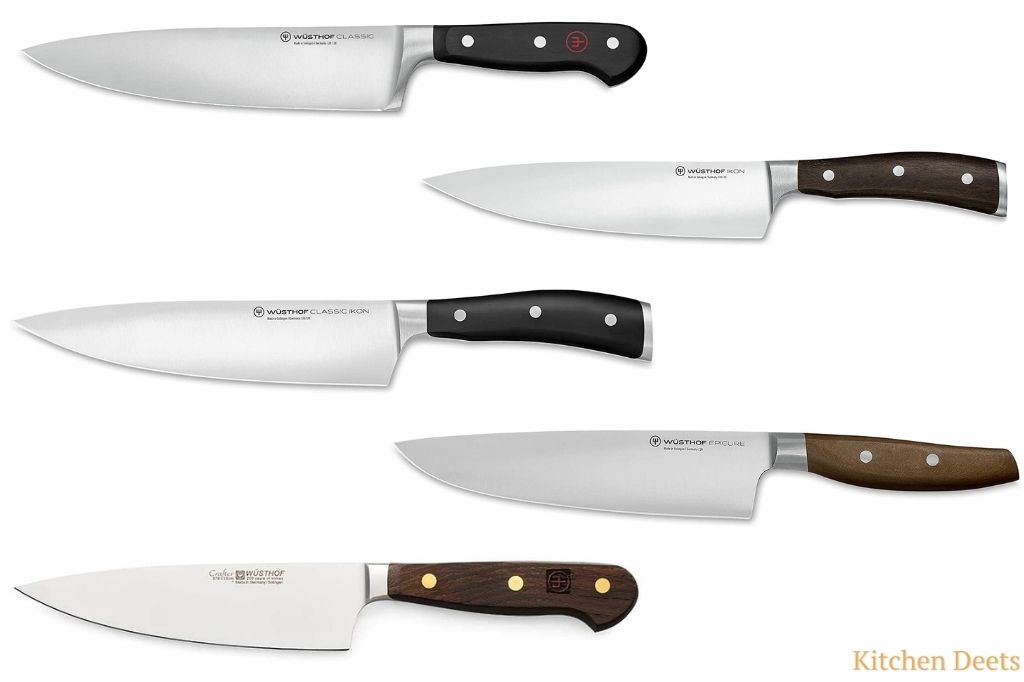 Wusthof Crafter
Wusthof Grand Prix II
Who Should Buy Wusthof Knives?
If you're willing to invest in high-quality, German knives, then you'll likely be pleased with a set of Wusthof blades. These fine cutlery pieces are made from special materials and undergo rigorous testing to ensure that they last for years. In fact, some people will say that no kitchen is complete without a few of these knives in your collection
Who should buy Global knives?
If you're looking for high-quality kitchen knives but don't want to spend thousands of dollars, I recommend Global knives. While they may not be as durable as other brands (especially if you use them very roughly), they still make excellent kitchen cutlery for professionals and hobbyists alike. They have a reputation for being sharp out of the box, which is something that you don't find in some competing brands.
Check out our article on Wusthof vs Victorinox
Conclusion on Global vs Wusthof:
Which one is better? To be honest, it depends on your needs. If you're looking for something with a sharper edge and want to pay top dollar for a product that will hold up well over time, then Wusthof might be right for you. However, if you're just starting out in your kitchen and want to find a high-quality knife at an affordable price, then I recommend giving Global a try. Whichever brand you choose to purchase from should last you for years!
Overall, it's clear that both companies are quality producers of kitchen knives.