Thousands of chefs and home cooks swear by either Cutco or Wusthof knife sets, but the debate rages on as to which brand of knives is superior, Cutco or Wusthof? Both companies produce high-quality kitchen knives that will last forever if properly cared for, but there are some differences between the two brands that you should know about before making your final choice.
In this article, we'll explore the similarities and differences between Cutco vs Wusthof so you can make an informed decision about which brand to choose when deciding on your next kitchen knife set purchase.
How Cutco Knives Are Made:
Each Cutco knife is individually made in the Cutco factory located in Olean, New York. This facility is among only a handful of knife factories in America where hand-forged blades are still produced. Each blade starts out as low-carbon steel that's hot-stamped into shape.
Much of Cutco's success can be attributed to its superior quality. From start to finish, every Cutco knife is manufactured by hand in their state-of-the-art facility in Olean, New York. Cutco has strict guidelines when it comes to determining how sharp an edge should be; these requirements are evaluated with three rules in mind: sharpness (how easily it cuts), strength (how hard it is to chip or break), and long-lasting cutting ability.
Check out our article on Best Kitchen Knives Made in USA
How Wusthof Knives Are Made:

Wusthof knives are precision-forged by skilled artisans to provide you with a lifetime of performance. Each blade is crafted from a single blank of steel which is then ground, tempered and sharpened.
The handle is then riveted to the tang which extends into the full length of the handle. Unlike most knife companies that use glued-on handles, Wusthof uses a three-quarter tang with riveted handles which means that they are stronger and will not come loose over time.
Every step in its production is monitored to ensure quality control. There are many different types of cutlery on store shelves today, but no other brand stands up to comparison with Wusthof.
While visiting Germany's Solingen region, you can tour one of Wüsthof's factories to see how their knives are made.
Check out our article on Wusthof vs Shun
Wusthof vs Cutco, Comparison: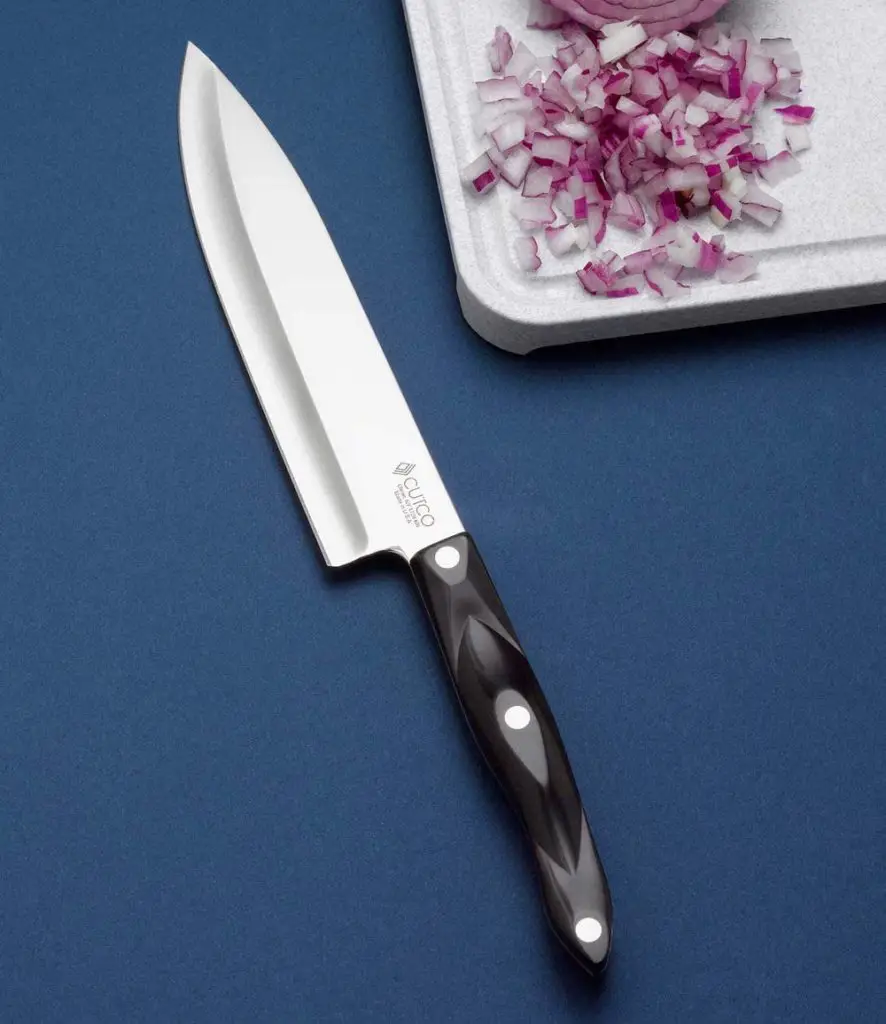 Cutco and Wusthof are two of the most well-known brands in knife production. However, not many people know what sets them both apart. Here we are going to discuss the similarities and differences between these top two brands.
Sharpness of blades:
When you're deciding between Cutco vs Wusthof knives, one of your top considerations should be blade sharpness. Cutlery connoisseurs often note that a dull knife can be more dangerous than a sharp one. A dull knife can easily slip and cut unintended targets, while a sharp knife does its job quickly and precisely.
When it comes to knife sharpness. Cutco's stainless steel blades are honed at a 30-degree angle for razor sharpness that stays sharper longer. On top of that, Cutco's sharper blades are harder to blunt because they stay that way longer than other knife brands. Wusthof knives, on the other hand, are sharpened at a 28-degree angle per side.
Blade Material:
Wusthof uses high carbon steel blades. In contrast, Cutco uses high-quality stainless steel alloy blades of the finest grade of 440A which is harder and strongest steel type. Cutco never has a "memory" against dulling. And holds a long-lasting edge on both fine edges and serrated.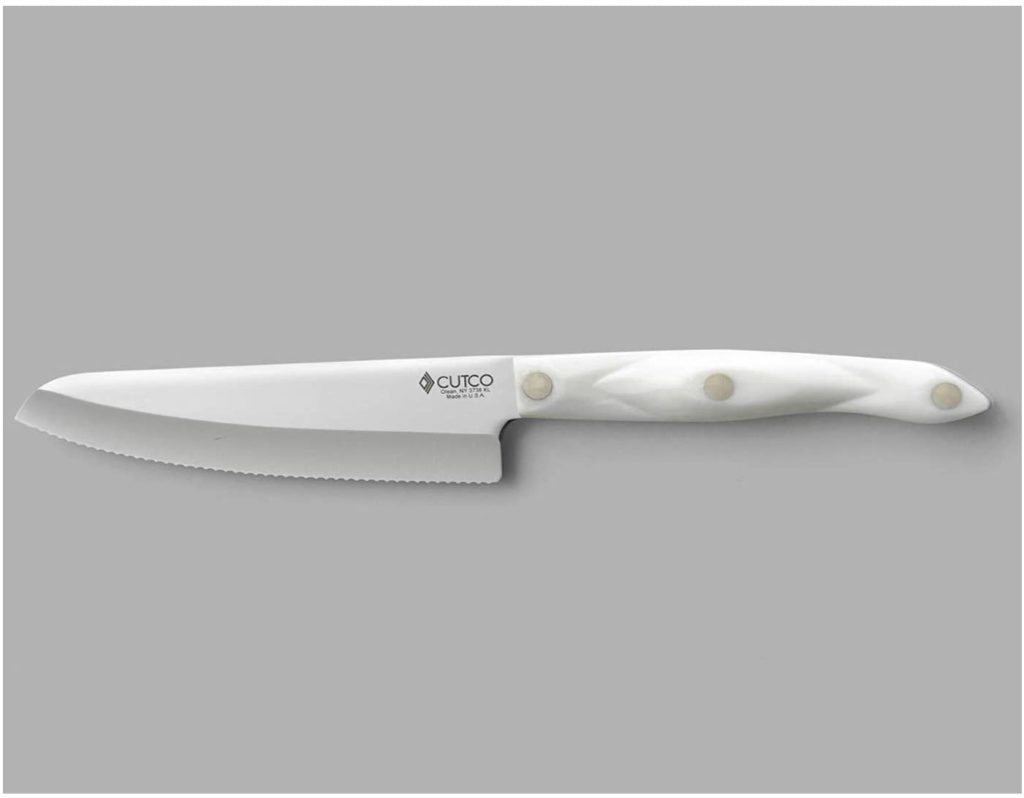 Blade Construction:
Not all knife blades are created equal. Each brand has its own distinct way of creating knives and each blade is different based on material and technique. Cutco uses a method called electron beam welding to create its knives while Wusthof uses a traditional forged method to build theirs.
Forged Or Stamped Blade:
Wusthof is well-known for its forged blades. Whereas, Cutco knives are made out of stamped blades.
A forged blade is created from a single piece of metal while stamped blades are made up of several pieces bonded together using heat and pressure. If you're looking for a heavier knife with greater durability, choose a forged blade. But if you want a sharper edge on your knife, stamped blades provide better results. Ultimately, it's up to you to decide which type of blade is more important to you.
Handle Material:

Cutco's handle is made from a highly engineered thermos resin that will not slip in the hands when wet. Whereas, Wusthof knives use molded polypropylene with textured for comfort and slip resistance.
Durability:
Both Cutco and Wusthof make very durable knives. If you're looking for something that will withstand heavy use over an extended period of time, either of these brands will be a good choice. Both Cutco and Wusthof have established themselves as some of the best knife brands out there, so if durability is your primary concern, you can't go wrong with either brand.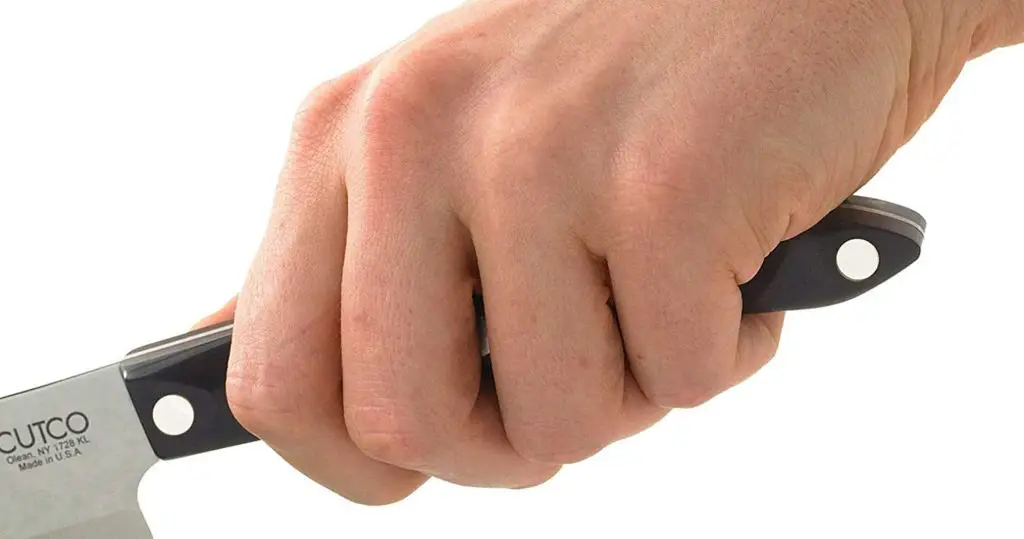 Cleaning and Care:
The best way to care for your knives is to hand wash them and wipe them dry with a towel. Dishwashers tend to be too rough on knife blades. Most manufacturers offer specific instructions on how to clean their knives, so read through your brand's manual before attempting any methods on your own. In some cases, you may find that it's not safe or smart to use dishwashers on some of your cutlery items at all.
Warranty:
Cutco knives come with a Forever Warranty that protects you against any defects in material or workmanship. If your Cutco product fails to perform properly—for example, if it cannot cut through items—they will replace it at no cost to you. Simply return your product along with its warranty card to a customer service department. They'll take care of everything.
In contrast, Wusthof Knives come with a Limited Lifetime warranty against defects.
Price:
In terms of price, let's take a look at one of each company's most basic chef knife. Here's an example from both Cutco and Wusthof:
Wusthof 8 Inch Chef Knife Costs: $150 (Amazon)
Cutco 8 Inch Chef Knife Costs: $205 (Amazon)
Price doesn't always dictate quality. Just because Wusthof Chef Knife is cheaper than Cutco, it doesn't necessarily mean it's of lesser quality.
Check out our article on Cutco vs Henckels
Final Thoughts:
When it comes to choosing between Cutco vs Wusthof, you can't go wrong with either one. Like most things in life, deciding between these top two brands ultimately comes down to personal preference. However, if you want my advice (and I'm guessing that you do!), then I would absolutely opt for Cutco over Wusthof every time. It has a better handle and blade finish – two things that make a great deal of difference to people who use these knives on a regular basis. Plus, A Lifetime warranty is icing on the cake.
What do you think is the best one between these top two brands? Let us know in the comment box below.