An increasing number of people are looking to get the best cooking utensils, and what's been called the best stainless steel cookware is certainly one that many consider to be worthy of the label. But if you're thinking about buying this type of cookware, it's important to know exactly what you're getting into, which is why we put together a list of the top 5 best stainless steel cookware made in USA.
Best Stainless Steel Cookware Made In USA
Not all cookware is made equal, so you need to know what you're looking for when you go shopping. Luckily, you can find some of the Best stainless steel cookware made in USA here on this page!
We've already done the research and found five of the top options available today, so all you have to do is decide which one will work best in your kitchen space!
Below you can read the review, pros, and cons of each product and pick up your favorite one!
Made In Cookware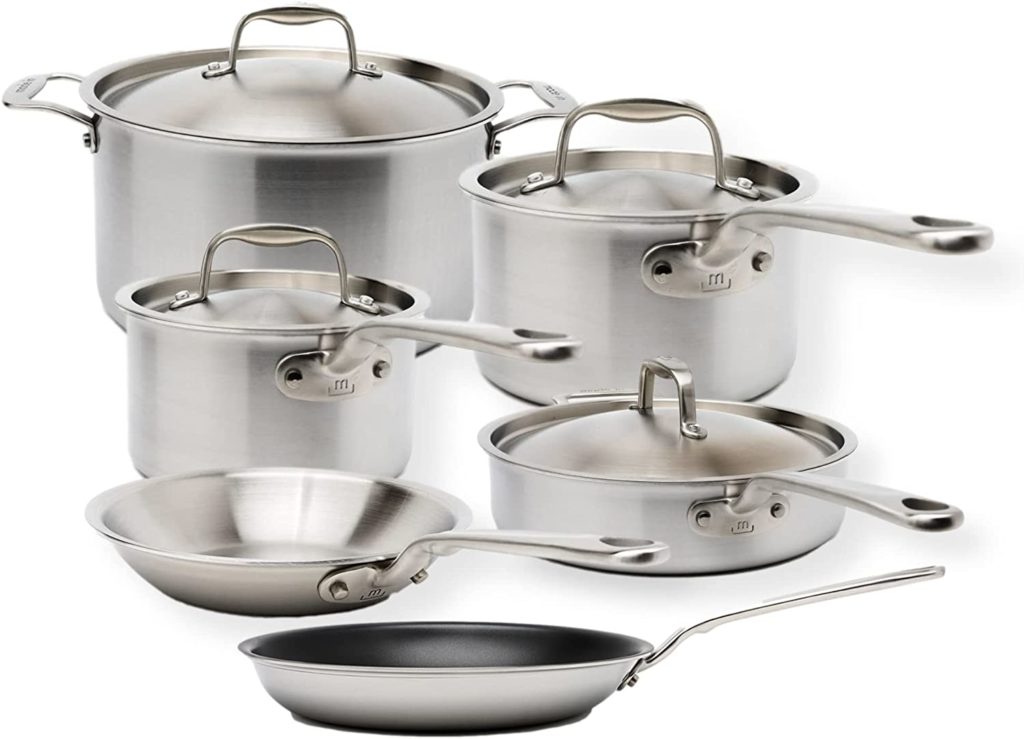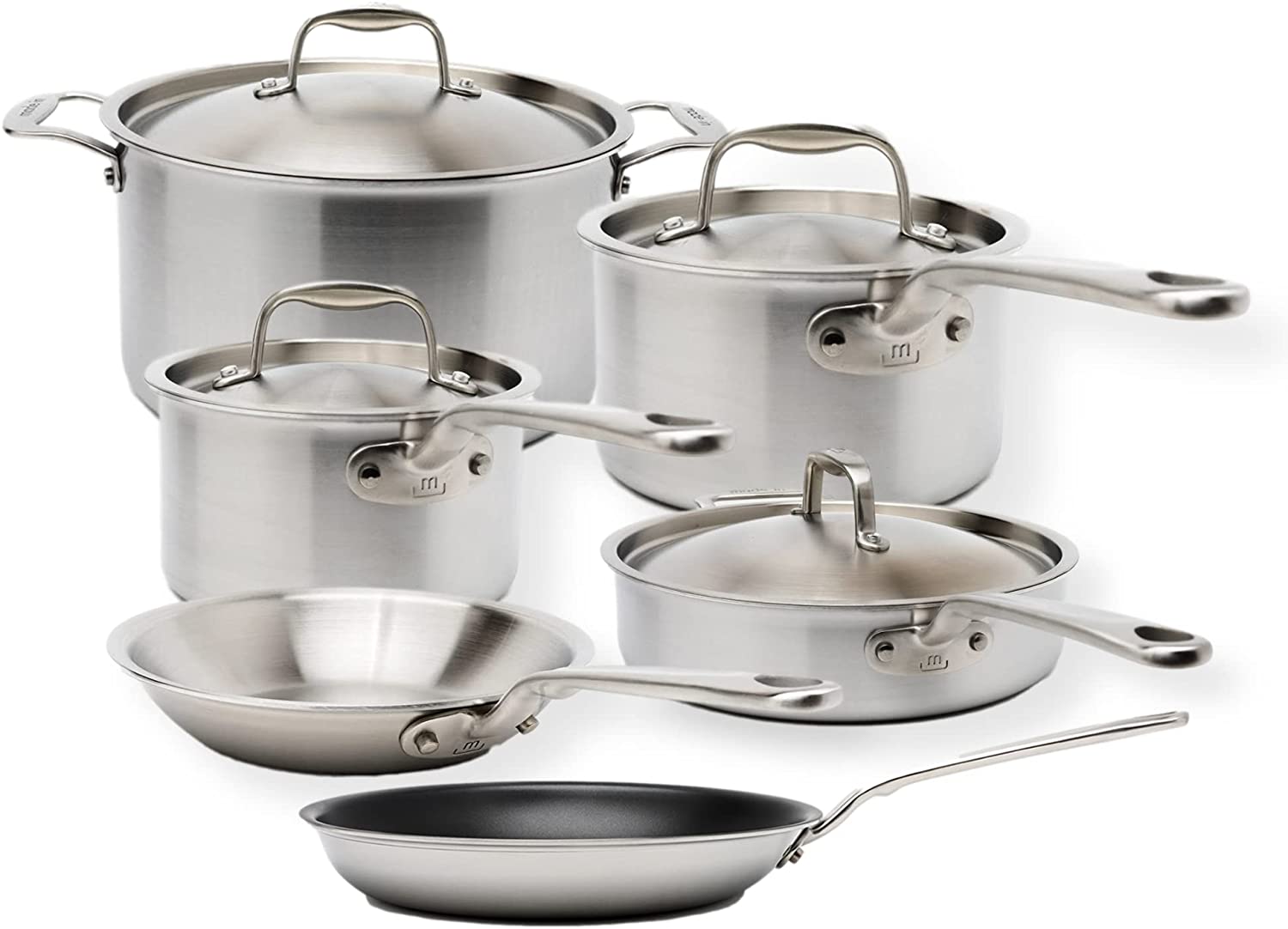 You've searched the world to find the best stainless steel cookware, and we're proud to tell you, mission accomplished. Made In's 5-ply Stainless Steel cookware is built to last, no matter how high temperatures get.
Designed with a cooking surface that is compatible with induction, gas, electric, and ceramic glass stovetops. This cookware can cook at temperatures of up to 800 degrees without deterioration
The makers at Made In know that a cookware set is an investment for your kitchen. From sauces to roasts, sautéing to searing, it does everything perfectly.
Made from the highest quality stainless steel out of the USA, the stand-out feature of this set is evident in its name.
Related: HexClad vs Made in
Pros
This stainless steel cookware from the USA is durable and long-lasting so you don't have to worry about replacing it any time soon.
Durable construction can withstand up to 800 degrees.
Conducts heat quickly and evenly, all while boasting the beauty, durability, and strength of steel.
Cons
10 Piece Stainless steel pots and pans cost almost $600
360 Cookware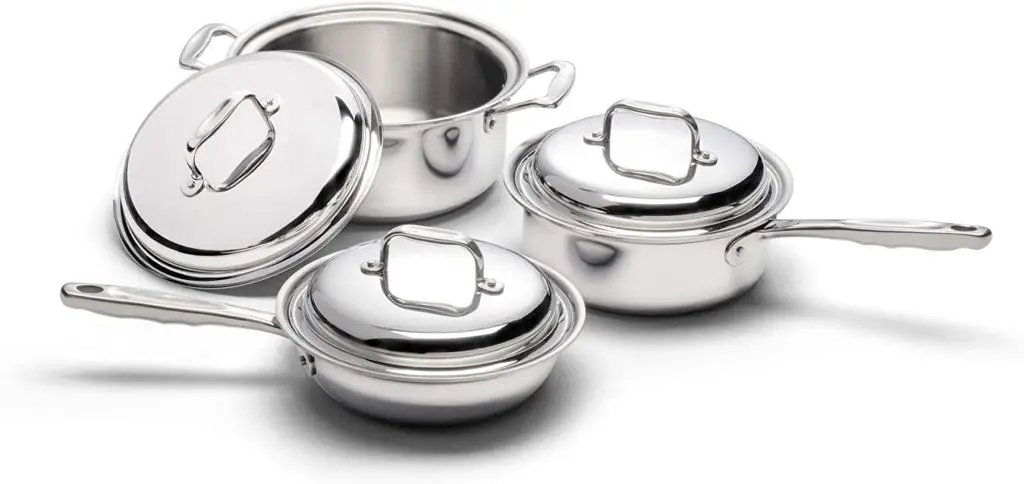 360 stainless steel cookware is made in USA, handcrafted by American workers. 360's surgical stainless steel is the finest material used to make cookware today. It is unsurpassed for its cooking performance, durability, and good looks.
Along with being oven safe up to 500 degrees Fahrenheit, it has a lifetime warranty and can be handed down from generation to generation. There are no other products that can offer quality or peace of mind for your health.
This cookware offers Waterless Cooking at lower temperatures and low pressure as well as all other features of traditional high-quality stainless steel cookware.
Related: Best non stick cookware made in USA
Pros
Perfectly safe for waterless cooking, induction cooking, and oven cooking up to 500 Degrees Fahrenheit.
This cookware is 100% safe and nontoxic!
You can enjoy better tasting, healthier cooking with 360 cookware.
If you're looking for high-quality, lightweight, and long-lasting cookware, 360 is the perfect choice to add to your kitchen accessories.
Cons
Slightly Pricier
USA Pan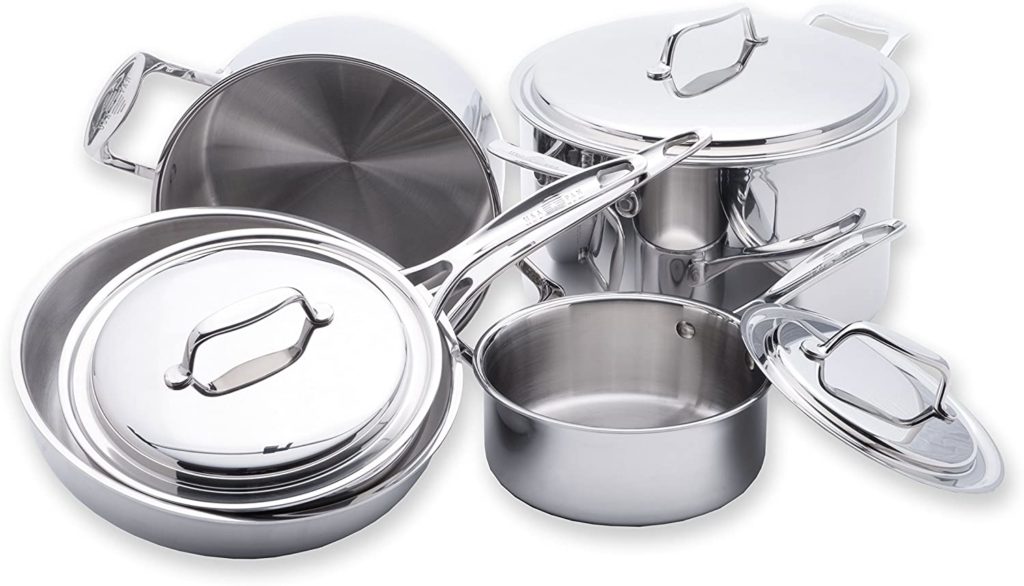 USA Pan stainless steel cookware is a classic. It has a professional 5 ply construction that provides maximum heat conductivity. And because it heat up so quickly, you can put food on the table in minutes.
These pans are made with the finest materials, sourced globally, and made in the USA with American workers.
Each pot or pan has its own individually milled elliptical shape to match the curvature of conventional cooking utensils assuring a better grip. The lid fits snugly to lock in heat, moisture, and nutrients while constantly recycling steam into food.
The American industry may be more labor-intensive but it produces one of the best cookware in the world.
Pros
It is highly durable and suitable for use with all types of hobs.
Ideal for preparing crispy bacon, delicate omelets, or delicious stir-fries.
Easy to clean and comes with a limited lifetime warranty.
Cons
Thin exterior as compared to other brands
Viking Professional Series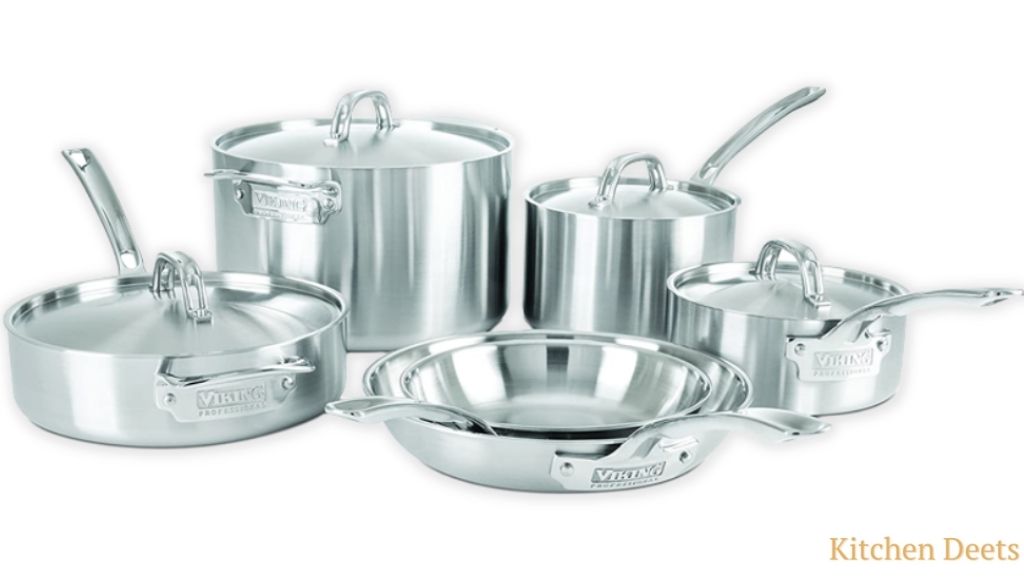 If you love the idea of using best commercial-grade quality for your home, we encourage you to consider Viking Professional Series. The Viking Professional Series is designed with a formal style that has sleek and modern lines but provides superior commercial-grade quality and durability.
The cookware is constructed with 5-ply stainless steel walls, which features 18/10 steel on the interior and the exterior is magnetic stainless steel that works on induction cooktops.
Brushed finish exterior, mirror polished interior, and sturdy riveted handles. Viking produces the best stainless steel cookware made in USA.
We highly recommend you to give a try to this beautiful and functional Viking brand cookware.
Pros
It is the best value cookware on market.
The cookware provides superior heat distribution and optimal cooking performance.
Sauté, simmer and brown with the excellent heating performance of these versatile pans.
As an added bonus, all pieces are oven-safe up to 500 Degrees Fahrenheit.
Cons
Slightly heavier cookware on our list.
All-Clad D5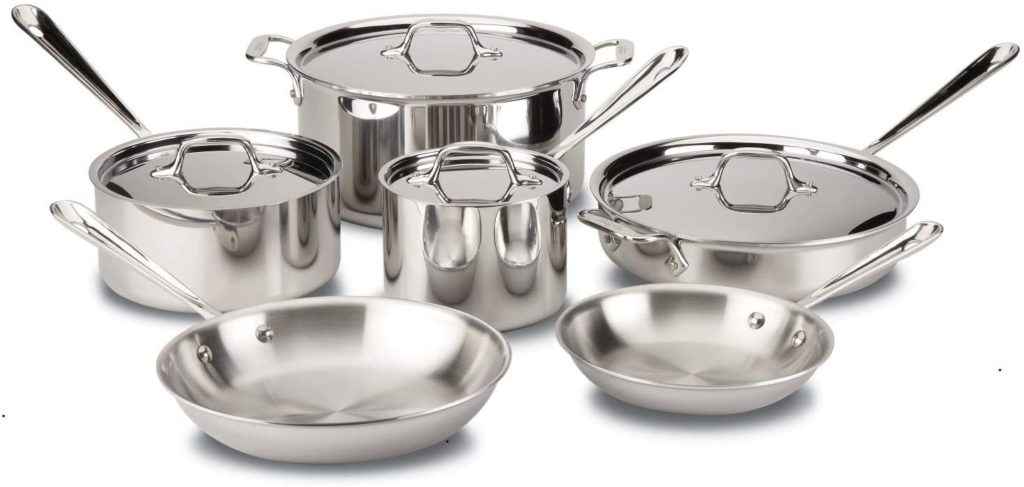 All-Clad is best known for its stainless steel cookware. The company has a reputation for being a high-end, luxury brand. Each piece of All-Clad cookware is crafted in Pennsylvania by skilled American workers. The materials used to make All-Clad products are also sourced from within America's borders, which goes a long way toward explaining why many consider it to be the best stainless steel cookware made in USA.
The most notable cookware produced by All-Clad (and arguably best stainless steel cookware made in USA) is their stainless steel D5 Cookware set that was released about 13 years ago after more than 20 years of development and refinement.
Made from five layers of steel and aluminum, this collection combines the high performance of All-Clad cookware with a distinctive style and exceptional quality.
Check Out Review on All Clad Copper Core
Pros
This cookware set is worth every penny. It is the best investment you will ever make.
Pioneering design and craftsmanship.
It features a magnetic stainless steel exterior compatible with all cooking surfaces.
Cons
Super long handles
Final Thoughts
Picking the best stainless steel cookware made in USA can be tricky, especially if you don't know what to look for or which ones will last you longer than others. That's why this list of the top 5 best stainless steel cookware made in the USA was created – to give you all the information you need in one place so that it's super easy to pick the perfect stainless steel cookware set that will meet your needs and last you forever!
Related: Best Cookware Set Under $200
Frequently Asked Questions
What are the benefits of cooking in a stainless steel cookware?
Cooking on stainless steel cookware has several benefits. One of them is that it is dishwasher safe. You can simply pop your cookware in with your dishes and let it get thoroughly cleaned. It's a lot easier than washing dishes by hand! Another great benefit of stainless steel cookware is that it doesn't scratch easily. While using metal utensils might damage some types of pots and pans, stainless steel handles any abuse you throw at it without a problem.