What's the difference between cookware brands? While they might look similar at first glance, the materials, the shapes of their products, and even the quality of their customer service can differ wildly from brand to brand. In this blog post, I'm going to walk you through some of the best cookware brands on the market right now, so you can figure out which one best fits your needs.
It's time to upgrade your cookware!
Our team of experts thoroughly researched each product we considered in our review. For more, read our review policy. We may earn an affiliate commission if you buy from our link at no extra cost to you.
All Clad – Best Stainless Steel Cookware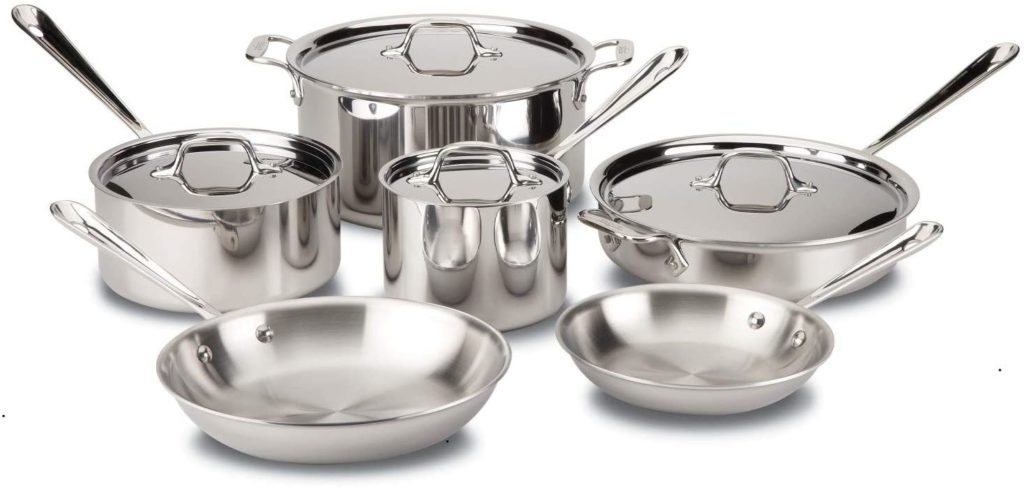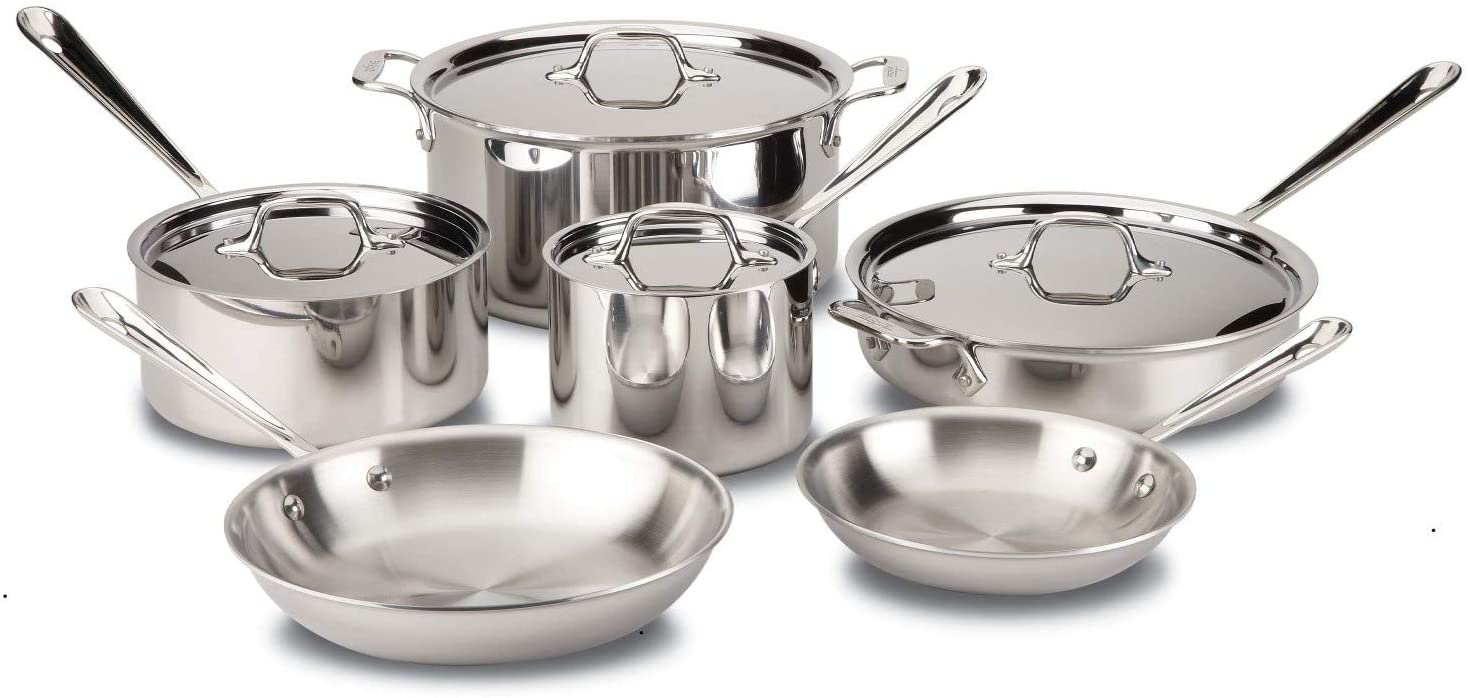 All-Clad has been making high-quality cookware since it was founded in 1971 by John Ulam. All-Clad cookware is not only beautiful, but it's also durable. They're heavy-duty pots and pans made from high-quality stainless steel that heats up quickly and then retains heat for a long time.
The brand makes some of the best cookware in the world and has been acknowledged by the top cooking magazines in the world.
Currently, the company offers two nonstick as well as three stainless steel (D3, D5, and Copper core) cookware collections.
Check out our article on Best Cookware Made in America
Interesting Facts about All-Clad:
Founded in 1971
Core Materials are Copper or Aluminium
Oven Safe temperature is 600 Degree Fahrenheit.
Full Clad construction for durability and longevity.
Slightly pricier but offers some of the best performance in the industry.
All-Clad offers a limited lifetime warranty.
Why you should consider it
The company offers an impressive collection of kitchen wear that allows you to make varied dishes in the kitchen.
All-Clad has been family-owned and operated since 1971 with a strong commitment to creating the world's best cookware. This dedication shows in its durable construction, excellent cooking performance, and beautiful appearance.
Their famous "tri-ply" design makes the best cookware, and their items have been featured in top cooking magazines.
Why you should not consider it
Many agree that it's good quality but an expensive brand as compared to alternatives.
Mauviel – Best Copper Cookware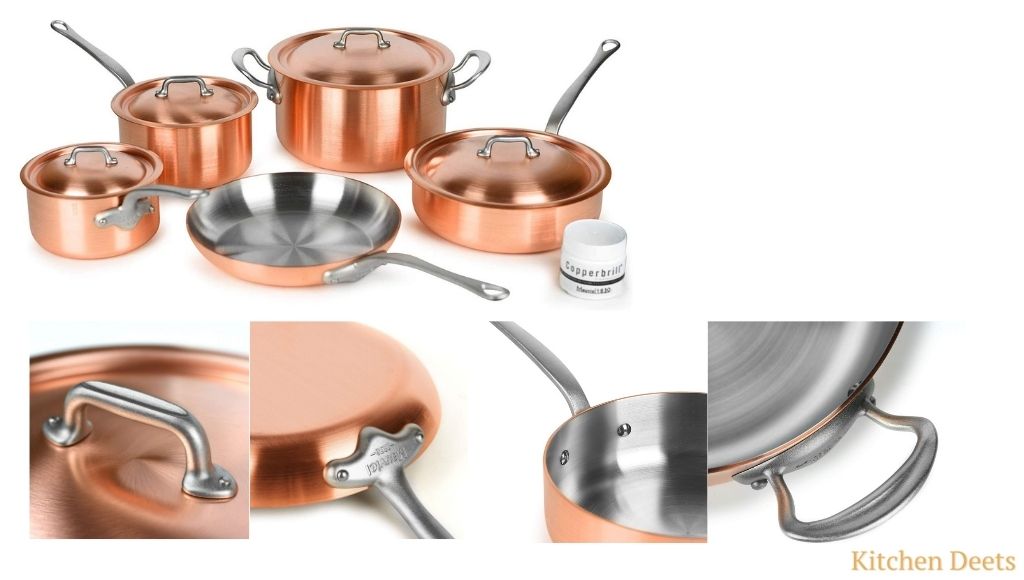 Since 1830, Mauviel has held true to its roots and continued in the noble art of manufacturing quality cookware. Today, the brand offers a wide range of kitchen products that you can use for your everyday cooking. From top-of-the-line copper pans to stainless steel stockpots, you can choose from different designs and styles to suit your cooking needs and style.
Mauviel is simply one of the best copper cookware brands in the world. First and foremost quality materials are used to make the products. The company makes use of pure copper in its cookware products.
One of the inherent qualities of copper is that it is a good heat conductor. Thus, it distributes heat evenly so you don't have to worry about what your food is cooking unevenly. Since copper naturally contains anti-microbial properties, copper cookware can slow down the growth of bacteria over time. This means your copper cookware can last longer as you wouldn't have to worry about re-tinning them from time to time.
Interesting Facts about Mauviel
Founded in 1830 by Ernest Mauviel.
Core Materials are Copper or Aluminum.
Oven Safe temperature is 450 – 680 Degree Fahrenheit.
Full Clad construction for durability and longevity.
Slightly pricier like All-Clad but offers top performance in the industry.
Mauviel offers a limited lifetime warranty.
Why you should consider it
Mauviel Brand is one of the most sought-after cookware brands today due to its high-quality craftsmanship.
The cookware has all the benefits like heating quickly, retaining heat well, and looks great when you place food in it.
Mauviel's Copper cookware is most popular because it combines excellent heat conductivity with unmatched cooking control and comfort.
Why you should not consider it
Like every top brand, Mauviel too is expensive.
Scanpan – Best Nonstick Cookware

Scanpan is a nonstick cookware brand best known for its range of innovative nonstick collections. The company was founded in 1956 and has produced almost every kind of cookware set you can imagine. It is an ecological, sustainable brand that combines innovation with quality materials to create some of the most durable kitchen tools on the market.
All Scanpan cookware is made from a cast aluminum base, which makes the cookware durable, never warp even after a long time of use.
I've been cooking with nonstick cookware for over fifteen years. I don't know what life is like without nonstick cookware when it comes to preparing gourmet dishes in your kitchen.
Interesting Facts about Scanpan
Founded in 1956.
The core Materials are Aluminium.
Oven Safe temperature is 500 Degree Fahrenheit.
Full Clad Stainless steel construction.
The most notable thing from Scanpan is it uses 100% recycled aluminum to reduce waste.
Scanpan offers a limited lifetime warranty.
Why you should consider it
Scanpan is one of the best performing cookware brands in the market, and it has won several awards for its innovative design, exceptional technology, and high-quality materials.
If you are looking out for making your life simpler with the help of cookware, you should definitely choose Scanpan nonstick cookware.
The best part of nonstick cookware is that they keep your food from sticking on the surface and sliding off easily.
Why you should not consider it
Costly as compared to other nonstick cookware brands.
Lodge – Best Cast Iron Cookware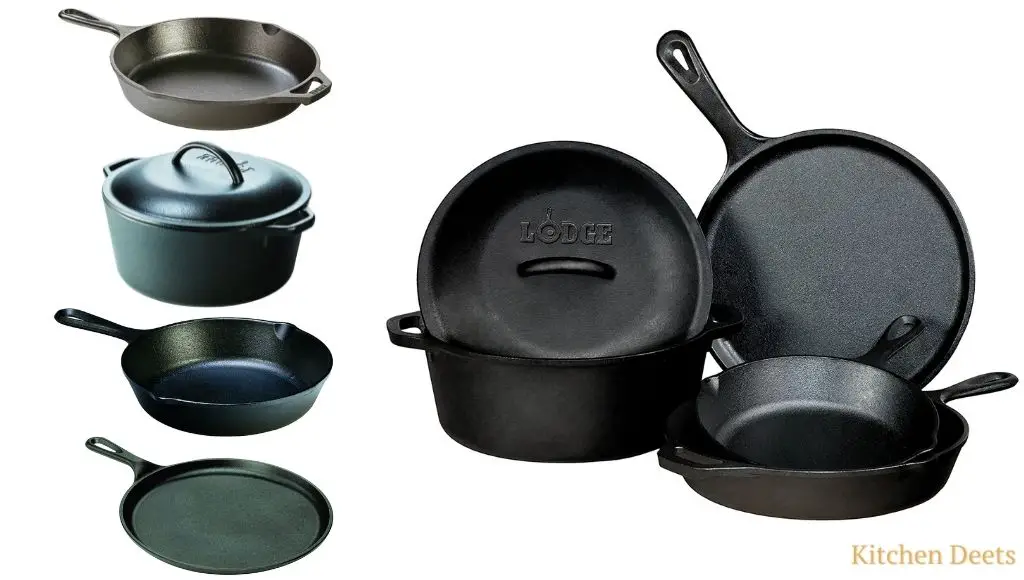 Lodge continues to follow the philosophy of the founder, Joseph Lodge, and that is to manufacture products of the strictest quality. Since 1896, the company has grown from a small manufacturing firm to a renowned manufacturer and distributor of indoor and outdoor cookware, as well as tools and accessories.
Lodge is the kind of brand that will make you feel like home. You will not only get homey feels but also be delighted with the quality and services of this brand.
It is the best Cast Iron Cookware brand and is known for producing high-end pots, pans, grills, and outdoor cooking equipment that are reasonably priced.
Check out our article on Cookware Not Made In China
Interesting Facts about Lodge
Founded in 1896
Lodge is a U.S-based family-owned company
The oven-safe temperature is 600 Degree Fahrenheit.
Cast Iron construction.
Lodge is Broiler safe
Lodge offers lodge promise as a warranty.
Why you should consider it
The best thing about this brand is its affordability. The brand provides decent products at a good price.
The cast-iron cookware is known for its multi-use capability and durability.
The cookware pieces from Lodge can be used on the stovetop, in the oven, and even over an open flame outdoors.
They're made to last, are easy to maintain, and can be used in a variety of ways.
Why you should not consider it
Requires elbow grease for cleaning.
Le Creuset – Best Enameled Cast Iron Cookware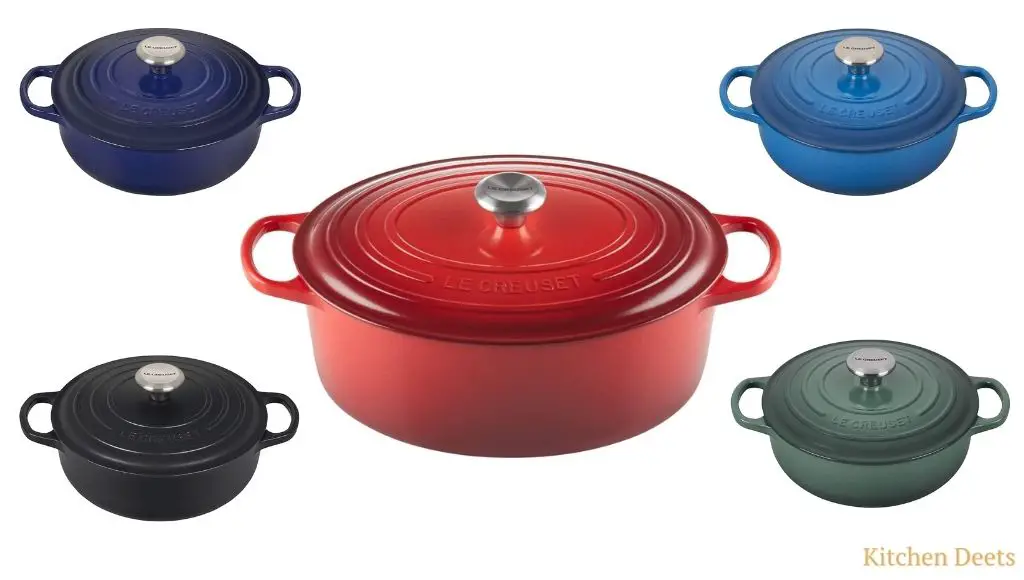 Le Creuset is a French manufacturer that has been producing enameled cast iron cookware since 1925. For the past century, the brand has been crafting the finest cookware in the world.
Le Creuset started as a small stove-top casserole company. Today it is one of the most prominent and well-known cookware companies globally. Le Creuset's range includes everything from skillets to saucepans, Dutch ovens, and double boilers.
The Le Creuset Enameled Cast Iron Cookware is a prime example of the kind of cookware compliment-worthy chefs obsess over. There are numerous colors to choose from, but the best-looking one of them all is red. Back when I was in culinary school, we used Le Creuset red pots in our kitchen.
Related: Check out our article on Best Italian Cookware Brands
Interesting Facts about Le Creuset
Founded in 1925 by Armand Desaegher and Octave Aubecq
Core Materials are Cast Iron.
Oven Safe temperature is 500 Degree Fahrenheit.
Enameled cast iron construction.
The tradition and craftsmanship behind each piece are still present today inside the Le Creuset factories.
Le Creuset offers a limited lifetime warranty.
Why you should consider it
Le Creuset has been an outstanding producer of Cast Iron Cookware and their products are considered one of the finest.
There are several beautiful colored enameled cast iron cookware being sold in the market today, but none can match the quality of Le Creuset.
The brand produces some of the most colorful, appealing, and elegant enameled cast iron cookware that is not only easy to use but also easy to clean.
Why you should not consider it
Expensive as compared to other brands
Made In Cookware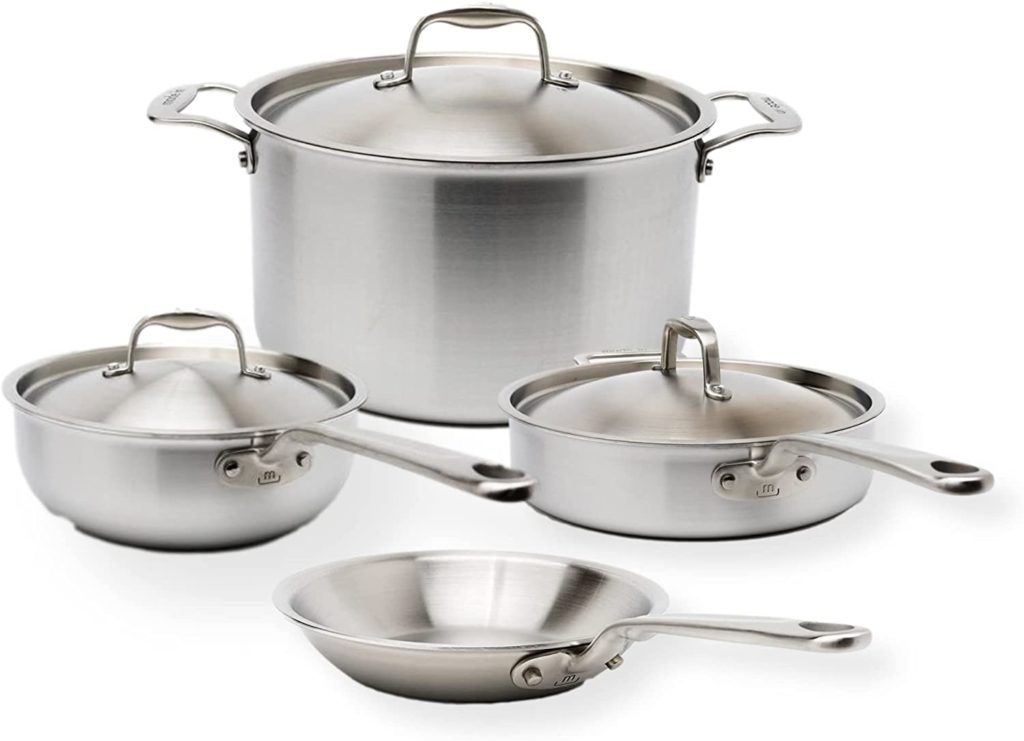 Since its launch in 2016, Made In has endeared itself to the hearts and kitchens of many cooking enthusiasts. The brand's cookware is not only priced reasonably but is also of high quality.
Rarely does a cooking brand make it to the best list of top cookware brands. It requires huge investments, engineering, and efforts to produce quality cooking products that are durable and offers one of the best culinary experience. This is why Made In Cookware is the only noteworthy new brand in the industry.
The brand offers 4 options made of Stainless Steel, Copper, Nonstick, and Carbon Steel in different sizes that give you the flexibility to use them according to your kitchen area.
Interesting Facts about Made In
Founded in 2016 by Jake Kalick
Core Materials are Aluminium, Copper, or Blue Carbon
Oven-safe temperature is 500 degree Fahrenheit
The company was founded a few years back by people who have tremendous experience in the field.
They have great customer support. You can reach them through call, email, or chat.
Why you should consider it
Made In cookware may not be a big name in the industry, but it has made some serious and promising reputation in the market, with its quality kitchen cookware.
This brand is for people who appreciate good-looking cookware and are willing to invest in it without breaking their bank.
Made In cookware has made some serious reputation in the industry with its quality pans and pots.
Why you should not consider it
Slightly hard to clean.
Thoughts on Best Cookware Brands
When shopping for new pots and pans, it's important to focus on what you truly need, and then find brands that match those needs. And of course, it all comes back to your personal preferences. We at Kitchen Deets hope the information above will put you in a better position to choose a cookware brand.