Nonstick cookware has taken the world by storm in recent years, and it's easy to see why. Nonstick cookware sets give you the freedom to make all your favorite dishes without worrying about your food sticking to the pan and burning or getting half-burned before you can get it out of the pan. The only problem with nonstick cookware, of course, is that not all nonstick coatings are created equal. Some are more effective than others at resisting scratches and keeping your food from sticking when heated.
In order to help you decide which nonstick cookware set is right for you. We've compiled this list of our top 5 picks for the Best Nonstick Cookware sets available today!
Use links below for easy navigation
T-Fal Signature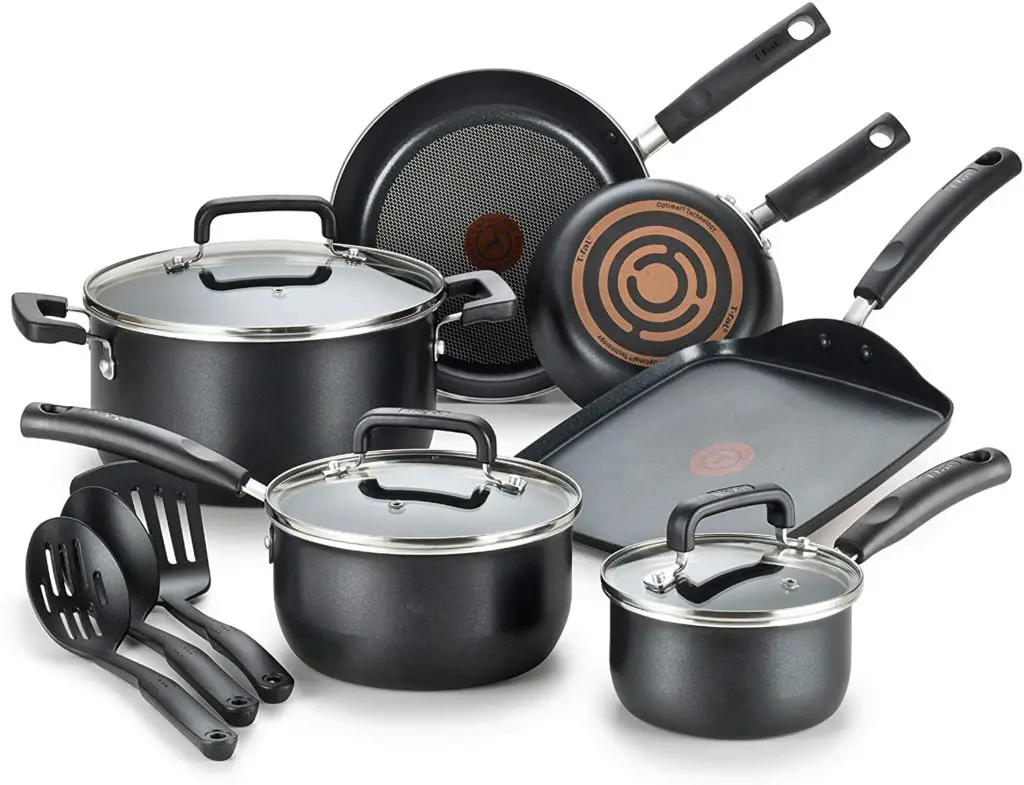 The T-Fal Signature Nonstick Cookware interior is reinforced with Thermo-Spot, an indicator that guides you in knowing when your pan is ready to cook, while the exterior is also nonstick so that food will easily release from the pan.
Finding the right pan for your cooking needs can sometimes be a struggle. This cookware set ensures that you make the best meal possible, with its durable nonstick interior and oven-safe handles that are designed to stay cool during cooking.
All of the pieces in this set are oven safe up to 350 degrees Fahrenheit, dishwasher safe (including the lids), and have ergonomic handles for easy cooking and serving.
Check out our article on Best Stainless Steel Cookware
Reasons you should Consider T-Fal
If you want superior nonstick cookware set with the latest and greatest features, this is the set for you.
The durable nonstick interior makes cooking and cleaning easy, and the thermospot technology lets you know when your pan is ready to cook.
Whatever cooking method you prefer, these pans can handle it.
The signature nonstick cookware set costs less than $100 and is great for beginners
Reason you should not consider T-Fal
The bottom nonstick coating wears off after 12 months of use.
Cuisinart Classic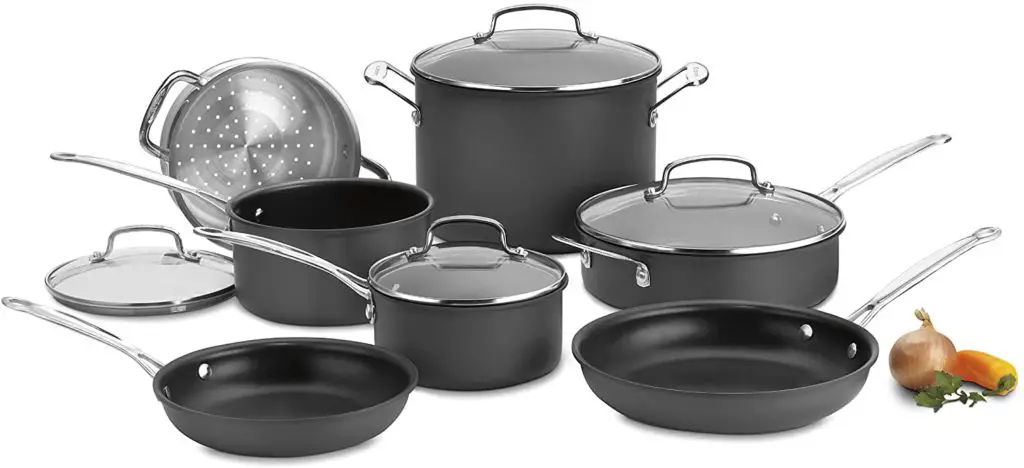 Add a professional-looking set of cookware to your kitchen with the Cuisinart classic nonstick cookware set.
This nonstick cookware from Cuisinart is ideal for all cooking techniques, from frying to searing and sautéing. The see-through tempered glass lids allow you to watch food as it cooks without losing heat or moisture, and serve as a cover.
The hard anodize exterior adds durability and performance, while its three-layer titanium nonstick interiors deliver exceptional food release and easy cleanup. Each pan features ergonomic stainless steel handles that stay cool on the stovetop and are riveted to the pans for strength.
Check out our article on Best Cookware Made in the USA
Reasons you should consider Cuisinart
Made of hard-anodized exterior with Titanium nonstick coating on the inside, this tough kitchen cookware lets you fry brown, sauté, scramble eggs or cook various foods with ease and convenience.
The tempered glass lids can be used in an oven up to 350 F/180 C so you can monitor what's going on inside your cookware and get the perfect results every time.
The Cuisinart classic nonstick cookware set has been designed for the home cook that enjoys cooking.
Reason you should not consider Cuisinart
Handle lids get really hot
Anolon Advanced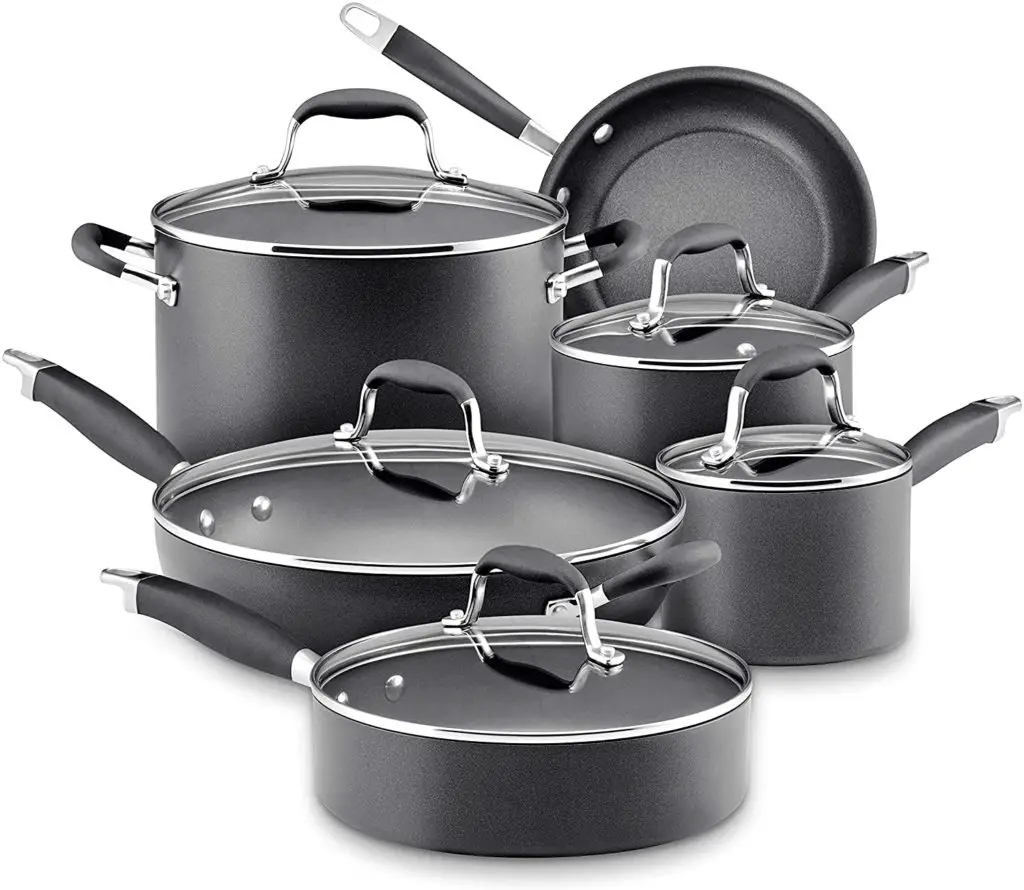 The Anolon Advanced, nonstick cookware set is crafted from superior premium hard-anodized aluminum for exceptional durability. This 11-Piece cookware set has a durable base so it heats evenly from the bottom to the sides.
Nonstick cookware has been getting a bad rap lately, but Anolon Advanced is here to restore your faith in nonstick cookware. Its nonstick coating is oven-safe to 350°F, and you can pop the glass lids in the dishwasher for easy cleanup.
You'll flip over this deal on kitchen cookware. It's a solid work of art with your convenience in mind. These pots and pans are every cook's dream.
Check out our article on Best Copper Cookware
Reasons you should consider Anolon Advanced
Cutting-edge Anolon Advanced nonstick cookware is the ultimate in cooking convenience.
This high-quality cookware is a solid work of art that allows you to focus on cooking and cleanup without hassle.
The complete set has everything you need. A covered saucepan, a skillet with a lid, a sauté pan, and a 12-inch omelet pan.
Reason you should not consider Anolon Advanced
Handles on lids are oversized
Scanpan Classic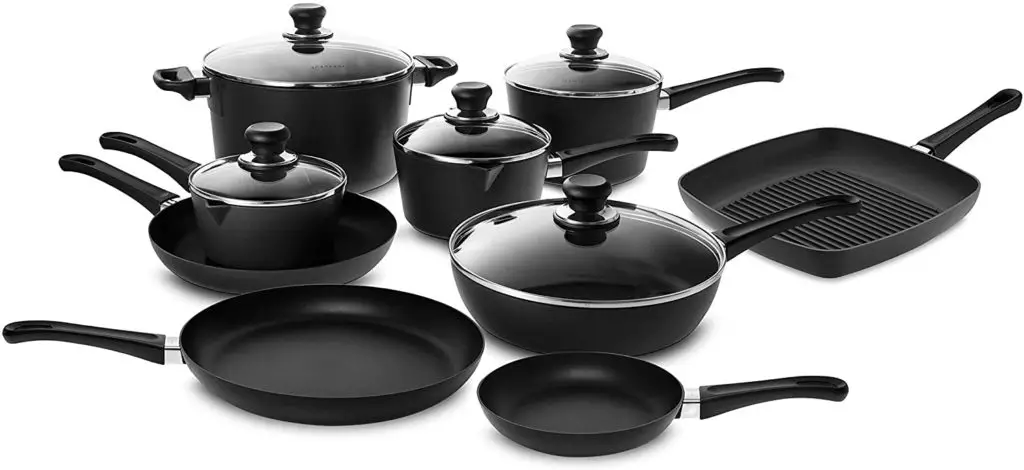 Scanpan is the most premium cookware brand in our top five brands list. This nonstick cookware set contains all your necessity with an assurance of quality and durability. Scanpan's unique nonstick surface provides you with confidence that the surface will not warp or peel.
When you take the Scanpan nonstick cookware set out from the box, you could feel how solid it is. This cookware set has 5 layers of stratanium base comprising of hard-anodized aluminum for its outer layer. This unique design creates a material that is very good at both conducting and retaining heat. You could also see how smooth the surface it has as well with less stickiness.
Check out our review on Best non stick pans for gas stove
Reasons you should consider Scanpan Classic
Expertly crafted using Premium Five Layer Stratanium Nonstick, the Scanpan cookware is dishwasher safe and easy to clean.
The special interlocking nonstick surface guarantees even heat distribution for healthier frying and searing that's also low-fat, and warp-resistant.
The Scanpan nonstick cookware set is PFOA-free, which is one of the leading chemicals that may harm human physical health and the environment.
Reason you should not consider Scanpan Classic
Expensive nonstick cookware set as compared to other brands.
GreenPan Catham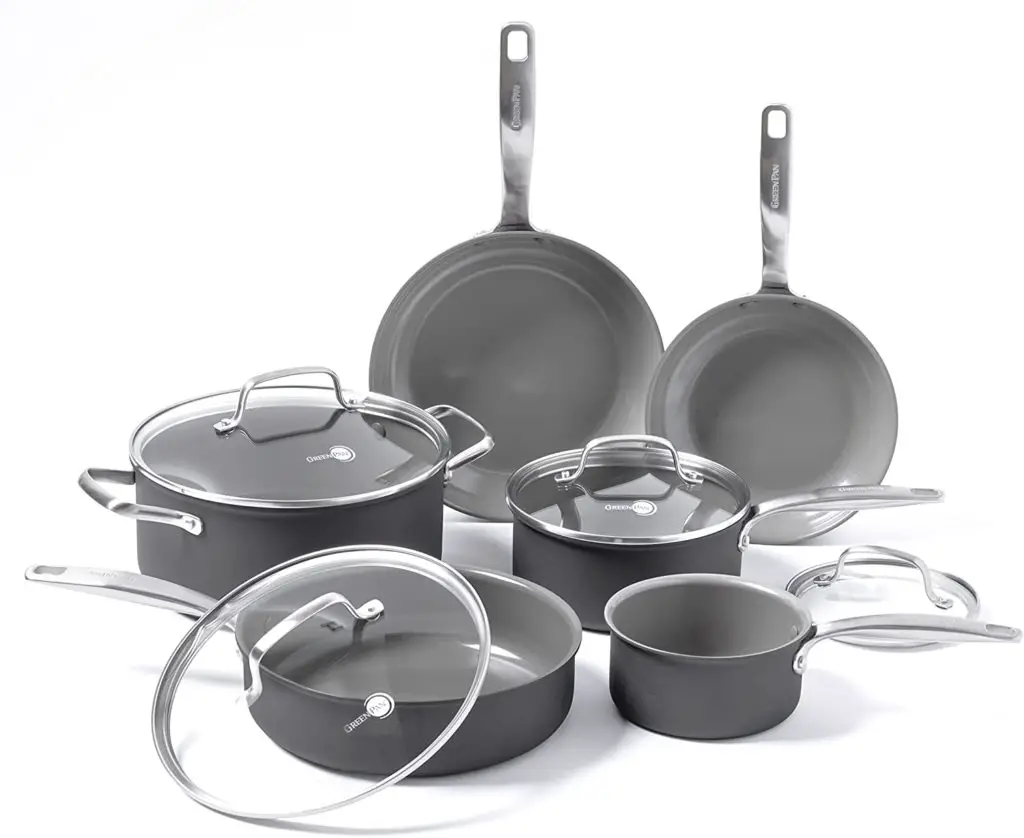 Greenpan ceramic nonstick cookware gives you the guarantee of toxic-free cooking. Each piece in the beautiful collection has hard anodized scratch-resistant bodies that make sure your cookware remains as shiny as new.
Greenpan has been producing high-end cookware with a non-toxic ceramic coating since 2007. The company cares more about the health of people and your family's cooking experience, without a trace of harmful PTFE or PFOA.
With these gorgeous-looking long handles and cool knob for easy grip, Greenpan has a lot to offer for your kitchen.
Related: Detachable handle cookware
Reasons you should consider Greenpan
An incredible diamond-reinforced coating ensures that whatever comes out of your kitchen stays put.
The handy glass lids are see-through, so you can check on your dishes without interrupting the cooking process.
Greenpan is completely free of PFOA and PTFE, which are chemicals that can cause negative health effects if ingested or inhaled over long periods of time
It is without a doubt the best non-stick cookware on the market right now!
Reasons you should not consider Greenpan
Do not work well on a gas burner.
Check out our Bergner Cookware Review
Frequently Asked Questions
How much does a nonstick cookware set cost?
While you may find nonstick cookware sets in a range of prices, as a general rule of thumb, expect to pay more for higher-quality pots and pans. As with anything else you buy, it's better to invest in high-quality products that are built to last rather than cheap knockoffs that will fall apart quickly.
Do I need to season my new nonstick pots and pans?
Many manufacturers say you do not need to season your nonstick cookware. But we highly recommend it for a few reasons:
It's good for food safety, and
It will give you better performance from your pots and pans.
By properly seasoning your pots and pans, you'll reduce sticking while giving yourself a better non-oily non-sticking surface that's easier to clean.
How do I clean my new pots and pans?
You'll want to wash your new cookware with hot, soapy water. Avoid using harsh cleaners on it—you can simply use a soft sponge or cloth. If there are food stains that won't come off after several attempts at scrubbing, try soaking them overnight in vinegar and hot water.
Can I use a metal utensil to clean nonstick cookware?
Once you've decided on which pots and pans you want, it's time to think about how you plan on cleaning them. A good nonstick coating is great for letting food glide out of your pot or pan, but it can also mean a bit more work when it comes time to clean up. If anything does stick in your pan, don't use metal utensils.