If you're someone who loves cooking at home but hates dealing with pots and pans that don't last or that can't handle the demands of your cooking style, then it's time to learn about Bergner cookware.
This review of Bergner cookware will help you make an informed decision.
Bergner Cookware Review
When it comes to cookware products that are designed to last for years on end, none come close to what Bergner has in its collection.
From soup pots and saucepans to frying pans and serving trays, each piece will perform as well as it did when you first bought it and last even longer than that.
Bergner Company Overview
Bergner Cookware Company has been delivering top-quality kitchenware products in Europe for nearly two decades. The company was founded in 1999 by a man named Bergner, and since then it has grown into a major supplier of high-quality cookware, including pots and pans, bakeware, and more.
With an extensive list of products ranging from pots and pans to knives and cutting boards, Bergner has something for every kitchen no matter how big or small!
Let's take a look at their famous Tri-ply Stainless Steel Bergner Cookware Set
Bergner Stainless Steel Cookware Set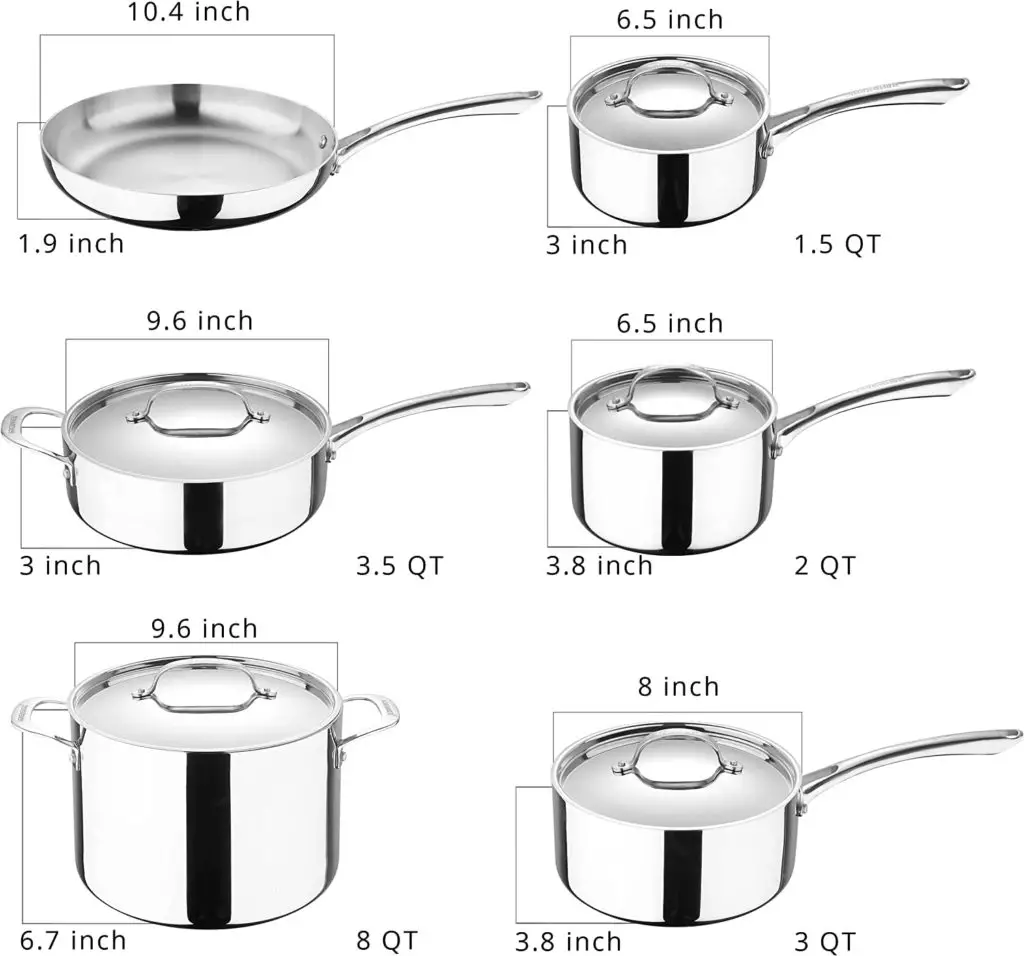 Let's talk about Bergner Tri-Ply Stainless Steel Cookware Set. We know there are a lot of choices out there when it comes to stainless steel cookware, but we think this one stands out.
Bergner Tri-Ply Stainless Steel Cookware Set is the perfect gift for any home cook. Made from 18/10 stainless steel, this cookware has an interior and exterior that are magnetic stainless steel—meaning they'll never scratch or chip.
This cookware set is oven safe up to 500 degrees Fahrenheit, the handles are also heat-resistant up to 400 degrees Fahrenheit, so you can grab them with ease. And if you have an induction stovetop you can this cookware on that as well, it works on all stoves!
This set is a must-have for any home kitchen. You will be able to cook all your favorite dishes in these high-quality pans.
Set Includes:
1.5, 2.5, and 3 quarts covered saucepan, 3.5 quarts covered sauté pan, 8 quarts covered stockpot, and a 10" skillet.​
Pros
18/10 stainless steel interior
Oven safe up to 500 degrees Fahrenheit
Works with induction stovetop
Dishwasher Safe
The exterior is magnetic stainless steel
Cons
A little heftier
Bergner Nonstick Cookware Set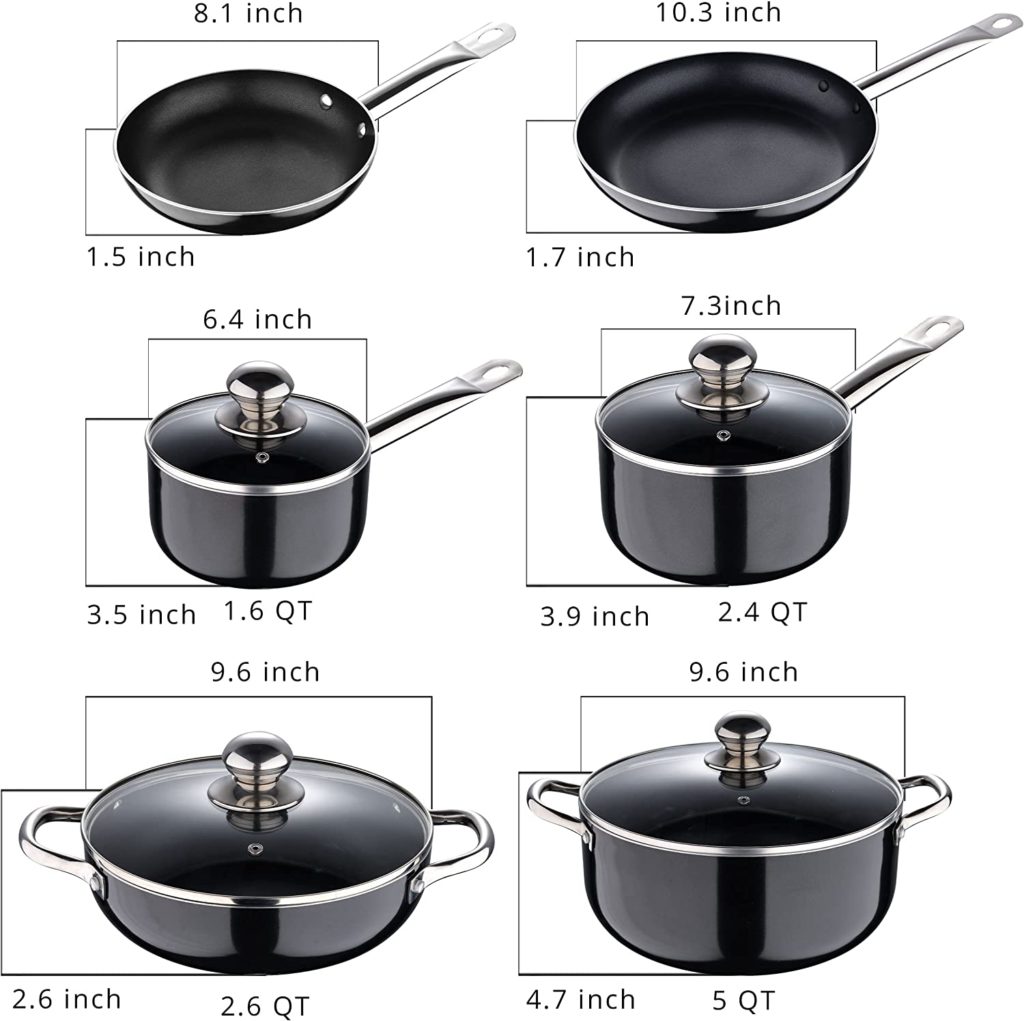 Bergner Nonstick Cookware is the perfect set to make your cooking experience easy and enjoyable.
Bergner nonstick cookware set is made of aluminum, which ensures even heat distribution throughout the pan and makes cooking easier than ever before. It's also coated in a multi-layer nonstick coating, so less oil is needed which means fewer calories! The handles are made from stainless steel, so they stay cool to the touch even when the pan is hot.
Not only are these pans great for everyday use, but they're also oven safe up to 350F! Imagine how many dishes you could make with just one pan! It would be great for Thanksgiving–you could roast the turkey and then bake your side dishes all in one place!
These pans are easy to clean too–just wipe them down with a damp cloth or put them in the dishwasher after they cool down.
Set Includes:
10-piece pan set includes: 1.5, 2.4 quart covered saucepan, 2.6-quart covered deep sauté pan, 5-quart covered Dutch oven, 8" fry pan, and 10" fry pan.​
Pros
Faster Heating
Multi-layer non-stick coating
Nonstick pans work on all stovetops
Aluminum construction
Oven safe up to 350F
Cons
Stainless steel handles.
Bergner Cast Aluminum Cookware Set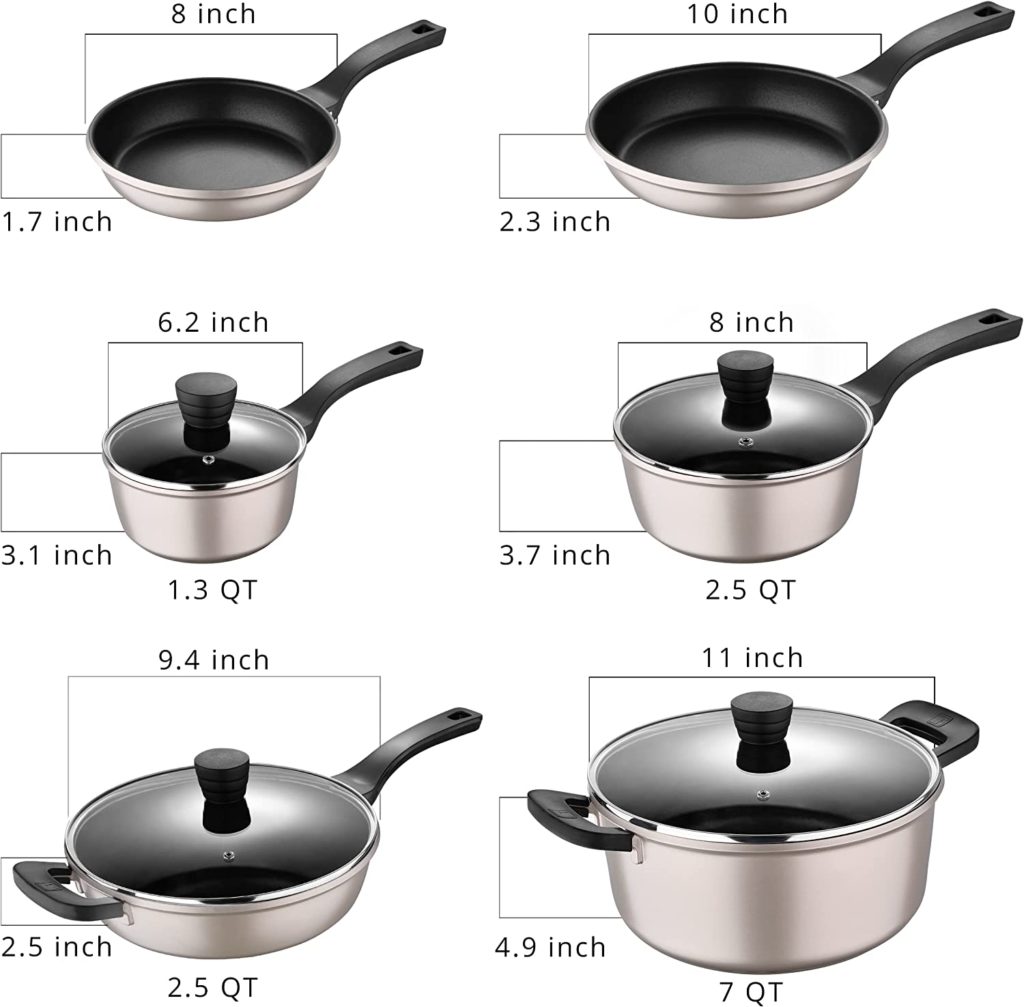 Introducing the Bergner Cast Aluminum Cookware Set.
This is the best Cast Aluminum Cookware set you will find online. It heats 1.5 times faster heating than traditional cast iron pans. You can cook anything in it: fish, meat, vegetables or even cakes!
Bergner Cast Aluminum Cookware is so versatile, that it can be used on all stove types: gas, electric, and induction. Plus it has removable silicone guards to protect your hands during maneuvering.
This cookware is oven safe up to 350 degrees F, and cleanup is a breeze. Simply put the pots and pans into the dishwasher and you're done cleaning.
Set includes:
10-piece pan set includes: 1.3, 2.5-quart covered saucepan, 2.5-quart covered deep sauté pan, 7-quart covered Dutch oven, 8" fry pan, and 10" fry pan.​
Pros
This cookware has 1.5 times faster heating than traditional cast iron pans
Removable Silicone Guards
Suitable for all stove types including induction
Tempered glass lids
Extra lightweight
Comes in different colors
Cons
Cannot go over 350 degrees Fahrenheit
Bergner 12 Quart Stock Pot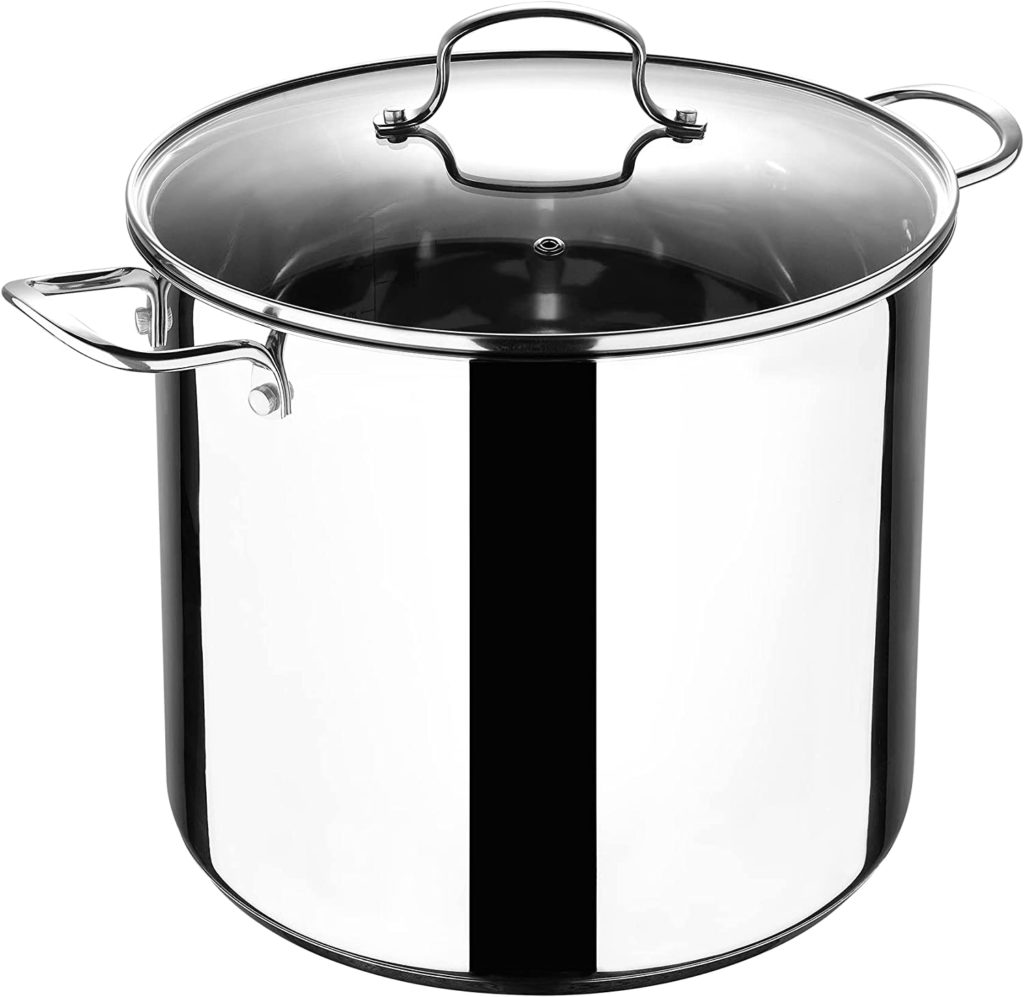 The Bergner Stock Pot is a 12-quart stainless steel pot with a tempered glass lid.
The pot has an edge-to-edge heat distribution design that ensures even cooking, so you'll get consistent results every time you use it. The lid lets you monitor your food without letting heat escape, so you can adjust recipes as needed without having to open the lid and risk losing moisture or flavor.
Whether you're cooking up a pot of soup, chili, or a full-on banquet, this stock pot is the perfect tool for the job.
Not only does it look amazing and hold a ton of food, but it is induction safe. Also, the polished mirror finish gives the pot a sleek, modern look that will complement any kitchen décor.
Check out our article on Best Pots For Cooking Rice
Pros
Tempered Glass Lid
Induction Safe Cookware
Edge-to-Edge Heat Distribution
Polished to a mirrored finish
Best for cooking chili or soup.
Cons
Stainless steel handles, so maneuvering can be an issue with this pot.
Bergner 8 Inch and 10 inch Fry Pan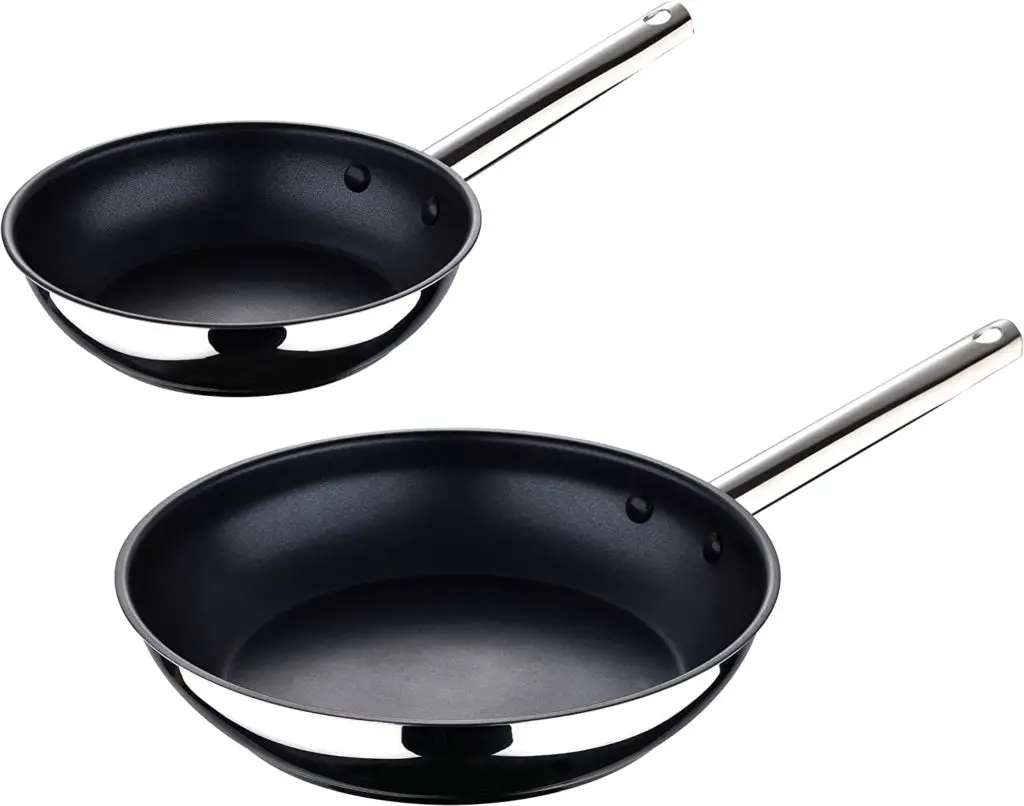 The Bergner Gourmet 2 Piece Stainless Steel Open Fry Pan Cookware Set is a great way to add a little extra flavor to your cooking routine.
This set comes with an 8″ and 10″ pan, each with a non-stick coating. These pans are oven safe up to 350°F and dishwasher safe, so you can use them to cook anything from eggs to pasta to steak. The stainless steel handles stay cool to the touch and are ergonomically designed for comfort.
You'll love how easy it is to clean these pans once you've finished cooking: they're non-reactive to acidic foods, so you don't have to worry about ruining your pan's coating by using it for dishes like tomato sauce. These pans are also ideal for cooking fish or chicken because they provide even heat distribution that keeps food from sticking!
All in all, these frying pans have everything you need for delicious meals at home or on the go.
If you're looking for something extra special for your kitchen—something that will help elevate your cooking experience—this is it!
Pros
Non-Stick Coating
Non-reactive to acidic food
Dishwasher safe
Stay-cool stainless steel handles
Cons
Cannot go over 350°F in the oven.
What you should consider before buying Bergner Cookware
Bergner is one of the most popular brands of cookware on the market, and for good reason: their products are built to last, they heat evenly and quickly, and they can be cleaned easily.
However, with so many different styles and materials available, it can be hard to know which is best for your needs. Here's what to look for when deciding whether or not Bergner cookware is right for you.
Material
Bergner cookware comes in three different materials: Stainless steel, Nonstick, and Cast Aluminum. Each material has its own pros and cons, but they all offer excellent performance overall. Nonstick is lightweight and durable but can warp if overheated or frozen; stainless steel is heavier than other materials but doesn't scratch easily; Cast Aluminum conducts heat well but isn't as durable as stainless steel or nonstick.
If you're looking for something that won't warp easily but still needs some weight behind it (like when frying bacon) then stainless steel might be a good option for you—but if you want something that won't scratch or dent then Nonstick may be better suited for your needs!
Heating ability
The better your cookware heats up, the more evenly your food will cook and the less time it will take to get the job done.
The pot or pan you buy must be able to conduct heat evenly so that your food cooks thoroughly without burning on one side while being undercooked on the other side.
All the cookware sets offered by Bergner conducts heat evenly and are oven safe up to 350 Degree F.
Durability
The last thing you want is flimsy pots and pans that will bend or break under pressure.
Look for pots and pans that are well made with strong materials so they will last longer than cheaper versions made with thin metal that may not hold up over time.
Cleaning
When you're done cooking, it's time to clean up—but how easy is it going to be? Some pots come with dishwasher-safe lids, which makes cleanup much faster and easier.
Be sure to check if it's dishwasher safe before purchasing any pieces of cookware because this will make cleaning much easier since many people do not have time to scrub pans by hand every time they use them!
Almost all cookware sets by Bergner are dishwasher safe, so cleaning is a cinch when it comes to Bergner.
Final Thoughts
Pots and pans are vital to any kitchen – you can't cook much of anything without them. It's important to choose pots and pans that will last and make your life easier so that you don't have to replace them after just a few uses or ends up spending money on new pots when you don't need to.
Bergner cookware products are designed to be durable and long lasting, making them ideal in the kitchen of any home chef! The Bergner pots are made with high-quality materials, so they perform well under stress, they last long, and they won't end up costing you much over time if you choose the right set.
Frequently Asked Questions
How good is Bergner cookware?
Bergner is a really good brand, their products are sold worldwide. The company has been around for over 2 decades and they're still going strong today.
Is Bergner an Indian Brand?
No, Bergner is a European brand, they have a subsidiary in India called Bergner India.
Are Bergner pots dishwasher safe?
Yes, almost all Bergner pots and pans are dishwasher safe—but check your manual for specific care instructions, especially if you have one of those fancy induction stovetops or something like that.