When it comes to finding the best cookware for your kitchen, Berghoff is one of the top brands to consider. With its wide selection of pots, pans, and other kitchen essentials, the company offers a range of products that fit any budget.
In this blog post, we'll take a look at the Berghoff cookware review to help you decide if this cookware is right for you.
---
Use links below for easy navigation
---
Berghoff Cookware Overview
Berghoff is a Belgian company that designs and manufactures a wide range of kitchenware products, including cookware, cutlery, and small appliances. The company was founded in 1994 and has since become a leading supplier of high-quality kitchen products worldwide.
One of the most popular lines of cookware offered by Berghoff is their Eurocast line. This line is made of cast aluminum, which is known for its excellent heat distribution and retention properties. The cookware is also coated with a non-stick surface, making it easy to clean and cook with. The Eurocast line comes in a variety of sizes and shapes, making it a versatile and durable addition to any kitchen.
Related: Cookware Not made in China
Berghoff Cookware Review
When it comes to finding the best cookware for your kitchen, you can't go wrong with Berghoff Eurocast Cookware.
For years, Berghoff has been known for its quality, durability, and affordability. Here we will be reviewing Berghoff Eurocast cookware, so you can make an informed decision if it is best for your budget.
Berghoff Eurocast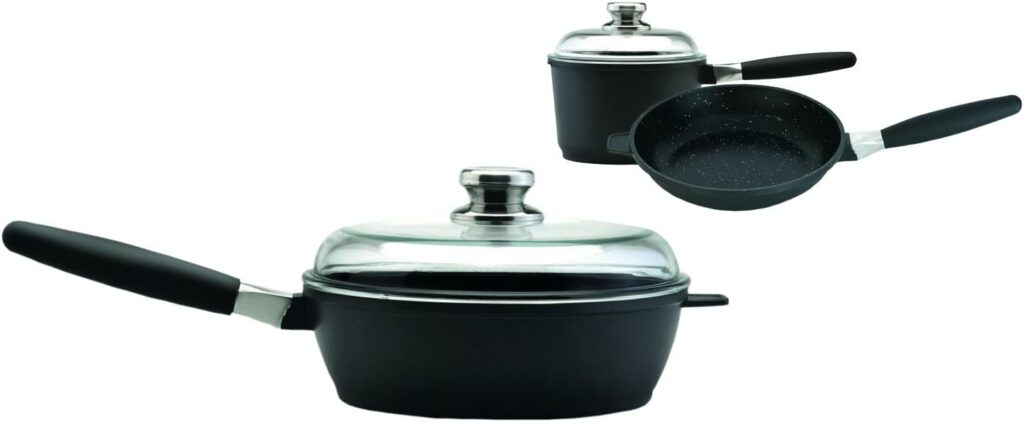 The Eurocast by Berghoff Cookware Set is the perfect way to get your kitchen up and running. It's made from durable, lightweight ceramic and comes with a detachable handle for oven use (so you don't have to worry about it breaking!)—and it has a magnetic bottom plate that distributes heat quickly and evenly.
The Eurocast by Berghoff Cookware Set is also great for use on any cooking surface, including gas, electric, and induction. It's got a heavy-duty construction that will hold up over time, so you can count on it to be reliable in your kitchen for years to come.
But what makes this cookware set really stand out? We love how easy it is to clean and store! Simply hand wash with warm soapy water or put it in the dishwasher after use. The non-stick Ferno Green ceramic cooking surface makes cleaning even easier because food won't stick at all! You'll also save time because this cookware set needs less oil than other products—just one teaspoon per quart of liquid when cooking on high heat!
Related: Carote Cookware Review
Cookware Set Includes:
10″ Fry Pan, 10″ Sauté Pan, and 1.2 Qt Sauce Pan
Pros
The detachable handle allows you to use this cookware set in the oven as well as on your stovetop or grill
The non-stick Ferno Green ceramic cooking surface distributes heat quickly and evenly, so you can prepare any meal with ease!
It also features a magnetic bottom plate for quick heating and an easy-release function
This set is PFOA and PTFE-free!
Cons
No cons for this cookware set
Earthchef by Berghoff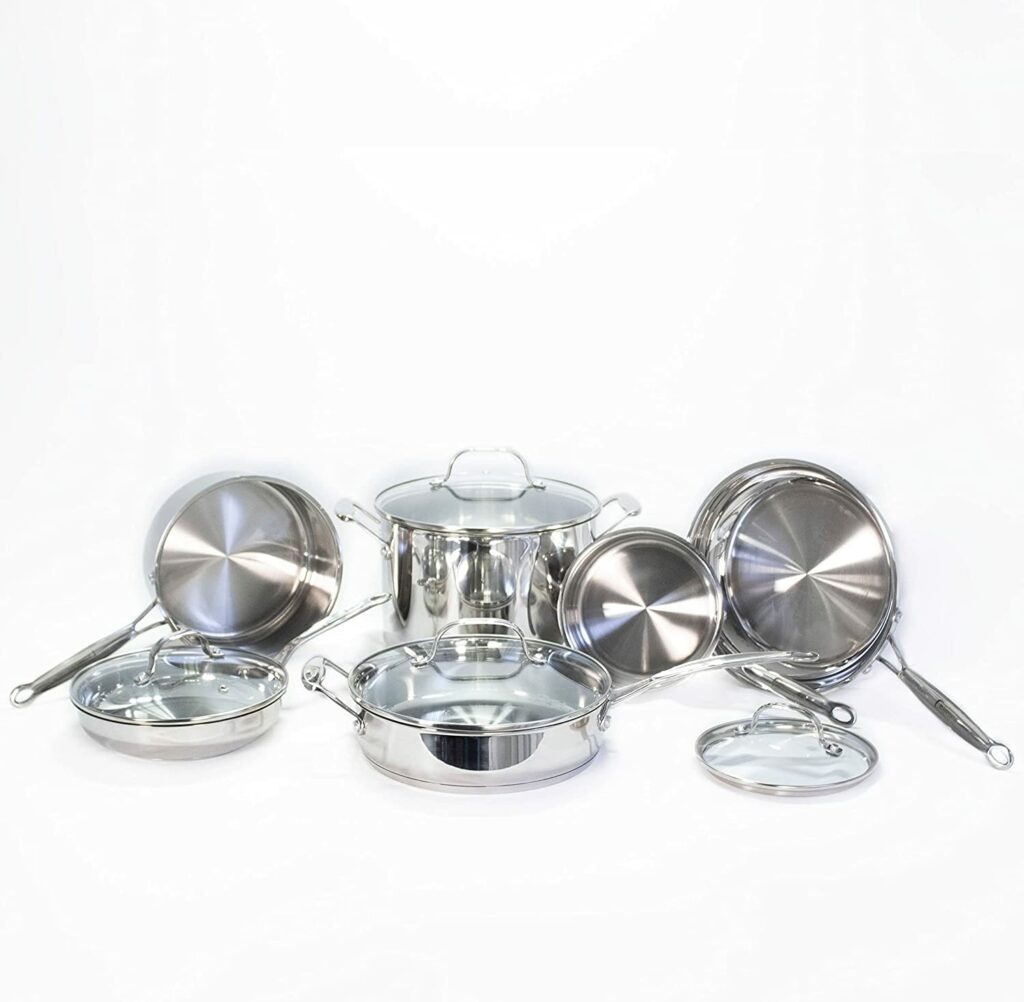 Earthchef Premium Copper-Clad Berghoff Cookware Set
You've heard the saying, "Everything tastes better when it's cooked in copper." Well, we've got the cookware to prove it! The Earthchef Premium Copper-Clad Berghoff Cookware Set is the perfect set for any chef who loves to cook and wants to create amazing meals for friends and family.
Its unique 6-layer base design ensures even heat distribution throughout the entire pan, giving you better results every time. The patented copper core further enhances heat conductivity, resulting in food that is cooked evenly on all sides.
This cookware is compatible with all cooktops, including induction stoves, which means you can use them in any kitchen—even if you don't have an electric stove. And the glass lids allow you to check on your cooking progress without letting out any steam or heat. They're made of tempered glass so they won't break easily if they get bumped during use.
The best part? Once you're done cooking, cleanup is a breeze: just put them in your dishwasher!
Related: Clear pots and pans
Cookware Set Includes:
6-quart cover Saucepan, 3-quart cover Saucepan, 3-quart cover Sauté pan, 8-quart cover Stockpot, 8-inch fry pan, and 10-inch fry pan.
Pros
This cookware set offers a unique, patented six-layer base design that ensures even heat distribution.
The set comes with a glass lid so you can see what's going on inside the pot without having to lift up the lid and lose all that delicious steam.
You can use these pots and pans on any kind of cooktop in your kitchen—from gas to electric stovetops, and even induction burners
Affordable as compared to Made in or HexClad
Cons
No cons for this cookware set
Manhattan by Berghoff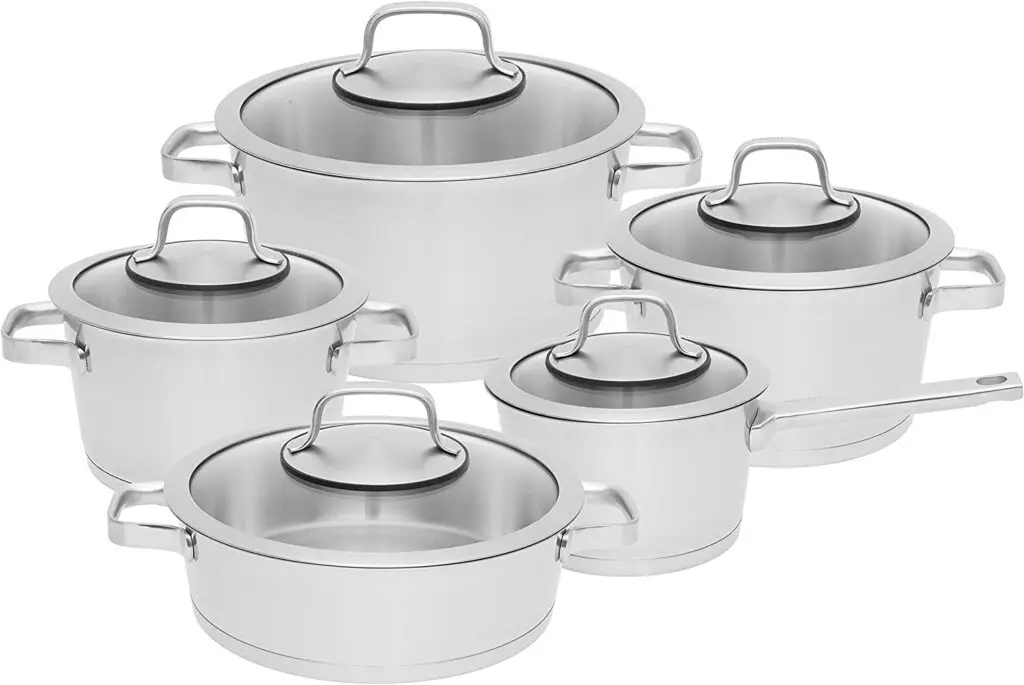 The Manhattan by Berghoff Cookware Set is a beautiful set of cookware that you can use in the kitchen or on the stovetop. It consists of a covered saucepan, a 7″ and 8″ covered casserole, a covered 10″ stockpot, and a covered 10″ 2-handle deep skillet. The 3-layer base ensures fast, even heating and prevents hot spots. Induction-ready tempered glass lids help protect against shock and breakage. High-quality stainless steel ensures extra durability and comes with a glass cover that can be used as an additional saucepan lid or as a serving platform for condiments or food.
This set is made of an 18/10 stainless steel body that guarantees fast, even heating. The pans are induction ready ensuring optimal performance on all types of cooktops including induction burners. Each piece has been designed specifically for its intended purpose creating more efficient cooking experiences for both home
What we like about this cookware set is, the ergonomically shaped handle offers comfortable lifting and offers a safe grip while cooking. Additionally, the set is oven and dishwasher safe for added convenience (do not use abrasive cleaners).
Cookware Set Includes:
1 covered saucepan, a 7″ and 8″ covered casserole, a covered 10″ stockpot, and a covered 10″ 2-handle deep skillet.
Pros
It's made of 18/10 stainless steel, which means it's guaranteed to heat up quickly and evenly so that your food is always ready when you are.
The ergonomically shaped handle makes lifting this set easy and comfortable.
Perfect pots for soup, stews, gumbo, etc.
This set is dishwasher safe, oven safe, and beautiful!
Cons
Costly but worth it
Berghoff Cookware Features
Berghoff Cookware has many features that distinguish it from other brands.
Let's take a look at its prominent features
Ferno-Ceramic Surface
The Ferno-Ceramic cookware surface is the first of its kind for cookware. It provides excellent heat distribution, eliminating hot spots and ensuring that food cooks evenly. The Ferno-Ceramic Surface is also easy to clean, making it a great choice for anyone who wants to spend less time cleaning up and more time cooking!
Detachable Handles
The detachable handles are also a unique feature of Berghoff Cookware. They allow you to store your pots or pans in your cabinet with ease, or hang them on your wall as decoration! The handles are also incredibly comfortable to hold while you're cooking.
Lightweight
These pans are extremely light, making them easy to lift. You can easily pick up an entire pan full of food without straining your wrists or arms!
Related: Best 14 Inch Frying Pan
Durable
Berghoff cookware is made from durable materials like aluminum and stainless steel to last you through many years of regular use at home or in professional kitchens
PFOA Free
The Berghoff line of cookware is made with 100% PFOA-free materials. Their pots and pans can be used on all cooking surfaces, including induction, gas, electric ceramic glass, and halogen.
In addition to being PFOA-free, Berghoff cookware is also oven safe up to 500 degrees Fahrenheit and dishwasher safe.
Is Berghoff Cookware Worth it?
Berghoff is a well-known brand that has been producing cookware for over 20 years. They offer a wide range of products, from basic to high-end, that are made from different materials such as aluminum, stainless steel, and cast iron. Some customers have reported that Berghoff cookware is durable and high-quality, while others have had issues with warping or scratching.
In our testing and research, we have found that the Berghoff Earthchef and Manhattan cookware lines are totally worth it, the durability and versatility offered by both these two cookware lines are unmatched.