The Gyuto is a special type of Japanese knife. Designed for slicing and dicing vegetables, meat, and other food items, mostly people use it in the preparation of traditional Japanese cuisine.
The word "gyuto" translates to mean "cow sword" in English. It refers to relate the thin and long blade on the gyuto knife to cow's sword.
The design of the blade is such that it allows for precision cutting when it comes to preparing ingredients for cooking. The gyuto knife is an essential kitchen utensil that you may not be taking advantage of if you are still using a chef's knife or paring knife to prepare your meals.
There are two types of Gyuto knives. Western style, used primarily by Europeans, North Americans and Australians. And Japanese style, used primarily by the Japanese. Both are suitable for whichever cuisine you are preparing.
You will find this type of knife mostly in professional kitchens around the world and also in most Japanese households. The benefits of using the best gyuto knife for the job is hard to list down. The right knife for the job guarantees to make every task easier, faster and more efficient.
Use links below for easy navigation
Best Gyuto Knives
As one of the most important tools in a cook's arsenal, it is crucial to choose a high-quality Gyuto knife that will provide optimal performance and durability. Here we will be exploring the best Gyuto knives available on the market today. From traditional Japanese blades to modern takes on the design, we've scoured the market to bring you the top options to consider.
Let's take a look at the Best Gyuto Knives in the market
Tojiro DP 8.2: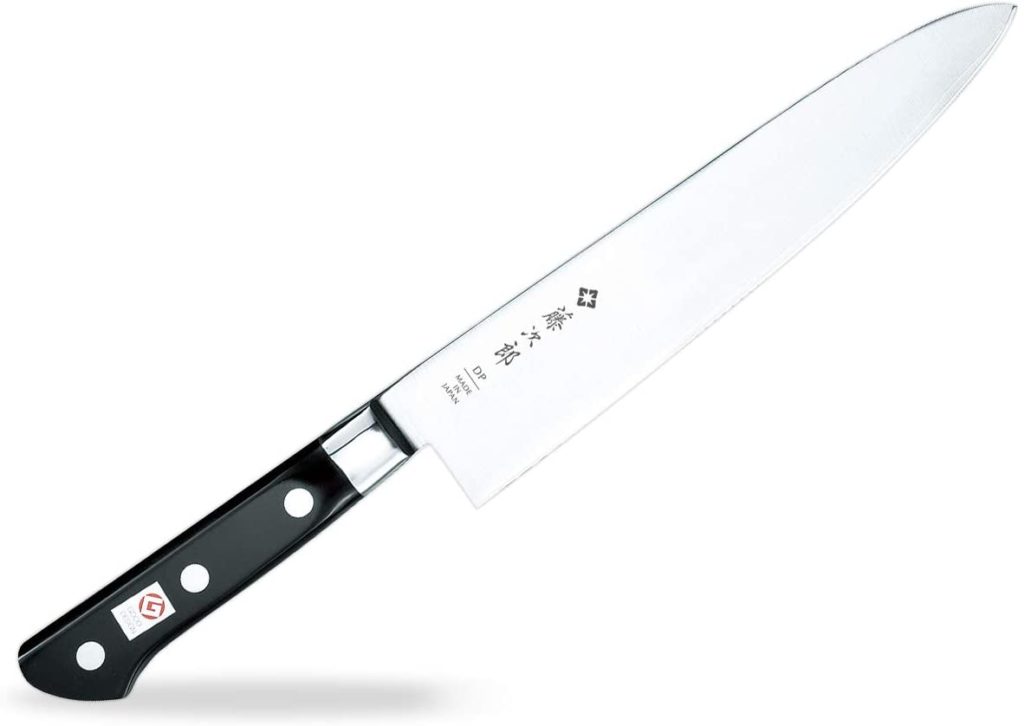 A high-quality, lightweight, and sharp knife is your best friend in the kitchen. You can have that with Tojiro DP Gyutou 8.2 Inch. The knife is hand forged from the famous Tojiro Damascus steel. It has a stain-resistant blade which resists corrosion and staining while providing excellent cutting performance.
You deserve the best in the kitchen, don't you? Cutting is a breeze with the DP 8.2 Inch Gyuto Knife. Meanwhile, the sharp blade offers the control and convenience you need for your cooking projects. It is designed to take on any cutting task in your kitchen.
The knife is durable, yet it is lightweight for easy handling. You can't go wrong with this knife if you are looking for an excellent quality professional chef's knife. Plus, the contoured handle keep your hands comfortable as you execute those precise cuts.
Lastly, the Damascus steel pattern on the blade gives a stunning look while also contributing to a sturdy and long-lasting use. Best of all, it comes with a sheath for extra protection.
Note: It's best to hand wash this super steel blade and do not place it in under the dishwasher.
Pros
Light weight sharp knife
Stain resistant blade
Comes with a sheath for extra protection
Cutting is a breeze
Damascus Steel Pattern
Long Lasting Use
Cons
Blade May Chip If used roughly
Miyabi Chef's Knife, 8-Inch:

The Miyabi 8 inch gyuto knife is handcrafted in Seki, Japan. By one of the oldest knife makers in the business.
All Miyabi knives are handcrafted with the highest quality blade and sharpening. Forged of SG2 steel, this 8-inch gyuto knife is hand honed to 9.5 to 12 degree edge for a razor sharp cutting performance.
Miyabi 8 inch knife is designed with precision and care to bring you the best in cooking. Every detail of this knife has been carefully thought out, from the sharp blade to the ergonomic high-quality handle that fits in your palm with just the right amount of weight.
Moreover, the Damascus pattern is stunning and will always be a point of conversation when you pull it out of the knife block at your next dinner party.
Finally, It is perfect choice for effortless slicing, dicing, mincing, chopping, and so much more for your favorite recipes. Miyabi 8" Chef Knife is the secret to preparing the perfect meal.
Check out our article on Gyuto vs Santoku Knife
Pros
Handcrafted with highest quality blade
Easily fits In your palm
Damascus pattern is icing on the cake
Effortless slicing and dicing experience
Cons
Doesn't have good customer service.
Shun Cutlery Kanso 8-Inch Japanese Style Chef's Knife:

Shun Kanso 8-Inch Japanese Gyuto style chef's knife uses high carbon stainless steel that holds edge longer. While offering strength and corrosion resistance. This professional quality kitchen knife is beautiful, lightweight, has a razor sharp edge, and offers exceptional balance for precise cuts.
This 8 inch gyuto knife is an all-purpose kitchen knife. It can easily be used for chopping, slicing, and dicing vegetables, fruit, meats, and fish. This beautiful knife features a rustic finish that will only improve with age, making it a good choice for chefs who like to use their knives daily.
Above all, it comes with an ergonomically designed handle that offers comfort and control during use. From breakfast to dinner, you'll certainly find plenty of uses for this versatile blade.
Pros
Lightweight Sharp edge
Best for chopping, slicing, dicing
Rustic finish that will improve with age
Ergonomically design handle
Uses High Carbon Stainless Steel
Cons
Quick drying after hand wash
Scratched easily
8-Inch Chef Knife by Find king-Dynasty Knife: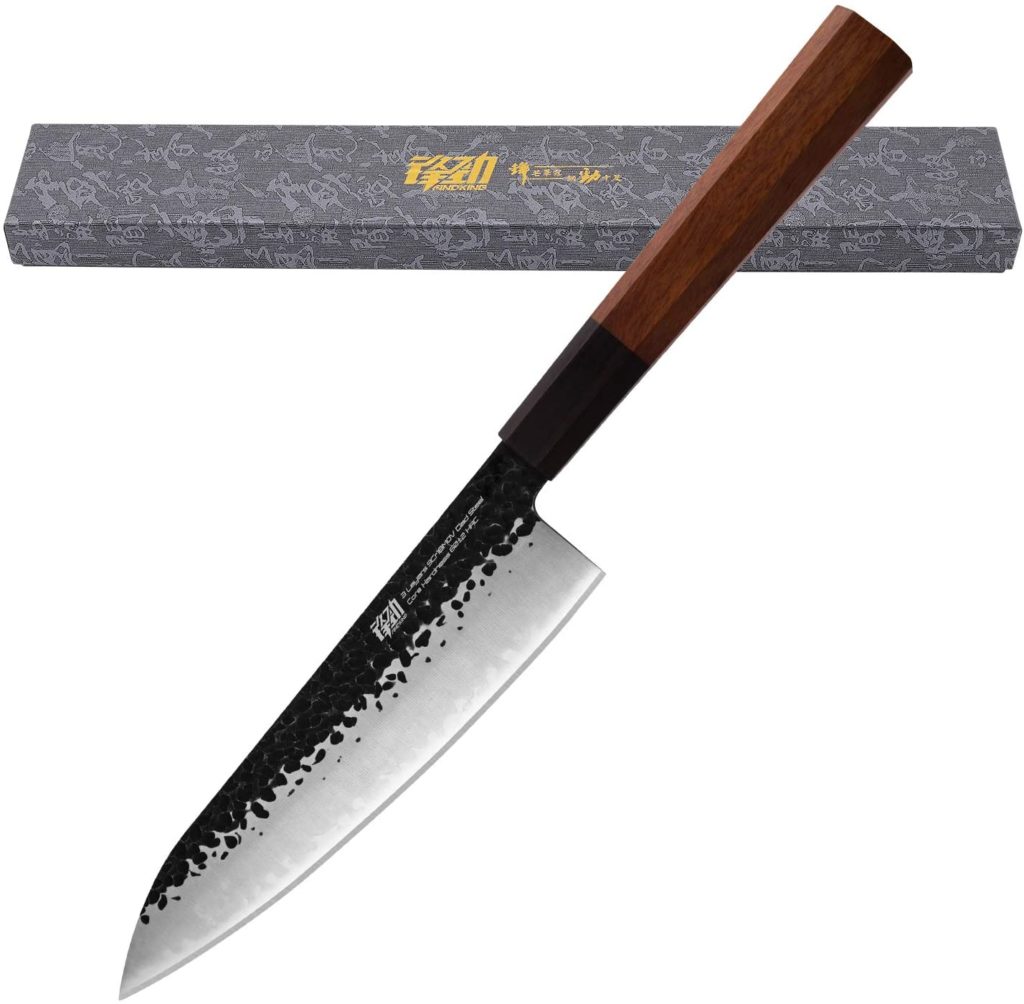 Looking for a kitchen knife that can tackle all of your cooking needs?
Well it's here. We're proud to present this 8-inch all-purpose kitchen knife.
The Findking 8 inch Gyuto knife is a great all-purpose kitchen knife. It's made from 9CR18MOV high carbon stainless steel which holds a long edge and resists corrosion for a secure feel in the kitchen.
Also, it is resistant to pitting and chipping. This series of knives by Findking are produced with quality in mind from the best materials with fine craftsmanship for reliability and performance with a reasonable price for value.
The knife weighs around 12 lb, which ensures that the knife can be used efficiently to chop or dice ingredients on a cutting board or counter top. Meanwhile, the handle uses the finest quality African rosewood for an elegant appearance. This knife is sure to impress you with both its quality and value!
Best thing about this gyuto knife? It comes under the price of $50 and has the ability to withstand stains, salt and water.
Pros
All Purpose Kitchen Knife
Made from high carbon steel
Elegant Octagonal Rosewood Handle
Has a price of less than $50
Can easily chop or dice ingredients
Cons
Some people will find it heavy
It should be hand wash only or else you will lose its sharpness
Check out our article on Santoku vs Chef Knife
Yoshihiro Japanese Gyuto Knife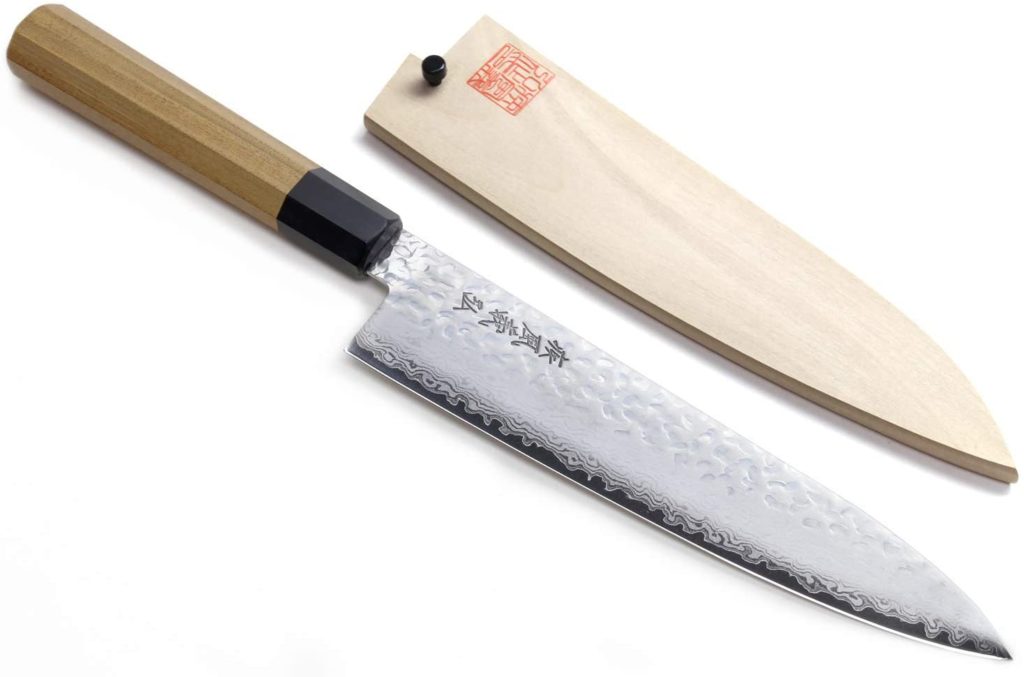 The Yoshihiro Japanese Gyuto knife has 46 layers of Damascus steel in the blade, with VG-10 core. The hammered texture really looks exceptional and the octagonal handle is very much like the FindKing knife but it comes with a Saya cover.
The Yoshihiro Japanese Gyuto knife is designed for home cooks who want to make their own sushi at home or pay homage to their favorite chef by making them something special from scratch. It's also great for chopping vegetables or meat at home or work because it has such an impressive level of control over your cuts that you can't find anywhere else except on professional cutting boards or restaurant kitchens.
If you want to buy a high-quality gyuto knife that will last for years, then we recommend this product!
Pros
46 layers of Damascus Steel with VG 10 core
Octagonal Design handle is comfortable and ergonomic
Double edged blade
It cuts through vegetables like butter
Lightweight
Cons
Expensive than other brands
What to look for in Best Gyuto Knife?
There are four basic factors to look for in gyuto knives before buying.
Knife's length
Ability to withstand the usage
Steel of Knife
Handle of Knife
Knife's Length:
The first factor to look for is length of the Gyuto Knives. It is important to go for the length that suits you most. Since Gyutos are considered as kitchen knives. Therefore, it is better to buy an 8-10 inch Gyuto if you cook daily. Because it will be much easier for you to handle 8 inch knife rather than any other longer knife.
If you are just a beginner who just likes to collect knives. 4 to 6 inch one will be great for you.
Ability to withstand the usage:
Obviously, we all want the knife which is durable and we can use without worrying about its stability and durability. Gyuto knives are the most popular knives in the market. A number of professional chefs prefer them due to their versatility in cutting, slicing and chopping.
A good quality Gyuto knife allows fast cutting, slicing of meat, fish, veggies all without getting chipped or dulled.
Steel of Knife:
For the blade of the knife, it really matters if it is made of carbon steel or stainless steel. Carbon steel has good ability to be sharpened and has better edge retention, but also needs more care and maintenance. Whereas Stainless steel prevents stain from rusting your blade.
Handle Of Knife:
There are two types of handles associated with gyuto knives. One is attached to the knife with glue and other is made of composite wood, such as pakkawood handle.
Pakkawood handle are slightly heavy but they keep your knife safe from bacteria and improves longevity. Plus, pakkawood handle gives a stunning look to the knife.
Final Thoughts:
The Japanese-style Gyuto Knives can be used as a substitute for many different styles of kitchen knife. At the moment, they are the perfect modern kitchen knife. Equally adept at slicing carrots and dicing onions, the handle is contoured to be comfortable and fit snugly in your hand. You will find that you can produce beautiful and first-class slices with just one attempt.
It can be frustrating and expensive to purchase a piece of cutlery that just doesn't live up to expectations. But with gyuto knives you can be sure of adding a knife that will live up to its expectations.
Frequently Asked Questions
Are Gyuto knives good?
Gyuto knives, also called Japanese chef's knives, are one of the most best kitchen knives on the market. They're great for chopping, slicing, and dicing a wide variety of foods. Plus, gyuto knives are perfect if you want a knife that will be able to perform a number of tasks in the kitchen without having to buy multiple knives which can get expensive after awhile.
What is a Gyuto knife good for?
A gyuto knife is good for many things. A gyuto knife can be used for almost anything from chopping vegetables to slicing meat or filleting fish. In fact, gyuto knives are a common choice for professional chefs. They can be used to slice through tough vegetables or meats without having to use excessive force. Additionally, they have a large blade that makes them easy to maneuver when cutting up larger pieces of food.