Can you buy kitchen knives made in United States? There's no shortage of kitchen cutlery on the market these days, but which of them can truly be called made in the USA? More importantly, do you really need to pay more for American made kitchen knives?
This guide will help you find out the Best American Made Kitchen Knives that are currently on the market today.
---
Use links below for easy navigation
---
Best Kitchen Knives Made in USA
The very best kitchen knives are made in United States, although this may not be obvious to the average person. Unfortunately, many high-quality knives are made overseas and it can be difficult to tell where they originated, especially if you didn't purchase them in person.
However, there are several signs that indicate that a knife was actually manufactured in the United States and we've included them here so you can make an informed decision when choosing your next blade.
Cutco Cutlery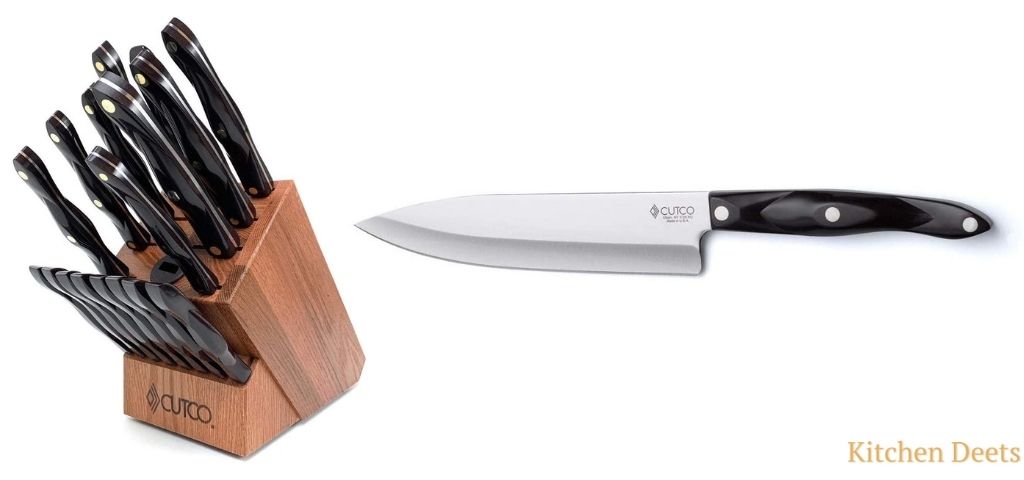 Cutco is a household name. Their knives are made in America, and they've been around since 1949. Cutco knives are the best kitchen cutlery you can buy. They're a little pricey, but they'll last forever and make your food prep easier than ever before.
The company was started by Alcoa and case cutlery in 1949. They made their first knife in a factory in Olean, New York. Today the company still makes their knife in the same factory.
Cutco has a wide range of products, from chef knives to paring knives, knife sets and carving knives, slicers, and more.
Facts about Cutco cutlery
Made in America for over 70 years
They're crafted using high-quality steel that maintains its edge for years
Cutco is the only kitchen knife company that offers forever guarantee on their knives
Dexter Russell
Dexter Russell has been making kitchen knives in the USA for over 200 years.
Their knives are made with a high-quality German Steel blade and a beautiful handle. They are perfect for any chef, but especially those who love to cook with fresh ingredients from their local farmers' market or a family farm.
Whether you're looking for a knife set for your home or business, they have something for everyone. Their paring knives are great for precision cutting when preparing fruits and vegetables while boning knives are perfect for removing poultry from the bone. They also have an assortment of steak knives that will make your next dinner party something special!
With wooden handles that are comfortable, secure, and easy to grip, these knives have been trusted by professional chefs for generations.
Facts about Dexter Russell:
Dexter Russell was founded in the 1800s. They've been making knives in the USA for over 200 years.
The company makes a full line of kitchen knives, including chef knives, paring knives, boning knives, steak knives, butcher knives, and cleavers.
In addition to their American-made products, Dexter Russell also offers imported products from Japan, Germany, and Italy.
Lamson Cutlery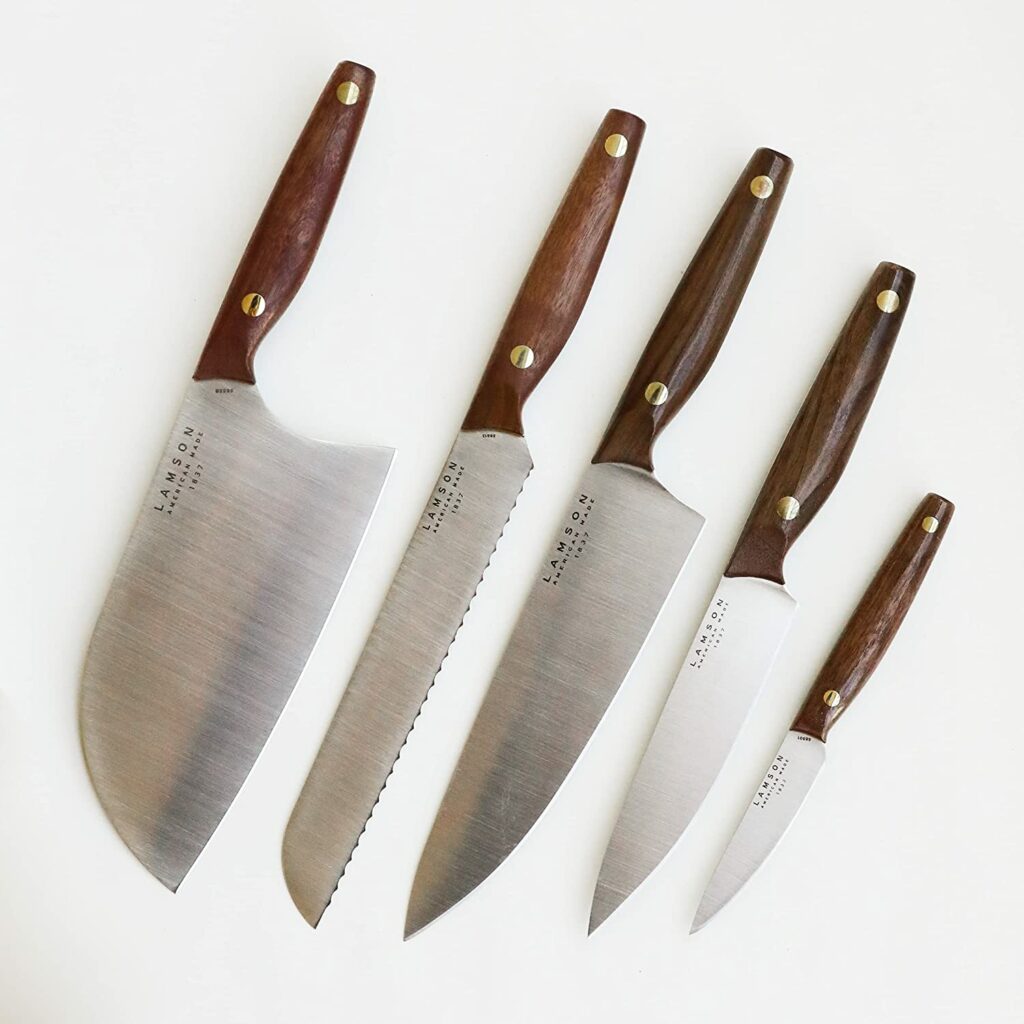 Lamson has been making high-quality knives for over 150 years—and they're not stopping any time soon.
Their products are handcrafted in Massachusetts, and they offer a full line of forged and stamped laser-cut knives that will make your kitchen experience so much more enjoyable.
From bread knives and slicers to chef's knives and cleavers, ulus, and choppers, their products are designed to fit your needs. They even have fish, fillet, and boning knives as well as paring and trimming knives! And don't forget their specialty knives like steak knives
Their goal is simple: to provide you with quality products that will last you for years to come.
Quick Facts about Lamson Cutlery
Lamson is the oldest cutlery manufacturer in America, since 1837. The brand proudly continues its tradition of handcrafting knives in Massachusetts.
Their product line includes both forged and stamped knives.
All knives from Lamson cutlery are handcrafted with the highest quality materials.
Rada Cutlery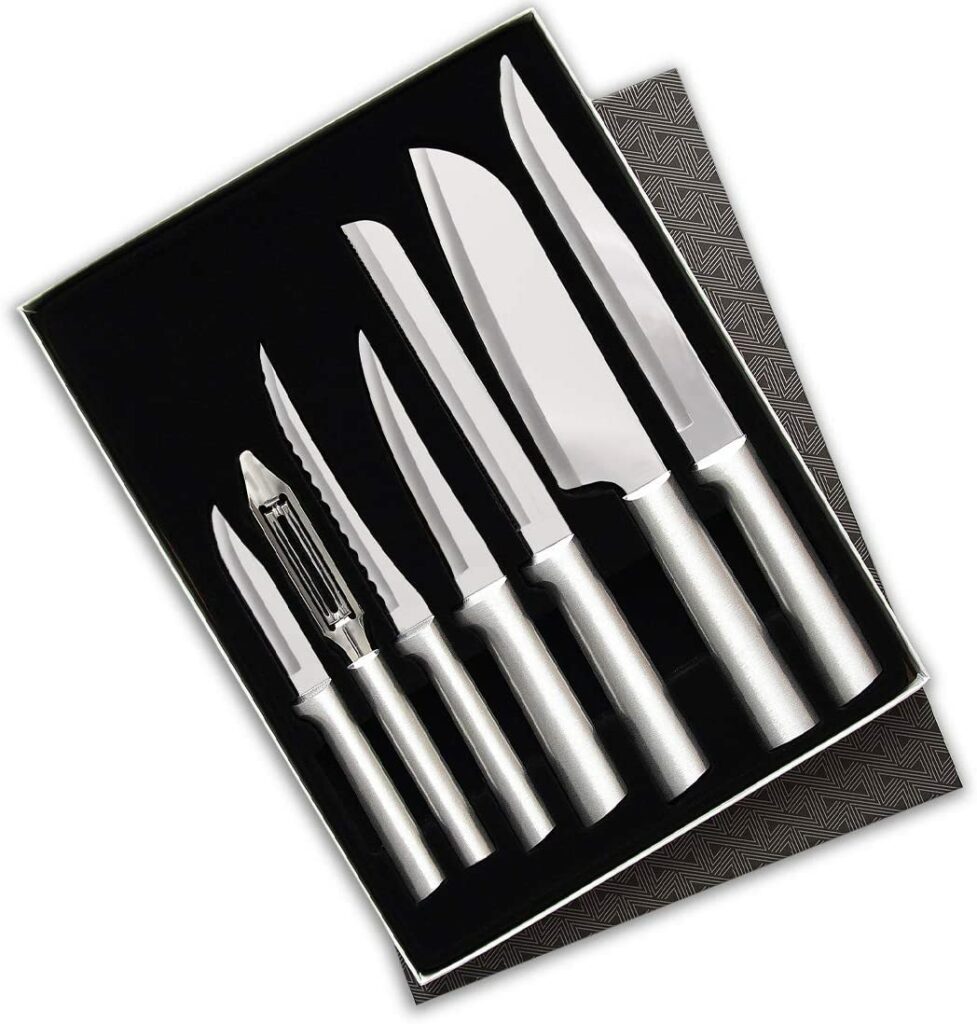 Rada Cutlery is known for making high-quality American-made knives. Since 1948, they've been crafting their products in the USA and are proud of it!
Rada makes an array of knives for different purposes, including the regular chef knife, tomato slicer, heavy-duty peeling Knife, paring meat knife, steak knife, slicer knife, and carver/boner knife. They're all made in the USA and can be found at major retailers like Amazon or Walmart.
If you're looking for a new knife that's going to last a lifetime and stay sharp even after years of use Rada is the brand for you.
Facts about Rada Cutlery
Rada has been crafting high-quality cutlery in the United States since 1948
These knives are made with high carbon stainless steel blades that are easy to clean and rust-resistant. They come in a variety of colors and patterns to match any kitchen décor.
They're committed to making the best knives possible and know you'll appreciate the quality, craftsmanship, and durability of their products.
Warther Cutlery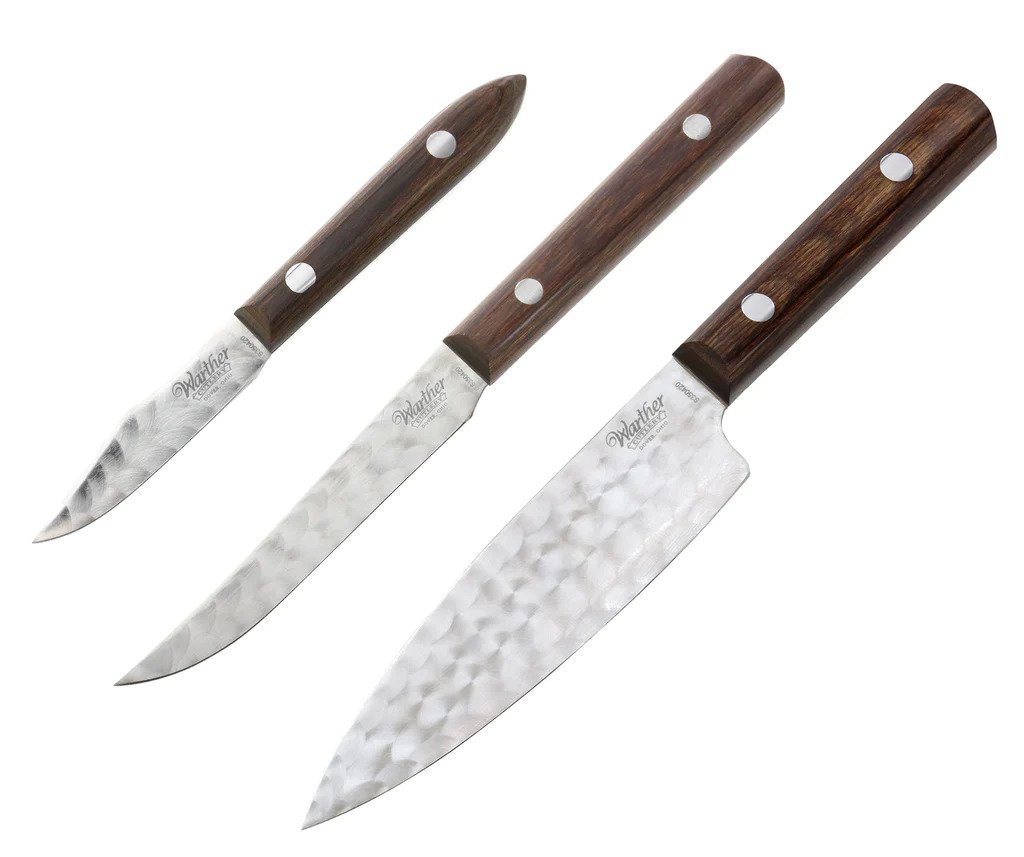 The Warther Company has been making high-quality kitchen knives since 1902 when Mooney Warther started his business in Ohio.
He was one of the first people to make quality knives made entirely in America instead of importing them from overseas as many other companies did at that time. Now his grandson carries on this tradition by continuing his grandfather's legacy through Warther Cutlery LLC which makes all its products in America using only American steel and other materials from around the world.
Handmade in Ohio for over 100 years, Warther Cutlery includes a wide range of kitchen knives. Their chef knives are available in three sizes, and the paring knife is just as sharp as the larger version.
The slicing knife is perfect for cutting tomatoes or potatoes, while the steak knife can be used to cut up your favorite meats. Their serrated knives are great for cutting bread and other foods with a soft texture, while the cleavers make it easy to break down chicken thighs into smaller pieces.
Quick Facts about Warther Cutlery
Warther Cutlery was started in 1902 by Mooney Warther, who was a master butcher.
For over 120 years, Warther Cutlery has been serving customers by making their kitchen knives right here in Ohio. Since then, his company has been providing high-quality knives for American kitchens.
Warther Cutlery knives are made of high-quality steel that can be sharpened over and over again, so you can use them for years to come. They're also rust-resistant and won't dull as fast as other types of steel.
What to look for in American made kitchen knives
When you're in the market for a new set of kitchen knives, it can be hard to know what makes a good knife—and what makes a bad one. Here are some things to keep in mind if you're looking for American-made kitchen knives:
Material
Most American-made kitchen knives are made from stainless steel. However, some manufacturers use carbon steel, which can rust if not properly cared for. If you're looking for stainless steel knives, make sure that they are 100% stainless steel and not just coated with a thin layer of stainless steel.
Handle
The handle is the part of the knife that you hold while chopping or slicing food. Make sure that the handle feels comfortable and secure in your hand. You shouldn't have to worry about it slipping or sliding out of your grip while using it!
Labeling
It's important to make sure that your knife is properly labeled so that you know exactly what it is made from—make sure that the knife has been labeled as "Made in the USA" so you can feel confident about what you're buying!
Forged Vs Stamped Knife
One thing you'll want to consider when buying American made kitchen knives is whether they're stamped or forged. Stamped knives are made by stamping out a blade from a sheet of metal; forging is done by heating and shaping the metal into its final form, then cooling it and finishing it off. Forged knives tend to be sturdier and more durable than stamped ones, although there are some exceptions—it's always best to research the particular knife you're considering before making a purchase decision.
Pricing
You'll also want to consider the cost of the knife: how much does it cost, and how long will it last? You don't have to spend hundreds of dollars on each knife in your kitchen—you might be able to find a good quality knife for less than $100 or $50 at most stores like Amazon or Walmart (as long as they're not made in China).
Warranty
If you buy an American made kitchen knife with a warranty, then you're less likely to be disappointed with your purchase since it will last longer than others without one!
Cutco is one American kitchen knife company that offers forever guarantee
Is Chicago cutlery made in the USA?
Chicago cutlery is not made in USA, the Chicago word in Chicago cutlery may trick your mind, but the cutlery is made in China and not in USA.