Cutco knives are sold online and in showrooms across the world. They are known to be top-of-the-line, high quality, and they can cost hundreds of dollars per knife set. Are they worth it?
In this Cutco knives review, we'll look at the pros and cons of these knives, as well as provide an honest opinion on whether or not you should buy them. We'll also discuss some cheaper alternatives if you don't want to spend that much money on cutlery sets.
Cutco Cutlery Review
Before we get into our Cutco knives review, it's worth mentioning that all Cutco products are made in America, which is important to some people. They also come with a lifetime guarantee.
Now let's get down to business.
History
The company has an interesting history that you may not know.
Cutco Cutlery has been around since 1949, making it one of America's oldest cutlery companies. The name Cutco comes from the name of a company once owned by Alcoa, COoking UTensil COmpany.
Since its inception, Cutco has been known for its production of high-quality knives and kitchen gadgets. Unfortunately, not everyone can afford Cutco products. Are they worth it? Let's take a look at what we like and dislike about Cutco knives to find out if they live up to their reputation.
Cutco Knives Features, Pros and Cons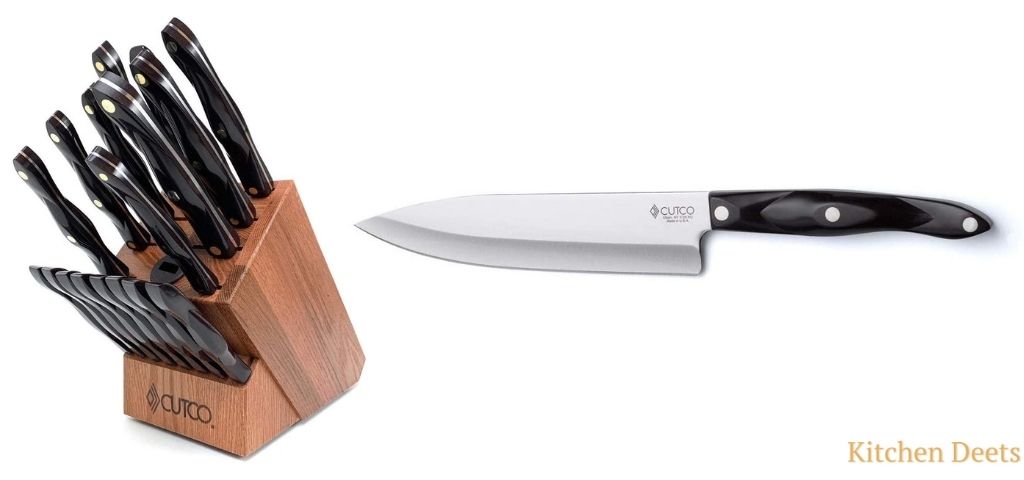 Cutco knives have many features, pros and cons that you should know about before making a purchase. It's always important to know all possible outcomes and problems related to something before buying it.
The following are some of its prominent features.
Blade Material
Cutco Knives blade material is high carbon 440A grade stainless steel. This type of steel is ideal for Cutco knives because it resists corrosion and can last much longer than other cheap knives in the market. Many cutlery customers enjoy Cutco Cutlery kitchen knives due to their quality construction and the way they resist corrosion better than steel or high carbon steel.
Construction
The company's knives are sharpened and honed by hand with a 15-degree angle on each side. In addition to that, there are 25 steps in the process of creating the ultimate Cutco knife.
Design

Cutco Knives have a beautiful Wedge-Lock design for its knives, as we've mentioned before Cutco only offers one knife collection as of now so, all knives have wedge lock beautiful handle design that comfortably fits in all hands. It was created by Thomas Lamb, who developed this sturdy locking mechanism.
Thomas Lamb is credited with inventing the wedge lock design in 1952. This design is still used today in Cutco kitchen knives. The unique edge retention potential of a wedge lock is definitely the best way for Cutco to make sure that you'll enjoy using their products for years to come!
Handle Material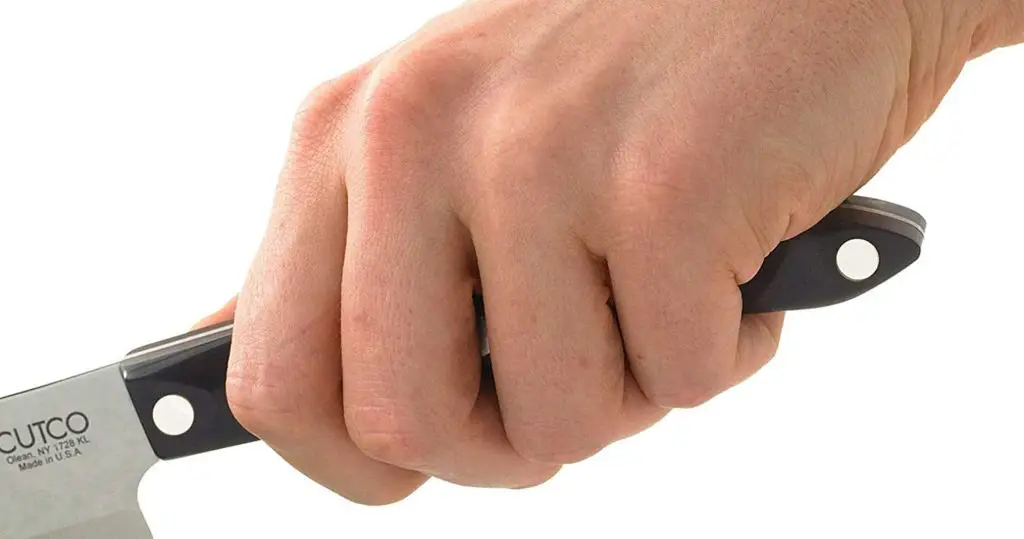 Handles are one of the most important parts of a knife. It should be comfortable, easy to grasp, easy to use, and stable. But, in addition to that, it can also be good-looking.
The handle material is Acetal copolymer thermo-resin in Cutco knives. This material is great because it has the strength to them being flexible. The Cutco knives handles have such a design that they are incredibly easy to hold and feel good while you hold them. This is why lots of people prefer them over other brands.
This Acetal copolymer thermo-resin forms the basis for manufacturability that makes Cutco knives famous all over the world since 1949.
Stamped Knives

Cutco Knives are stamped with the Cutco promise of quality. Other premium brands offer both stamped and forged knives. However, it's only Cutco that sells only knives that are stamped, but not in any way lesser than other cutlery companies.
There are many misconceptions and misunderstandings about the Cutco knives. Cutco knives are stamped using the same manufacturing process as all other premium brands. The construction includes a full tang, to provide a strong surface for the handle attachment, while also offering numerous benefits to the person using it.
Blade Edges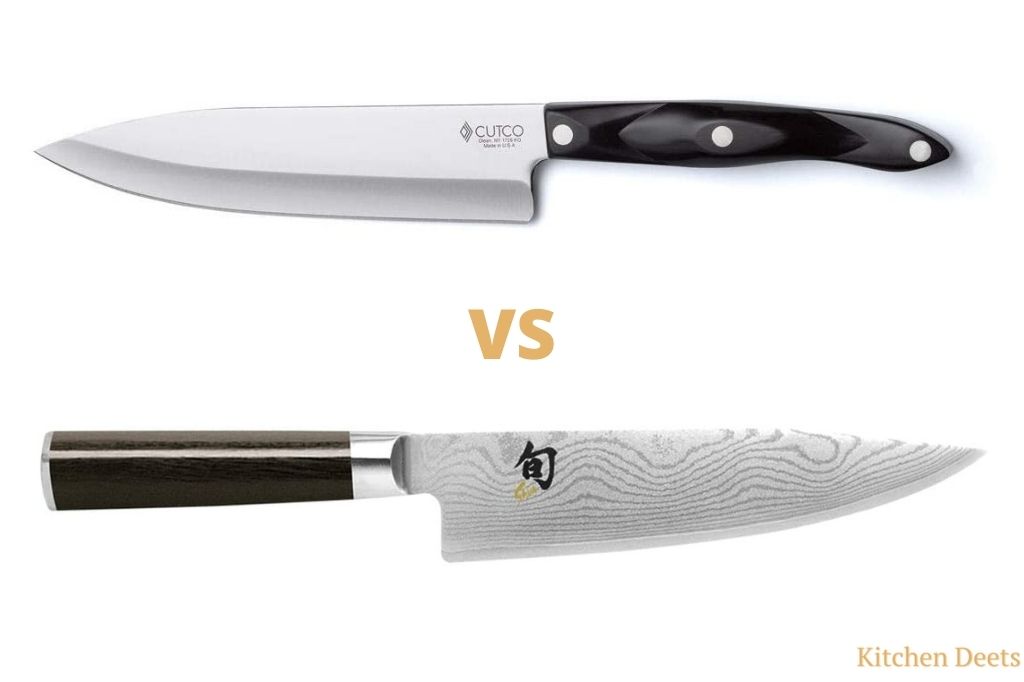 There are two different types of edges for Cutco knives. One of them is the straight edge which is very common in a lot of knives, especially the Petite Chef Knife. This is the edge that you see on most kitchen knives which offers a smooth cut through food without friction or catching.
The other blade edge is called the Double D edge. The double D edge is also known as point curve blades and they contain pointed teeth to pointed teeth that helps grip food or soft objects like tomatoes and zucchini making it easier to cut without squishing your product
Forever Guarantee
Cutco Cutlery gives its customers a lifetime guarantee on their knives. A lifetime guarantee means the company has trust that the product they're making won't be damaged at any point, so even if something happens to it, you can send it back to repair.
Pros
Yes, Cutco knives are expensive. However, Cutco knives' features and pros often outweigh their cost, especially if you're looking for a brand name. And as a bonus to purchasing Cutco knives from an authorized dealer, you also get a satisfaction guarantee that makes returns hassle-free.
Cons
Cutco knife cons come down to personal preference and can be difficult to analyze with objectivity because of their brand name. The biggest con is that they are not necessarily better quality than similar other brands but cost more.
What Makes Cutco Different From Other Brands?
There's a reason why Cutco knives are more expensive than similar products from competitors like Wusthof, Messermeister, and Henckels. It all comes down to quality. Cutco knives are made in America with American steel (that's why they call it The Forever Warranty) and feature a unique contoured handle that makes them easy to hold onto.
What Is The Best Thing About Cutco Knives?
One of the best things about investing in a top-quality cutlery set is that you'll never have to worry about it dulling or becoming outdated. You can pass them down to your children and grandchildren, and they will always remain useful. There's probably no better testament to these knives than that.
Final Thoughts
In the end, we can confidently say that Cutco knives are one of the most highly recommended kitchen cutlery brands. They might be a bit expensive for some budgets, but if you can afford them, and want to get the most value out of your money—a Cutco knife is clearly worth it.