Henckel knives have gained popularity all over the world, and in the past few years they have been popping up everywhere with their ads and commercials. But how good are Henckels knives? Let's talk about some of the most popular Henckels knife types and why you should own them.
INTRODUCTION:
The Zwilling J.A. Henckels Group is a German family business, founded in 1731 by Peter Henckels. Today there are six brands (Zwilling, Henckels, Miyabi, Staub, Demeyere, and Ballarini) within the group that all cater to different audiences, each with their own price point. The segmentation of products for multiple audiences by the brand is unique and not something most other companies do these days.
Now that we have introduced you to the parent company of Henckels knives. Let's talk about Henckels knives.
Popular Henckels Knives:
J A Henckels offers a wide range of kitchen knives with different designs, blade lengths, and sizes to suit each kitchen style and need. Here we will discuss following Henckels line of knives.
Classic
Dynamic
Forged Premio
Forged Synergy
Graphite
Henckel's Classic Knives: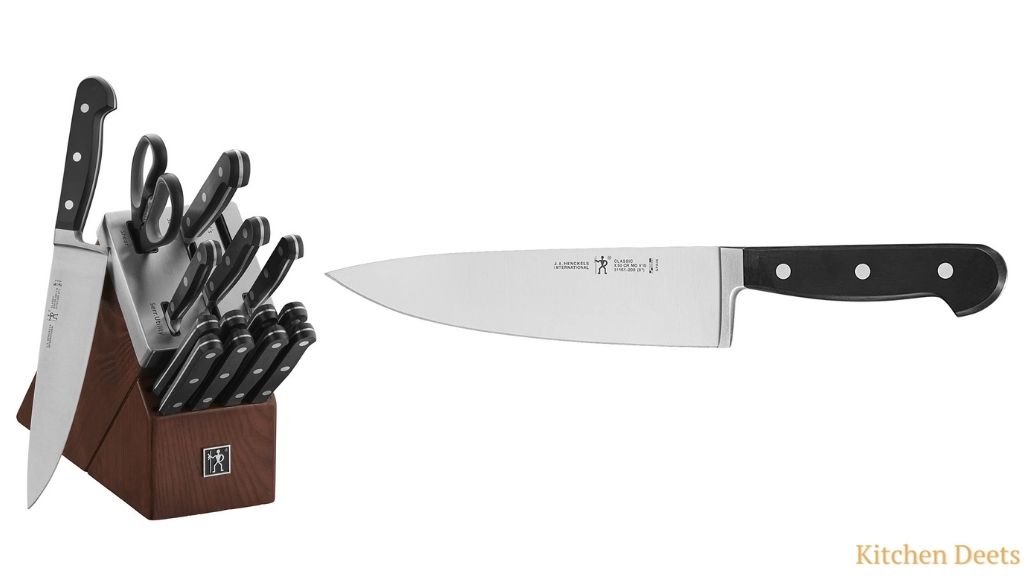 Welcome to the Henckels Classic Knives series. These Classic knives are finely crafted to the highest possible standard with a razor-sharp edge. The blades are made from stainless steel with an exclusive ice-hardening technique, then hand-ground and polished creating a blade that stays sharper longer and has superior resilience.
The Classic Series knives are designed for professional chefs, who demand maximum performance from their kitchen utensils. Each knife features a triple-riveted ergonomic handle that's perfectly bonded to the full-length tang, making them perfectly balanced, highly stable, and extremely resistant to wear and tear.
Check out our Review on Zwilling Knives
Advantages:
This quality cutlery slices through meat, veggies, and bread with ease and makes you feel that you are slicing with a very sharp blade.
Ergonomic handles are certain to fit comfortably in any hand.
This series is dishwasher safe and less costly.
Limitations:
Doesn't last long like Zwilling Pro or Pro S
Quick Facts
Made in Spain
Features Classic German Steel
Weight 5.6 Ounces
Henckels Dynamic Knives: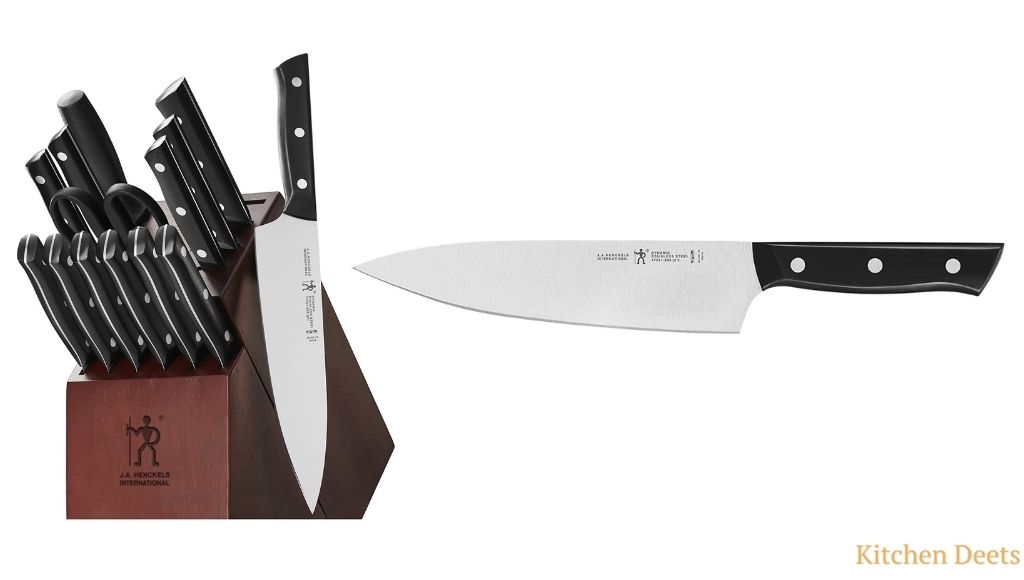 Henckels Dynamic Knives are designed to offer you maximum performance at minimum cost. They have stamped construction and fine edge blade that offers precision cutting. This series is lightweight yet sturdy to hold. Also, their triple-rivet curved handle offers comfort when cutting and comes with a lifetime warranty.
This series is great for chefs who are low on budget. Henckels provides these knives at half the price of their Classic collection. While it is elegant and ergonomic, it does not break the bank.
Check out our review on Cutco Knives
Advantages:
Henckels Dynamic Knives are budget-friendly quality knives.
Also, these knives are light in weight and comfortable to use.
They all were created with the same idea in mind – to be an affordable and dependable choice for the kitchen.
Limitations:
Not very high quality.
Quick Facts
Made in India
Features Dynamic Stainless Steel
Weight 6.5 Ounces
Henckels Forged Premio Knives: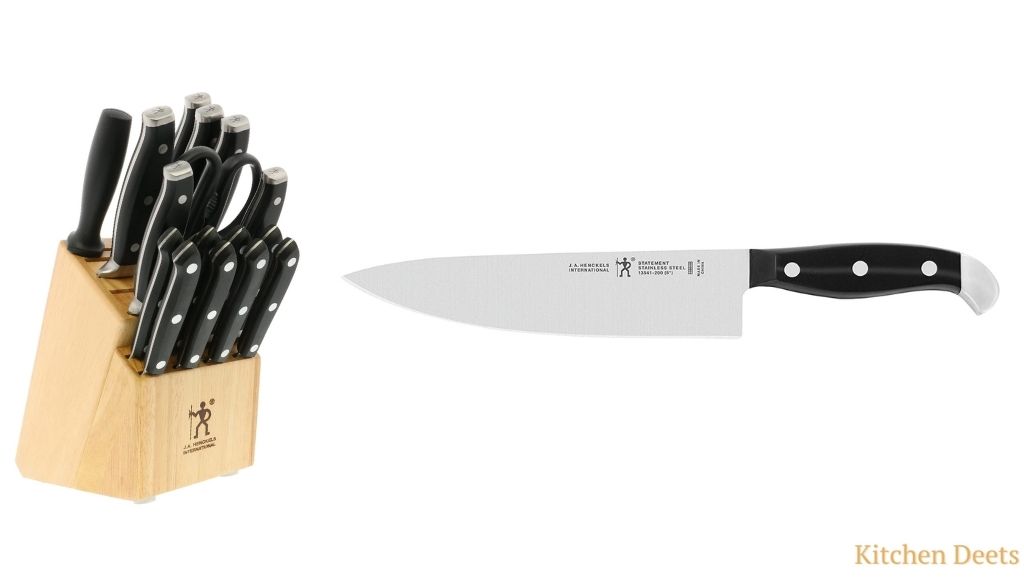 The Forged Premio Knife Collection by Henckels is made of high-quality German stainless steel, and features bolster construction that melds seamlessly into the blade and handle for added strength.
Henckels have made it possible to enjoy a breakthrough combination of craftsmanship and technology. This Forged Premio line features beautifully curved handles, triple rivets, and dishwasher-safe blades that cut through meats like they were butter!
The Forged Premio line of kitchen knives from Henckels is perfect for home cooks who want top-quality at an affordable price.
Check out our review on Tuo Knives
Advantages:
Sleek and contemporary in design, these knives feature high-quality German stainless steel for exceptional edge retention and performance.
Beautifully curved handles feature triple rivets for an easy grip
The blades, featuring bolster construction, are strong and seamless.
Limitations
It may start to rust after one year.
Quick Facts
Made in China
Features German Stainless Steel
Henckel's Forged Synergy Knives: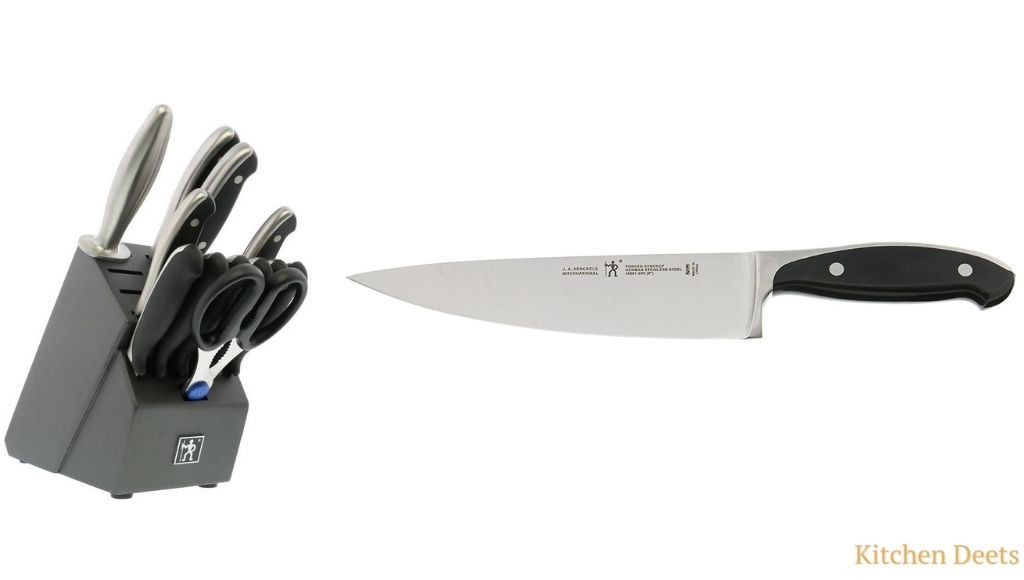 Introducing the forged Synergy series, fully forged high-performing German stainless steel. This knife set has a similar handle to Henckels forged Premio knives but with two rivets.
Whether you're chopping ingredients for a gourmet meal or cutting meat for a backyard barbecue, Henckels Forged Synergy knives will exceed all of your expectations. This forged knife series, with a full bolster and two rivet handles, meets all standards necessary to create the perfect cut of meat. Its German stainless steel blade offers both strength and durability, while its high-performance design ensures that your blade lasts longer than cheaper options.
Lastly, this knife set comes with a lifetime warranty and is dishwasher safe.
Advantages:
The full bolster offers safety and comfort to hands.
These knives will add style to any kitchen.
With all these key features in mind, it's no wonder why the creation of these knives was a total synergy.
Limitations
Less costly but also low quality as compared to expensive options.
Quick Facts
Made in China
Features German Steel
Henckel's Graphite Knives: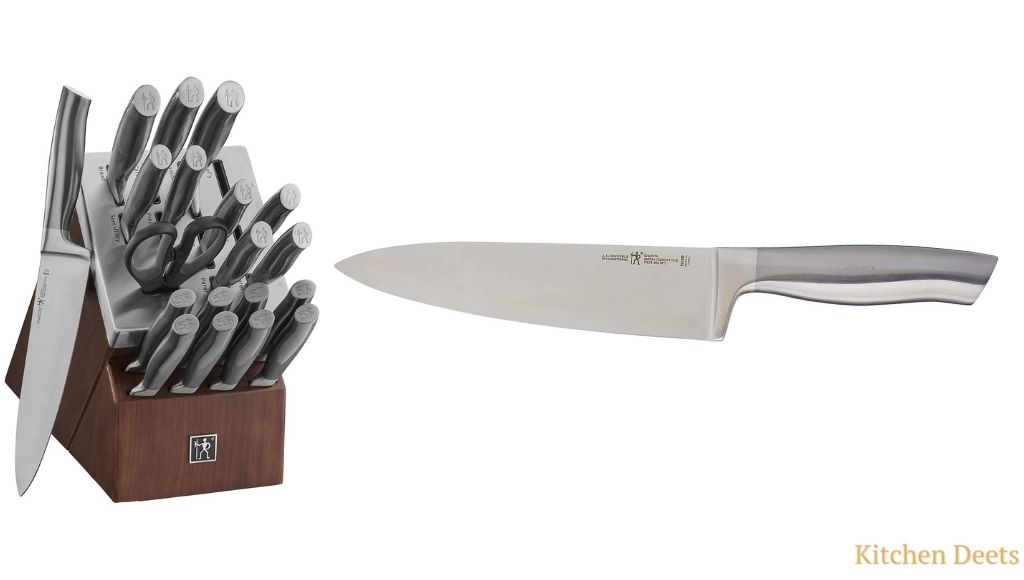 The new Henckels Graphite Knife Series is a forged collection built for home chefs.
Made of German stainless steel, the knives feature a lightweight, ergonomic handle, and satin finished blade for easy cutting, chopping, or slicing.
This series combines the best of both worlds – creativity and precision. It offers a modern design with quality materials to help you through any cooking adventure.
Graphite series is a step above their traditional steel knives, with extraordinary durability for everyday use.
Check out our review on Cangshan Knives
Advantages:
These fine knives are designed for home chefs who spend time in the kitchen prepping their favorite meals.
The blade is easy to sharpen and it's rust-resistant.
The handles for these knives are beautiful.
Limitations:
Graphite is basically gray paint.
Quick Facts
Made in China
Features German Stainless Steel
Thoughts on Henckels Knives Review
It is always a good thing to have a choice when buying knives, and Henckels can provide the variety you desire. There are many reasons why they are of excellent quality. The good news is that they aren't very expensive so it's safe to say you can't go wrong with these perfect cutlery pieces.
What is the misconception about Henckels Knives?
Many people think Henckels knives are Zwilling knives, but they're actually different brands that come from the same parent company. Henckels provides a wide range of styles, using top-quality steel and innovative design. However, there are a few key differences in their history and their designs that can help you choose between them.