Curious about the battle between two very different knife brands? You're not alone! This knife fight between Chicago Cutlery and Zwilling JA Henckels has left many knife enthusiasts scratching their heads, wondering which one they should choose. Fortunately, with this concise guide to Chicago Cutlery vs Henckels, you can make an informed decision between the two brands.
These are both brands of high-quality cutlery with their own unique strengths and weaknesses, so there's no reason why you shouldn't be familiar with them if you're an avid cook or chef in your own home.
Chicago Cutlery Overview: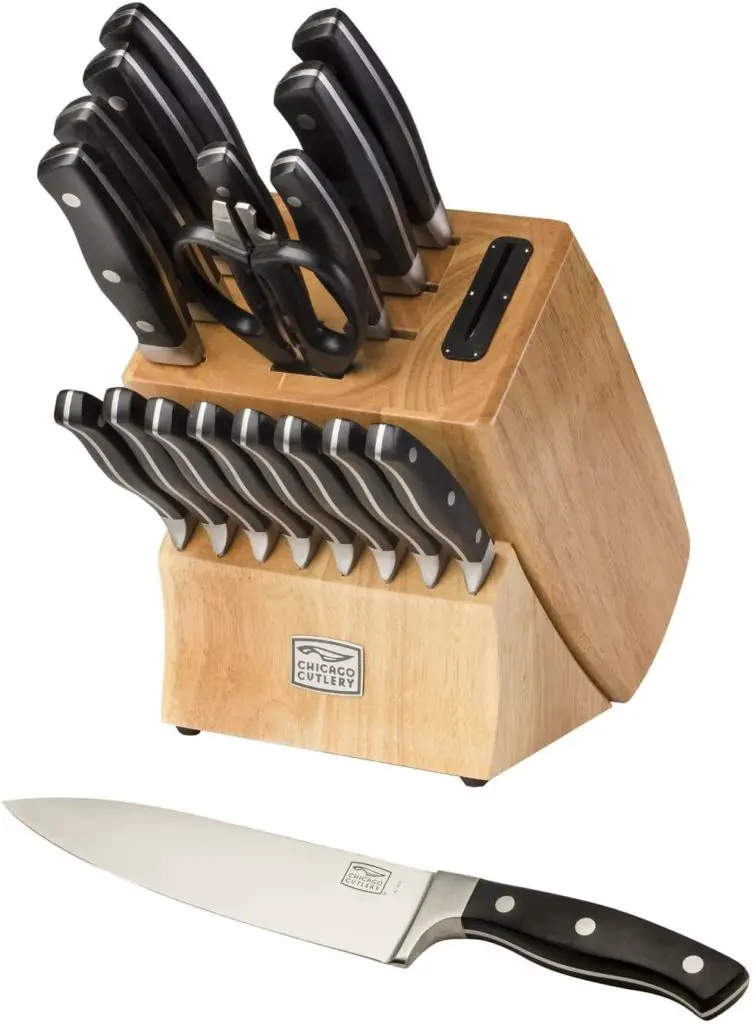 Chicago Cutlery is one of the leading American cutlery company that dominates the market with great quality cutlery products. The company was founded in America in 1930 by Alfred Paulson. The company designs its kitchen cutlery keeping in mind the ergonomics, functionality, durability and aesthetics. So their knives are highly appreciated by their customers almost all over the globe for their superior quality.
Chicago Cutlery offers a wide range of knives that include everything from professional chef's knives to kitchen utility knives.
Popular Chicago Cutlery Knife Set Collection:
Belden 15-Piece Set        
Malden 16-Piece Set
Elston 16-Piece Set
Fusion 17-Piece Set         
Insignia Steel 18-Piece Set                           
Metropolitan 3-Piece Set
Zwilling JA Henckels Overview: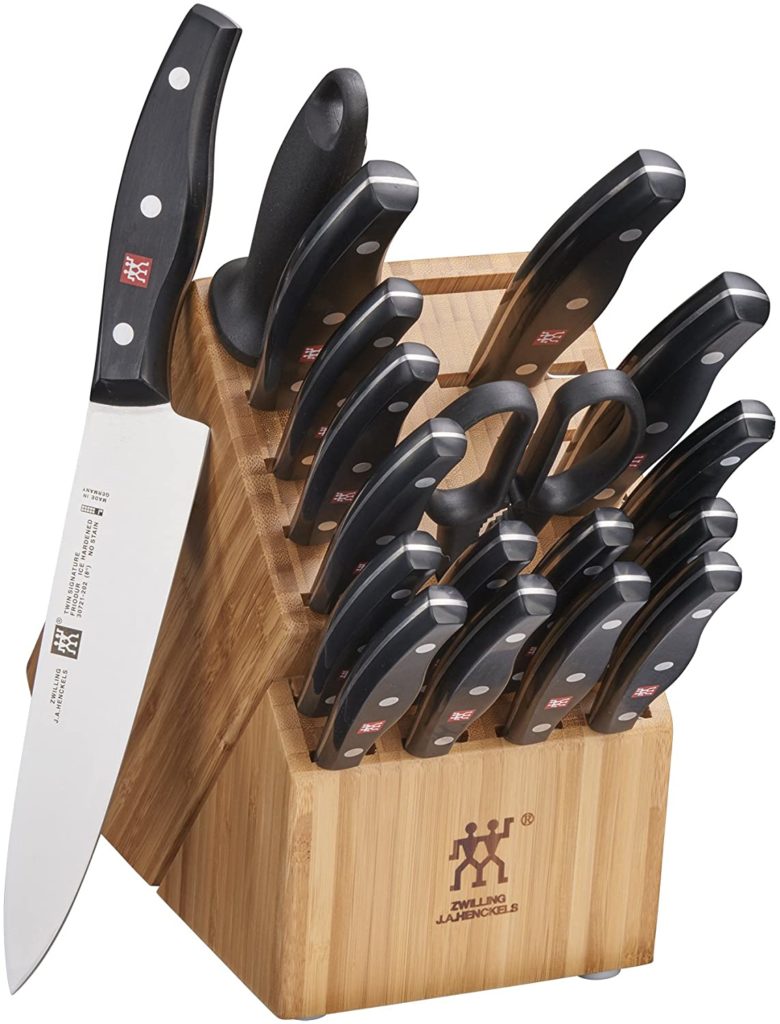 Zwilling JA Henckels is a family owned and run business with a long history, dating back to 1731 when the company was founded in the German town of Solingen. The company has been passed down through generations and each generation has added something new to the business.
Zwilling J.A. Henckels makes some of the finest and highest quality kitchen knives in the world that are used by professionals across the board in restaurants and kitchens around the globe.
Popular Zwilling JA Henckels Knife Set Collection:
JA Henckel's pro.
Zwilling Professional S.
Henckels Twin.
Henckels Four Star.
Zwilling Twin Four Star II.
Zwilling Pro Holm Oak.
Chicago Cutlery vs Henckels One-to-One Comparison:
It's time to take out your chef's knife and start chopping because it's time to talk about the differences between Chicago Cutlery vs Zwilling JA Henckels. So how do you choose between them? To help you out, we've put together this comparison of the two brands.
Blade Shape:

The easiest way to tell these two apart is by looking at their blade shapes. Henckels knives have a subtle drop-point, while Chicago Cutlery's blades are straighter and flatter. More often than not, a blade's shape is determined by its intended function, which makes it easy to differentiate between these two options. If you're using your knife for slicing or chopping soft foods—especially fruits and vegetables—you should probably go with Zwilling.
Blade's Edge:
While both brands make exceedingly sharp blades, with enough work. Chicago Cutlery blades are not quite as sharp as JA Henckels. This is not a mistake on either company's part; it's simply a side effect of their method of edge-crafting.
The edge of a knife's blade is one of its most important features. This is where all your slicing, dicing, and chopping action takes place, so you want a knife with an edge that stays sharp longer.
Blade's Hardness:
Chicago cutlery has a blade that measures 55 to 56 hardness on the Rockwell scale, while JA Henckel's hardness can range from 56 to 58. JA Henckels is definitely a better choice when it comes to blade hardness.
When you're comparing cutlery, it's worth noting that hardness is one of many factors that determine how well a knife will hold its edge and resist wear. A blade that's harder (higher on the Rockwell scale) holds its edge longer than a softer blade but may be more difficult to sharpen.
Weight of Knives:
The weight of these knives can vary by as much as 2 ounces. Chicago cutlery's classic 8-inch cook's knife weighs only 6.4 ounces, while Henckels' 8-inch chef's knife weighs 9.2 ounces.
Heavier blades are tougher and more effective at cutting through hard foods like meat, but they're also heavier and require a bit more effort to maneuver. Lighter blades, however, are easier to handle and can cut efficiently through soft foods like loaves of bread and fruits. It all depends on your personal preference as well as what you plan on using your knife for.
Handle Design:

Chicago Cutlery knives have a unique handle design that can't be found on any other brand. The handles are made from a combination of molded plastic and an impact-resistant resin. Because of their unique shape, these knives offer good comfort and control. Another advantage is that they come in a range of colors, so if you want to match your kitchen or knife block with your dinnerware, it's easy to do so.
Handles on JA Henckels knives are also great. They're shaped and designed for comfort and ergonomics, so they fit very well in the hand.
Price:
The Zwilling JA Henckels 8" Chef's Knife will cost around $70, while Chicago Cutlery's version costs about $30. Both knives feature high-carbon stainless steel blades and sturdy riveted handles. Both knives have handles that are fairly comfortable and ergonomic.
The last thing you want to do is spend more money than you need to on a knife set, and we agree. You can buy a very decent chef's knife for $50 or less. On that note, it's easy to find knives priced well above $200 as well. If you're looking for quality kitchen knives that won't break your budget, then look for those priced between $50 and $100.
Maintenance:
While both sets of knives are extremely durable, there are some differences to note. Chicago Cutlery knives generally have a non-stick coating and need maintenance every few months or so.
On the other hand, Henckels doesn't need as much maintenance—in fact, all you really need to do is clean it with dish soap once in a while and wipe down its handles.
Are Chicago Cutlery knives forged or stamped?
Chicago Cutlery knives are stamped, not forged. The difference between forged and stamped steel is that forged steel is made by heating and then shaping a single ingot of metal. Stamped steel, on the other hand, is made by cutting sheets of metal into thinner pieces and then forming them into the desired shape.
Are Zwilling and Henckels the same?
Zwilling and Henckels International are two different brands under same company, The Zwilling JA Henckels. Zwilling knives are pricier and mostly produced in Europe. Whereas, Henckels knives are usually cheap and made in China.
Final Thoughts:
While each of these brands makes excellent knives. Chicago Cutlery may offer an appealing, affordable option to consumers who are looking for durable kitchen knives. However, they're not without their faults. If you plan on relying on your knives day in and day out for years to come, it's worth investing in quality blades made by a trusted company like Zwilling JA Henckels (sometimes abbreviated J.A. Henckels) or Wusthof.
With the holidays coming up, you may be shopping for some new knives to give as gifts or maybe to treat yourself. We at kitchen deets hope this article helps you in making your final decision.