If you're looking to invest in high-quality knives, you've probably already heard of Cutco and Henckels. These two knife brands have been around for decades, and many people swear by them as the best choice.
It can be confusing trying to figure out which brand makes the best knives for your kitchen needs. I've spent enormous time researching both companies making it easier for you to learn about the pros of each brand. In this article, we are going to take a closer look at Cutco vs Henckels, two of the most well-known brands in the world.
Read on to learn about the different qualities of Cutco vs Henckels knives and decide which one will work best for your kitchen setup!
Cutco vs Henckels Knives Overview:
These two companies produces some of the highest quality kitchen cutlery in the world. Each has its own distinguished style and produce quality long lasting knives.
Cutco Overview: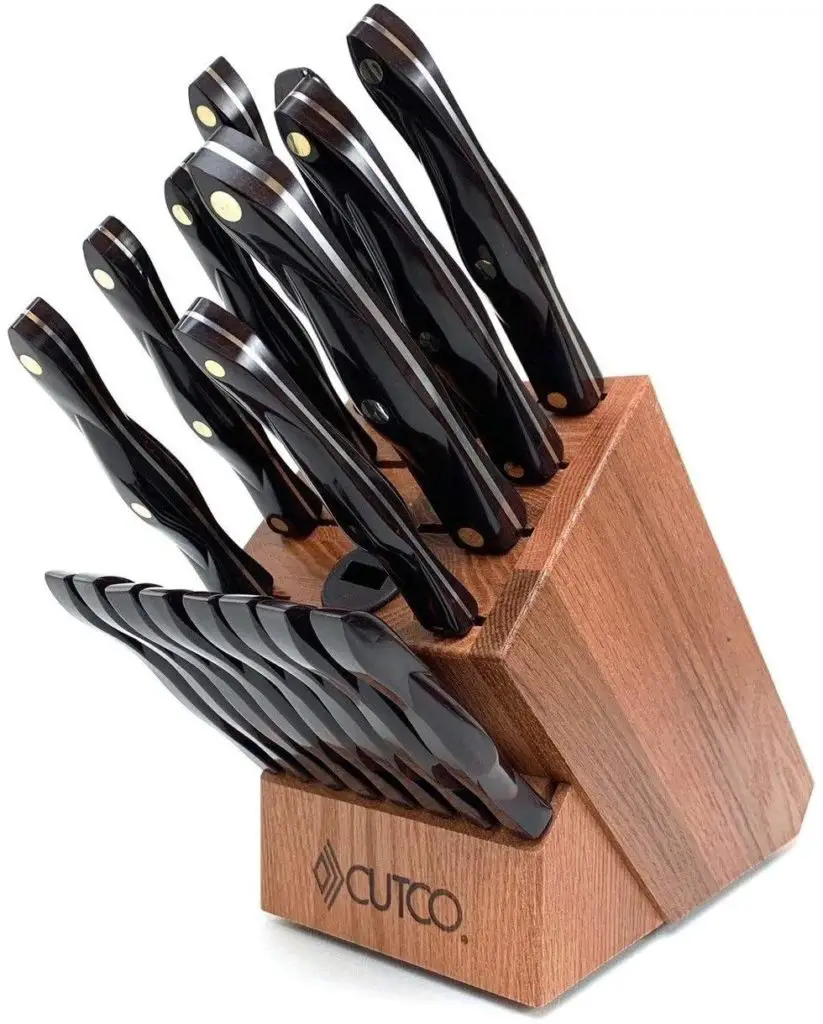 Cutco is a US company that was founded in 1949 in Olean, New York by Alcas Corporation. The company's headquarters are still located in Olean, NY and it services its customers through independent salespeople across the United States. The Cutco Company also has a Canadian office with offices in Montreal and Calgary. Cutco is very proud of its American roots and crafts all of its products with the utmost precision.
Cutco offers a wide variety of knives, including their original kitchen knife set which includes 19 pieces. The brand also offers steak knives, table knives, scissors and many other specialty knives. Most Cutco knives are produced with the brand's signature serrated blades that feature a scalloped edge.
Check out our article on Cutco vs Wusthof
Henckels Overview: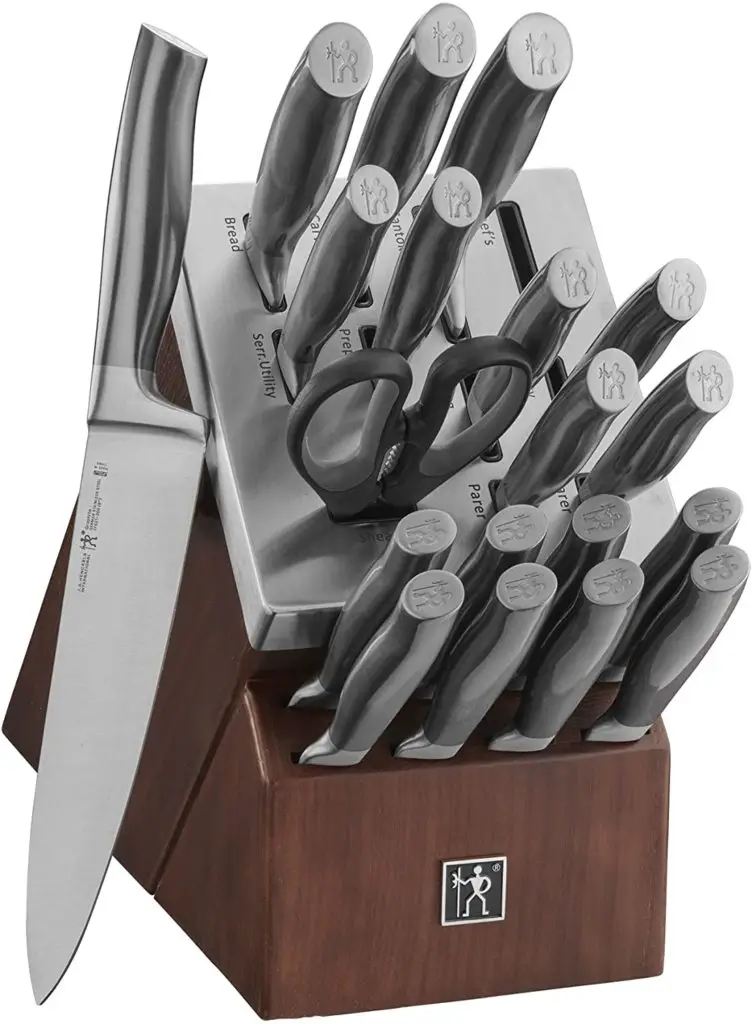 Henckels is a German cutlery company that was founded in 1731. The company still produces its knives at its factory in Solingen, Germany, but also manufactures some of its knives in other locations around the world.
Henckels produces high-quality serrated blades as well, though they are famous for their straight blade. Henckel's Four Star knives are very popular with both professional chefs and home cooks because of their high quality craftsmanship.
Comparison:
Here we'll compare their styles, specifications and what sets them apart from one another. Let's get started!
The Chef's Knife:
Both Cutco and Henckels offer an 8-inch chef's knife. What makes them different? For starters, their handle length: Cutco's handle is longer, which can sometimes give you more leverage to chop things.
Heading into appearance, both brands have a similar black plastic handle, but Cutco has been criticized for being heavier than its competitor.
Design and Style

The first thing I notice when holding cutlery set from either brand is how much attention has been paid to ergonomics. Either one of these brands will feel perfectly comfortable in your hand. They both have full-tang blades, meaning that they are as high quality as any other cutlery set on the market. In fact, many would argue that they are superior because of their ease of use and sharpness.
Functionality
When you're trying to decide between two kitchen knives, you really need to look at their functionality. Let's be honest – aesthetics are great, but they aren't going to help you cut your vegetables. Some of these brands have some gorgeous knife designs that just work well.
Blade Material: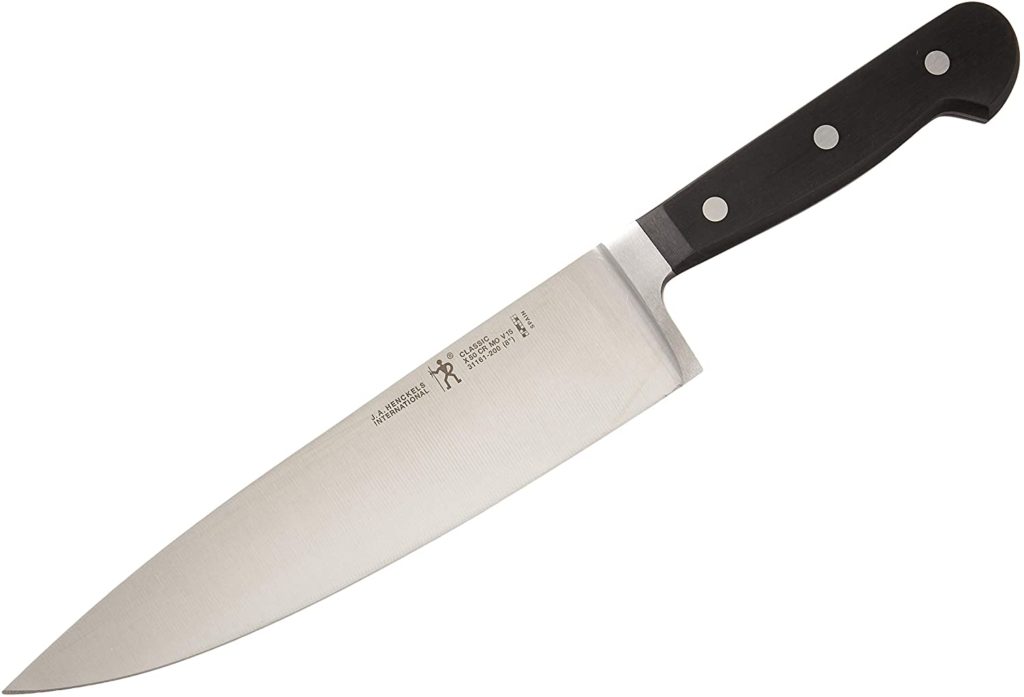 When it comes to the material used to produce the blades, Cutco uses a proprietary "super steel" called 440-A. This super steel provides exceptional sharpness and edge retention, which is a benefit to professional chefs who use these knives daily in a high-volume environment.
Henckels uses high-quality stainless steel in many of its models, but also offers several different lines that are made up partially or completely out of high carbon steel.
Blade Hardness:
If you want your blade to stay sharp for longer, choose hard steel. But if you need a blade that does not break easily, choose softer steel. Cutco uses 56-60 Rockwell hardness. Whereas, Henckels uses 57 Rockwell hardness in their blades.
A blade can be hard or soft. A hard blade is sharp and stays sharp. It is also fragile and might break easily. A soft blade has some flexibility so it can bend, but it will not stay as sharp as a hard blade. Both of these blades are about the same in terms of how long they last and how strong they are.
Warranty:
Cutco offers its customers a Lifetime Warranty on all of their products, while Henckel's provides a limited warranty on their knives. If one of these brands' knives fails to perform properly due to quality issues, they will replace the knife under this warranty.
Cutco also offers a 15 day satisfaction guarantee on all of its products, allowing customers to return any product within 15 days if they are not satisfied for any reason. Additionally, Cutco offers all of its customers free lifetime sharpening on all Cutco products. This free service allows Cutco customers to take any of their knives in to be custom sharpened by one.
Henckels, on the other hand, provides 60 days money back guarantee on products that were never used. Besides, the company also doesn't provide any free sharpening services.
Price Difference:
The average price for a Cutco knife is about $100-125. Although this may seem expensive, consider that the knives will last at least 50 years on average if maintained properly.
In comparison, Henckels is more affordable with an average price of $50-60 for one knife.
One of the first things you may notice about a knife set from these two brands is that they have completely different price tags. This may be an important factor to consider if you're on a tight budget, but keep in mind that cutlery sets are sometimes more expensive than purchasing knives individually. You can save money by buying just one or two knives at first, then expanding your collection later on.
Sharpness:
When it comes to blade sharpness Both Cutco and Henckels knives are very sharp. They both have a 15 degree angle on each side of the blade.
The sharpness of your knife can vary based on how you use it, but proper sharpening techniques will ensure that your knives are always effective at cutting. A dull blade may slip and cause an accident, so it's important to have knives sharpened frequently. Both Cutco and Henckels offer many different methods for sharpening their product line. Understanding these methods will help you choose which system is best for your needs.
Which One Is Best?
Henckels and Cutco: Two great knife brands, but which one wins out? Both produce high-quality knives, offering everything from steak knives to kitchen knives to table knives. Their qualities are similar enough that it can be difficult to pick a favorite—but our vote goes to Cutco. Why? It's more popular in America, and it has higher marks for customer satisfaction.