When it comes to cooking chili, not all pots are created equal. In fact, if you want to enjoy perfectly cooked chili every time, the right pot can make all the difference in the world!
If you're thinking about purchasing a new pot specifically for cooking this comfort food favorite, or you're in the market for an additional pot and have your eye on one that would be great for cooking chili, then this article will be very helpful to you.
This article reviews some of the most popular Chili Pots available on the market, so you'll be able to pick out the best pot for cooking chili at a glance.
Use links below for easy navigation
What is a Chili Pot?
What to Consider before buying a Chili Pot
6 Best Pots for Cooking Chili
Tramontina 12 Quart
Cuisinart Chili Pot 650-26CP 5 Quart
Calphalon 3.5 Quart
Cook n Home 10.5 Quart
Farberware 10.5 Quart
Gotham Steel 7 Quart
What is a Chili Pot?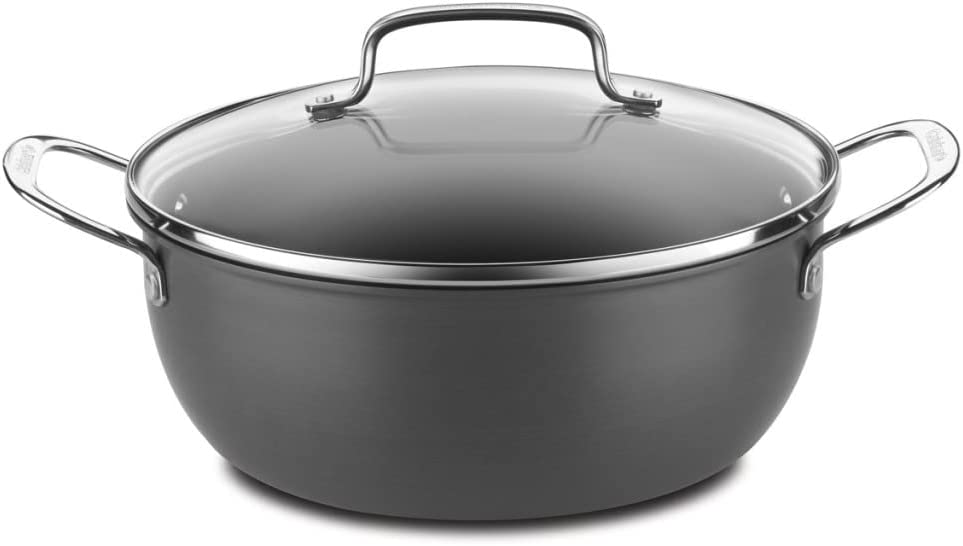 A chili pot is a type of pot that is specifically designed for cooking chili. There are many different types of chili pots available on the market, and they vary in size, shape, and material. The best chili pot for you will depend on your personal preferences and needs.
What to Consider before buying a Chili Pot
When choosing a chili pot, it is important to consider the size, shape, and material of the pot to ensure that it will be suitable for your chili-cooking needs.
Material of the Pot
The material your chili pot is made of will determine how long it lasts and how well it performs. It's important to consider whether or not your chili pot will be used on an open flame or if it will just be used on a gas stovetop or electric burner. If you plan on using your chili pot in an oven, then it needs to be able to withstand the heat of an oven.
There are many types of materials used in the making of a chili pot, and each has its upsides and downsides. Stainless steel pots are durable, but they can be heavy. Aluminum pots are lightweight but may bend under extreme heat. Glass pots are fragile but can withstand high temperatures. Ceramic pots are durable and heat well, but they can crack if dropped or hit against hard surfaces.
Check out our review on Best Non Stick Pans for Gas Stove
Size of the Pot
The size of your chili pot should depend on how much food you plan on making at once. If you're cooking for just one person at a time, then a small two-quart pot will work perfectly fine. If you're cooking for two or more people at once, then consider getting a larger five-quart pot so that there is enough room for all of the ingredients.
Related: Best Sushi Rice Cooker
Shape of the Pot
The shape of your chili pot also depends on what kind of food you want to cook in it. For example, if you want to make Chili or soup then getting a round shape would be ideal because it allows for better circulation when stirring and mixing ingredients together while they are simmering away slowly over time while still retaining enough liquid space around them so that
Cost
Finally, think about how much money you want to spend on your new chili pot! There are many different styles available at different price points—from inexpensive options like nonstick pans up to high-end stainless steel.
But, with all the options out there, how do you know which ones are the best pots for cooking chili? That's what we're here to tell you!
6 Best Pots for Cooking Chili
What kind of pot should you use to cook your chili? Some people prefer aluminum or stainless steel, but many pots are specifically designed to cook chili in. Some even come with lids and handles that can help you stir the pot without burning yourself or the lid!
Let's take a look at 5 of the Best Pots for Cooking Chili to see what's out there.
Tramontina 12 Quart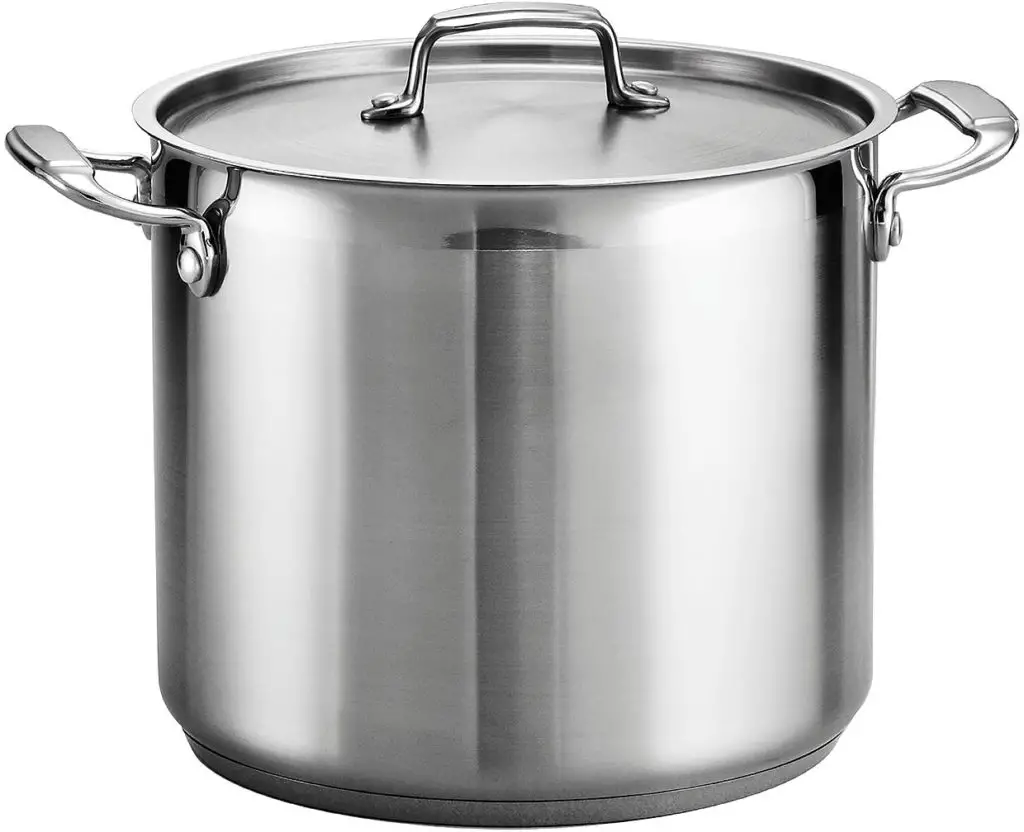 With the Tramontina 12 Quart Best Chili Pot, you can make a pot of chili that's so good, that it'll make your neighbors jealous.
This pot is made from 18/10 stainless steel tri-ply base construction, which means that it's sturdy and durable. The ceramic coating makes it easy to clean, even when you accidentally let your chili burn and stick to the bottom of the pot.
The pot is oven safe up to 500 degrees Fahrenheit, so you can take your chili from stovetop to oven without worrying about melting or burning the handles. And because it's dishwasher safe, you don't have to worry about scrubbing every little bit off by hand—just toss it in there with all your other dishes!
Check out our article on Best Stainless Steel Cookware Made in USA
Pros
Ceramic coating
18/10 stainless steel tri-ply base construction
Oven safe up to up to 500°F
Dishwasher-safe
Cons
Heavier in weight
Cuisinart Chili Pot 650-26CP 5 Quart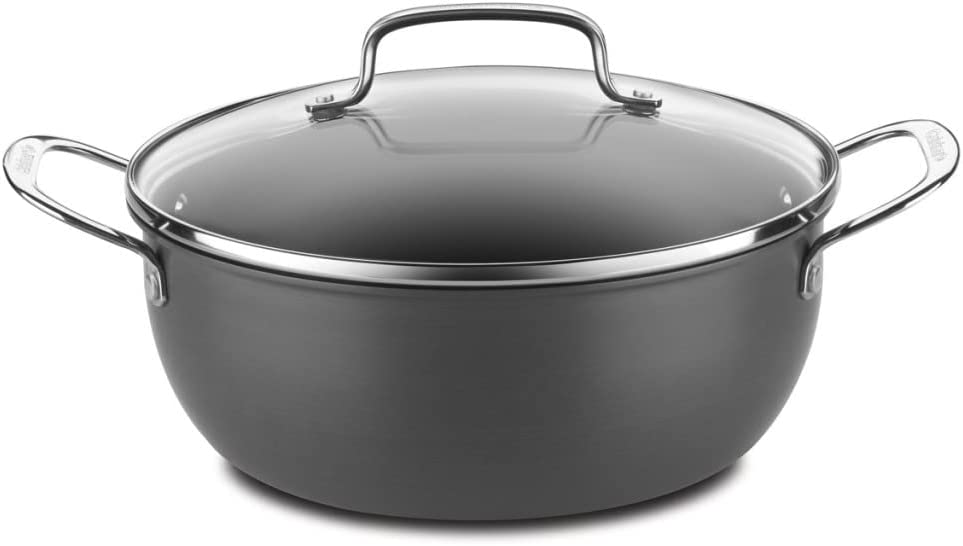 We love the Cuisinart 5 Quart because it's a well-made, sturdy pot that can hold up to heavy use. It's made of aluminum, which means it's lightweight but also durable and easy to clean. The nonstick interior is ideal for dishes like chili because you don't have to worry about food sticking to the bottom of the pot.
The Cuisinart 5 Quart has a drip-free pouring design that makes it easy to transfer your food without spilling any of it onto your countertops or stovetop burners which can cause fires if they get too hot from the heat of the burner itself as well as from any splashes caused by dripping liquid onto them directly.
In addition to that, the lid fits tightly on top of the pot and a BPA-free design means that it can be used in the freezer to store food or in the microwave to heat up leftovers.
I have been using this pot for quite some time now, and I love how useful it is. You can use this pot to make chili, soups, stews, and more.
Pros
Aluminum nonstick
Hard anodized exterior
Drip-free pouring
Tight-fitting lid
BPA-free
Cons
The abrasive scrub pad can leave marks
Calphalon 3.5 Quart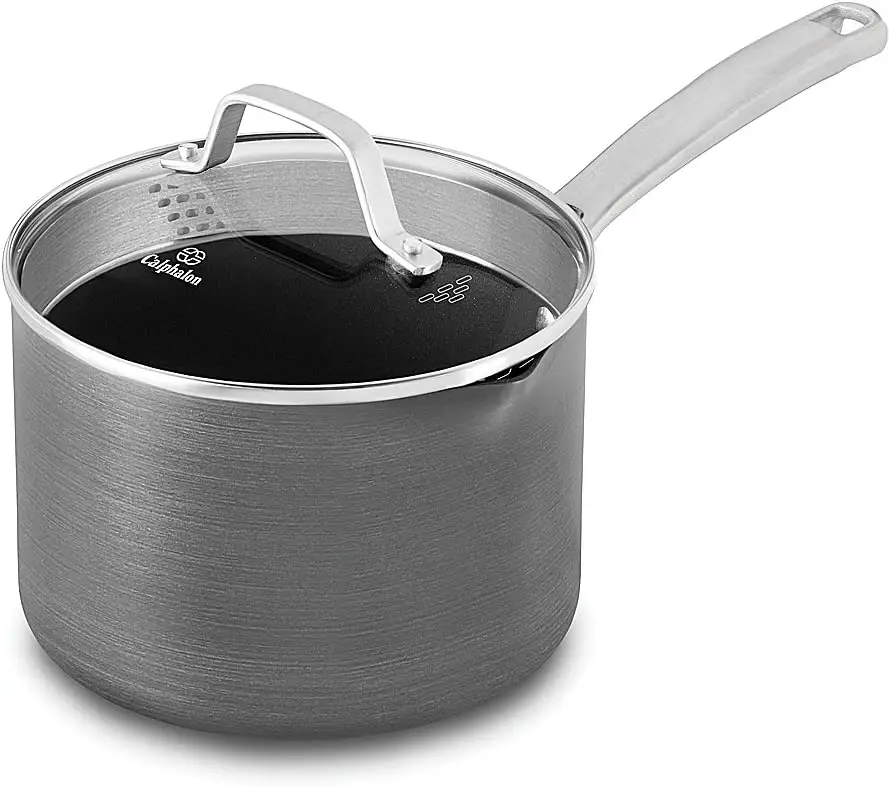 The Calphalon 3.5 Quart Best Chili Pot is the ultimate tool for making delicious chili. With its tempered glass lid, nonstick surface, and hard-anodized aluminum construction, it can withstand temperatures up to 450 degrees Fahrenheit in the oven or on the stovetop—so you can put it to work right away!
The tempered glass lid allows you to view your chili without lifting the lid off, so you'll never lose any of that delicious steam. The nonstick surface makes it easy to clean up after cooking and makes sure your chili doesn't stick to the pot when it's time to eat. The hard-anodized aluminum heats up quickly and evenly for consistent results every time.
This Calphalon 3.5 Quart shallow saucepan is ideal for making a big batch of chili, or any other one-pot meal for that matter. It's a great size for cooking for a small family, and its PFOA-free nonstick surface makes cleanup a breeze, plus its dishwasher safe too!
Check out our review on Calphalon Cast Iron Skillet
Pros
Shallow saucepan with tempered glass lid
PFOA-free nonstick
Dishwasher safe
Hard-anodized aluminum
Oven safe up to 450 degrees
Cons
Pricier pot
Cook n Home 10.5 Quart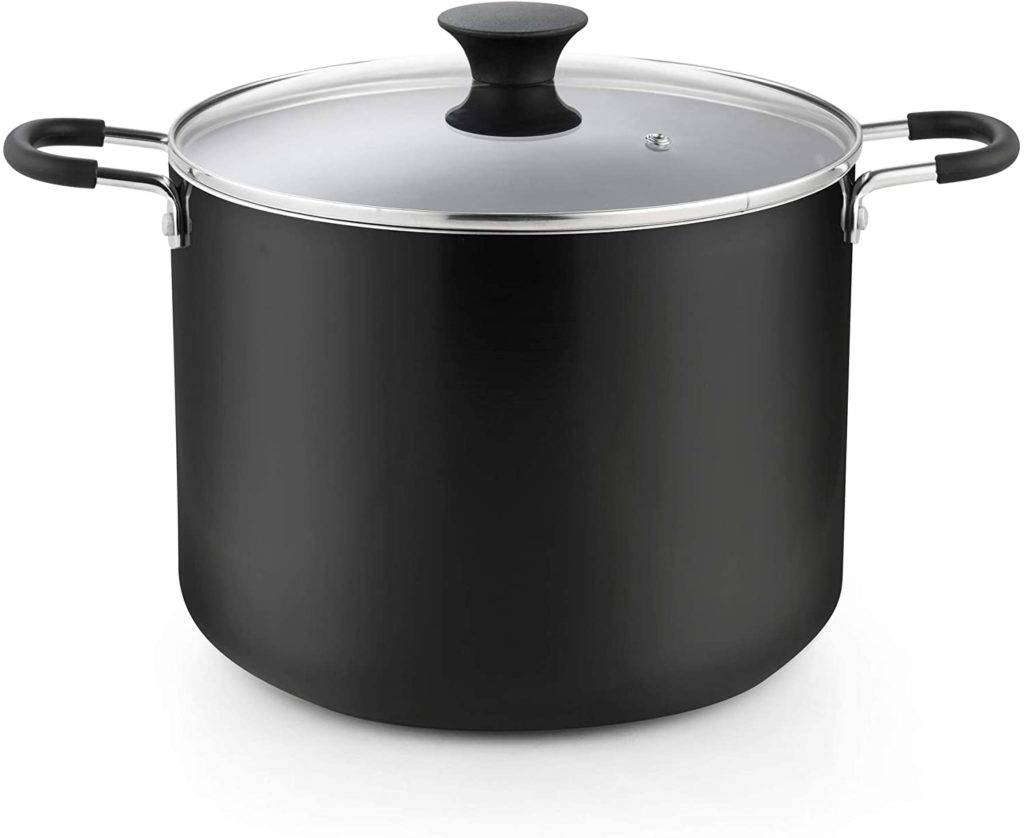 This 10.5-quart pot from Cook n Home is made of thick gauge aluminum, with a nonstick lining and silicone handles that stay cool even when you're cooking up your latest chili recipe.
The tempered glass lid lets you keep an eye on things while they cook, while the whole thing is oven safe up to 350 degrees Fahrenheit.
The Cook n Home 10.5 Quart Best Chili Pot is perfect for any kitchen, whether you're cooking for yourself or for a crowd of hungry friends and family!
This pot can go from stovetop to oven to dishwasher without any hassle. You'll love how easy it is to clean and store this pot after cooking!
Related: Gumbo Pot
Pros
Thick gauge aluminum
Silicone handles stay cool
Oven safe up to 350
Dishwasher safe
Tempered glass lid
Cons
Silicon handles can be a problem if you have to maneuver
Farberware 10.5 Quart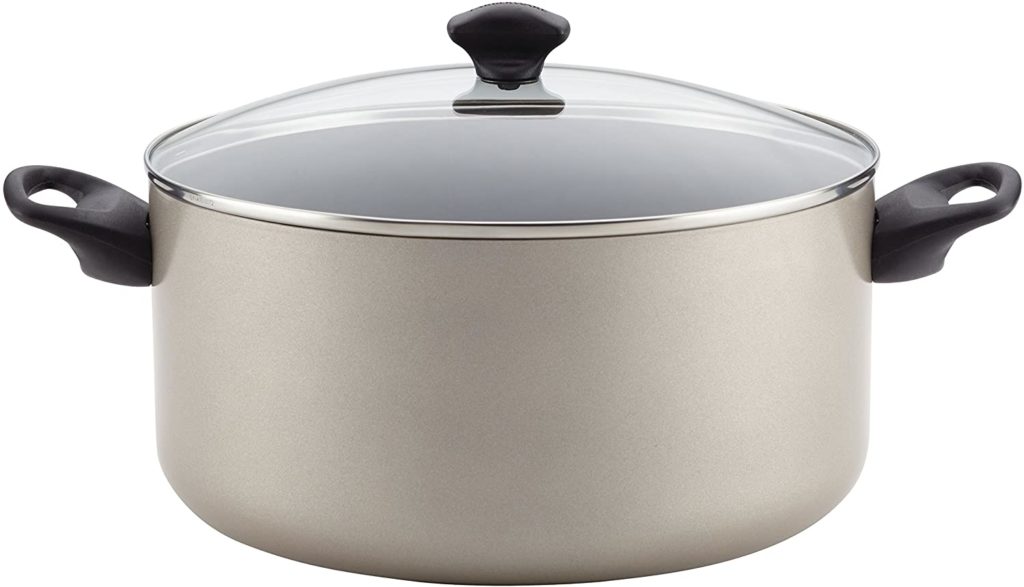 The Farberware 10.5 Quart Best Chili Pot is a great choice for your next chili or stew. It's made from aluminum, and it has a diamond nonstick coating that makes cleaning up a breeze. It's also oven safe up to 350 F (176C), so you can heat up your chili before serving it if you want the added flavor of having it cooked in the pot.
The handles are designed to be easier to grip and make maneuvering the pot around easier than ever before, which is important when you're dealing with hot liquids.
Plus, this best chili pot comes in three colors: Champagne Silver, Aqua Blue, and Black. And it is dishwasher safe!
Check out our review on Granite Stone Blue Cookware
Pros
Diamond Nonstick
Champagne Silver and three other beautiful colors
Easy to Grip Handles
Oven safe to 350 F
Dishwasher safe
Cons
Since the pot is heavy, it could be a problem washing it with hands.
Gotham Steel 7 Quart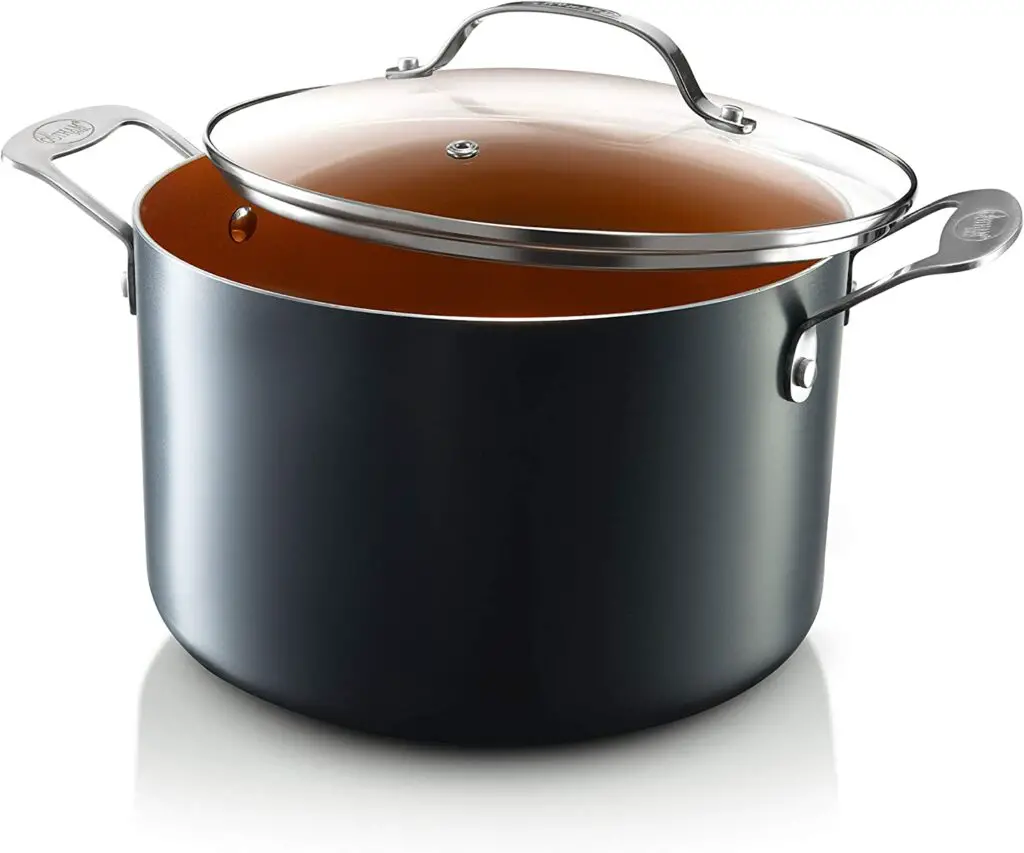 Are you looking for the perfect chili pot? Look no further.
The Gotham Steel Chili Pot is the perfect choice for anyone who wants to make delicious, healthy meals at home. This pot is made with a ceramic coating that's scratch-proof and metal utensil safe—no need to worry about breaking your pot or losing its luster! It's also lightweight, so it'll be easy to handle even if you're cooking up a large batch of chili. And since it can withstand temperatures up to 500° F, you can use it in the oven or on your stovetop without worrying about damaging it.
You can even put this pot in your dishwasher when you're done! You won't have to worry about toxic chemicals like PTHE and PFOA leaching into your food or water because all of our pots are toxin free.
Related Article: Gotham Steel Aqua Blue Pan Reviews
Pros
Oven safe up to 500° F
Ultra-durable and scratch-proof
Cooking pot has won awards for its innovative ceramic coating
It's toxin free, PTHE, PFOA and PFOS free
Cons
You can use it on all stovetops except induction
Can you cook chili in cast iron pans?
Cast iron is made from a material called "ferrous" iron, and it reacts with certain foods like chili. If you try to cook something like this in a cast iron pan, the food will discolor and stain the pan.
Should chili simmer with a lid on or off?
When you simmer chili with a lid on, it takes longer to cook but it's easier on your stove. You don't have to worry about the water boiling over or burning because the lid will keep the heat inside. With this method, all of the flavor goes into your chili which makes it delicious!