The best cookware can make a difference in the quality of your home cooking, but not all cookware is created equal. While you can certainly get by with buying cheaper cookware, there are higher-end options out there that are worth every penny if you really want to upgrade your kitchen and impress your guests when they come over for dinner. Here's how to tell which pots and pans are the most expensive and why it's worthwhile to invest in high-quality cookware if you want truly delicious meals every time you turn on the stove or oven at home.
Most Expensive Pots and Pans
In recent years, cookware has become more than just pots and pans – it's a fashion statement. If you're willing to spend hundreds of dollars on an eye-catching piece, prepare yourself for what's to come. Take a look at our list of Most Expensive Cookware and start saving up your money. There's something here for every kitchen and kitchen owner.
Mafter Bourgeat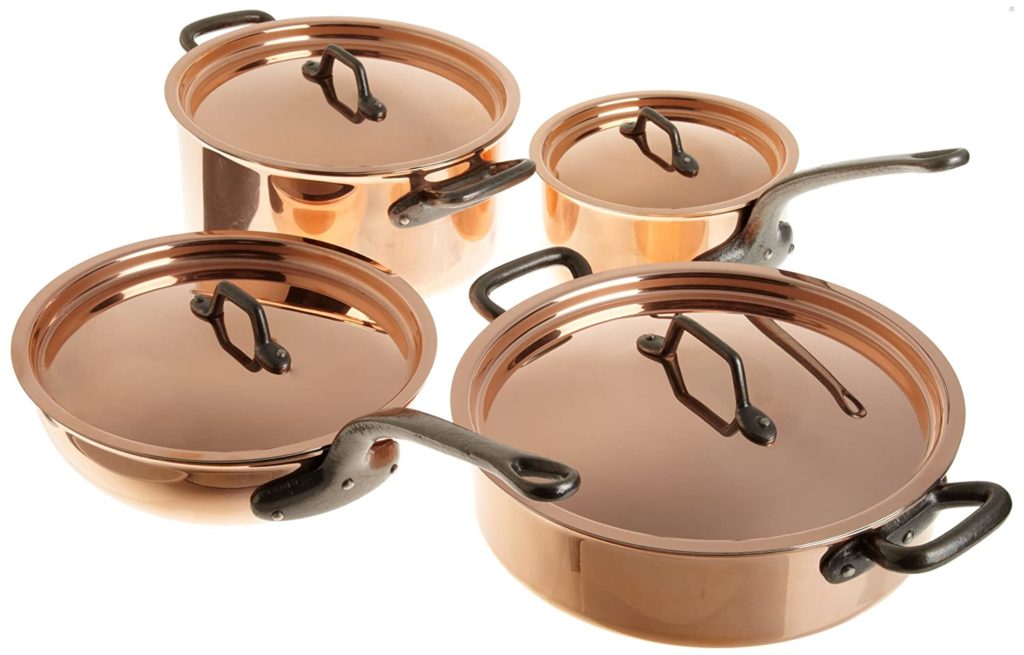 Mafter Bourgeat 8 piece set is the most expensive cookware in the world. Bourgeat has been manufacturing professional cookware for over two centuries. It is one of the most premium cookware brands in the world due to its long history as a brand of excellence.
Put some style and showmanship in your kitchen with this Mafter Bourgeat Shine 8 piece copper cookware set. The Mafter Bourgeat 8-piece Copper cookware set is perfect for all of your cooking needs. With a 2.5 mm pure copper exterior for long conductivity, and an 18/10 stainless steel interior that is durable and easy to clean, this set will be in your family for generations.
Advantages
This stylish cookware has heat-resistant cast-iron handles that stay cool on the stovetop.
Stainless steel lining on the inside makes sure it's low maintenance and easy to clean.
You will surely be delighted if you want to invest in this high-quality cookware from France.
The lids are made of copper and the set is suitable for all stovetops, except induction.
Best Cookware money can buy
Limitations
Costs more than $2000
All Clad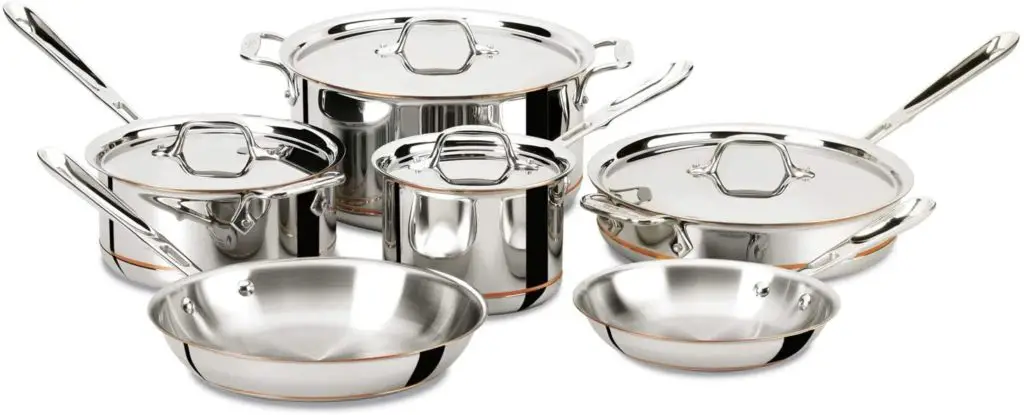 All-Clad's Stainless steel copper core cookware offers chefs and home cooks professional performance and durability. Copper Core features five-ply construction with a copper center, which allows for exceptional heat distribution all the way up the sides of the pan
Of all the expensive cookware currently available, this beautiful All-Clad copper core cookware set is the most lavish cookware on the market. Its refined design and thick copper core ensure a superior cooking experience.
This kitchen essential can be used on all cooktops, including induction, and is oven safe up to 600 degrees Fahrenheit.
Check out our article on Best Stainless Steel Cookware Made in USA
Advantages
This cookware set is the answer to professional-grade performance and enduring durability.
Each of the five bonded layers works in harmony to reach the perfect cooking temperature quickly and evenly.
It is durable enough for everyday use.
Compatible with all cooktops, including induction.
Limitations
All-clad claims it to be dishwasher safe. However, it is better to wash them by hand.
Le Creuset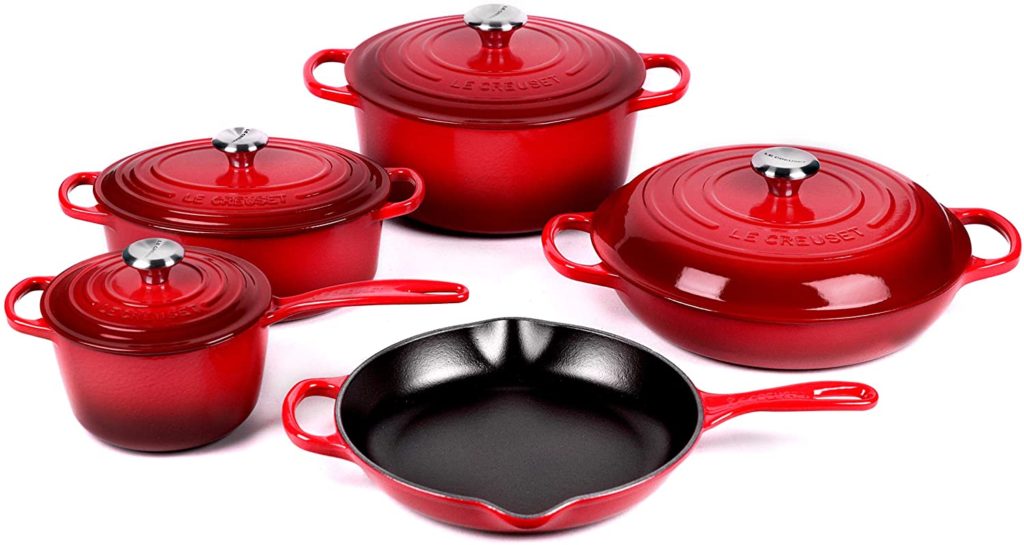 Le Creuset Signature cast-iron cookware set is the perfect complement to any kitchen.
For the passionate cook, this 9-piece enameled cast iron cookware set by Le Creuset is your kitchen's new best friend. All pieces in this collection feature unmatched heat retention, even heat distribution, and the exceptional durability that only the renowned Le Creuset brand can provide. This collection is offered in your choice of fine colors to suit your specific kitchen needs.
In addition to being beautiful, The Le Creuset signature cast iron cookware is one of the most costly cookware with cast iron and porcelain enamel that resists chipping or cracking.
Related: French Dutch Oven
Advantages
This colorful and beautiful set will last a lifetime.
It comes with a 1-year warranty and cast iron materials that help resist chipping or cracking.
Le Creuset is a top-rated cookware brand that packs a punch of exceptional performance!
It will be a beautiful addition to your kitchen and worth every penny
Limitations
It costs around $1000
Demeyere

Demeyere 5-ply Stainless Steel 14 piece Set is the cookware for serious chefs and cooking enthusiasts. This set offers unsurpassed control and responsiveness which experienced chef's demand. Made from the highest quality 18/10 stainless steel, this set features 5 layers of construction with a pure aluminum core and magnetic exterior.
Superb heat conduction, superior heat stability, and exceptional durability that come with a limited lifetime warranty make Demeyere Cookware the cookware of choice for countless top chefs in restaurant kitchens across the U.S and Europe.
If you are looking for the perfect cookware set, then look no further because this is it.
Demeyere is a leading cookware manufacturer based in Belgium. Since 1908 it has been producing some of the most robust and versatile cookware products in the world.
Advantages
The cookware is oven and broiler safe up to 500 F.
This set is not just great to cook in, it is designed to be the crown jewel of your kitchen.
Demeyere cookware is constructed to work seamlessly with all heating sources including induction stoves.
The elegant design combined with fantastic functionality makes this the perfect choice for any kitchen!
Limitations
Hands down, the most expensive stainless steel cookware you will ever buy.
Final Thoughts
These products are among the most expensive pots and pans you can buy, but there are also some of the worst-performing pots and pans out there. If you want to buy an expensive cookware set, make sure you understand the reasons behind the price first, then compare it to other options to ensure that you're getting your money's worth in terms of performance and durability. With high-end cookware, versatility is key. In order to justify its high price tag, you want to make sure it's something you can use every day.