Copper cookware can be an excellent addition to your kitchen, as it heats up faster than other materials, conducts heat more evenly, and lasts longer than other metals. There are many brands of copper cookware on the market, so it can be difficult to choose which brand to purchase from. This article discusses some of the Best brands of copper cookware you can't go wrong with.
Concord Premium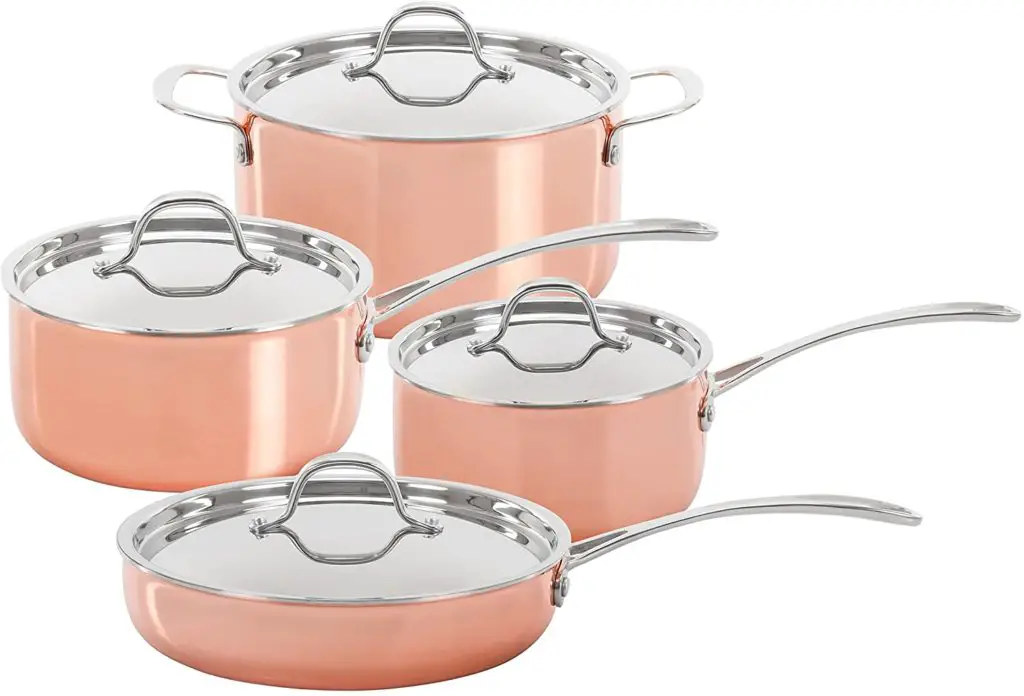 The Concord Premium Copper cookware set has everything you need to cook and serve with style. This 8 piece premium cookware set is made up of a natural copper outer layer, which provides increased thermal conductivity and results in even heating at an easy-to-manage price point. The stainless steel-clad base encapsulates the pure copper core for even cooking and heat conduction, while the ergonomic handles remain cool during use.
Staying on a budget doesn't mean you have to compromise on quality, and Concord Premium Copper cookware set is an example of just that. This set is ideal for anyone who wants to try out high-quality copper cookware set without having to spend too much on the initial investment.
Reasons you should consider Concord
These pans help deliver the same performance and benefits of all copper cookware at an economical price!
The copper outer layer spreads heat uniformly, and copper retains heat well.
The bright finish means the cookware will never look out of style.
The reason you should not consider Concord
Heavier in weight.
Mauviel M'heritage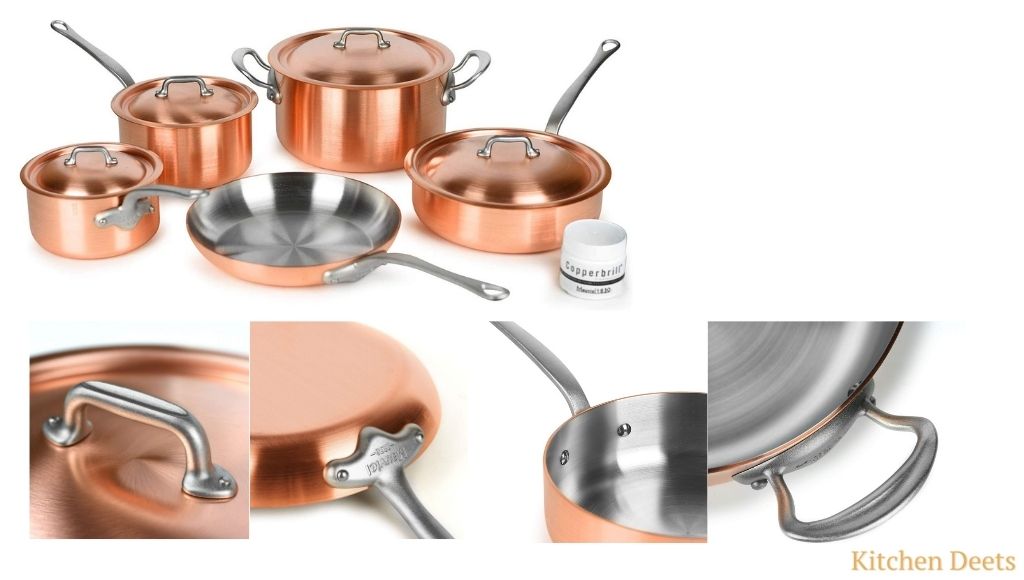 Discover the bonding and beautiful design of the M'heritage Copper cookware set. It is an ideal set for any unique kitchen.
This particular set comes in a classic Mauviel M'heritage copper color and includes two saucepans, two frying pans, a sauté pan, a stewpan, and a copper bill cleaner. Along with that, the set is dishwasher-safe and compatible to work with all stovetops.
With the exquisite look of Mauviel M'heritage copper cookware. It is no wonder that this set is exactly what you need for your kitchen. Perfect for both indoor and outdoor cooking, its high-quality copper will help you create dishes to impress your friends and family.
Reasons you should consider Mauviel
One of the most beautiful-looking copper cookware that not only looks beautiful but also works efficiently.
Its classic design and superb quality will turn your meals from ordinary to extraordinary.
Not only is it designed to help you make delicious meals, but it's also extremely durable.
The reason you should not consider Mauviel
One of the most expensive copper cookware set
Lagostina Martellata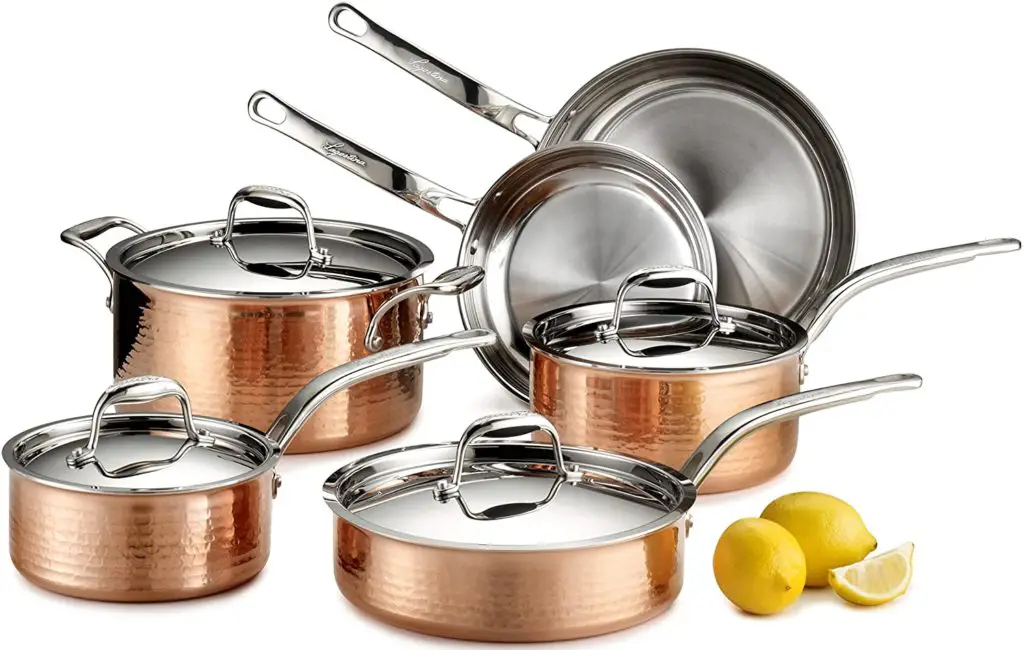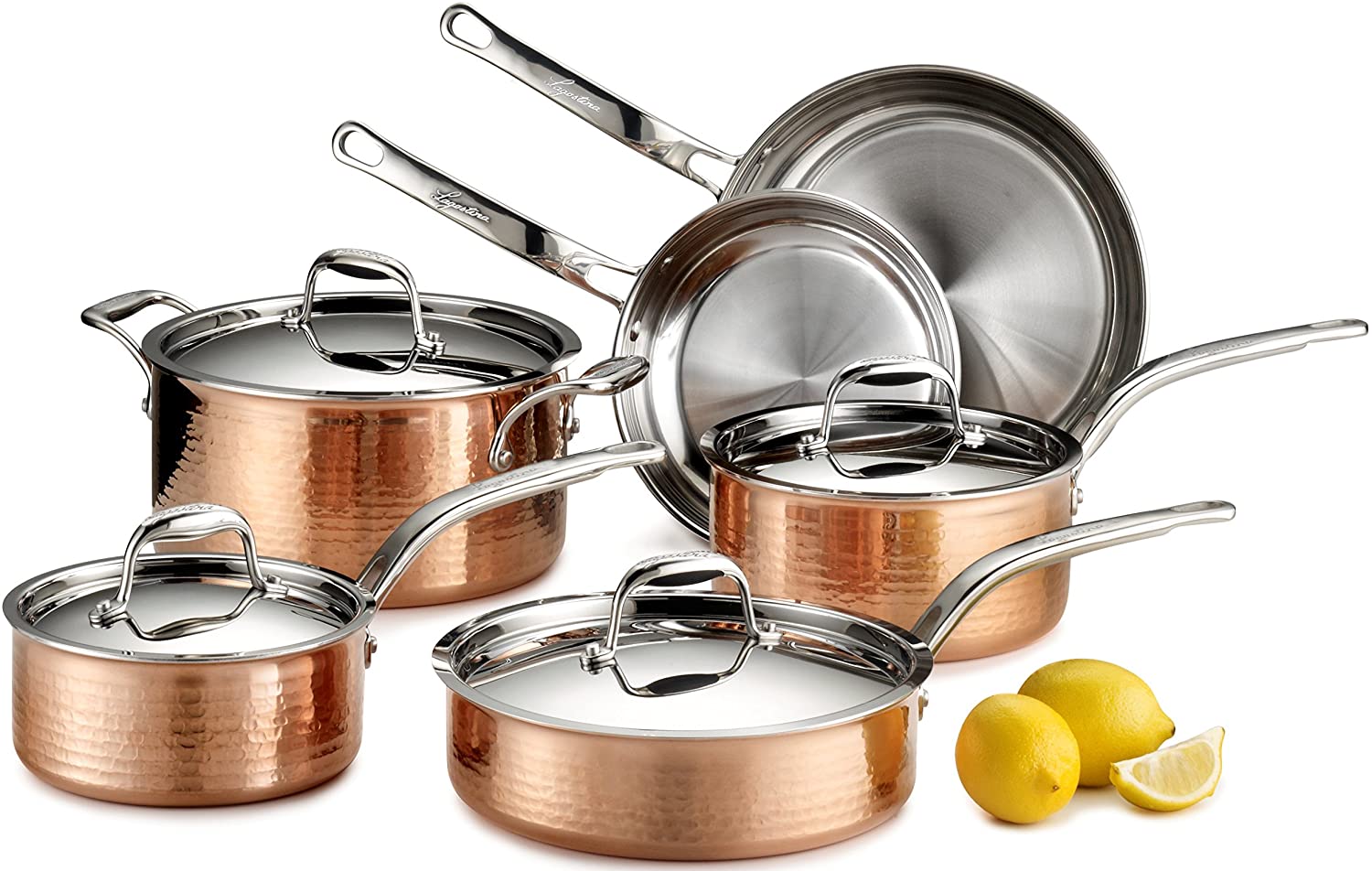 Have some flavor in the kitchen with this Lagostina Martellata copper cookware set that has a clever hammered copper exterior finish. The 10 piece set includes two skillets, one deep sauté pan, two saucepans, and a 6-quart stockpot. The cast stainless steel handles are riveted to ensure long-lasting strength and stability. This cookware set promotes even heat distribution while searing time is decreased by up to 35%. Thanks to the 18/10 tri-ply construction that has an aluminum core clad between two layers of stainless steel.
The Italian made, Lagostina Martellata 10 piece cookware set is built especially for professionals. It is sure to bring wonders to your kitchen.
Reasons you should consider Lagostina Martellata
The hammered copper exterior finish looks astonishing while the highest grade stainless steel surface is great for searing.
This sets includes a variety of pots, pans, and skillets to meet your cooking needs.
The smooth and shiny stainless steel surface is perfect for searing your food. And when it comes to safety and durability, there's no doubt that this 18/10 tri-ply set is built to last.
The reason you should not consider Lagostina Martellata
Not dishwasher safe.
Made In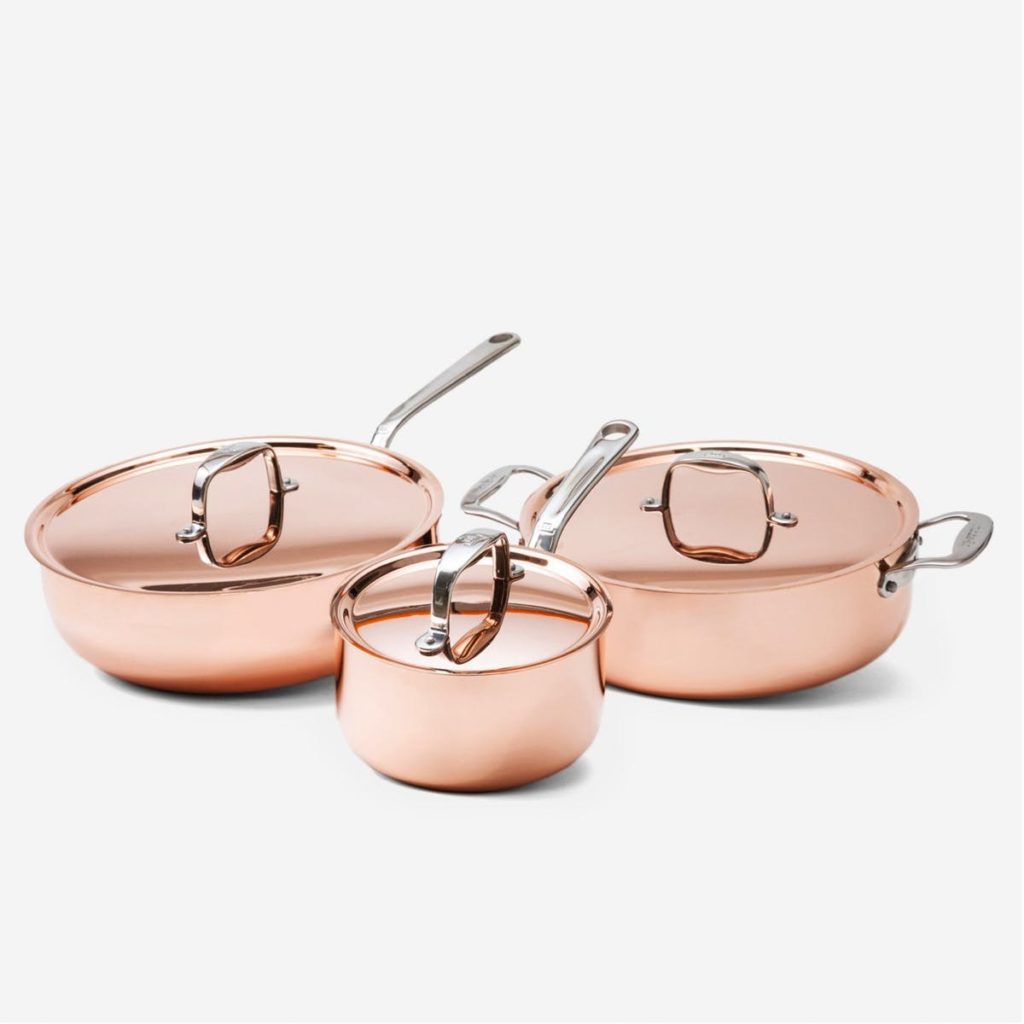 Made from 10% stainless steel and 90% copper composition. This Made In Copper cookware set is great for everyday cooking and even better for dinner parties. Up to five times more conductive than steel, the Made In Copper cookware set conducts heat evenly across the base and the sides of each pan.
The high-quality materials used in their construction also make them extra durable and long-lasting. However, what you will fall in love with the most is how easy it is to clean up after each use! Good Housekeeping Institute gave Made In Copper cookware set a 5-star rating because it is free of PFOA and PFTE and doesn't require special care as other non-stick pans do.
From breakfast to dinner, you'll indulge in delicious food when using this durable cookware set from Made In.
Check out our article on Best Cookware Made In USA
Reasons you should consider Made In
Each piece is made from 90% copper and 10% stainless steel, with an interior stainless steel lining that makes cleaning up a breeze.
This set is great for skillet frying and sautéing, boiling, braising and simmering, broiling and baking, steaming and poaching.
The Cookware Set features a new combination of design and technology to produce the best cookware on the market.
The reason you should not consider Made In
The cookware set is incompatible with induction.
Hestan Copper bond

Bring unique sophistication to your kitchen with this impressive Hestan Copper Cookware Set. It's made with a signature 100% copper core and 5 layers of bonded construction, so heat is distributed evenly and quick-cooking results are achieved. Handcrafted in Italy and crafted with gorgeous style, it's a beautiful addition to any kitchen.
The bonded construction of 100% copper with a stainless steel base makes each piece durable, conductive, easy to care for, and heats up quickly. Perfect for new chefs who are learning to cook or for the seasoned chef looking for a high-quality tool to add to their collection. The modern and stylish design gives you a beautiful way to stand out from the crowd.
Reasons you should consider Hestan Copperbond
Hand-made in Italy for superior cooking versatility. This cookware set is unique and beautiful, perfect for new chefs who appreciate solid construction and high performance.
These pans are induction-ready and can be used on gas, electric, and glass-ceramic cooktops.
This attractive cookware set will allow you to steam, roast, simmer, sauté and fry like never before
The reason you should not consider Hestan Copperbond
Expensive copper cookware set.
Thoughts on Best Copper Cookware Brands
The best copper cookware can be hard to find – but with these brands. You'll have no trouble finding the right set to suit your needs and lifestyle. The price of copper cookware can vary widely, so it's important to keep in mind your budget as you shop around. If you buy from one of these companies, you won't go wrong!