Carbon steel pans are some of the best pans on the market, but there are so many different options out there, it can be difficult to know which ones to choose! In this review, we will be looking at four popular carbon steel pans and seeing how they compare with each other and other products in their price range.
We'll also look at what factors you should consider when purchasing these pans, as well as some of the common pros and cons associated with them to help you make an informed decision about which one(s) would be best for your needs.
What is Carbon Steel Pan?
A carbon steel pan is a kitchen pan made from carbon steel. Carbon steel pans are significantly stronger than other types of non-stick pans and you can use them on high heat. It's a great kitchen tool if you like to cook. They're used in professional kitchens and have great heat retention. In addition to that, they come in many different sizes and are very popular with professional chefs.
Let's take a look at some of the Best Carbon Steel Pans
De Buyer Mineral B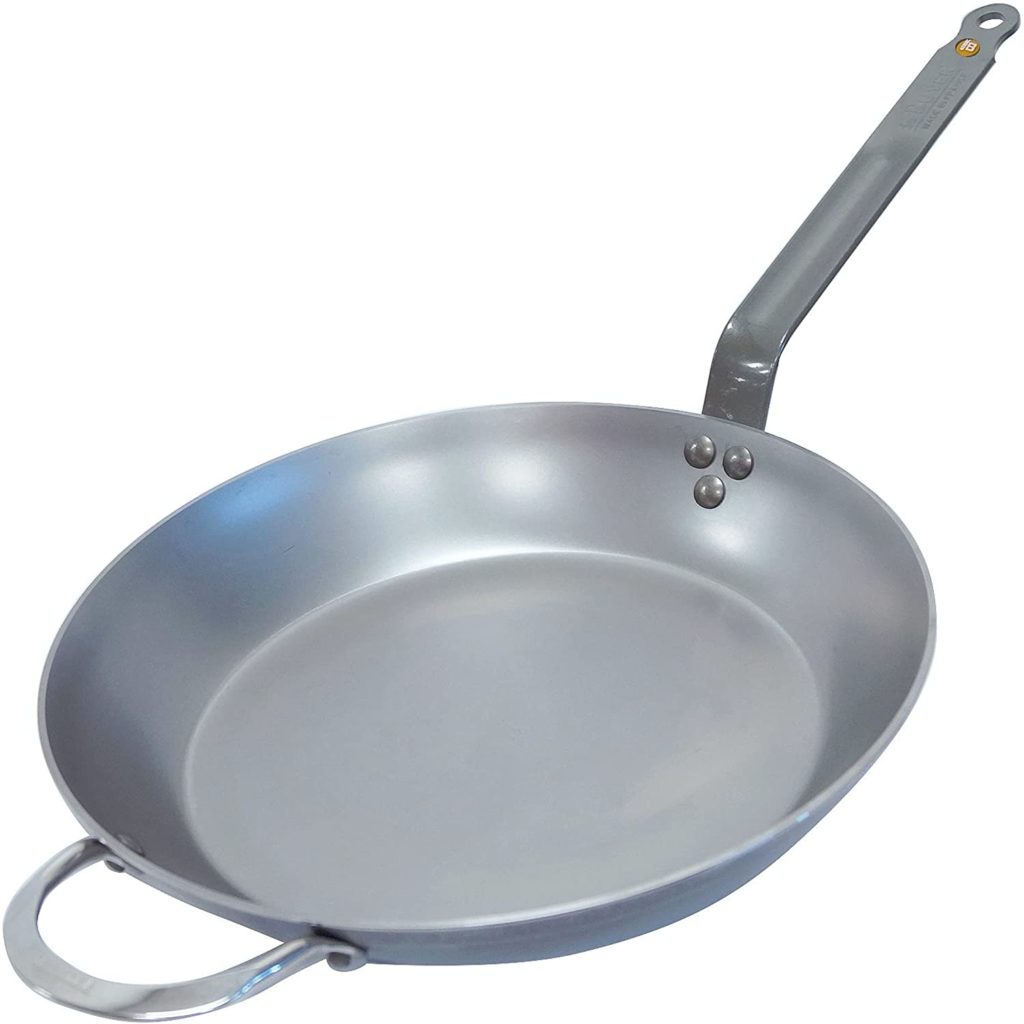 Cook like a pro with this carefully crafted frying pan by de Buyer, the famous French cookware brand known worldwide for its premium products. The Mineral B is built from sturdy carbon steel and features a nonstick surface that makes it ideal for quickly searing chicken, fish, and more.
Once seasoned, this pan is naturally nonstick, meaning you can use less oil or butter and still achieve a perfect golden crisp on vegetables.
This 12-inch de Buyer Mineral B pan is the perfect choice for frying eggs, sautéing vegetables, and searing meat. It also works well when making sauces or flambeing foods.
Related: Best 14 Inch Frying Pan
Advantages
It offers excellent heat distribution and a stable base that brings out the best flavors from your food.
Its simple design makes it easy to lift and clean by hand.
Made in France and protected with beeswax, all you need to do is wipe the pan dry after each use to maintain it.
The riveted steel handle features a hole for hanging.
Limitations
Doesn't work well on an electric stovetop
Matfer Bourgeat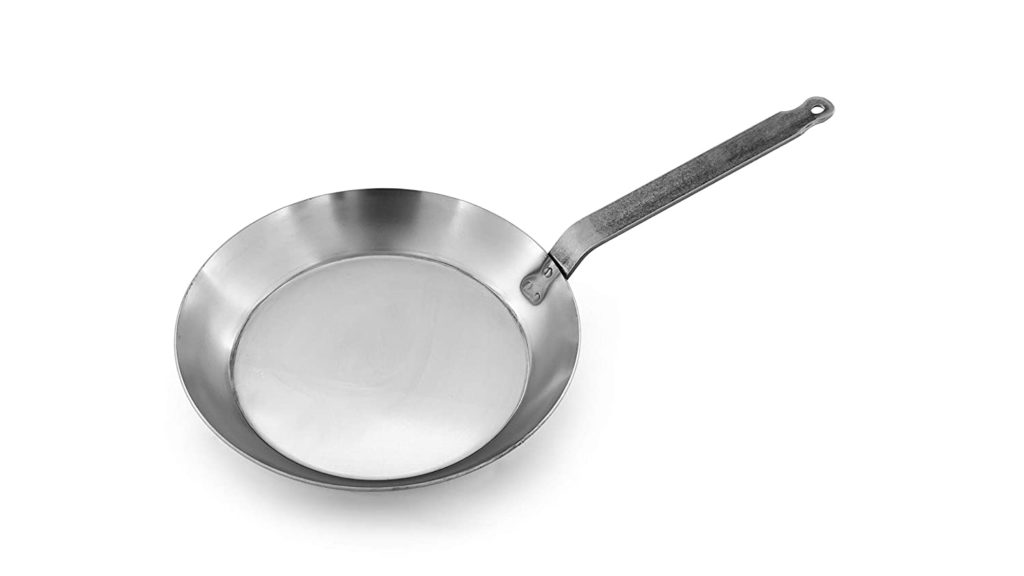 The Matfer Bourgeat frying pan has been a household essential for years, and for good reason. Matfer Bourgeat pans have top-notch heat distribution and will not warp or deform over time, thanks to the carbon steel design. To ensure that the handle remains strong long after initial use, Matfer Bourgeat has welded the handle securely in place.
Once seasoned, this pan will have a natural nonstick finish and the welded handle makes it easy to maneuver around the kitchen
If you are looking for durable cookware, The 11-inch carbon steel frying pan is your go-to choice.
Advantages
The multi-layering of black carbon steel provides extraordinary thermal conductivity and heat distribution.
This pan is also easy to clean and is PTFE-free.
More importantly, this pan will last longer than any pan you have ever owned!
It's made out of quality material and works magic on eggs. I bought mine for $45, which is a great price.
Limitations
Slightly heavy
Made In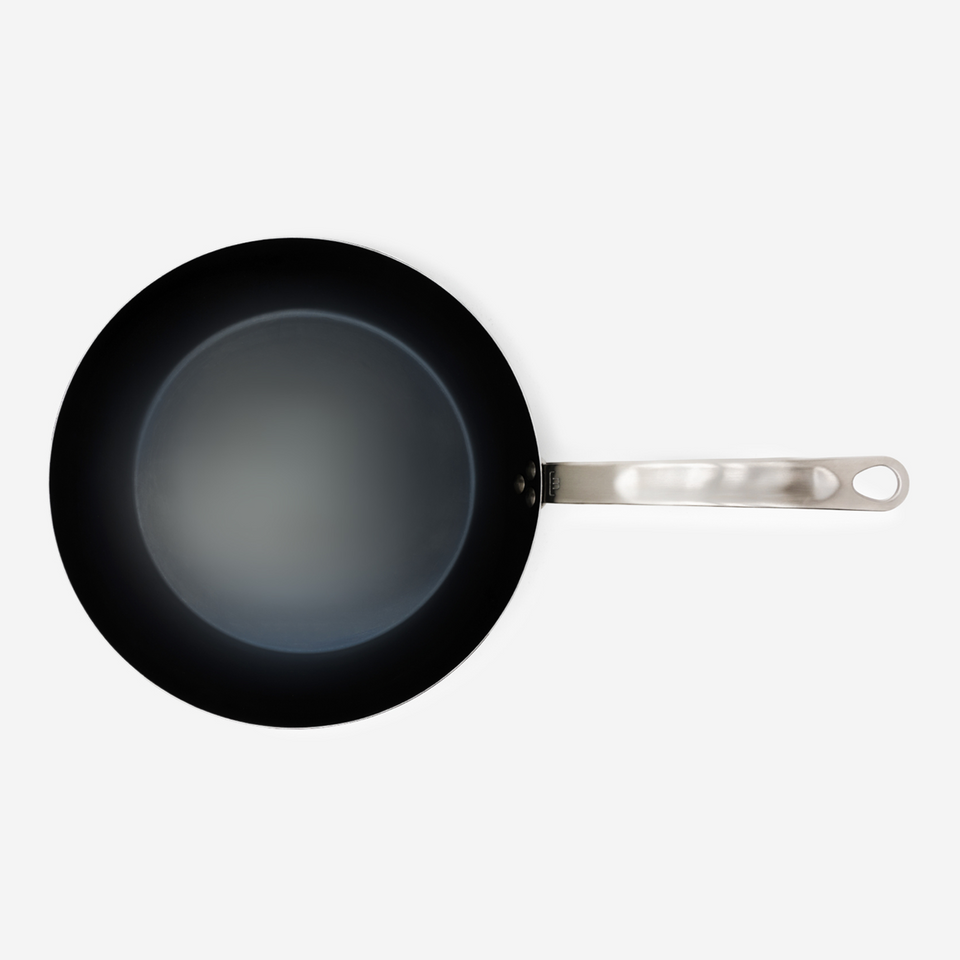 If you're looking for a highly versatile frying pan, give the Made In Carbon Steel Frying Pan a try. Great for searing and roasting meats, the Made In frying pan can sauté vegetables, scramble eggs and prepare sauces at a moment's notice. This frying pan has cast iron's heat retention with stainless steel's cooking speed while also featuring heat-resistant handles that stay cool to the touch while in use.
This blue carbon steel pan is one of the most durable frying pans in our collection. And has everything home chefs need to prepare a wide range of dishes in their kitchens.
Check out our article on Best Cookware Made In The USA
Advantages
Sauté, sear, and fry your way through your recipe list with Made In' carbon steel frying pan.
Made In uses only premium grade carbon steel sourced from France, which offers exceptional heat retention and consistent temperatures.
This pan has a real weight to it, and when you hold it, you'll know the difference.
The pan has unique curved sidewalls that allow pots to cook more evenly.
Limitations
Slightly expensive.
Lodge Skillet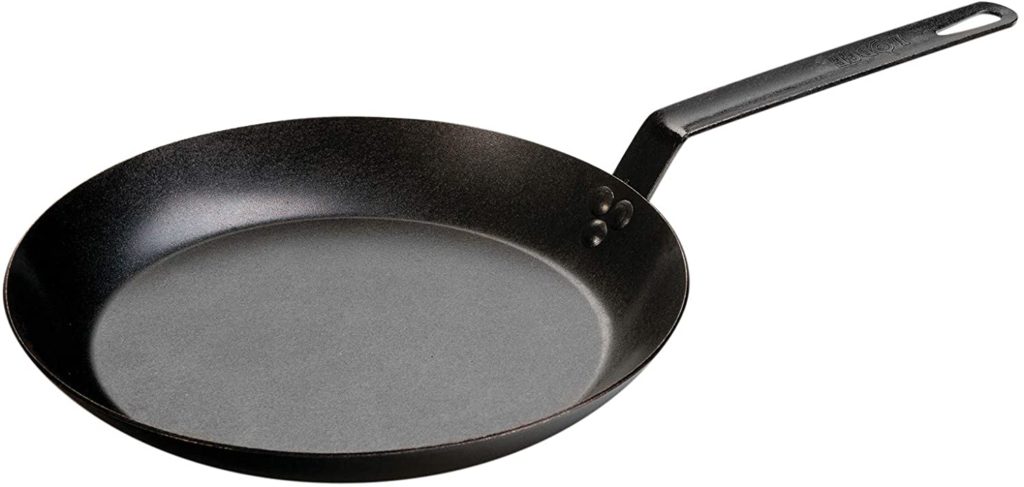 Lodge carbon steel pan is perfect for searing meat, sautéing vegetables, simmering sauces, and frying eggs. Its surface heats quickly and retains the heat well, so you can do high-temperature stir-fries, south-of-the-border fajitas, and other Asian specialties.
The smooth feel and patina of carbon steel will give you restaurant results every time. Approved for cooking over open flames, Lodge Carbon Steel skillet will last you a lifetime if cared for properly.
It's also safe to use in your oven, on the grill, or over a campfire.
Advantages
The Pre-Seasoned Carbon Steel Skillet is the kitchen staple for searing, sautéing, simmering, braising, frying, and more.
You can also use this pan for low-and-slow additions to your gumbo or stew.
Excellent heat retention, durability, and versatility make this skillet one of our top choices.
Lodge's package includes a seasoning guide, caring instructions with new ways to season your carbon steel cookware.
Limitations
The bottom is not flat
Frequently Asked Questions
Below we will discuss some of the most commonly asked questions about carbon steel pans and share with you tips on how to choose the best one.
What are the benefits of using a good quality pan?
Good quality pans have a couple of key benefits that can make your life a little easier. The biggest benefit is better heat distribution. This means you don't have to worry about burning or undercooking your food since everything will cook evenly and thoroughly. You also don't need to flip your food as often while it cooks, which makes things even easier. There are several other benefits too, but those are some of the main ones I see over and over again.
What are tips for choosing the best carbon steel pan?
Carbon steel pans are quickly becoming a favorite among home chefs, thanks to their impressive heat conductivity and durability. Carbon steel is an all-natural cooking tool, meaning that it will not only last for years but will also add rustic appeal to your kitchen. When it comes to choosing carbon steel pans, you have plenty of options – choose wisely!
How do I season a carbon steel pan?
Seasoning involves coating the pan with a thin layer of oil and then heating it. This process creates a patina that prevents rust and enhances the pan's non-stick properties. Repeating the seasoning process as needed maintains the pan's performance.
Do carbon steel pans require special care compared to other pans?
Carbon steel pans require similar care to cast iron pans. Seasoning and proper drying after use are crucial to prevent rust and maintain their non-stick surface.
Are carbon steel pans suitable for beginners in cooking?
Carbon steel pans can be a great choice for beginners due to their versatility and durability. However, they may require a learning curve when it comes to seasoning and maintenance.