All-Clad has been selling cookware in the US since 1971, and their classic stainless steel line of products is well known throughout the country. Recently, however, All-Clad began releasing new lines that are enhanced with copper core technology in an effort to improve heat distribution and save energy costs by using less cooking time and energy to prepare your favorite meals.
We got our hands on an All-Clad Copper Core to see what it was all about and if it's worth the price tag!
All Clad Copper Core Cookware Features, Benefits and Drawbacks
All-Clad is a trusted, American brand known for its high-quality cookware. The brand's Copper Core line of skillets and pots are designed to maintain even heat distribution. We love their high-quality design, but do these pans live up to All Clad's name?
Let's find out in our complete Review of All-Clad Copper Core Cookware!
Copper Core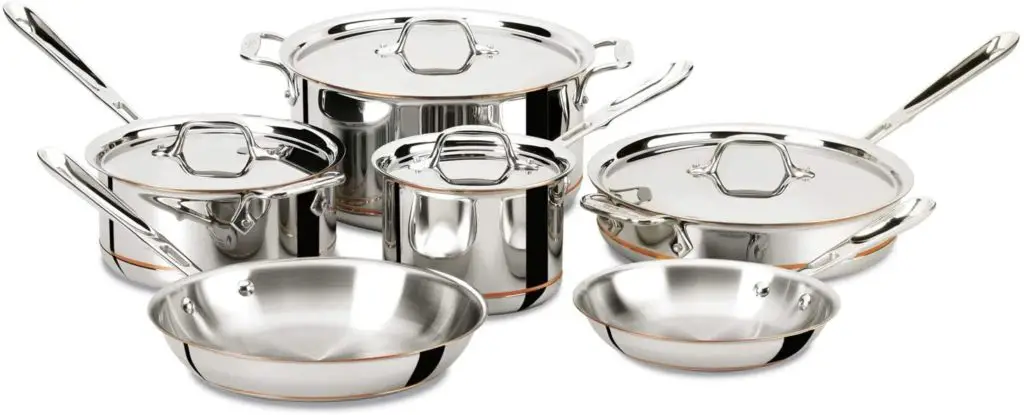 All-Clad Copper Core cookware features a stainless steel exterior and a copper core, which results in strength and weightlessness in a single design. It can withstand extremely high temperatures, allowing you to brown, sear, and sauté without difficulty.
5- Ply Construction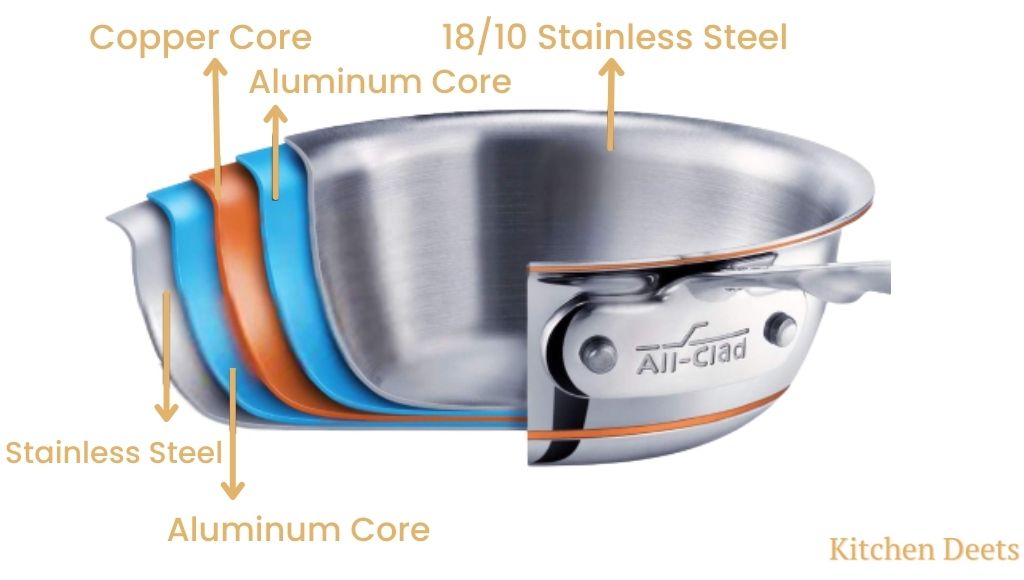 5-ply bonded construction is the technology used in All-Clad Copper Core. The base material is made of a bonded-core construction that consists of five layers of metals. 18/10 stainless steel on the inside and outside, with one-millimeter thick aluminum and copper core in the middle. This helps provide even heating throughout the cookware.
The stainless steel, aluminum and copper layers are bonded together to produce a non-porous surface that prevents sticking and promotes healthy cooking through the metal's ability to conduct heat.
Starburst Finish Cooking Surface
The starburst finish cooking surface offers high-end stick resistance and the flared edges help prevent drips to create the perfect bake every time.
Luxury meets performance with features like flared edges. And a high polish Starburst finish. Your delicious recipes will come out perfectly when you bake with this premium cookware.
Handle and Lids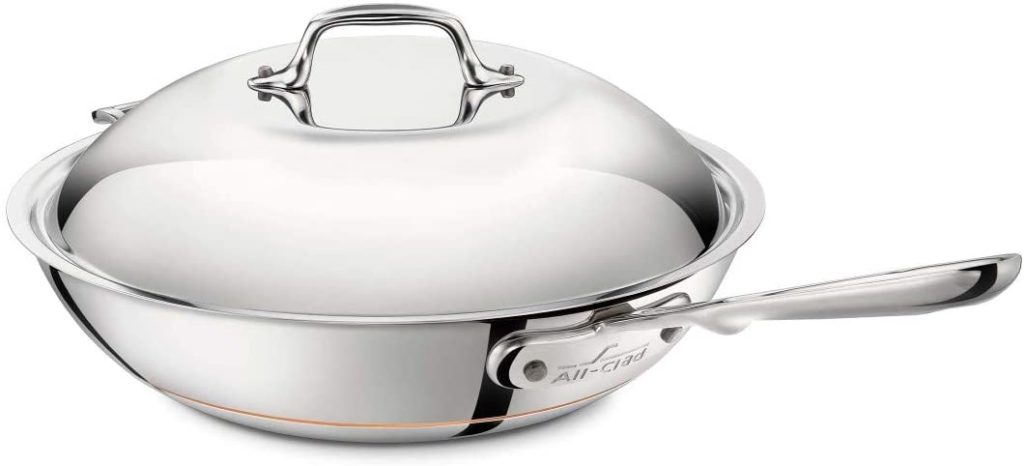 The long riveted stainless steel all clad handle stays cool, even after hours of cooking. In addition to that, the handles offer a comfortable grip and fit nicely with the lids that offer ease when you need to move a pan from one place to another.
Oven, Broiler and Dishwasher Safe
All-Clad Stainless Steel Copper Core skillets are oven, broiler, and induction compatible. Adding the convenience of dishwasher safe and All-Clad's signature mirror finish. This cookware is sure to become your essential kitchen workhorse.
All-Clad D5 vs Copper Core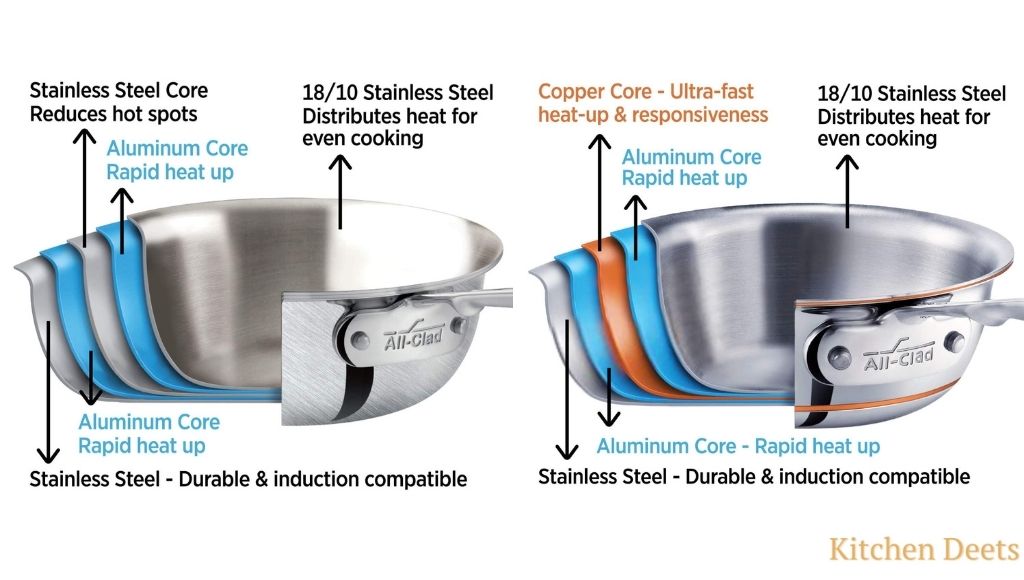 All-Clad's D5 and Copper Core cookware are two lines of cookware. The core of D5 cookware is made up of stainless steel wrapped in two layers of aluminum, while the core of Copper Core cookware is made from copper wrapped in two layers of aluminum.
Both Aluminium and copper increase heat conductivity and responsiveness. This means that when you increase the temperature, the cooking surface responds instantly. Both are great for heat conduction, but copper is even better because it reacts faster to heat adjustments.
What We Liked About All-Clad

The All-Clad name is synonymous with quality. And All-Clad Copper Core is no exception. It offers excellent value for money, but it's not just a case of you getting what you pay for. We loved testing it! The pot range gives you something to cater for almost any meal. From sauces to stews and soups, from paella to fish—each piece is specially designed to do its job well.
What We Didn't Like About All-Clad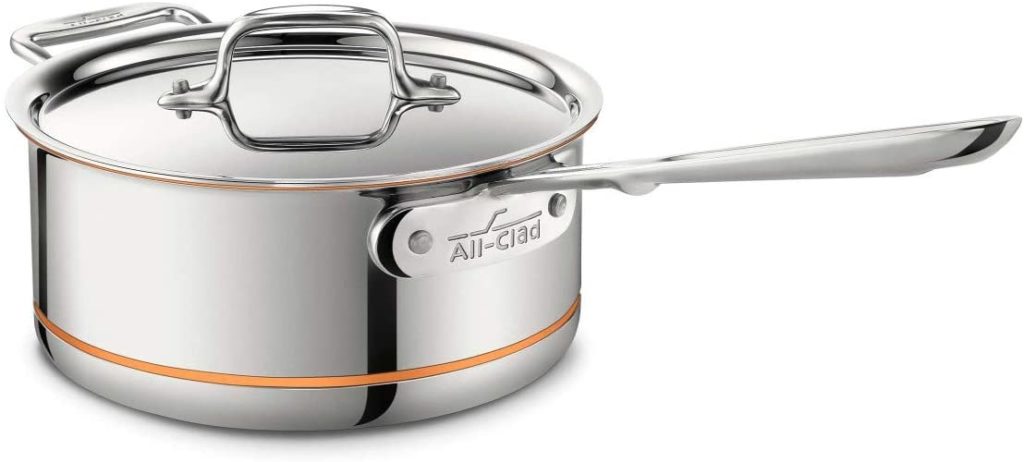 All-Clad copper core cookware is a high-quality set of pots and pans that work great and are easy to use. They look beautiful, but we did find some negatives about them. The lids for some of their pieces were not as tight-fitting as other brands, making it easier for steam to escape when boiling water or frying food. This is not a very big issue, but it can be frustrating when all your steamed vegetables want to do is burn on you!
Conclusion
All Clad is well-known for high-quality cookware. And its All-Clad Copper Core Cookware lives up to that reputation. It is one of the finest cookware available with a multi-layered bonded construction that gives it a striking and artistic look, while also making it truly impressive cookware, no matter what your cooking style is.
In conclusion, I can say that the All Clad Copper Core is truly a great set of cookware. I have used it for quite some time now and love its unique advantages over many other pots and pans in the market. The price might seem high at first but with proper care, this cookware will last for decades.
Frequently Asked Questions
How to clean All-Clad copper core cookware?
Cleaning All-Clad Copper Core Cookware can be rather simple if you know the right methods to use, and which ones to avoid. The first rule of cleaning these types of pots and pans is that you should never use any kind of scouring agent, including any kind of steel wool, because it will cause irreparable damage to the surface of the pot or pan, thus removing the copper plating altogether.
Who should buy All-Clad Copper core?
If you're shopping for All-Clad copper core cookware, one thing to consider is how you plan to use it. If you're looking for an all-purpose set that can be used on a variety of cooking surfaces, including induction and ceramic glass tops, then look no further than All-Clad. Although they do come with a hefty price tag, they will work well over a wide range of kitchen setups.
Does Copper Core have nonstick surface?