Mercer Culinary Company is known to produce high-quality knives that are not only functional but aesthetically pleasing. The Mercer brand has become one of the more popular knife brands in the culinary industry. From the Mercer Renaissance Chef's Knife to the Mercer Züm Utility Knife, each knife in the Mercer Culinary Line offers one or more features that set it apart from other kitchen knives on the market today.
Read this Mercer culinary knives review to find out what makes these knives so special, and whether or not they are worth your hard-earned money!
Mercer Culinary Renaissance: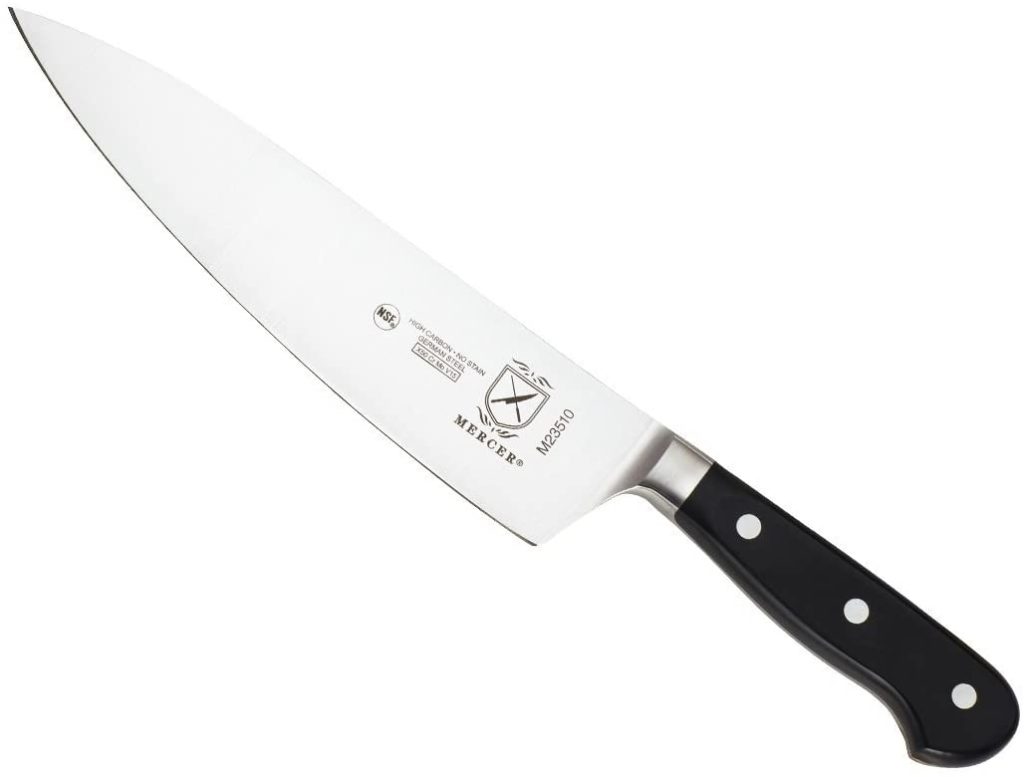 Mercer culinary renaissance is one of the most popular series that merges elegant design with uncompromising quality. Renaissance knives are fully forged, with full tang and triple-riveted handles for added strength. The beveled thumb ramp ensures excellent grip and control while cutting. It's an excellent choice for a knife that will see heavy use.
Mercer Renaissance 6-pc Knife Block Set: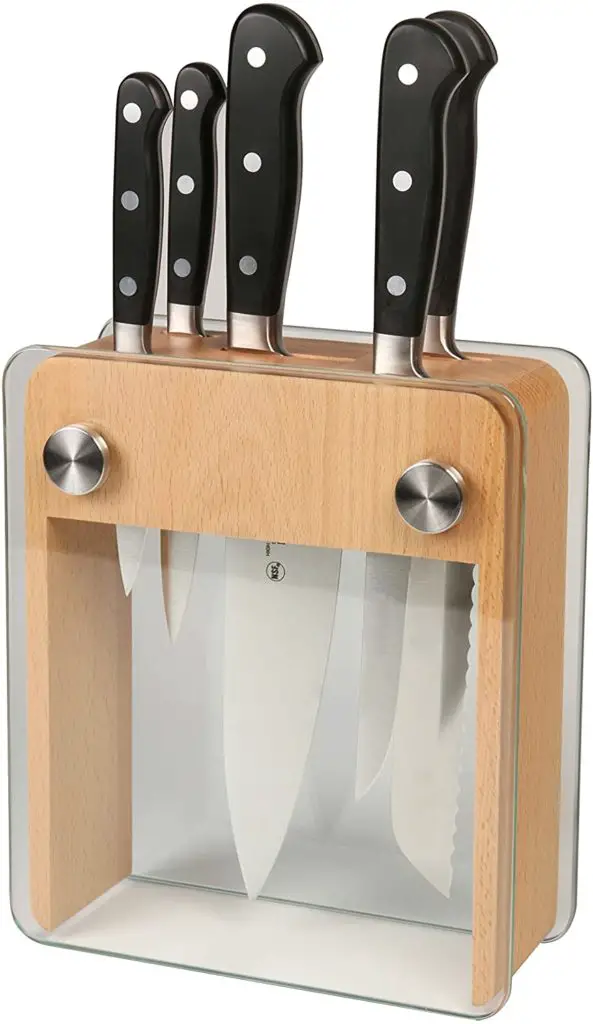 The Mercer Culinary Renaissance 6-piece knife set is perfect for both the home kitchen and professional chefs. This series comes with six different types of knives, allowing you to replace your worn-down blades with precision cutlery that will last longer than traditional knives. The knives feature X50CrMov15 German Steel that stays sharper longer—up to 30% longer, in fact!
Mercer Culinary Renaissance comes with a limited lifetime warranty against manufacturer defects.
Knives Include:
8-inch Chef Knife, 6 inch Boning Knife, 5-inch Utility Knife, 8 inch Bread Knife, 3.5-inch Paring Knife
Mercer Züm:

I love my Mercer Züm because it is so easy to use. The smooth blade glides effortlessly through just about anything I cut with it. One feature I really like about it is that it can be adjusted into two different positions to accommodate left-handed or right-handed people alike.
Mercer Culinary Züm 6 Piece Knife Block Set Series: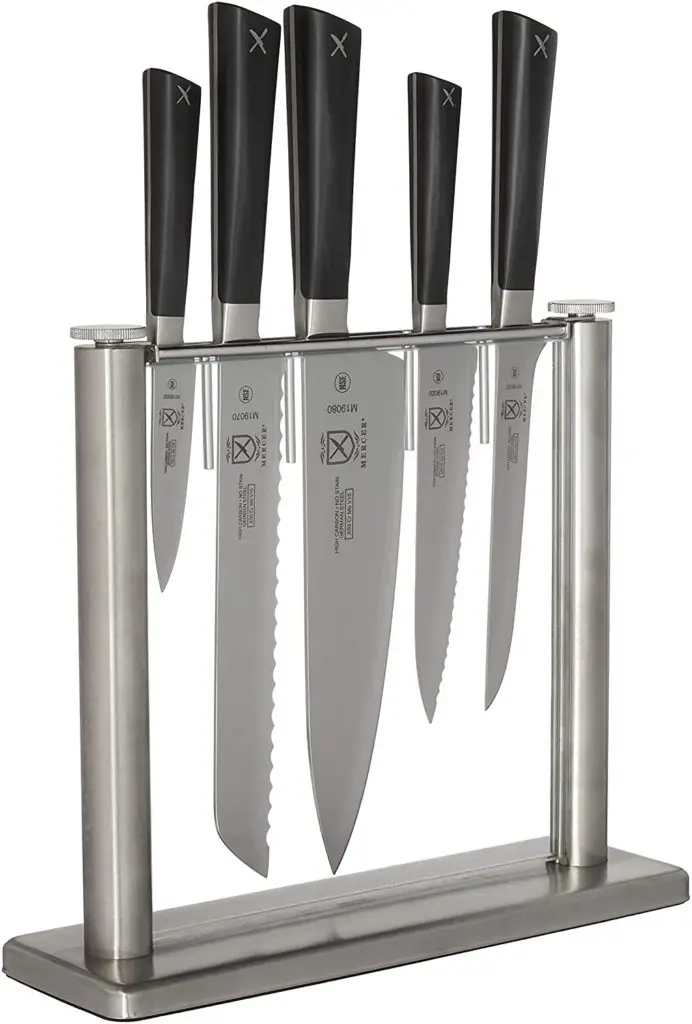 Mercer Culinary Züm knives series are easy to handle yet tough enough for any job you can throw at them. The high carbon German steel blades of these knives are balanced by a unique handle design that is both striking and incredibly comfortable. I really like the Mercer Züm knife set because of the clever knife block that's designed to look like a giant wine bottle. It comes with an extra slot for knives, and it looks great on the countertop and saves space, and has a neat wine-bottle design.
Knives Include:
8-inch Chef Knife, 6 inch Boning Knife, 5-inch Utility Knife, 8 inch Bread Knife, 3.5-inch Paring Knife
Mercer MX3: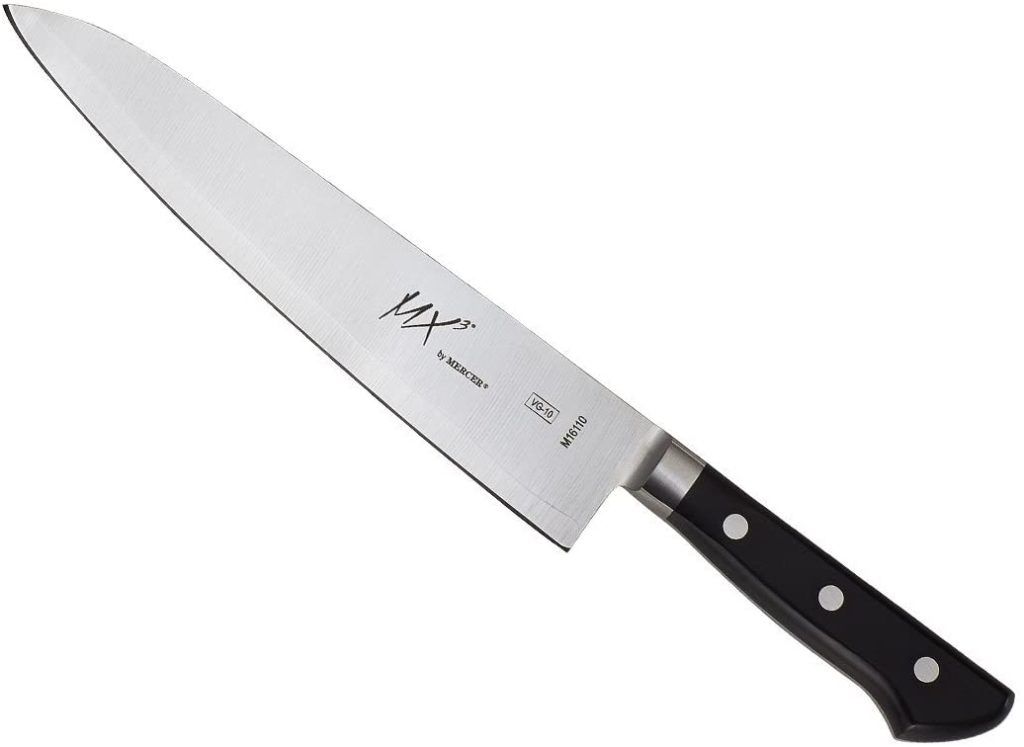 The Mercer MX3 is an exceptionally sharp knife, offering an amazingly consistent cut each time. It's great for mincing and cutting, but it's not ideal for heavy chopping. If you tend to do a lot of mincing or fine dicing, then you should probably get this knife in your kitchen. Just like many other Mercer knives, it comes with a limited lifetime warranty that protects against defects in material and craftsmanship.
Mercer MX3 Knife Series:
Inspired by traditional Japanese Chef's knives these Mercer MX 3 knives feature a full tang blade for maximum durability and superior control. They are designed to offer the true professional high-performance knife at a value price point. Generously sized with a full bolster to balance the blade weight and create a non-slip grip, these ergonomic knives have a weightier feel in your hand.
In addition, MX3 knives have an ultra-sharp, mirror-polished edge that enables them to easily slice through almost anything you can throw at them. Each blade is made from a strong VG10 super steel core hardened to Rockwell 60-62 for superb cutting edge retention.
Mercer Millennia:

The Mercer Millennia knife is an excellent choice for people who want a top-quality blade that won't break their budgets. The forged stainless steel blade resists rusting, while the durable polypropylene handle gives you control over every cut you make.
Mercer Millennia 8 Piece Knife Roll Series: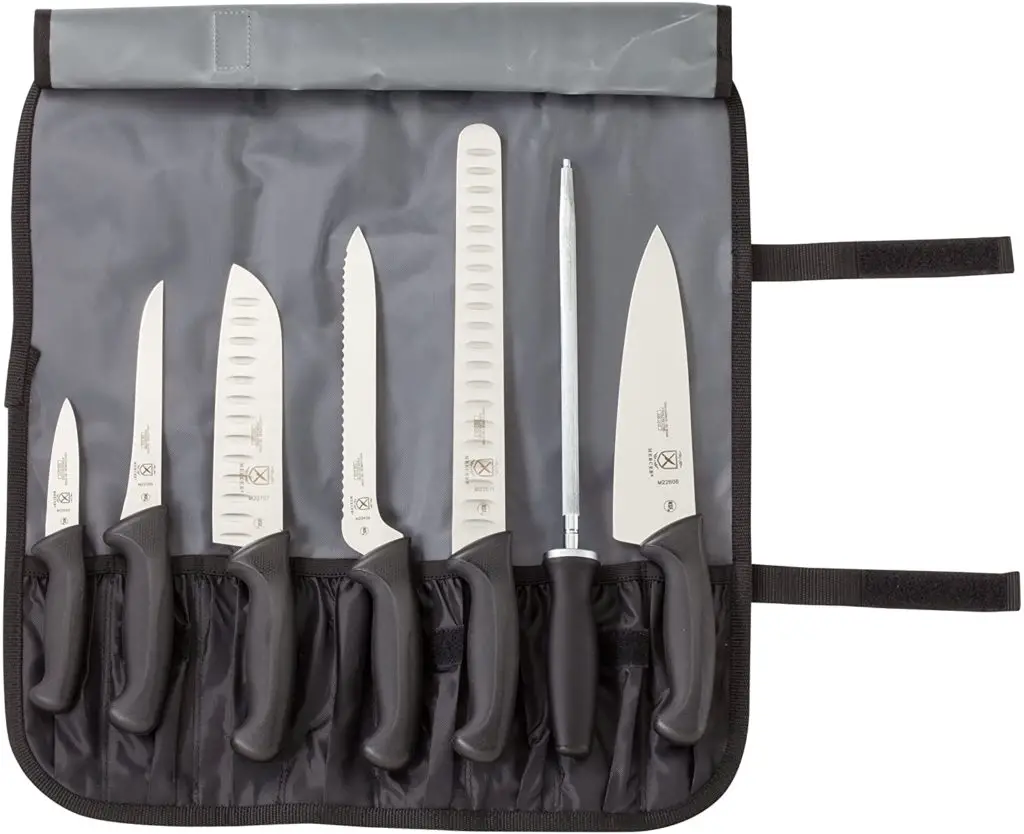 Mercer Millennia 8 Piece Knife series are super cheap knives. If you are looking for an inexpensive knife set to use for camping, backpacking, picnics, or hunting trips, then this is the knife set for you. Mercer's Millennia series are dressy, chic knives with contemporary styling. They feature comfortable handles with slip-resistant grip patterns. Full tang blades for strength and durability, and steel blades that stay sharp even after heavy usage.
Knives Include:
8-inch Chef Knife, 6 inch Boning Knife, 8 inch Bread Knife, 3.5-inch Paring Knife, Santoku Knife, Slicer. And a Sharpening Steel.
Mercer Genesis: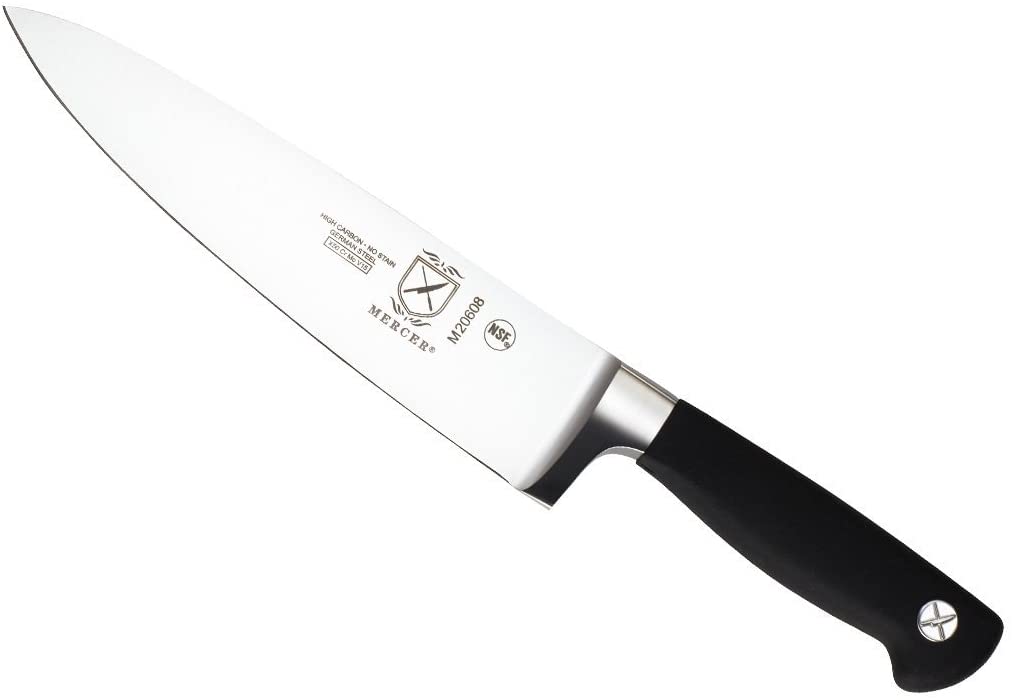 The Mercer Genesis is a fine knife that lives up to its legendary name. It's big, solid, and strong—in other words, it's built to last. The forged blade of German Chromium-Molybdenum stainless steel provides excellent balance, precision cutting power, and strength.
Mercer Culinary Genesis 8 Piece Knife Set Series: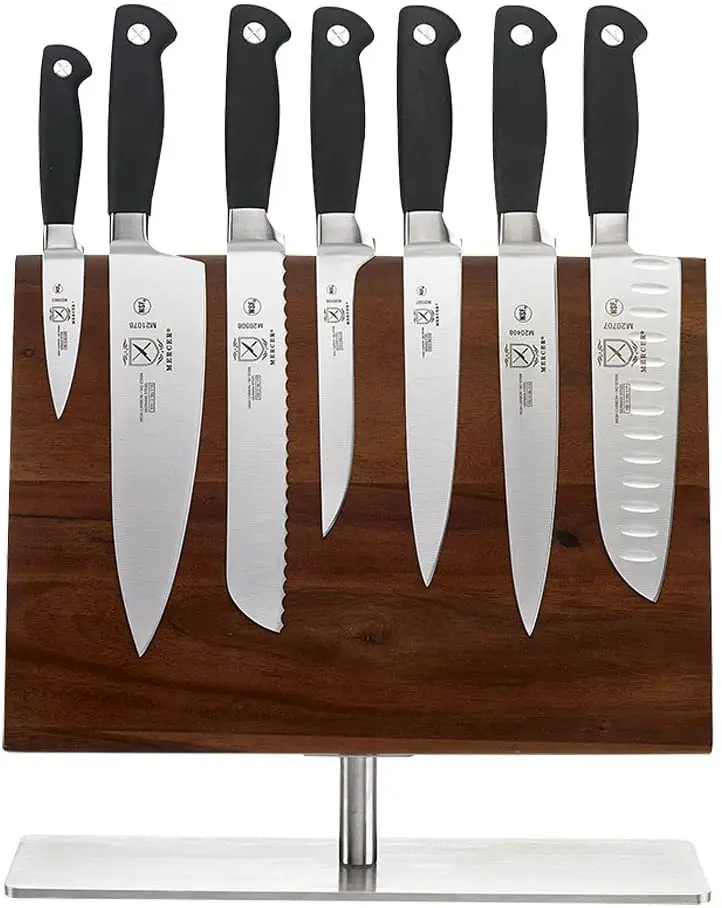 Mercer Genesis is one of the most popular and best-selling kitchen knife series. The Genesis Series knives are designed especially for chefs who want the best. Each knife is crafted with German steel and features extra balance, strength, and flexibility. The full bolster adds weight to the blade for added stability, making them easier to use. Each knife has an ergonomic handle that helps make it easy to use.
Lastly, Mercer guarantees sharpness for every single user by using only high-quality materials that never need sharpening.
Knives Include:
8-inch Chef Knife, 6 inch Boning Knife, 5-inch Utility Knife, 8 inch Bread Knife, 3.5-inch Paring Knife.
Thoughts on Mercer Knives Review:
Mercer is a brand that specializes in kitchen knives. They have a wide range of knives to fit any budget, from entry-level all the way up to professional use. Their ergonomic designs and contemporary styling make them a popular brand. While their lower-end blades don't quite compare with Wusthof or Henckels, they are competitive at their price point and provide great value for those looking for an introductory knife set to start with.