Masterclass Cookware products are designed and manufactured in England using the best materials available today. Masterclass cookware comes with a 25-year warranty, so they stand by their products and you can be confident in your purchase as well as how long it will last.
This article is going to cover Masterclass premium cookware, discuss whether or not it's worth the price, and give you some alternatives if you're on the fence about whether this product is the right choice for you.
Masterclass Cookware Review
Masterclass premium cookware is made from 100% high-quality materials, which means their cookware heats up quickly and evenly and doesn't contain any harmful chemicals that can leach into your food.
Read this Masterclass Cookware Review from an experienced chef to find out if these pans are worth their hefty price tag.
Masterclass 5 Piece Deluxe Non-Stick Stainless Steel Cookware Set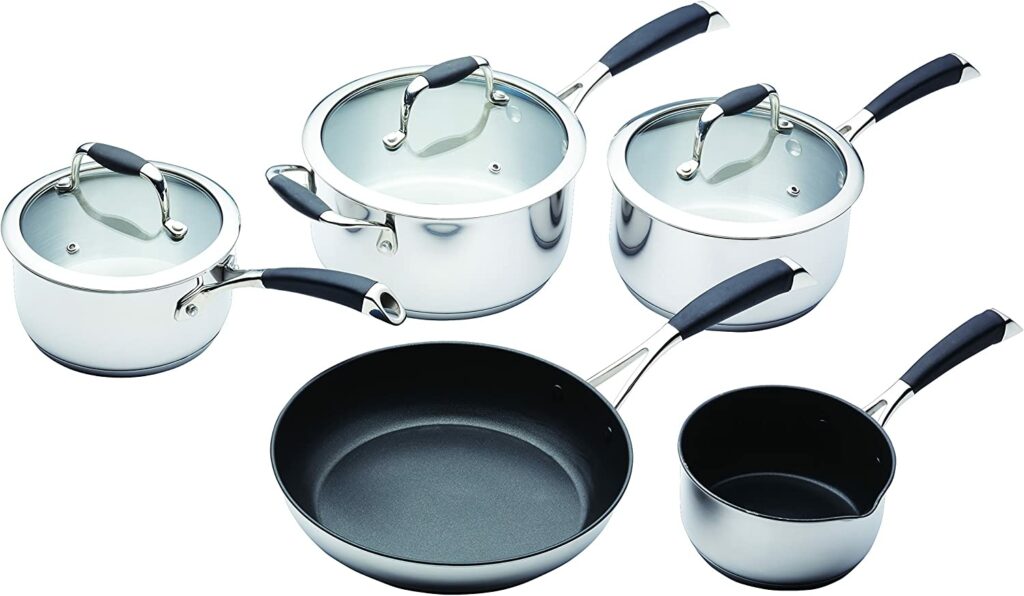 The Masterclass Non-Stick Stainless Steel Cookware Set is a premium quality set of cookware with a satin finish and clear glass lids.
With this Masterclass Cookware Set, your kitchen is about to get a whole lot easier. This set includes three saucepans and a sauté pan, all of which are made from premium quality stainless steel. They come with clear glass lids that fit snugly over the tops of each pot, so you can easily see what's going on in there without having to open them up and let heat escape. The pans are compatible with all stovetops, including induction, and they have been carefully handcrafted by experts who know the difference between good and great.
The coating on these pans is PTFE-free, so they won't give off any harmful fumes or chemicals when you're cooking with them—and they won't scratch off! They're so durable that master class offers a 20-year warranty on them if anything goes wrong during that time period.
Finally, these pots are dishwasher safe for easy cleaning after meals have been prepared!
Related: Farberware Cookware Review
Set Includes
6, 7, and 8 inch Saucepan with Lid
9.5-inch Sauté Pan
5.5-inch Milk Pan
Pros
Premium-quality stainless steel cookware set
Transparent glass lids
Compatible with all cooktops including induction
PTFE-free nonstick coating
Dishwasher safe
20 years guarantee (5 years non-stick guarantee)
Cons
No cons for this cookware set
Masterclass Cast Aluminium Non-Stick Crêpe Pan and Fry pan, 11 inch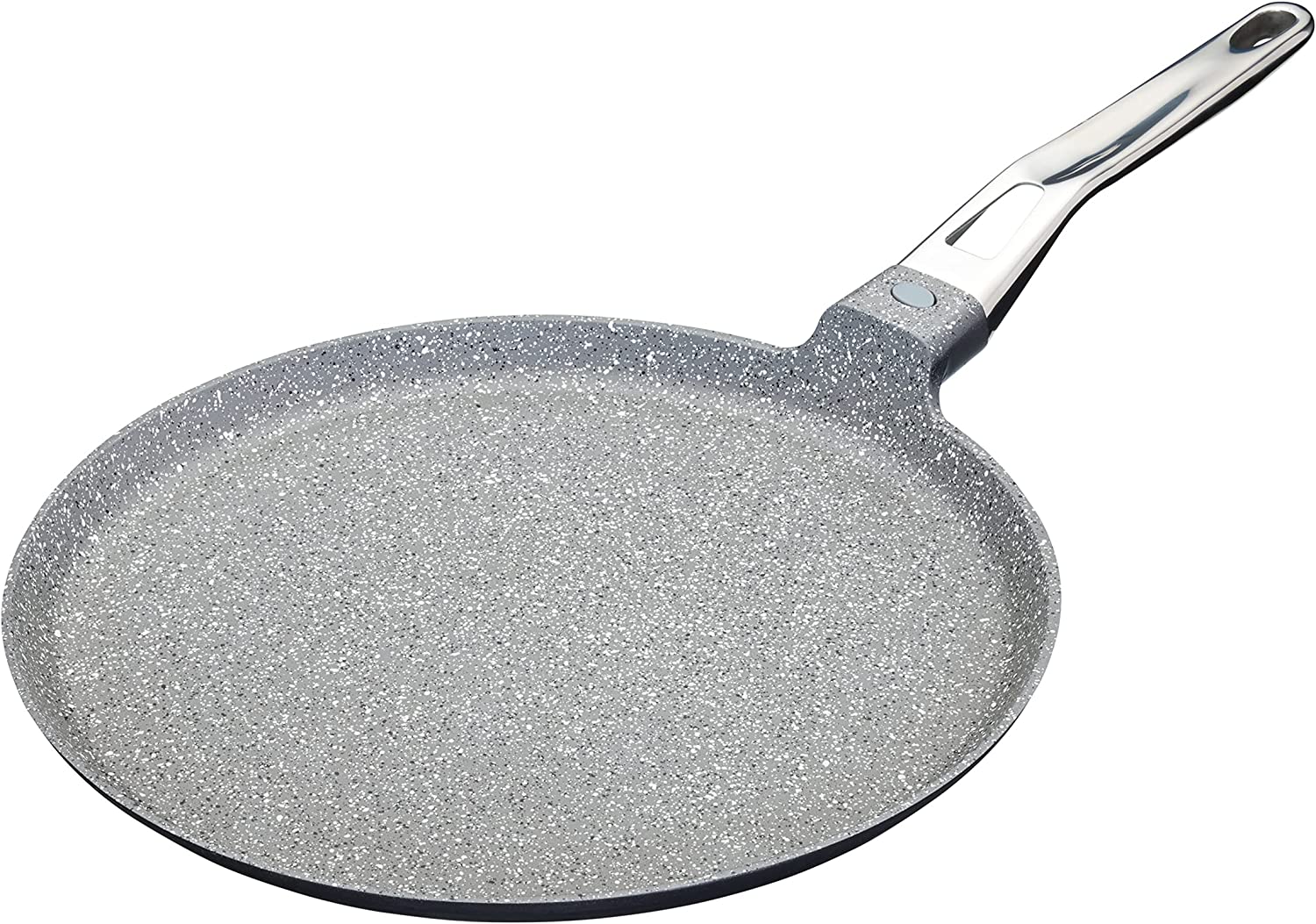 Have you ever had a pancake that stuck to the pan? I have, and I'm pretty sure you have too. It's a tragedy.
That's why Masterclass has created Cast Aluminium Induction-Safe Non-Stick Pan, the revolutionary cast aluminum crèpe pan and fry pan heats quickly and evenly, with sizzling cooking performance, and is lightweight for easy flipping. It's coated with a robust, scratch-resistant non-stick for incredible abrasion resistance and easy cleaning—so you can spend less time scrubbing your pans and more time enjoying breakfast!
Master Class Cast Aluminium Induction-Safe Non-Stick Pans are suitable for all cooktops including induction and come with a 10-year guarantee. It will take your pancakes to new heights!
Related: Bergner Cookware Review
Pros
Heats quickly and evenly
Lightweight for easy flipping
Scratch-resistant non-stick
Suitable for all cooktops induction included
10-year guarantee
Cons
Heavier in lifting
Masterclass Eco Frying Pan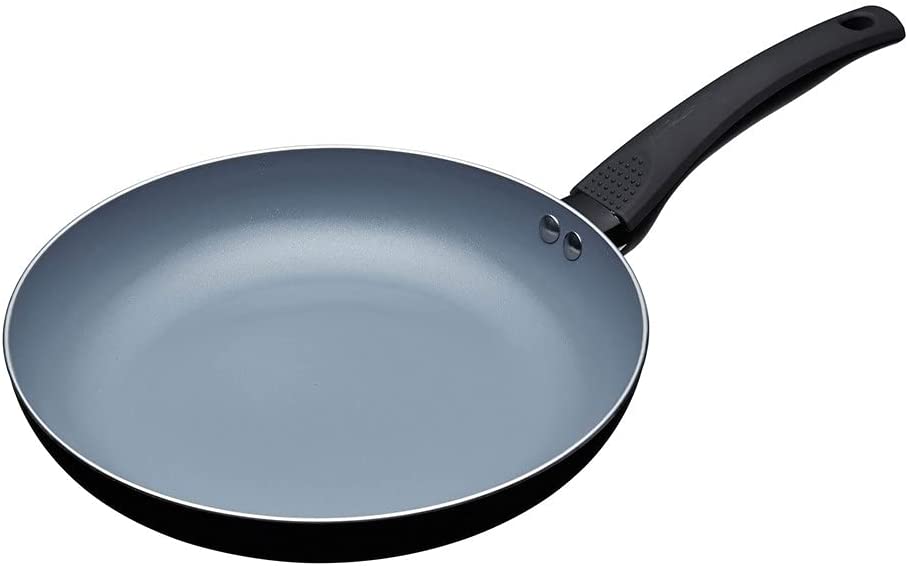 Are you tired of the guilt that comes with cooking?
Do you have a big appetite and want to cook your favorite meals without worrying about the toxins that can come from cooking with non-stick pans? The Master Class Eco Induction Frying Pan is here to help.
The Master Class Eco Induction Frying Pan is made of tough aluminum, which distributes heat more effectively than other materials. It also has a flat iron base, which means it's safe for solid plates, gas, halogen, ceramic, and radiant ring cooktops as well as ovens and dishwashers. So you can rest assured that no matter what your cooking setup is like, this frying pan will work with it!
And the best part about this frying pan is that it's chemical free! You can fry, sauté and sear your favorite ingredients guilt-free knowing that this frying pan is made with no toxins.
Related: Belgique Cookware Review
Pros
Chemical free nonstick ceramic
Tough aluminum with a flat iron base
Compatible with all cooktops
Dishwasher safe
15-year guarantee
Cons
Not very nonstick
Masterclass Cast Aluminium Non-Stick Dutch oven 5.2 Quart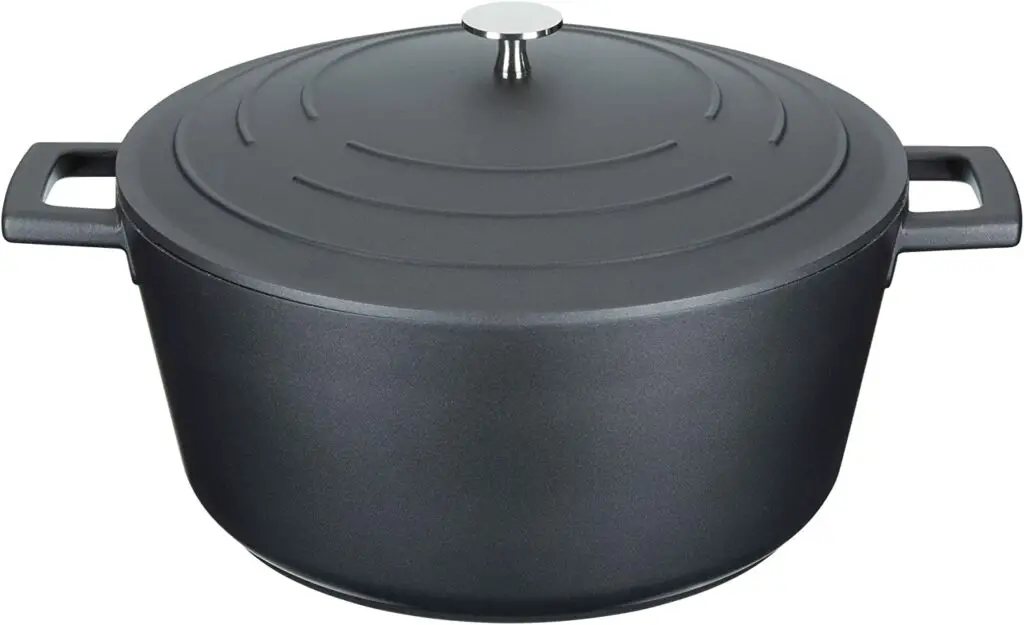 Master Class's Cast Aluminium Dutch Oven is a great choice for any cook. This pot conducts heat quickly and evenly, so you can get your food cooked fast and efficiently. The base is coated with stainless steel, so it's safe for any heat source, including induction. The lid has a self-basting design that keeps moisture in the pan while you cook, which helps create rich stews and slow-cooked meats.
This pan is also 100% chemical-free—that means no PFOA or PFOS! It has excellent abrasion resistance, meaning it's going to last you for years to come.
Master Class has been producing cast aluminum cookware for over 25 years, and they're always looking to improve their products. The Master Class Cast Aluminium Dutch Oven is the result of their latest research, and it's a great addition to your kitchen!
Related: Dutch oven not made in China
Pros
Conducts heat quickly
Oven safe up to 200°C (392°F)
2 layers of anti-scratch non-stick
100% chemical free
Abrasion resistance
Dishwasher safe
25-year guarantee
Cons
Handles get hot
Masterclass Non-Stick Ceramic Eco Saucepan 8 inch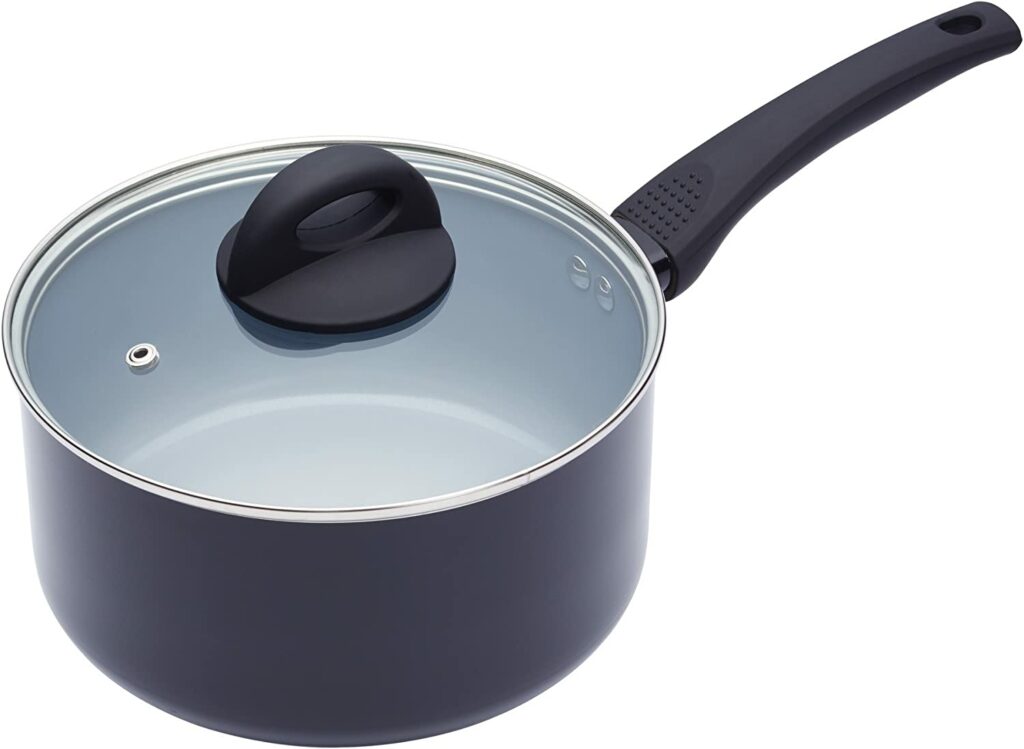 Master Class Non-Stick Ceramic Eco Saucepan is a perfect addition to any kitchen. This saucepan is made of high-quality materials, with heavy-duty aluminum that absorbs and distributes heat quickly, and evenly. It has a non-stick coating, which is non-toxic and free of PTFE, PFOA, and other harmful substances. It also features a high-performance ceramic non-stick coating that allows you to prepare chili, soup, and much more without any hassle.
This saucepan can be used in ovens or grills heated up to 150°C (302 °F). It's induction safe so you don't have to worry about it being damaged by other cookware in the same pan if you're using an induction cooktop.
This is an eco-friendly product that helps reduce your carbon footprint!
Related: Forever pans reviews
Pros
Finished with a natural ceramic non-stick coating
Heavy duty aluminum
Distributes heat quickly and evenly
Healthy cooking
Oven safe up to 150°C (302 °F).
Dishwasher safe
Cons
Doesn't heat well on an induction cooktop
Alternative for Masterclass: Caannasweis 11 Piece Nonstick 8 Piece Cookware Set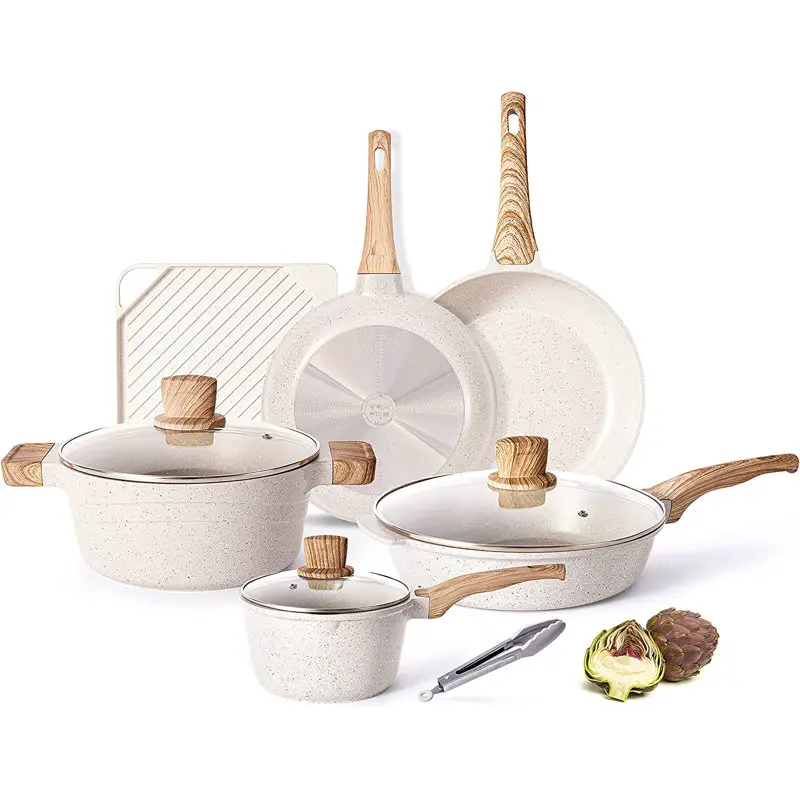 The Caannasweis Nonstick Cookware Set is a great alternative to Master Class cookware nonstick cookware set. It's easy to use and clean-up is quick, which makes it perfect for busy families. Plus, you can use it to fry eggs, sauté, boil, stir fry, and fry without worrying about your food sticking or burning.
The unique technology used in this cookware set means that there's no need for added butter or oil—you can cook with minimal effort and minimal oil! The non-toxic and safe-to-use coating is also PFOA free, so you don't have to worry about your family being exposed to harmful chemicals while they're eating healthy meals.
You can hand wash the set (or put it in the dishwasher) with ease. The Bakelite handles are as beautiful as they are functional—they'll never fade or crack like other materials might do over time.
This is a great alternative if you're looking for something similar but different!
Related: Detachable Handle Cookware
Set includes
1 Grill Pan
3 Lid
1 Cooking Utensil
1 Stock Pot
1 Saucepan
2 Frying Pan / Skillet
1 Saute Pan
Pros
These Cast Aluminum pots and pans are non-toxic
Instant food release and easy cleanup
Dishwasher safe but hand wash recommended
Beautiful and functional wooden handles
Cons
Requires care and maintenance
Related: Sensarte Cookware Reviews
Is Masterclass a good brand?
Yes, Masterclass is a good brand. They have been manufacturing cookware since 1850, so you can rest assured that they know what they're doing.
Is Masterclass cookware dishwasher safe?
Masterclass cookware is dishwasher safe, but hand washing is recommended. This is because the water from the dishwasher can cause warping or damage to the pan's surface.
Is Masterclass cookware free from toxic chemicals?
Masterclass cookware is free from toxic materials such as lead or cadmium. These are toxic chemicals often found in cheaper metals used for nonstick coatings on other brands' pans — so you can feel confident about using it for all your cooking needs!
Should you buy Masterclass Cookware?
Masterclass cookware is a good brand that's been around since 1850. They've got a wide range of products, including skillets, pots, pans, bakeware, and more. Their cookware is available in both stainless steel and nonstick finishes.
If you're looking for eco-friendly cookware that's free from toxic materials, you should definitely consider buying Masterclass cookware. This brand offers 10 to 25 years of warranty on their products, so you can rest assured that your investment is safe.
At the same time, Masterclass cookware is affordable and easy to maintain—so you won't have to worry about making an expensive mistake when it comes to your kitchen tools.