Granite cookware has become popular in recent years, but should you be using it in your own kitchen? Read on to learn the pros and cons of granite cookware to help you decide if it's right for you.
But first, let's discuss what is granite cookware made of?
Use links below for easy navigation
What is Granite Cookware Made of?
Granite Cookware Pros and Cons
Granite Cookware Pros
Granite Cookware Cons
Factors to consider before buying Granite Cookware
Kitchen Deets Study on Granite Cookware
Final Verdict
What is Granite Cookware Made of?
Granite is a type of rock that is formed by the minerals feldspar and quartz. It is often used to make jewelry and tools, but it is not used to make granite cookware.
Granite cookware is made with stainless steel or aluminum, which is then coated with a non-stick coating. The non-stick properties of granite cookware make it easier to clean and also reduce the risk of food sticking to the surface of the pan.
There are several different options for granite cookware, including pots and pans that are made purely from stone, as well as those that have been coated with a layer of durable TFEE nonstick coating.
Related: Cast Aluminum Cookware Pros and Cons
Granite Cookware Pros and Cons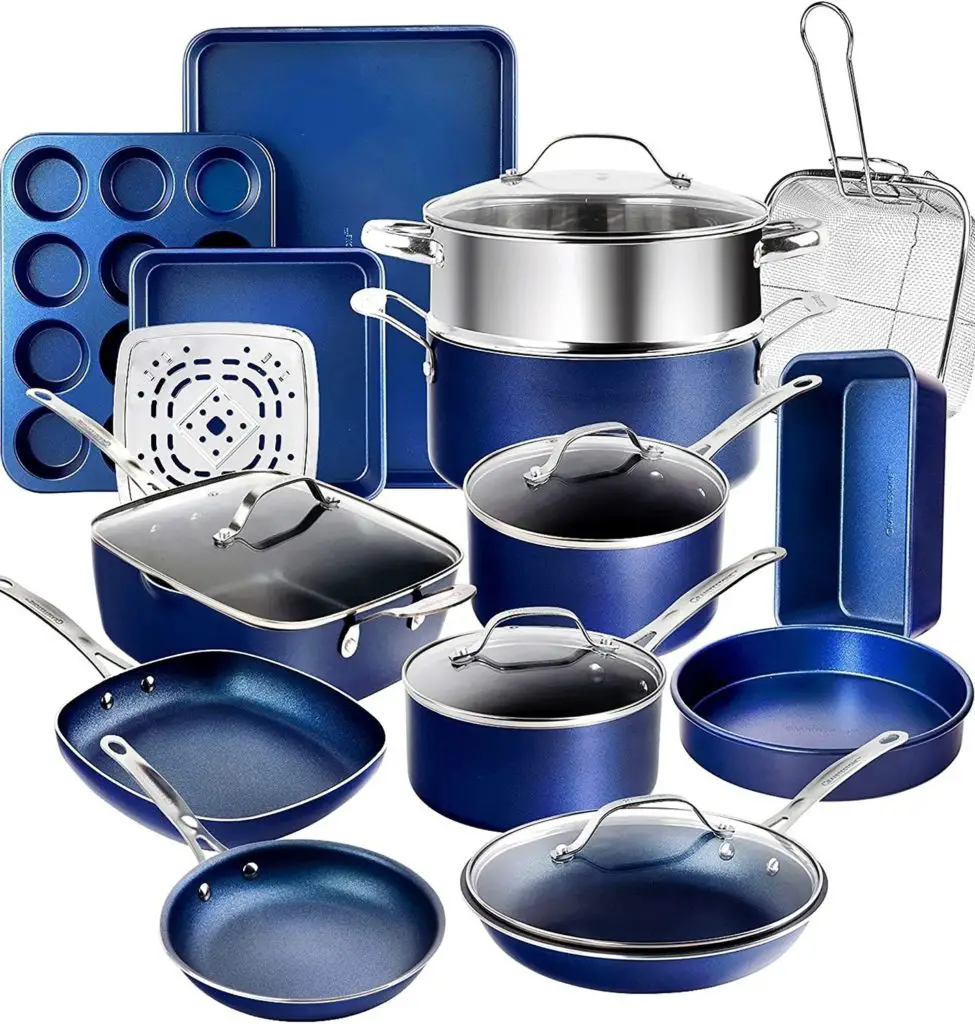 A lot of people love the look of granite, whether it's in their kitchen or on their countertops, but others are uncertain as to whether it's the right material to use for their cookware.
Granite cookware has quite a few pros and cons to consider, so here are some of them in order to help you make your own decision on whether or not it's the right choice for you.
These pros and cons of granite cookware should help you decide whether or not to invest in this type of cookware set.
Granite Cookware Pros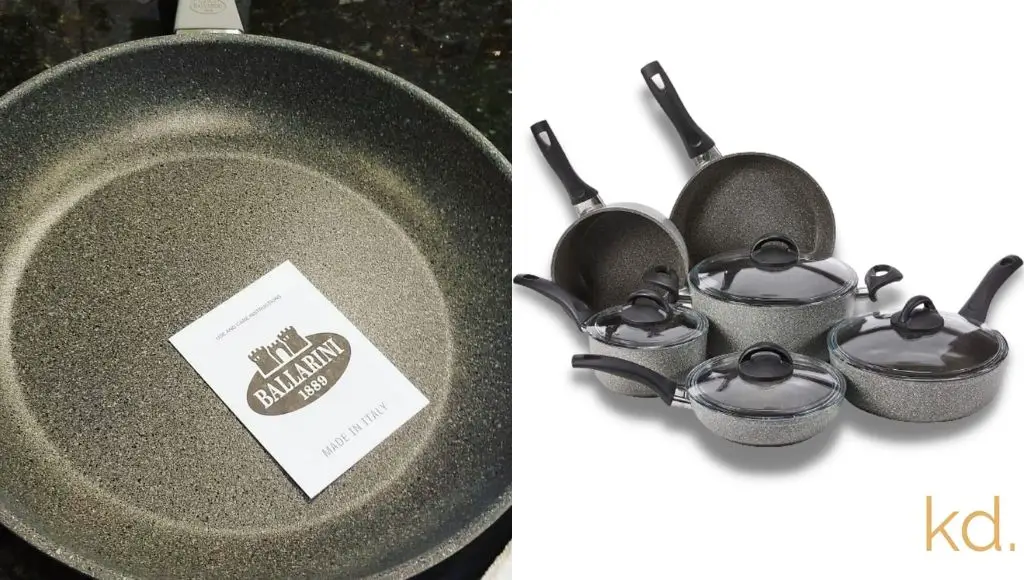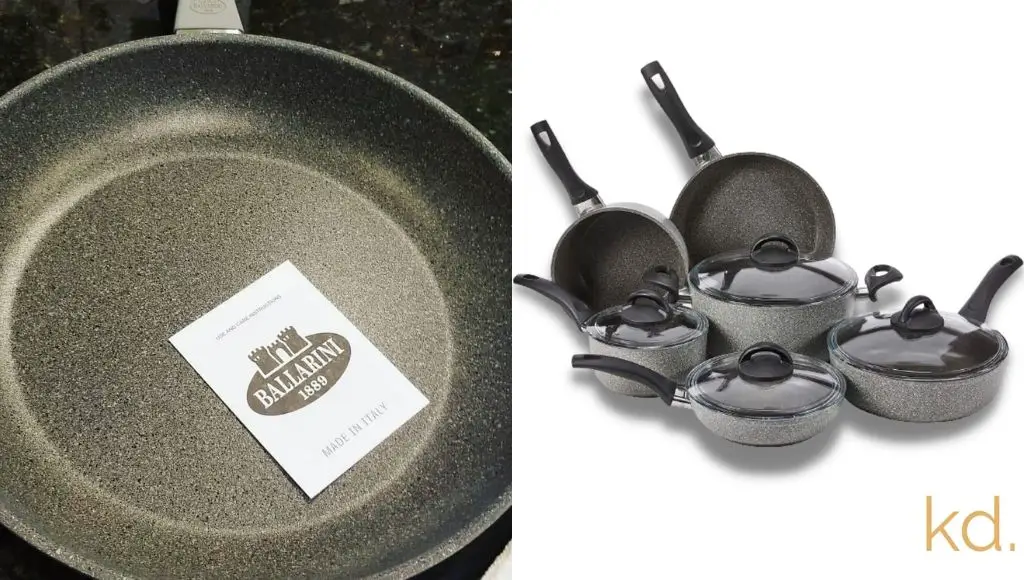 Granite cookware is a great choice for anyone who wants to get the most out of their kitchen. If you like the look of granite in your home but are nervous about how it will hold up to everyday use, you may have some concerns. But if you're willing to give it a chance and make some sacrifices, you'll find that this type of cookware is a great investment as well!
Here are a few most notable pros of granite cookware.
Doesn't rust
This is one of the biggest advantages of using granite cookware over other materials. There are no harsh chemicals used in the production of granite cookware, so it doesn't rust. This means your pots and pans will last longer than those made from other materials without corroding or tarnishing over time.
It's very important to not let your pots and pans sit in water or other liquids that could cause them to rust and corrode. Cleaning them regularly will help keep them from getting damaged by water and other substances.
Affordable
Granite is one of the most affordable types of cookware available, so you don't have to worry about spending a lot of money on an item that won't last as long as others do. This is especially important when you consider how much money you'll save by not replacing it often!
If you're looking for something that will last for years without needing expensive repairs or replacements then granite cookware may be just what you're looking for! You can spend less money on this type of cookware than you would on other types because it doesn't require constant maintenance or replacement parts which means less costs overall!
Glossy surface
The glossy surface of granite cookware means your food will be less likely to stick to the pan. Its non-reactive surface doesn't react with the food, so your meal will come out tasting just like how you want it to taste.
This makes it easier to clean and maintain your cookware.
Lightweight
Lightweight is another thing that makes granite cookware more appealing than other types.
If you need something lightweight but still sturdy enough to hold up under intense heat and heavy-duty cooking (like roasting an entire chicken in one pan), then granite should be your go-to material!
Inert
Granite is an inert substance so it does not react with food or contaminate it like some other types of cookware might do. It also has an attractive appearance so you won't have to worry about how your kitchen looks!
Easy to clean
Granite cookware is easy to clean, so you can leave it on the stove or in the dishwasher without worrying about the food sticking to it. And because granite is naturally nonstick, you don't have to worry about scrubbing off burnt-on food either!
Aluminum and Stainless Steel Cores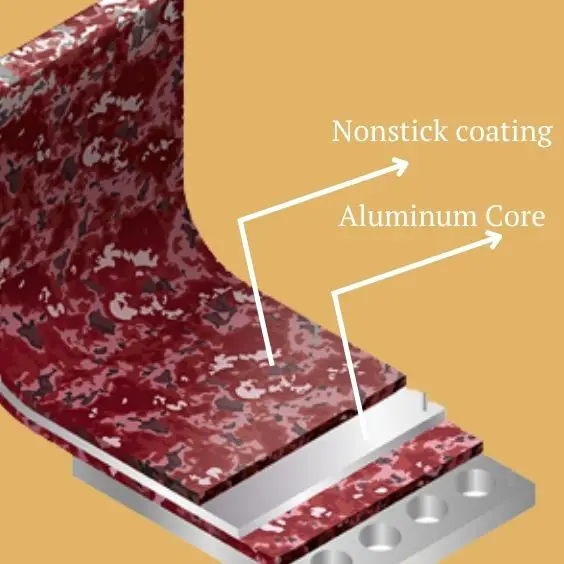 The aluminum and stainless steel cores of granite cookware are good conductors, which makes it easy to heat up and cool down. It works on all stovetops
Because granite cookware conducts heat well. You can cook faster and more efficiently in granite than with other types of cookware. It's perfect for cooking eggs or other foods that need to be cooked at high temperatures.
Related: Brass Cookware Pros and Cons
Free From Toxic Materials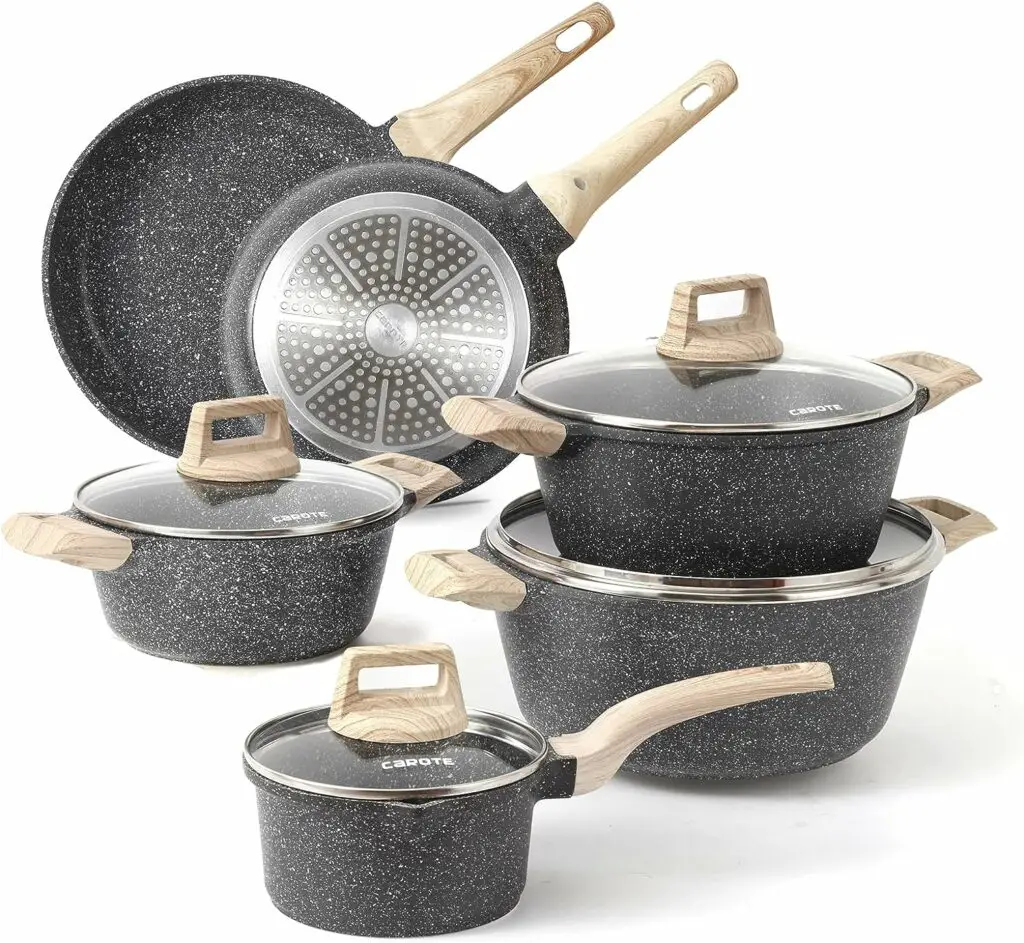 Granite cookware is a great choice if you're looking for a non-toxic cooking surface to use on your stovetop. It's made from natural materials, so you can be sure that it won't cause health problems or other issues.
It's free from toxic materials like PFOA and PFOS—which means it's safe to use in your home!
Now let's discuss the Cons of Granite Cookware
Granite Cookware Cons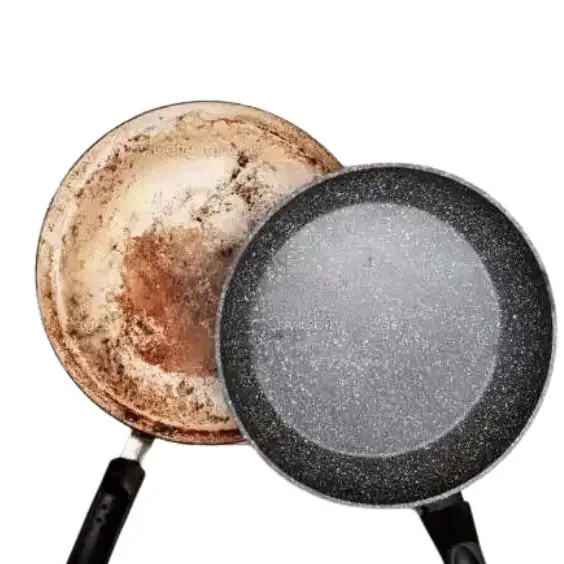 Many people believe that granite cookware is an excellent choice for their kitchen, but there are some cons to consider before you decide to buy.
Nonstick coating can wear off
First and foremost, the nonstick coating can wear off, and this is a common problem with most brands of granite cookware. The high temperatures will cause the nonstick coating to wear off quickly if it is used in a high-temperature setting.
Metal Utensils can ruin it
One major drawback is that the surface of a granite pan is nonstick—it will chip over time if you use metal utensils or other sharp objects on top of it.
This is due to the fact that the nonstick coating is made from Teflon, which is not very durable. If your cookware does chip, you will have to replace it.
Limited Designs
Another issue is that some designs are limited.
The designs of the granite cookware are limited and they do not have a wide range of colors.
Some only come in certain colors or sizes, so you may find yourself unable to choose exactly what kind of style appeals to you most.
Breaks Glass cooktop
Another thing to consider is that granite cookware can break glass cooktops more easily than other types of cookware. This is because of its construction, so it's more likely to break if someone tries to put too much pressure on it or if it gets dropped on the glass cooktop or hit against something hard enough during cooking.
Low oven-safe temperature
The low oven-safe temperature is the biggest problem with granite cookware. This means that if you're cooking something in your oven, you'll have to use a very, very low heat setting to prevent your cookware from ruining. That's not exactly ideal for all kinds of food.
Cheap manufacturing process
The cheap manufacturing process makes these pots and pans vulnerable to chipping and cracking if they are used in an extreme environment such as an outdoor fire pit or stovetop grill. These pots and pans will not last long if exposed to extreme temperatures or if they are dropped on hard surfaces or other objects repeatedly throughout their lifespan.
Related: Titanium Cookware Pros and Cons
Factors to consider before buying Granite Cookware
There are many factors to consider before you buy granite cookware including the cooktop surface, oven-safe materials, and construction, what you plan to cook in it, and cleaning.
Cooktop surface:
The surface of your cooktop is the first thing you'll be cooking on, so it should be smooth and non-porous. Make sure the granite cookware you are buying works on your desired cooktop.
Oven safe:
You want the granite cookware to be oven-safe so that you can use it in your oven without having to worry about it breaking down or warping.
Make sure your cookware material can withstand temperatures up to 350°F (177°C), making it great for use in high-temperature ranges.
Related: Enameled Cast Iron Cookware Pros and Cons
What you plan to cook in it
Will you be using this for baking, cooking, or both? If so, make sure that your granite cookware is well-suited for both tasks.
If you're looking for an all-purpose piece of cookware, then you're going to have to consider the oven safe range and size of the piece. If you plan on using your new granite cookware on a daily basis, then make sure that it comes with a lifetime warranty in case something goes wrong with it.
How much money do you want to spend?
If money isn't an issue for you, then go for the best quality granite cookware that will last for years and years to come. But if money is an issue for you, then look for cheaper options or even secondhand pieces instead of buying new ones every year or two!
Is it safe to use Granite Cookware?
Yes, Granite cookware is safe to use in all types of cooking and baking, even when it comes to high heat. You will not have any issues with your new granite cookware as long as you follow the proper care instructions.
This cookware is free from non-toxic materials such as PTFE and PFOA, so it is completely safe to use.
Kitchen Deets Study on Granite Cookware:
After careful study and experiment by our team, it is safe to say that the advantages and disadvantages of granite cookware are equally matched. For most people who have a small city kitchen and don't have much counter space, granite cookware offers an alternative to glass or ceramic cookware and can be used on almost all stovetops.
However, those with large kitchens with plenty of countertops may feel that it is not worth the extra effort to get this kind of cookware cleaned and ready for use.
Final Verdict:
Given all this information, what is the verdict? Does granite cookware live up to expectations? Can it really produce better-tasting food and save you money in the process? Time will tell if granite cookware is the next big thing, but in the meantime, those considering adding granite cookware to their kitchen can feel confident that they are purchasing high-quality pots and pans that are sure to last them a lifetime.