If you're a fan of Emeril Lagasse, you may be interested in his kitchenware line – Emeril's Forever Pans. In this Emeril Forever Pans review, we take a look at the features and performance of this collection to help you decide if they are worth the investment.
From construction materials to cooking capabilities, this Emeril Lagasse Forever Pans Review will cover it all so you can make an informed decision.
Use links below for easy navigation
Who is Emeril Lagasse?
Emeril Lagasse Everyday Forever Pans Review
What to consider before buying Nonstick Pans
Bottom Line
Who is Emeril Lagasse?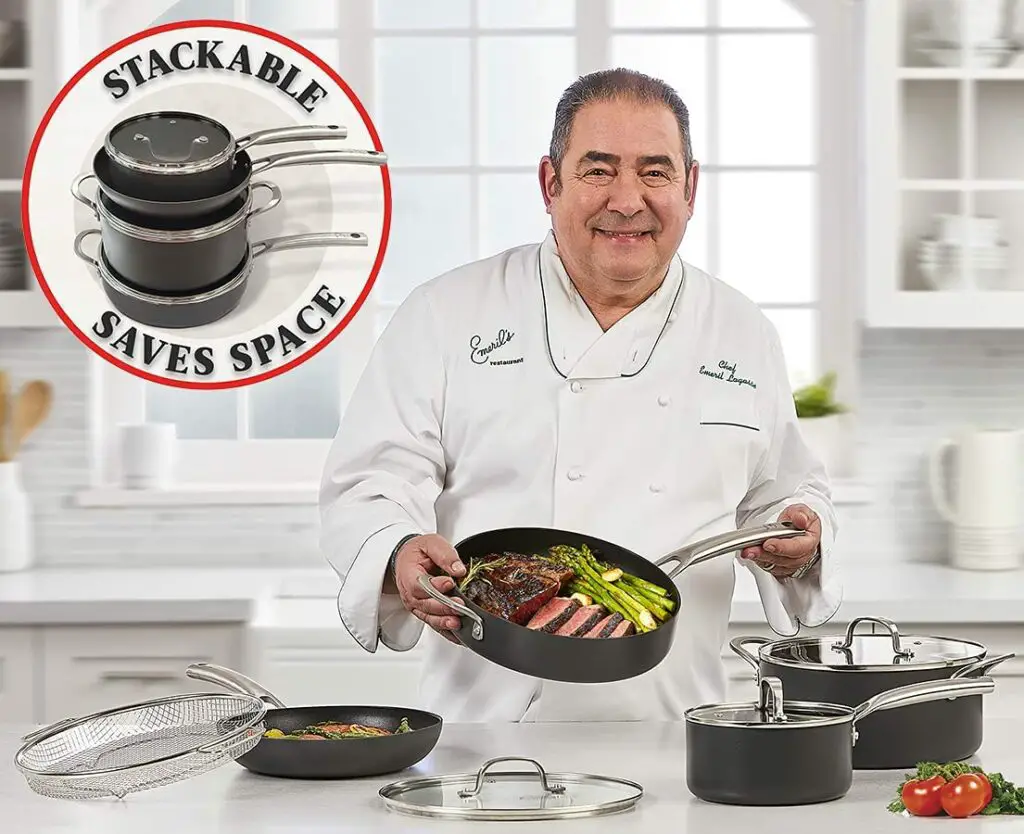 Emeril Lagasse is an award-winning chef and TV host with over 30 years of experience in the kitchen. His cooking techniques are based on his passion for food and his desire to help others prepare their meals.
He has been a judge on the Food Network's programs, as well as the "Emeril Live" show that he also hosts for Food Network.
His first cookbook was entitled "Emeril's New Orleans Kitchen: The Way It Is," The book was published in 1993 and won a James Beard Award for Best American Cookbook that same year.
Since then, Emeril has written several other books including "Every day's a party," "Primetime Emeril," "Emeril 20-40-60," "Emeril at the Grill," and more recently published books such as "Essential Emeril."
Related: Berghoff Cookware Review
Emeril Lagasse Everyday Forever Pans Review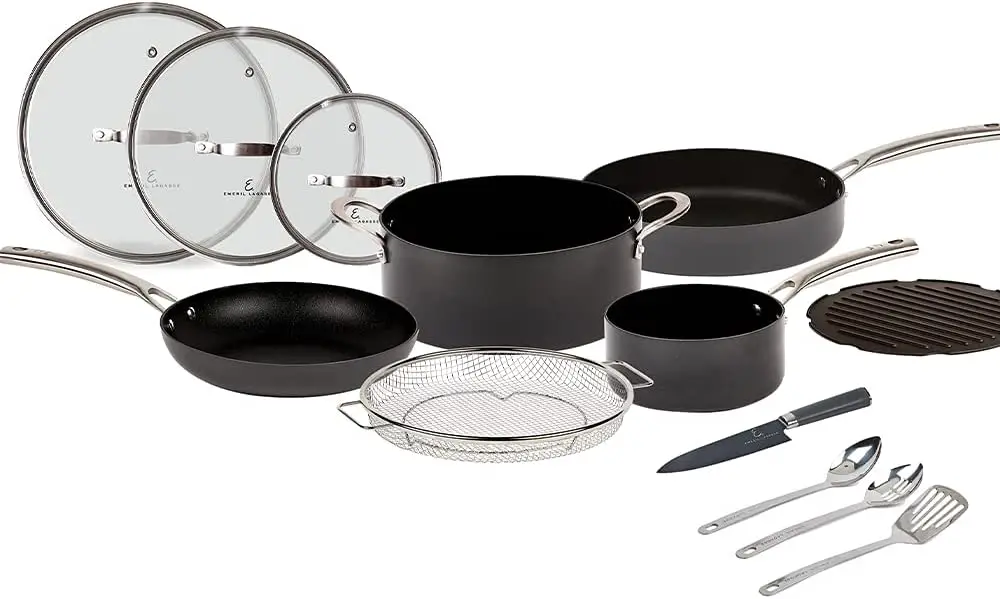 Emeril Lagasse is the most trusted chef in America. He knows what you need to make a great meal. That's exactly why he introduced Emeril Everyday Lagasse Cookware Forever pans.
The Emeril Everyday Lagasse Cookware Set is the perfect choice for your next meal-prepping project, whether you're making a big omelette or just boiling some eggs.
This 13-piece set includes everything you need to cook up some delicious meals. It's made with three layers of nonstick coating—so nothing sticks to the pans, and you can start cooking with confidence! Plus, the heavy gauge aluminum core induction bottom distributes heat faster, so your food will cook quicker as well.
Additionally, the oven-safe pans are dishwasher safe, so cleanup is easy—and the tempered glass lids with steam-escape vents allow for more even cooking in your oven. You'll love how comfortable these handles stay cool on the stovetop, so you can focus on what matters: making delicious food!
Set Includes:
1.5qt saucepan, 5.5-qt casserole stockpot with matching lid, 11-inch deep sauté pan with lid, 10-inch fry pan, 3-pc. Stainless steel utensil set, slotted turner, serving spoon, slotted serving spoon, steamer, chef knife, grill plate insert, Emeril's recipe guide.
Related: Sensarte Cookware Reviews
Emeril Forever Pans Pros and Cons
The Emeril Forever Pans are incredibly popular and highly sought-after cookware pans. They are designed to last for years, with a non-stick interior coating that won't chip or crack. They also have a triple-ply construction for even heat distribution and an aluminum core for excellent heat conduction. With these features, many have praised the Emeril Forever Pans for their durability and performance.
Below are the pros and cons of Emeril Forever pans
Pros
– Durable construction
– Non-stick interior coating
– Triple-ply construction for even heat distribution
– Aluminum core for excellent heat conduction
– Compatible with all stovetops (gas, electric, ceramic, induction)
Cons
– Expensive compared to other cookware sets
– Can be heavy and awkward to handle
– Needs to be hand washed
– Limited lid sizes available
Overall, the Emeril Forever Pans are an excellent choice for those looking for a durable and high-performing cookware set. Many reviews of the Emeril Forever Pans praise the set's superior quality, performance, and durability. If you're looking for a set of pans that will last you for years to come, then the Emeril Forever Pans are definitely worth considering.
Emeril Lagasse Forever Pans Feature Explained
Here we will look at the features, benefits, and overall value of Emeril Lagasse Forever Pans. From their heavy-duty construction to their non-stick ceramic coating, these pans are sure to make cooking easier and more enjoyable.
Read on to find out if Emeril's Forever Pans should be your go-to set of cookware.
Hard Anodized Aluminum
Emeril Forever Pans are designed to be long-lasting, high-quality nonstick pans. They are made with hard anodized aluminum, which means that the pans are strong and can take whatever you throw at them.
Nonstick coating
The Emeril Forever Pans are made with a premium nonstick coating that is easy to clean and durable. The surface is scratch-resistant and has a matte finish to prevent food from sticking and allows for quick browning.
The nonstick coating also makes it is easy to cook and clean.
Even Heat Distribution
The even heat distribution ensures that your foods won't burn or stick to the bottom of the pan, and the nonstick coating makes cleaning up after cooking easy.
Oven safe
Emeril Forever Pans are oven safe up to 500 degrees F, so you can keep them on hand for when you want to make something fast.
Induction Compatible
The Emeril Pans were designed to be the ultimate in convenience. The most important thing to know about Emeril Pans is that they are induction compatible. This means no more worrying about whether or not your pan will work with your stove; just pop it in and let it do its thing!
Ergonomic Handles
The handles on these pans are designed with comfort in mind! They are curved to fit comfortably in your hand, and the handles are made of silicone so they won't burn you as you cook with them.
Related: Pans with Detachable Handles
Transparent glass lids
These are made of transparent glass and they have a vent that makes them easier to open and close.
What to consider before buying Nonstick Pans
Before you buy Nonstick Pans, there are a few things you should consider
Material
If you're looking for a nonstick pan, look for one that has hard anodized aluminum construction. It is the most common material used in nonstick pans. It's durable, easy to clean, and won't scratch easily
Check out our article on Ceramic Cookware Made in USA
Teflon free coating
The Teflon-free coating on nonstick pans means that it doesn't contain any chemicals that may cause health problems to humans or animals. If you want to avoid toxic fumes or harmful chemicals then go for Teflon-free (PTFE-free) coating on your nonstick pans
Even Heating
When it comes to even heating, you should make sure that your nonstick pan heats evenly. If your pan heats unevenly, this can cause food to stick to the surface and make it difficult to remove. Make sure that the pan you are going to buy heats evenly throughout the pan so that all areas are heated equally
Oven Safe Temperature
The nonstick coating of your pan is not able to withstand high temperatures. That's why it is better to use a pan with a temperature rating of 500 degrees or less
Transparent Glass Lids
When buying a new nonstick pan, make sure that the lid has a transparent tempered glass lid so that you can see what is happening inside the pan while cooking or baking
Easy cleaning
Cleaning is one of the most important things when it comes to using a nonstick pan. Nonstick pans have a smooth surface that makes them very easy to clean but this does not mean that every nonstick pan is dishwasher safe.
Make sure that the nonstick pan you buy is dishwasher-safe and easy to wash by hand.
Bottom Line
Overall, the features of Emeril's Forever Pans make them stand out from the competition and make them worth considering for any kitchen. With their durability, convenience, and lifetime warranty, they make an excellent investment for anyone looking for a quality set of cookware.
If you are looking for a set of pans that can withstand the test of time and provide delicious results, Emeril Lagasse Forever Pans are the way to go.
Can forever pans last lifetime?
Emeril's Forever Pans are designed to last a lifetime. They are constructed from high-quality aluminum and stainless steel, with a Teflon non-stick coating. The pans have a unique patented "belly shape" design which ensures even heating and optimal cooking performance. Additionally, these pans come with a manufacturer's lifetime warranty.
When you consider all these things, It is safe to say that Forever pans can last lifetime.
Are Emeril's Forever pans safe?
Emeril Lagasse's Forever pans are made of aluminum and are coated with a non-stick surface. These pans are safe to use as long as they are used and cared for properly. However, as with any non-stick surface, it is important to avoid using metal utensils, which can scratch and damage the coating.