You've probably heard the names Dalstrong and Wusthof before, but what makes one superior to the other? If you're thinking about buying a Dalstrong or Wusthof kitchen knife, then you're in the right place to learn which one of these two brands of knives is superior.
In this article, we'll break down these two brands side-by-side and reveal what sets them apart from each other, so you can make an informed decision about which knife brand will better fit your budget and lifestyle.
Wusthof Overview: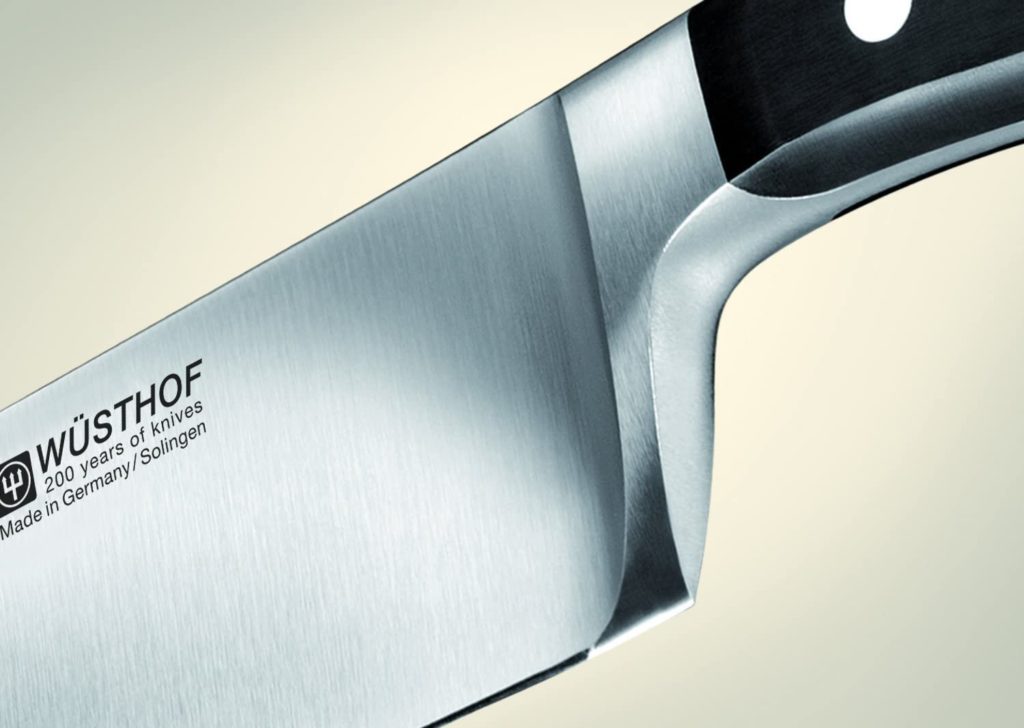 When you think of a high-quality kitchen knife, you're probably imagining a Wusthof. Founded in 1814, it's been a go-to name for chefs and home cooks for nearly two centuries.
Check out our article on Wusthof Vs Zwilling Knives
Wusthof Classic Series:
The Wusthof Classic Series has been a favorite of home cooks and professionals around the world for generations for one simple reason–it works! This iconic series is constructed from a special formula of high carbon no-stain steel and features triple-riveted handles for added strength and balance.
Forged and hand-polished, each blade is precision sharpened and painstakingly honed to create the legendary Wusthof sharpness. Whether chopping, dicing, or mincing, these exclusive knives will outperform all others in your kitchen.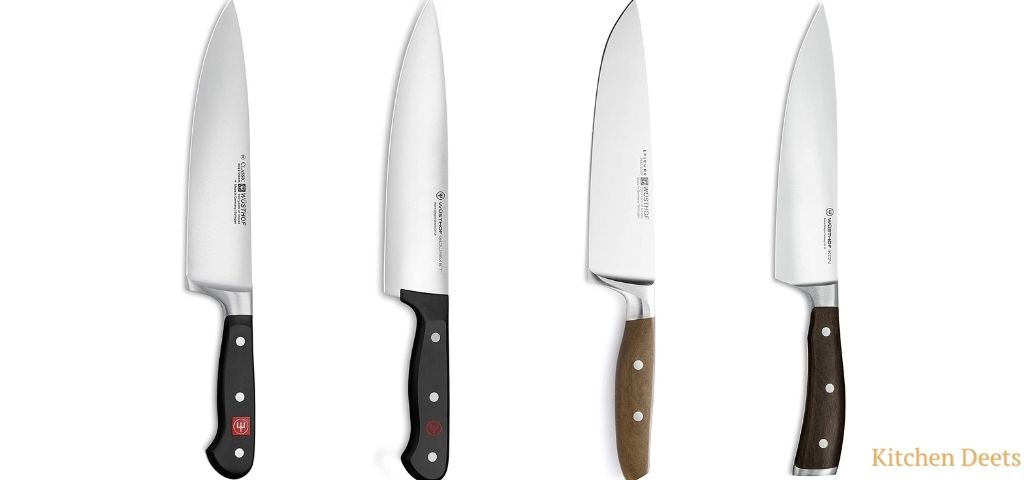 Other Notable Wusthof Kitchen knife Series:
Epicure Series
Dalstrong Overview: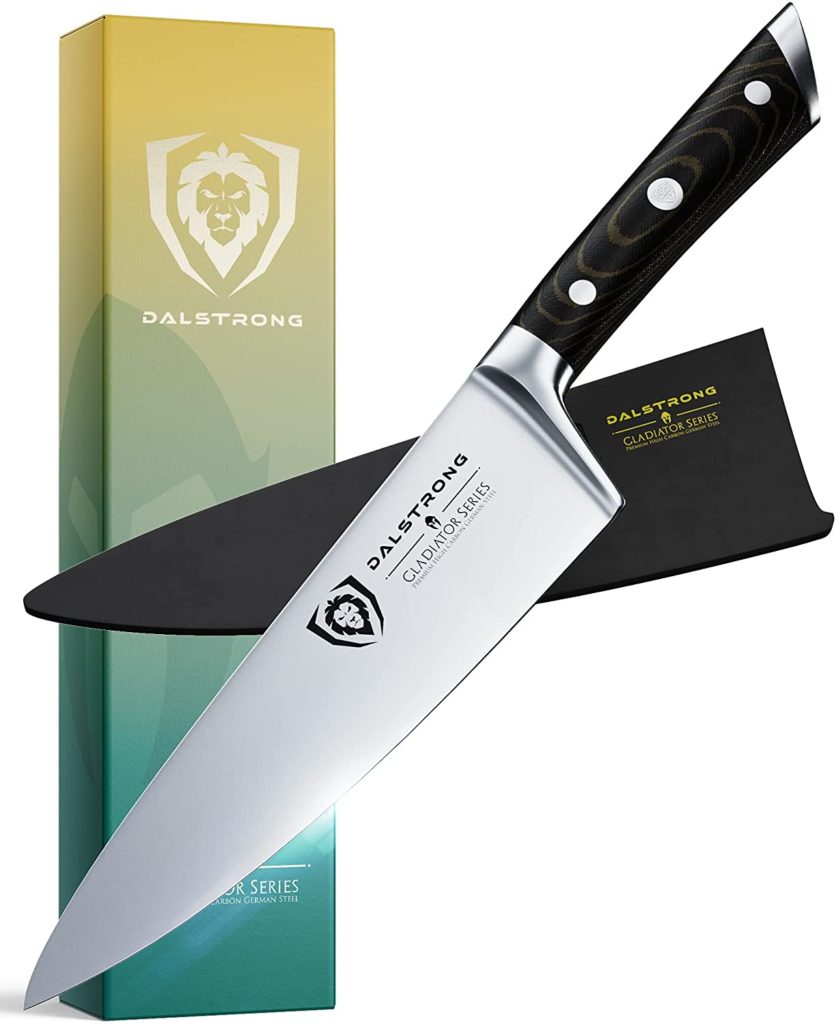 Dalstrong is a company well-known for its top-quality knives and has been in operation since 2014. Over the last 4 years, they have become one of the biggest and best names in the knife industry and they're not slowing down anytime soon. Read our review on Dalstrong Knives
Dalstrong Gladiator Series:
Dalstrong Gladiator Series is good for the price. Each knife in this series has a razor-sharp edge that glides through food without applying too much pressure, which makes it perfect for precision cutting, chopping, or mincing.
Every Dalstrong knife I have used in Gladiator series so far has been sharp and holds an edge well. I feel that Dalstrong knives are a bargain compared to other knife companies that sell similar quality knives.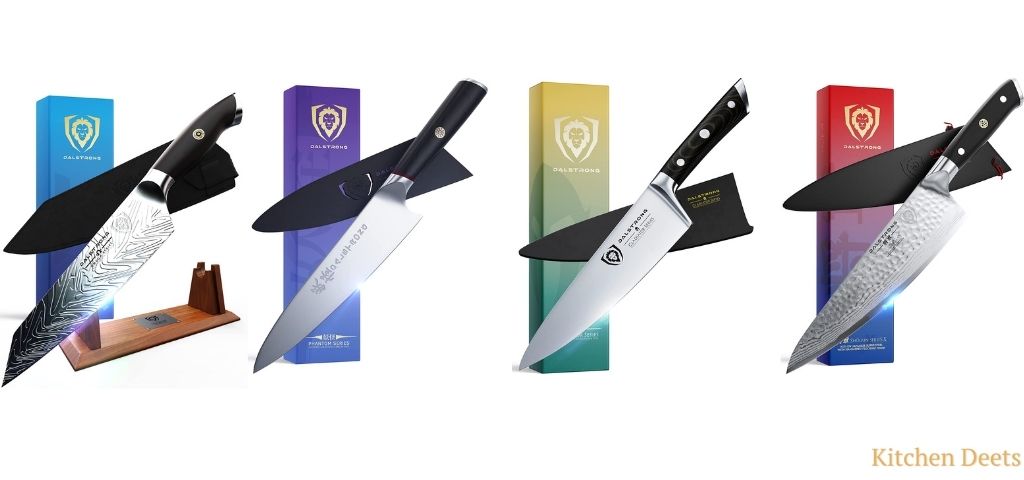 Other Notable Dalstrong Kitchen Knifes Series:
Omega Series
Phantom Series
Shogun Series
Dalstrong Vs Wusthof – Comparison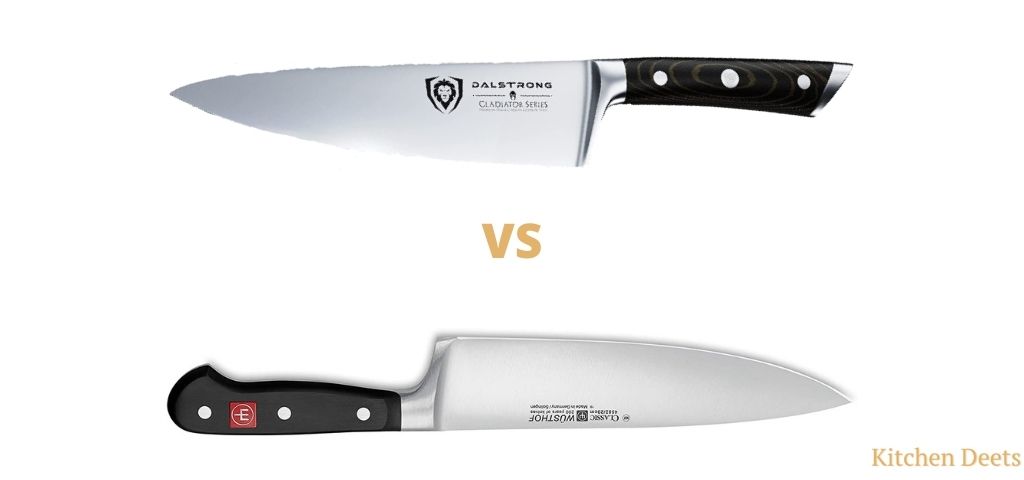 Both Dalstrong and Wusthof are two of the most prominent names in cutlery manufacturing. Many consumers ask, which knife brand is better? There really isn't an answer to that question because each brand has its own strengths and weaknesses. We've put together a comprehensive comparison of Dalstrong versus Wusthof. We hope you enjoy it!
Where these knives are made:
Dalstrong knives are made in Yangjiang China, which is arguably one of the best places in terms of cost, and quality control. It's safe to say that these guys are serious about their craft and take pride in what they do.
On the other hand, the premier German cutlery brand, Wusthof knives are made in Solingen, Germany. The manufacturing plant here dates back to 1814 and houses over 400+ employees who make their knives precision forged. Their dedication to quality has led them to become one of Germany's premier exports.
Design of knives:
Dalstrong kitchen knives feature a full tang and an ergonomic design that gives users maximum control over their cutting experience. Meanwhile each Wusthof knife is forged from a single piece of steel. The blades are sharpened, polished, and buffed by hand, giving them a superior edge that stays sharp longer than most other knives on the market.
Process Used: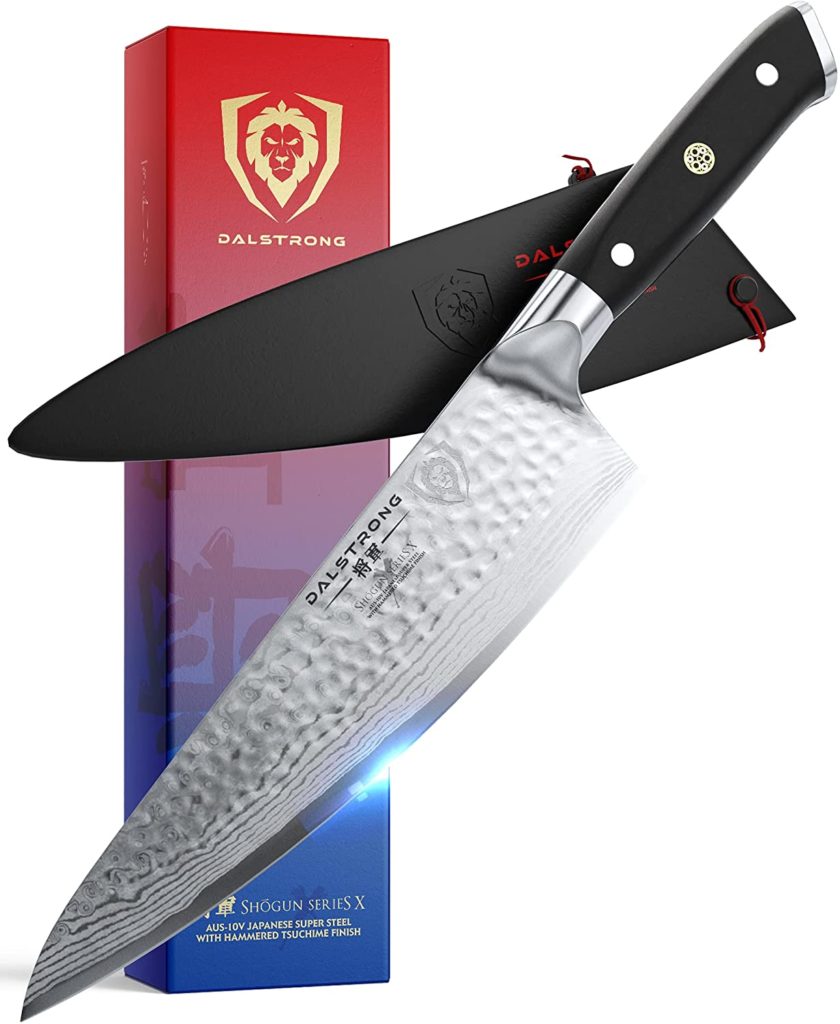 Wusthof uses a process called ice tempering to improve their knives' sharpness and durability. On the other hand, Dalstrong uses advanced proprietary technology to ensure even greater performance on all fronts.
Edge Angle:
All Wusthof knives are made with a common 14-degree edge angle on both sides. At first glance, it may appear that Dalstrong's 18-degree edge angle is sharper, but there's more to knife sharpness than an angle alone. To be blunt, if you're using your Dalstrong knife on anything other than raw vegetables or boneless meats, its edges won't last as long as those of a traditional German blade.
Blade Construction:
Dalstrong uses high carbon German steel and Japanese VG-10 Steel in their knives. Wusthof uses (X50CrMoV15) high carbon stainless steel in most of their knives. This means that Dalstrong knives tend to be slightly more durable and resistant to rust and staining than comparable Wusthof knives. Both feature a full-tang construction in most cases.
Handle Of Knives: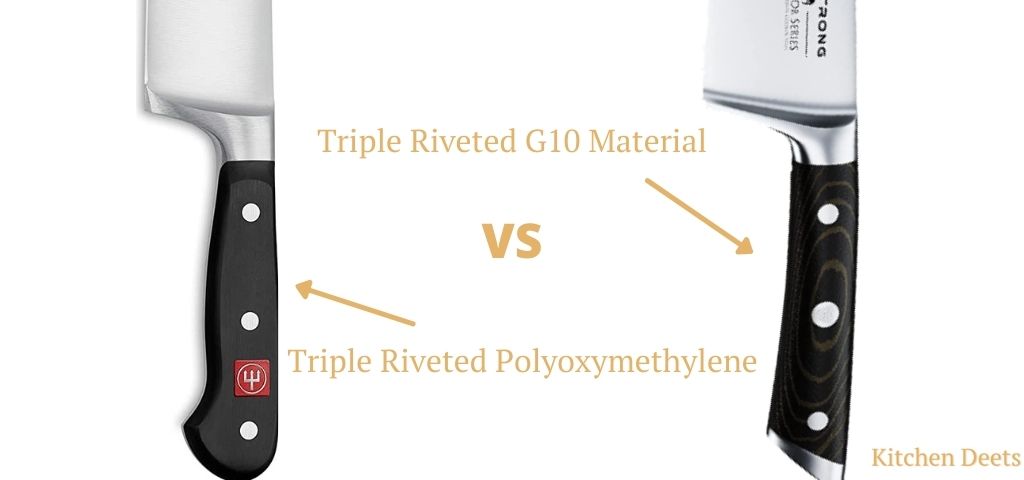 Wusthof knives have a Polyoxymethylene handle, making it easy to clean and maintain; Dalstrong knives, on the other hand, feature G10, Carbon Fibre, and Pakkawood handle that fit snugly in your hand, for ease of use.
The handles of both knives are very durable, from what we have noticed. As a result, it doesn't look like they will crack or break down anytime soon.
Weight of knives:
The main difference between Dalstrong knives and Wusthof knives comes down to weight. While Dalstrong uses much lighter forged high-carbon stainless steel, Wusthof utilizes heavier high carbon steel. Both make solid knives, but if you're looking for a lightweight option that won't tire your hand out quickly during long prep sessions, Dalstrong is worth considering.
Price:
It's no surprise that quality knives cost more than cheap ones. And just because they're more expensive doesn't mean you're getting something superior for your money.
Warranty:
Dalstrong offers a lifetime warranty against defects in materials and workmanship. If a knife fails to perform due to a defect in materials or workmanship, Dalstrong will replace it with a new one. Dalstrong knives can be returned for replacement or refund within 30 days of purchase if found to be defective. All shipping charges are non-refundable.
On contrary to that, Wusthof the most trusted name in kitchen knives, with over 200 years of history behind it, offers a limited lifetime warranty on every knife purchased directly from them.
Final Thoughts:
Both brands are premium, high-quality kitchen knives that will last for years to come. Both Dalstrong and Wusthof kitchen knives are favourite in professional kitchens around the world, so you can rest assured you're investing in a top-quality product.