The Ninja Air Fryer has been a huge success, and it's easy to see why. It makes cooking quick and simple, allows you to fry food without adding oil, and cuts down on calories because you don't have to deep-fry anything. But the big question remains: which one should you get? Ninja AF100 or Ninja AF101?
The Ninja AF100 and the Ninja AF101 are both popular models of the ninja air fryer line, so deciding which one to buy can be tough. These two products are nearly identical but have some key differences that you'll want to consider before making your final decision on which one you want to add to your kitchen countertop.
In this article, we'll explain all of the similarities and differences between these two models so that you can make an informed decision.
Let's start with some basic info on both appliances.
Ninja AF100: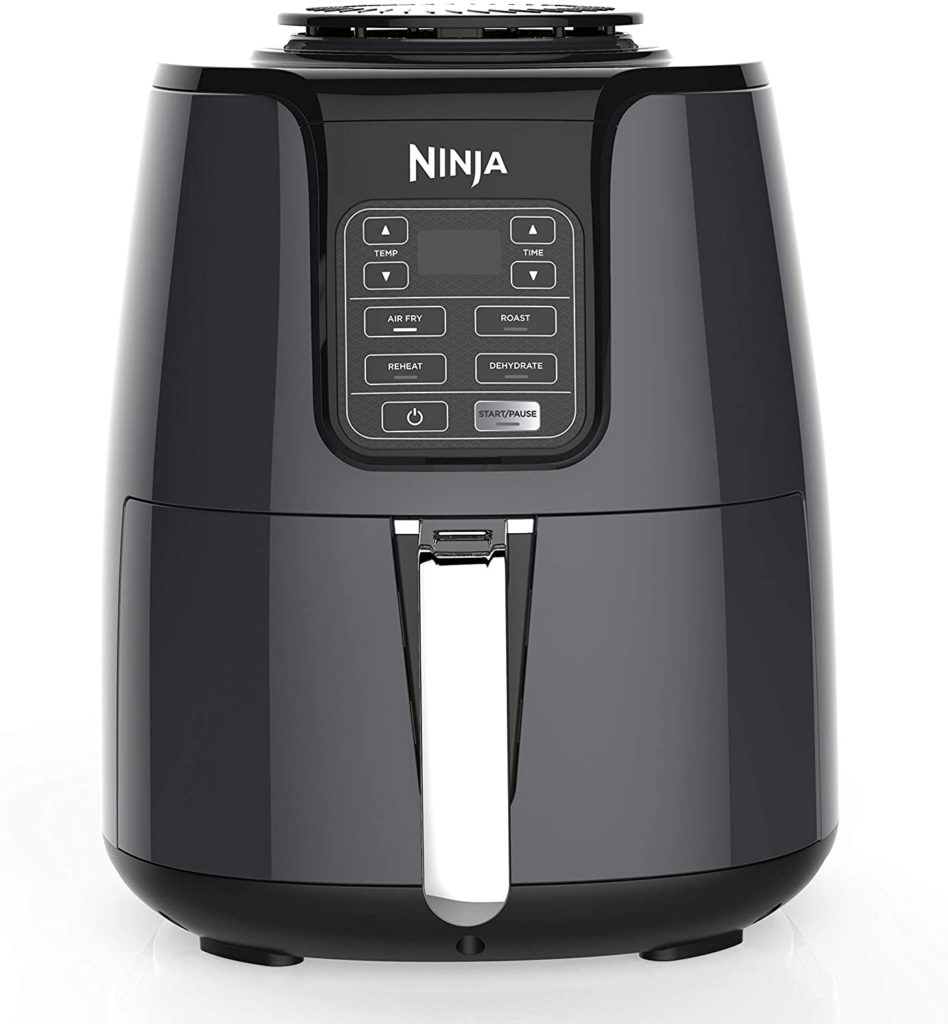 Ninja AF100 air fryer is a compact and convenient air frying solution that will help you create restaurant-quality food at home! The unit uses 80% less oil than conventional deep fryers when frying at lower temperatures. This allows for cooking healthier versions of all your favorite foods, such as fries, chicken and fish. Plus, it provides an awesome alternative for deep frying.
Ninja AF100 combines the convenience of the healthiest frying method with the capability to cook at temperatures up to 400F. This air fryer can cook up to 2 pounds of food such as chicken wings, fish sticks, French fries, onion rings, and more.
Designed with your cooking comfort in mind. Ninja features a digital touchpad, and much more so you can get the best possible cooking results every time.
This device uses Ninja's air circulation technology that circulates hot air around food for optimal heat and even cooking performance. The adjustable thermostat allows you to easily switch between preheating, cook, or reheat settings depending on your recipe.
Ninja AF101: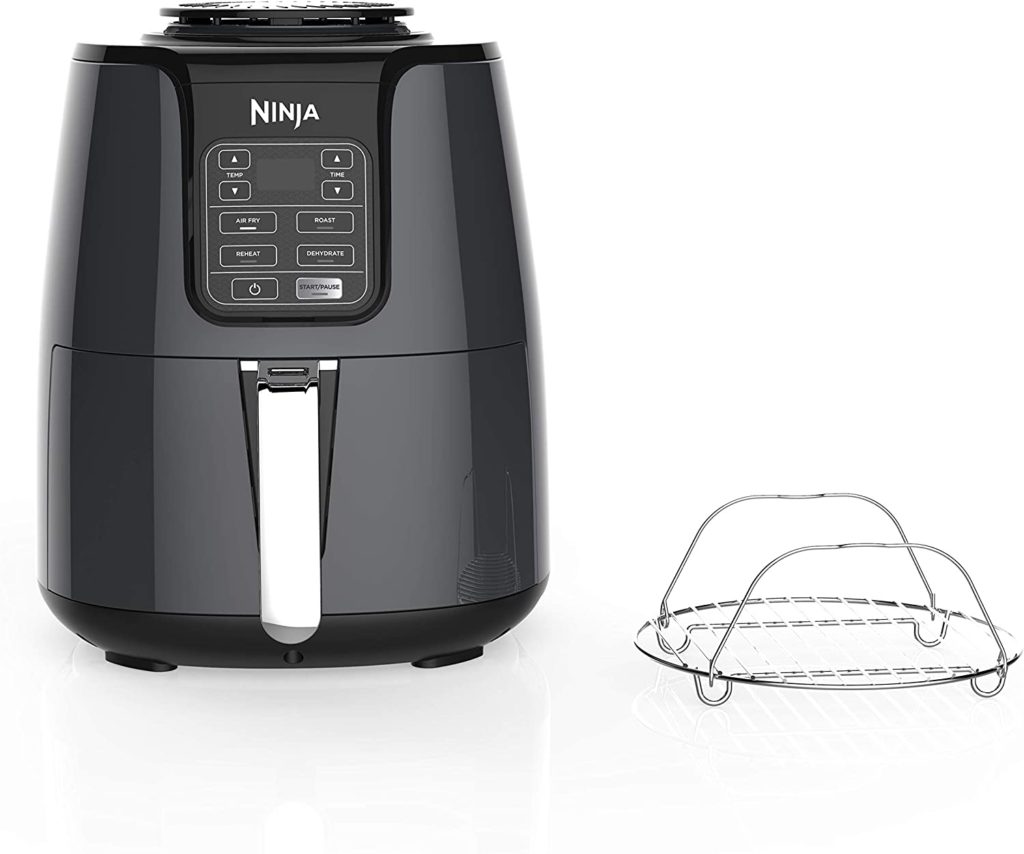 The Ninja AF101 Air Fryer is the smart kitchen solution that automatically calculates the precise heat and time needed to cook your food to perfection. This countertop appliance uses rapid air technology that circulates hot air around food for healthier, restaurant-quality results.
With a capacity of up to 2 lbs., it can cook a range of foods from frozen French fries, cheese sticks, chicken fingers, shrimp, hamburgers, and onion rings, to cinnamon rolls. This skinny little air fryer packs a big punch. With its powerful 1550 watts, it transforms crispy air-fried food into a delicious side dish or meal with minimal oil.
Ninja's easy-to-use digital interface lets you choose from preloaded menu items or enter your own time and temperature settings to start cooking. The automatic timer has an auto on/off feature so you can set the timer and come back later to a delicious snack or meal.
Simply load your favorite foods into the basket, select a recipe from the cookbook, and get cooking!
Ninja AF100 vs AF101, Comparison:
The two popular models of Ninja air fryers both have similar capabilities and specifications. But there are some key differences between them. To make things easier, we've put together this in-depth comparison of the Ninja AF100 vs the Ninja AF101 to help you find out which one is best for you and your household.
Check out our article on Ninja Sp100 vs Ninja Sp101
Capacity:
The most important aspect to consider when choosing a fryer is its capacity. Both AF100 and AF101 are powerful little devices that can cook up to 2 pounds of food at a time. And have a capacity of 4 Quarts.
Cooking Racks: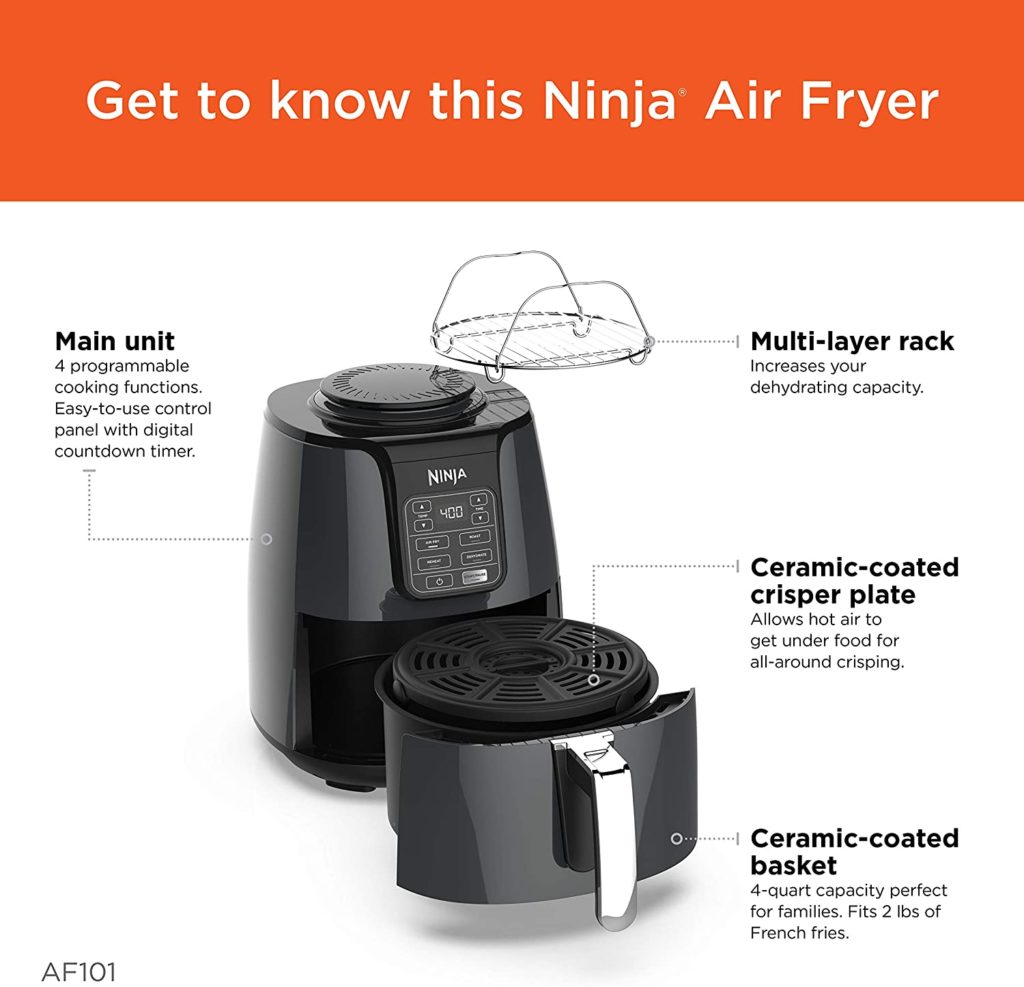 The Ninja AF101 air fryer comes with racks that allow you to cook multiple foods at once. While AF100 does not come with any racks.
Weight:
The biggest difference between these two products is in their weight. The Ninja AF101 weighs more than 10 pounds. In comparison, the Ninja AF100 weighs less than 10 pounds. This makes a big difference in shipping costs and storage space in your kitchen when you're not using it. If you have a tiny kitchen with limited counter space. You'll probably want to go with a lightweight product like Ninja's smaller model.
Price:
The Ninja Air Fryer (AF100) retails for $59.99 while its bigger brother (AF101) goes for $89.99. The Ninja AF100 is $30 cheaper than its counterpart, making it more affordable for those of us on a budget.
The price difference may be small but it could add up over time because you will need to replace your air fryer if it stops working correctly. Hence, we recommend spending a little extra to get a product that works properly from day one and will stand the test of time.
Power Consumption:
The Ninja AF101 uses about 5% more power than its brother. If you're looking to use your air fryer often. It might be worth getting a model that saves energy. However, if you don't plan on using your machine every day then you won't have to worry about paying an extra $$ per month in electricity costs. Both air fryers have intelligent sensors that automatically adjust time and temperature for precision cooking.
Easy To Clean:
Both of these air fryers feature dishwasher-safe components that are very easy to clean. Additionally, both air fryer baskets have PFOA and PTFE-free coating.
Controls and Presets:
The Ninja AF100 and AF101 both feature four preset settings— Air fry, roast, reheat and dehydrate. While it's convenient to have these presets at your fingertips. I found that I didn't need them because you can manually adjust for higher temperatures if needed.
Temperature Range:
Each of these air fryers has a minimum temperature setting of 105 degrees F and a maximum temperature setting of 400 degrees F. This means that you can cook almost anything in an air fryer. In addition to food, other items such as frozen desserts and deep-fried foods can also be cooked in both these air fryers.
Performance:
Both of these models offer decent performance. This means that both of these models can cook food quickly and evenly.
Comparison Table for Ninja af100 vs Af101:
| Features | Ninja AF101 | Ninja AF100 |
| --- | --- | --- |
| Capacity | 4 Quart | 4 Quart |
| Dimension (Inch) | 13.6 x 11 x 13.3 | 13.6 x 11 x 13.3 |
| Price | $99 | $89 |
| Weight | 9.7 lbs. | 10.58 lbs. |
| Holds upto | 2 pounds | 2 pounds |
| Temperature | 105F to 400F | 105F to 400F |
| Power | 1550 W | 1500 W |
| Cooking Presets | Air fry, preheat, roast, dehydrate, bake | Air fry, preheat, roast, dehydrate |
| Prest Function | Four | Four |
| Color Varients | Gray / Black | Gray / Black |
| Control Panel | Digital Touch | Digital Touch |
| Ceramic Coating | Yes | Yes |
| Multi-layer rack | Included | Not included |
| Good For | 1-4 People | 1-4 People |
| BPA Free | Yes | Yes |
| Dishwasher Safe Parts | Yes | Yes |
Which One Should You Buy?
The Ninja AF100 and Ninja AF101 are both great air fryers. It's tough to say which one you should get without knowing your cooking preferences. The best choice for you really comes down to how much you want to spend on an air fryer. If your budget allows it, then I would recommend getting Ninja AF101 because it has better quality and will last longer than AF100.
Frequently Asked Questions
Can Ninja AF100 Air Fryer Dehydrate?
I got my ninja af100 a week ago and was testing the dehydrate function at the highest temperature. It worked well but will take a little time to dry out the meat and short reheating times may be required. You can dry out your meat for quite some time depending on what you are gonna do with it.
Can you bake in ninja af101 air fryer?
You can absolutely bake in Ninja AF101 air fryer. It's great for making cakes and cookies!
What's the difference between ninja af100 and ninja af101?
The Ninja af101 is a multi-racked air fryer that allows you to make multiple dishes at once. While the Ninja af100 is not multi-racked. The two products are different from each other because of their ability to make multiple dishes at once.