Breville and Cuisinart are two of the most trusted brands in cooking appliances, and their flagship air fryer models, the Breville BOV900BSS and the Cuisinart TOA-65 are top sellers. Both models offer all the standard features you'd expect in an air fryer: multiple pre-set functions, easy-to-use controls, and dishwasher-safe parts.
But which one's better? That depends on what you're looking for in an air fryer toaster oven. The Breville and the Cuisinart Air Fryer Convection Toaster Oven both have their advantages and disadvantages, depending on your needs. If you're trying to decide which air fryer to buy, let us help you with this detailed comparison of these two kitchen appliances.
We'll cover their features, prices, capabilities, warranties, pros, and cons to help you pick the best one for your needs! Let's jump in.
---
Use links below for easy navigation
---
Breville Overview:

Breville is a large company that has been manufacturing kitchen equipment for years. It has a wide range of products from toasters to cookers and blenders. They have been in business since 1932 so they know their stuff when it comes to making kitchen equipment.
Kitchen appliances from Breville are both stylish and functional. The same holds true for their air fryers. They are sleek, easy to use, and above all else, functional. While they are not cheap by any means, they are cost-effective because of how long they last. When you buy a Breville product, you can rest assured that it will last for years without breaking down on you.
Notable Air Fryer Models from Breville:
BOV845BSS Smart Pro Toaster Oven
BOV450XL Mini Smart Oven
Breville Combi Wave 3-in-1 (Air fryer microwave combo)
Cuisinart Overview:

Cuisinart is a reputable company that has been around for decades. The brand name carries a lot of weight and customers will always trust them to deliver quality kitchen appliances. The air fryer made by Cuisinart is no different and it makes cooking healthier and tastier meals easy with its wide array of settings and functions.
The brand has a great reputation for affordable appliances with a sharp design, so it's no surprise that their air fryer toaster oven fits right in. If you're looking for something small but powerful, Cuisinart is a perfect choice. The air fryer toaster oven from Cuisinart are compact, inexpensive, and requires very little counter space.
Notable Air Fryer Models from Cuisinart:
Cuisinart TOA 65 Convection Toaster Oven Air fryer
Cuisinart TOA 60 Air fryer Toaster oven
Cuisinart TOB-40N Classic Toaster Oven Broiler
Breville and Cuisinart:
Breville Smart Oven and Cuisinart both have top-selling positions in their categories for many reasons. Let's take a look at them and see what makes them so popular.
Breville Smart Oven: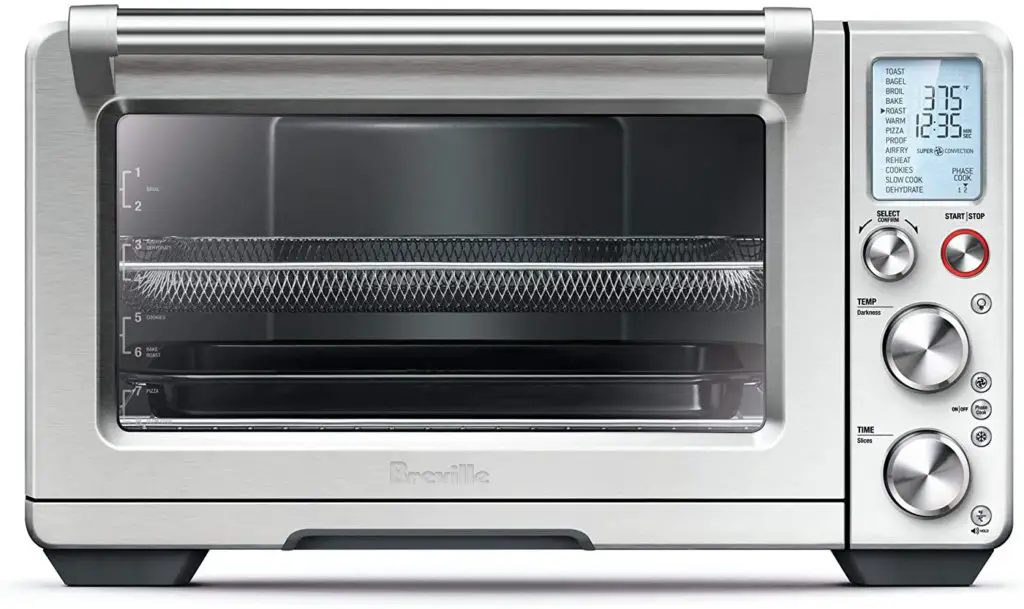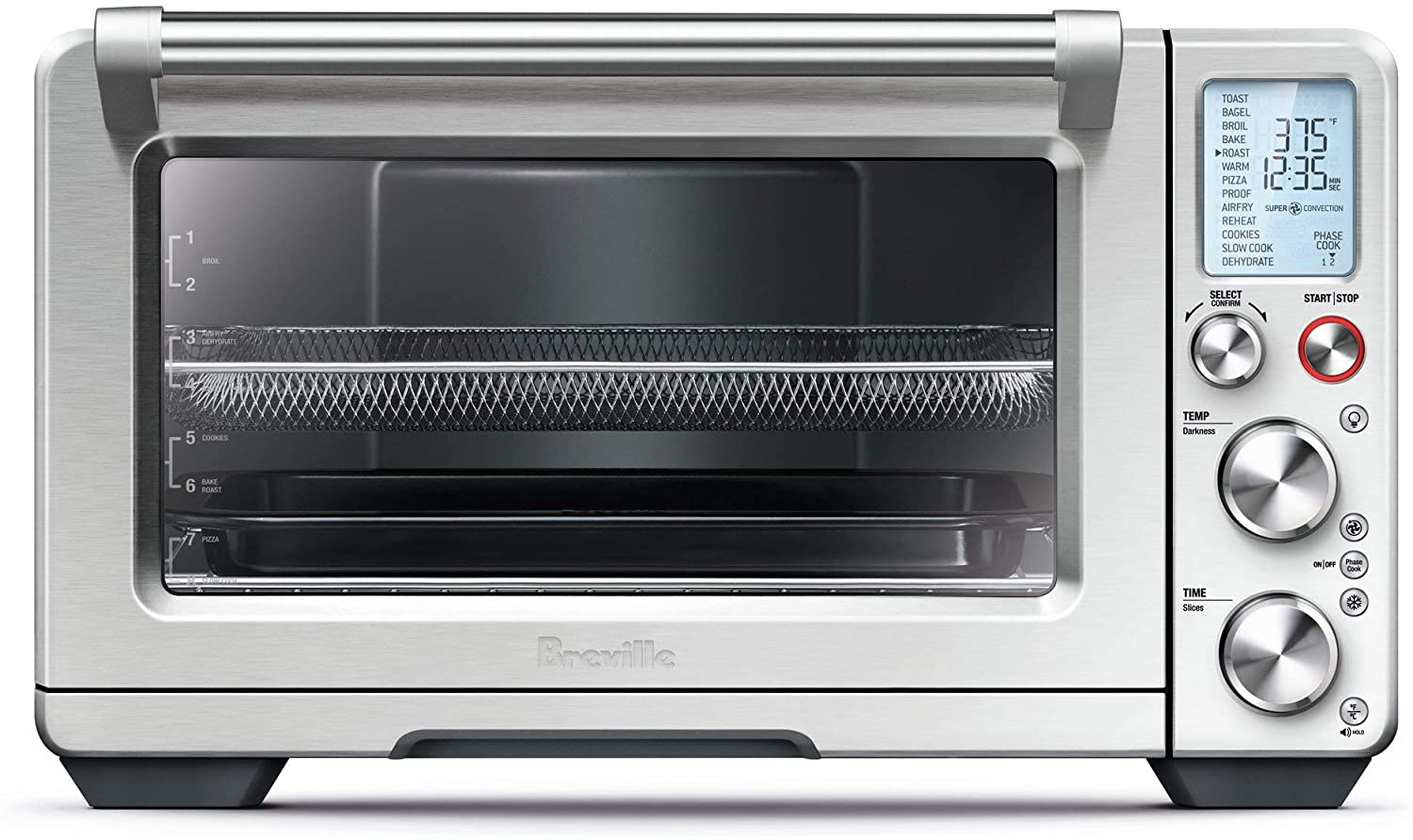 The Breville BOV900BSS Oven offers 13 built-in settings, including roast, bake, pizza, air fry, toast and broil assuring that foods will be evenly cooked and come out tasting delicious after you finish cooking them. The smart oven features a 2-speed convection fan and brilliant interior light to let you monitor food as it.
Designed with a touch-sensitive interface and pre-programmed settings, the BOV900BSS is the best air fryer oven you could own. Along with a stylish stainless steel casing, a 3-inch viewing window, and a powerful 1800 watt motor that can fit up to nine slices of bread at once, there's plenty to love about Breville.
Related: Air fryers with stainless steel baskets
Accessories Includes:
Oven Rack, Baking Pan, and an Air Fryer Rack
Pros:
2-speed convection fan.
13 built-in functions to cook a variety of food.
A 13-inch pizza pan is included in the accessories.
Interior oven light with LCD Display for your convenience.
Patented Element IQ System.
Cons:
Stops working if used roughly.
Cuisinart Toa 65: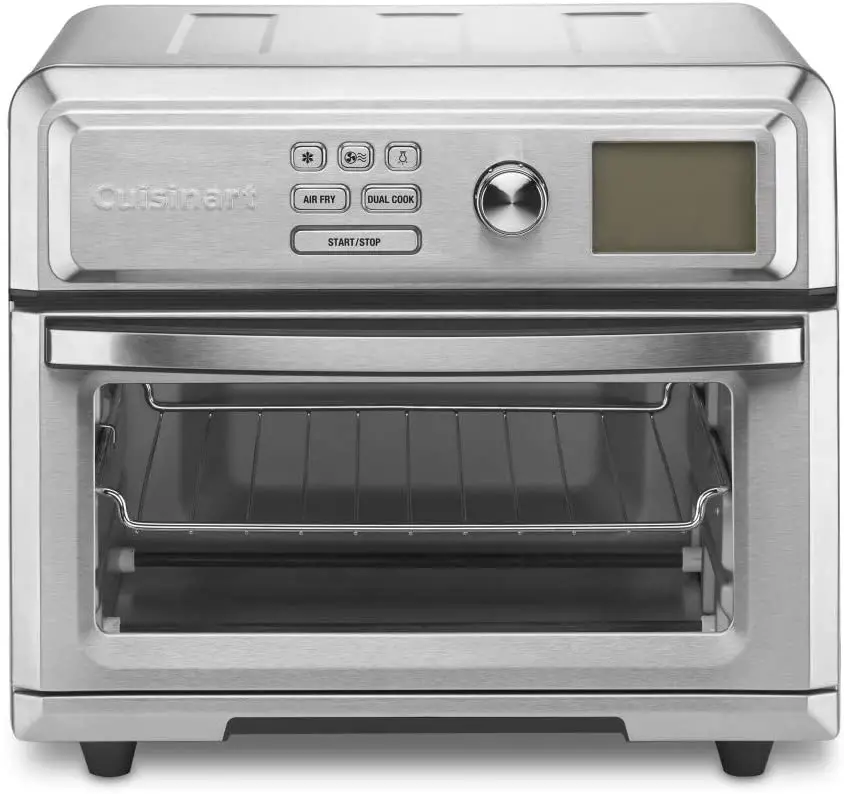 The Cuisinart TOA 65 Air Fryer Toaster Oven is a multi-functional kitchen appliance that makes it easy to prepare a wide variety of foods. It features an 1800 watt dual heating element and a high-intensity fan that delivers a powerful blast of hot air for fast and crispy results or low-temperature cooking, slow cooking, or even dehydrating.
The Cuisinart TOA65 Air Fryer Toaster Oven has a roomy 0.6 cubic ft. capacity and includes several preset functions as well as a Keep Warm function with a variable 30-minute timer. TOA 65 toaster oven is certainly a smart kitchen appliance that will be your best friend in the kitchen.
Accessories Includes:
Oven Rack, Baking Pan, and an Air Fryer Rack
Pros:
Has a dual heating element.
A multi-functional appliance that can work as a dehydrator.
Lighter in weight.
Adjustable timer with preset ranges.
LCD Display for easy use.
Cons:
Poor customer service.
Breville Vs Cuisinart Air Fryer, Comparison:

While both brands can be great choices, it's worth spending a little time researching them before deciding on a final brand. Let's take a look at some common differences between those two models mentioned above.
Power:
Both Breville and Cuisinart air fryers use 1800 watts of power, which means that they both use equal amounts of electricity while cooking your food. Both machines are great for customers who want to enjoy the authentic taste of foods prepared in oil or fats without adding extra oil or fats to their diet.
Temperature Range:
Both companies claim that their products can cook food faster and with better quality. However, they each have different temperature ranges.
The Cuisinart air fryer has a temperature range of 80 degrees to 450 degrees, while the Breville has a temperature range of 120 degrees to 480 degrees. While the Cuisinart is great for pastry making, the Breville is more suitable for roasting and dehydrating.
Capacity:
With Breville, you can toast up to 9 slices of bread at once. On the other hand, Cuisinart TOA65 can only toast 6 slices of bread at once.
Warranty:
Breville Smart Oven offers a 2-year limited product warranty for their ovens, whereas Cuisinart TOA65 offers a 3-year limited warranty. This makes Cuisinart a better option, as it provides longer warranty coverage on high-end products like toaster ovens.
Weight:
Breville and Cuisinart both air fryer toaster ovens are very different in terms of weight. I was surprised with the weight difference of Cuisinart toa65 which is 20.3 pounds as compared to Breville smart oven 38.9 pounds.
If I was to pick between the two depending on the weight, it would definitely be Cuisinart because it would likely fit in my kitchen easily or it can even be kept in a cupboard if needed!
Price:
In terms of price, Breville smart oven is very expensive as compared to Cuisinart. Breville smart oven costs almost $400. While Cuisinart Toa 65 costs $270 only. Making it a smart choice for those who are tight on budget.
Final Thoughts:
Choosing between Breville and Cuisinart is a tough decision. While each of these two options has its own strengths and weaknesses, both can provide you with great results if used correctly. However, if you're trying to decide between a Breville and a Cuisinart, we recommend opting for a Breville, it offers more flexibility and more controls. And if your budget is a little tight and you're not looking to spend a lot of money, then Cuisinart might be a good fit for you.