Cuisinart is a leading brand when it comes to small food equipment and anything kitchen-related. Their products deliver great results if you know how to use them correctly.
Use links below for easy navigation
Cuisinart Toa 60 vs Toa 65 Overview:
Every home needs an air fryer toaster oven that cooks food quickly, evenly, and at the right temperature every time. However, it can be hard to tell the difference between these two models from Cuisinart. Cuisinart toa 60 and Cuisinart toa 65 are two great air fryer toaster ovens from Cuisinart, So which one should you choose?
This article will break down each model's features, specifications, pros and cons so you can make an informed decision about which one will meet your needs best.
At the end of this article, you should have enough information to decide if the Cuisinart TOA 60 or Cuisinart TOA 65 air fryer toaster oven is right for you! Let's dive in!
Cuisinart Company Overview
Cuisinart is a company that has been in business for over 40 years. It was started by Carl Sontheimer in 1973. The company makes a variety of kitchen appliances, including air fryers, blender, food processor, coffee maker, and more.
Cuisinart has managed to win many awards and has grown to be one of the most respected companies in the industry. They are well known for their air fryer toaster ovens which have been applauded worldwide for their quality.
Cuisinart Toa 60: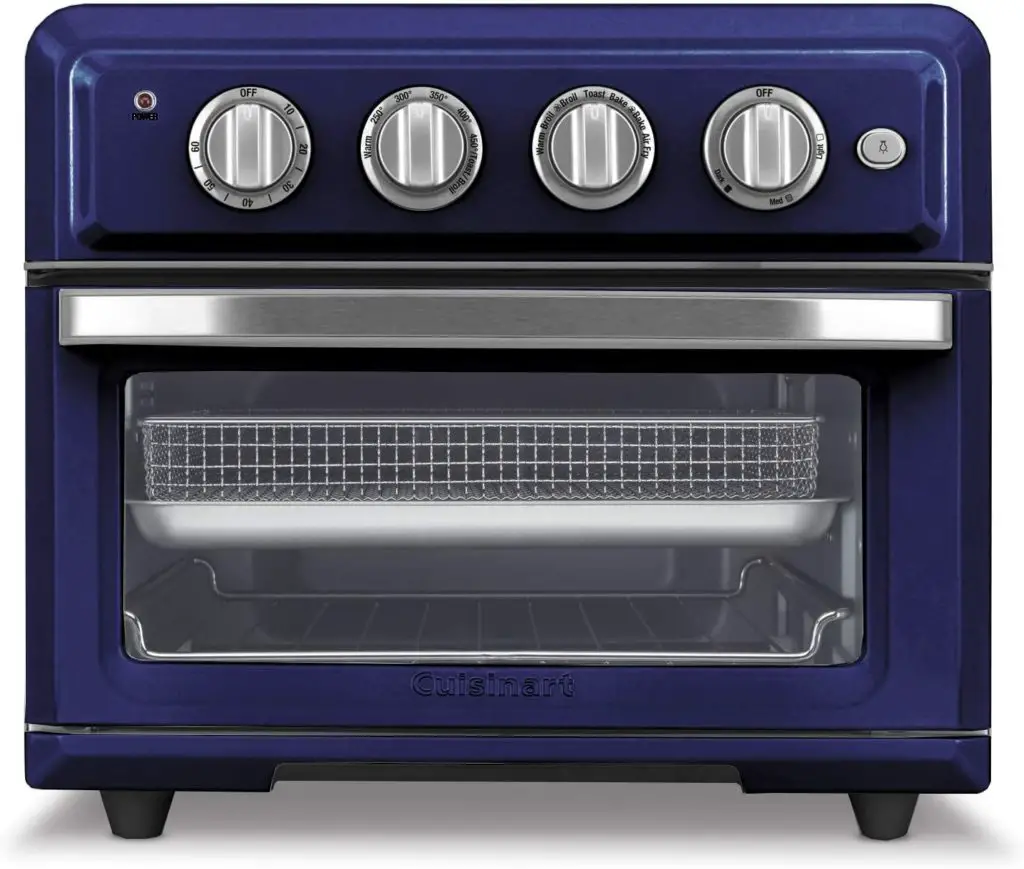 The Cuisinart Toa-60 toaster oven is an excellent choice for families and cooks looking for a smart and useful addition to their current kitchen appliances. It has a large capacity and can fit a variety of food items as well as different sizes of cooking items such as 12-inch pizza or 6-inch bread. Its convection feature allows it to bake at a faster rate than other toaster ovens, so you'll never have to wait long for your favorite foods.
The Cuisinart TOA 60 Air Fryer Toaster Oven can handle it all. Its extra-large, slide-out rack makes it easy to clean, while the vented top and side panels make it safe to use. The crumb tray can also be pulled out for easy cleaning.
This great air fryer toaster oven from Cuisinart is a perfect appliance to purchase if you don't have much counter space!
Pros:
Cooks faster than other models.
Easy cleaning.
Comes with a 3-year warranty.
Comes with a detailed manual for instructions.
You can use it to cook multiple items.
East to use.
Cons:
Food may burn if you do not follow the required instructions
May stop working after a year if used roughly.
A ticking timer may sound annoying.
Cuisinart Toa 65: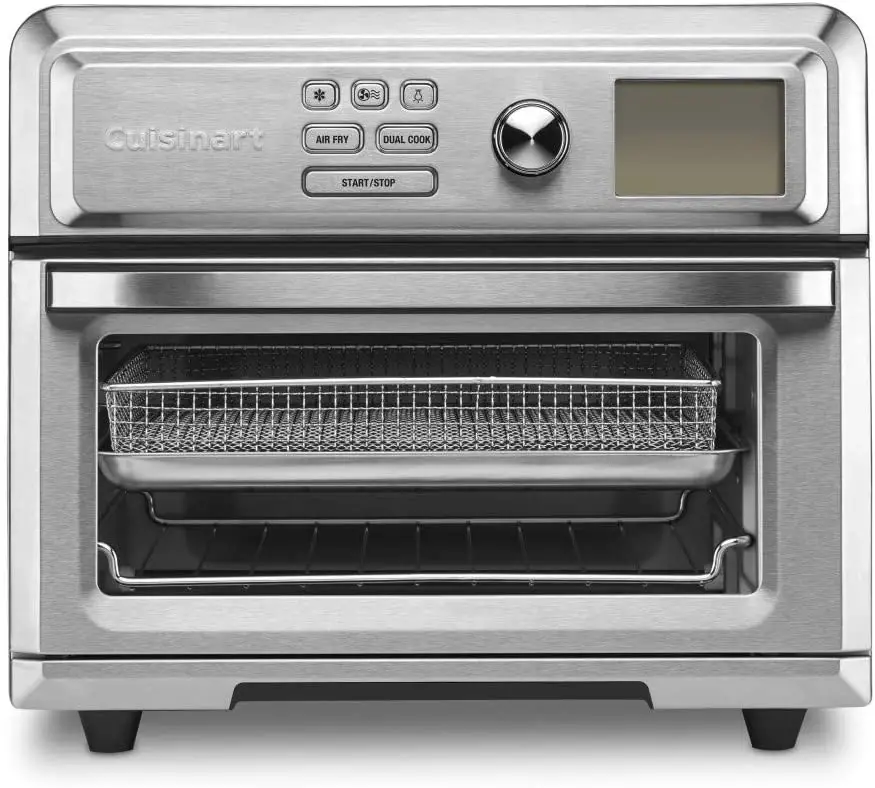 The Cuisinart Toa 65 digital air fryer toaster oven is an easy to use appliance with LCD display for cooking temperature and timer. The adjustable temperature settings allow you to cook items ranging from frozen hash browns, frozen pizza, hot dogs, chicken strips, fish sticks, and many other snacks at once.
With this digital air fryer toaster oven, you can make delicious meals easily in a flash. Just add your favorite foods to the basket and watch them circulate in the infrared heating ventilation. It promotes fast and even results in a matter of minutes. You can enjoy your meal without the extra grease that deep fryers have.
The Cuisinart Toa 65 toaster oven is an excellent choice for any household. And with stainless steel housing, you will be able to use it for years to come.
Pros:
The Digital display makes it easily understandable for children or seniors.
Saves you space and energy.
High velocity, high-heat airflow cooks food quickly.
Healthier oil-free cooking that nourishes your body.
Even temperature distribution.
Cons:
Proper Ventilation is necessary for this device.
Cuisinart Toa 60 vs Toa 65 Similarities and Differences:
There are many differences between Cuisinart TOA 60 and TOA 65 but there are also things they have in common that might be important to know as well. I'll cover both the similarities and the differences here. Let's begin.
1) Size
The Cuisinart TOA 60 measures 15.5 by 16 by 14 inches. The dimensions of the Cuisinart TOA 65 are a bit bigger: 17 by 21.73 by 15.75 inches. If you have a small kitchen, it might be difficult to find space for both appliances when they're in use.
2) Color

The primary difference between these two models is color. While they have a lot in common, one distinction is in their physical appearance. The Cuisinart TOA 65 has a brushed silver finish, while its counterpart, the Cuisinart TOA 60 comes in copper, purple, white, black and silver stainless steel accents to match your kitchen décor.
3) Features
The most important difference between these two air fryer toaster ovens is that the Cuisinart TOA 60 is a compact unit with a limited number of functions, while its larger brother (the Cuisinart TOA 65) offers more cooking modes and features.
4) Cooking Options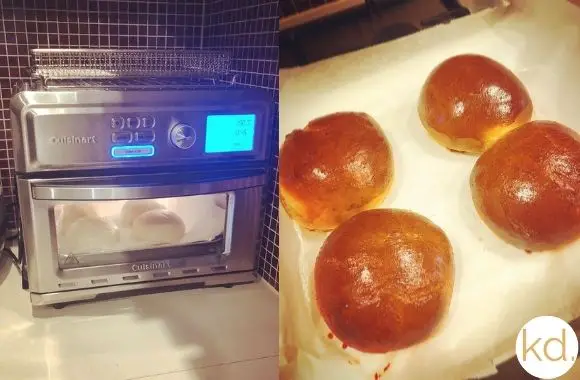 The key difference between these two toaster ovens lies in their cooking options. The Cuisinart TOA 65 offers convection, broiling, baking, grilling, reheating, defrosting, warming and so on. Although TOA 60 also has similar options but some options are missing in Cuisinart TOA 60 such as, Air Broiling, toast shade control, etc.
5) Weight
The TOA 65 is 20.3 lbs, while the TOA 60 is 21 lbs. The difference in weight has an impact on its portability, although both models are still fairly lightweight for their size. If you're planning to move your air fryer around a lot, it might be worth investing in the one that's lighter in weight.
6) Exterior
Both of these toaster ovens feature a stainless steel exterior, so they should both look great in your kitchen. Both also come with drip trays underneath so you can remove and clean or replace that tray for easy cleanup.
Related: Air fryers with stainless steel baskets
7) Timer
The Timer button on both devices works just like a kitchen timer: it'll alert you when your food is ready! You can set it to 60 minutes, 30 minutes, 15 minutes, or just one minute. Additionally, Toa 60 has analog timer settings, and its counterpart Toa 65 has digital timer settings.
8) Controls
The controls on both are quite simple, with an on/off switch, an indicator light to let you know if it's heating up or cooling down a knob. I haven't found either of them difficult to use at all.
9) Warranty
One of the most important features in any air fryer is its warranty. Cuisinart offers a 3-year warranty for both devices.
10) Power
In terms of power consumption. The Cuisinart TOA 65 vs TOA 60 both use 1800 watts of power to cook food.
11) Price
The price for Cuisinart toa 60 is $225. While the price for Cuisinart toa 65 is $250. That means if you want to save some money, choose Cuisinart toa 60 over Cuisinart toa 65.
Does Cuisinart toa 65 have an automatic timer?
The Cuisinart Toa-65 toaster oven has an automatic timer that allows you to set how long your food stays in the machine before it is cooked. The timer also turns off after the time has elapsed, so you do not have to worry about forgetting about your food and burning it.
How do you use Cuisinart toa 65?
When I first got my Cuisinart Toa-65 it was a bit confusing but now I am sure of how to use it and it is easy as 1-2-3! You can look at the manual of Cuisinart toa 65 and all the instructions are there on how to use.
You can also check out this video for more.
Can Cuisinart toa 60 and toa 65 dehydrate?
Cuisinart toa 65 can dehydrate the food for up to 72 hours straight. On contrary to that, Cuisinart toa 60 does not have the option for dehydrating food.
Final Thoughts:
In our comparison of these two air fryer toaster ovens, we've seen how they both have many qualities in common. They can both be used for Air frying, baking, or toasting a wide variety of foods. However, there are a few key differences between them that set them apart from one another.
Choosing one over another can be a hard decision to make. If you need a larger capacity device for cooking large meals for your family, you should prefer the Cuisinart TOA 65. However, TOA60 is preferable if you're looking to save some money.