If you're looking to buy an air fryer, there are plenty of choices available on the market today. The Ninja Dz201 air fryer is one of the most popular ones on the market right now, and we've put together this review to help you decide if it's the right air fryer for you.
What makes the Ninja unique from other fryers on the market? Is it worth your hard earned money? This article will help you determine if the Ninja Foodi dz201 air fryer will be worth your investment or not!
Ninja Foodi Dz201 Review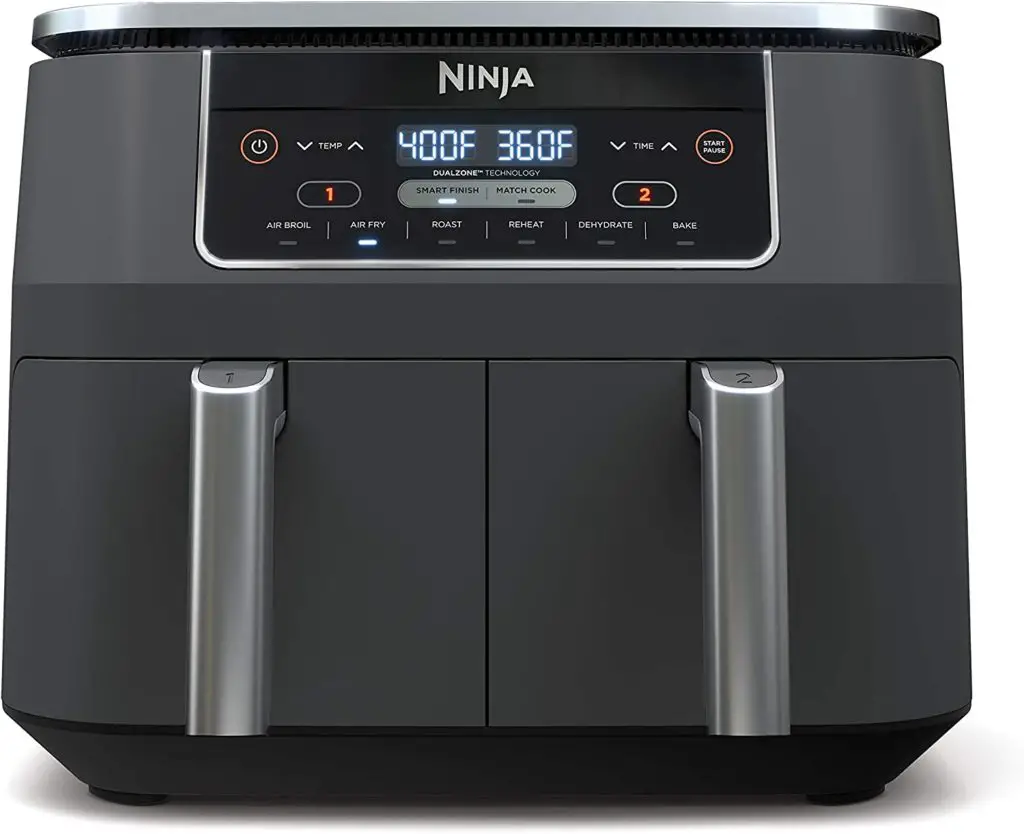 A culinary chameleon, the Ninja Foodi 2 Basket Air Fryer can cook just about anything you throw at it and do so quickly, efficiently, and without burning any food! This review will get the scoop on everything you need to know about this popular appliance so that you can decide if it's right for your home kitchen or not.
Here's what you need to know about this innovative appliance and its features.
Dual Zone Technology:
The dual zone technology featured in Ninja air fryer unit creates an exceptional cooking experience by allowing users to decide if they want their food fried or baked. The fry feature has a 400-degree temperature range, while baking can reach up to 450 degrees.
Match Cook and Smart Finish:
The Ninja Foodi dz201 air fryer has a spacious (15.6 x 13.9 x 12.4) cooking area that allows you to cook 4 lbs of French fries, 3 lbs of chicken wings or up to 6 servings of fish fillets at one time. It also features an innovative match cook technology with Smart Finish for effortless frying! Use Match Cook to find perfect doneness results every time by matching your food type with what is shown on-screen.
8 Quart Capacity:
One of my favorite things about my Ninja Foodi dz201 air fryer is that it has a capacity of 8 quarts. This is very spacious for all of your cooking needs. It's also very easy to clean due to its roomy size, so you don't have to worry about being overwhelmed with cleaning up when you are done with cooking your delicious meals.
6 in 1 Appliance: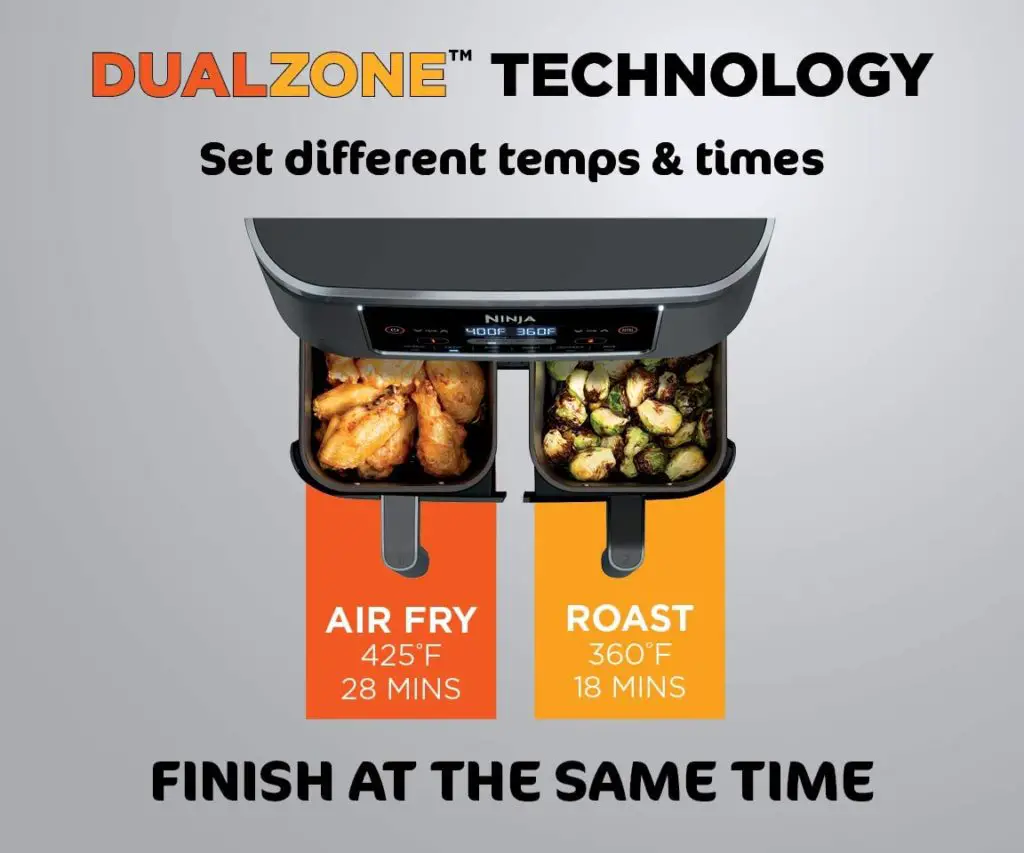 Ninja Dz201 is a 6 in 1 appliance that can air fry, broil, roast, reheat, bake and dehydrate. This appliance offers all of these functions and more. For those new to air frying, a few things you should know.
First, although it might be tempting to fill up your fryer with as much food as possible. It is best not to over-crowd your basket. Doing so will cause cooking times to increase and can result in overcooked or soggy foods. Each piece of food that you put into your fryer needs its own space for proper circulation during cooking.
Compact Size:
Its compact size allows you to store it in a cabinet when not in use. And its cord storage keeps your counter free of clutter.
Touch Control: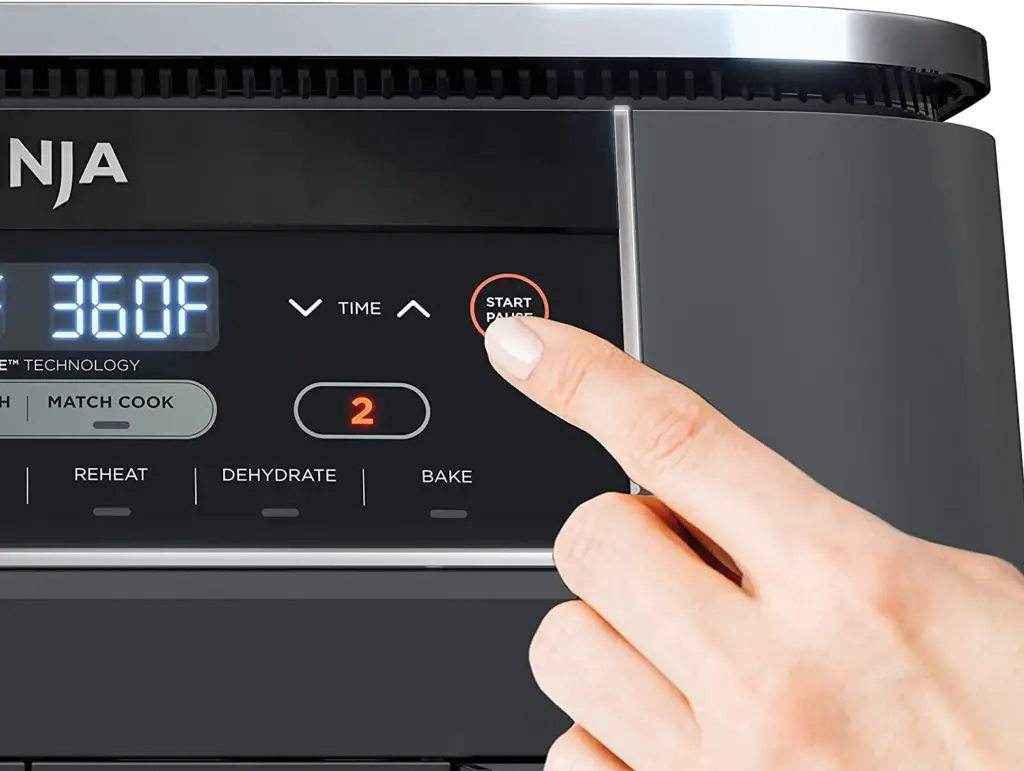 The touch controls on the front allow you to control your settings without having to move from where you are working in your kitchen.
Easy Clean Up:
The air fryer has a non-stick surface which makes clean up easy. It comes with a detailed instruction manual on how to use it safely and also includes some recipes that you can try out.
It is important that you read through these instructions before attempting to cook with it. You will need to know exactly how long each type of food should be cooked for as well as what temperature they should be cooked at. This ensures that your food is cooked evenly all over, without any parts being undercooked or burned.
Price:
The Ninja dz201 is a good starter fryer. It isn't overly expensive but it still has many of the features of higher end fryers. This fryer will work well for smaller families or for those who are new to air frying. While it doesn't have some of the more advanced features that its competitors have, it does all that you would need from an air fryer for a great price.
Ninja Air Fryer Dz201 Pros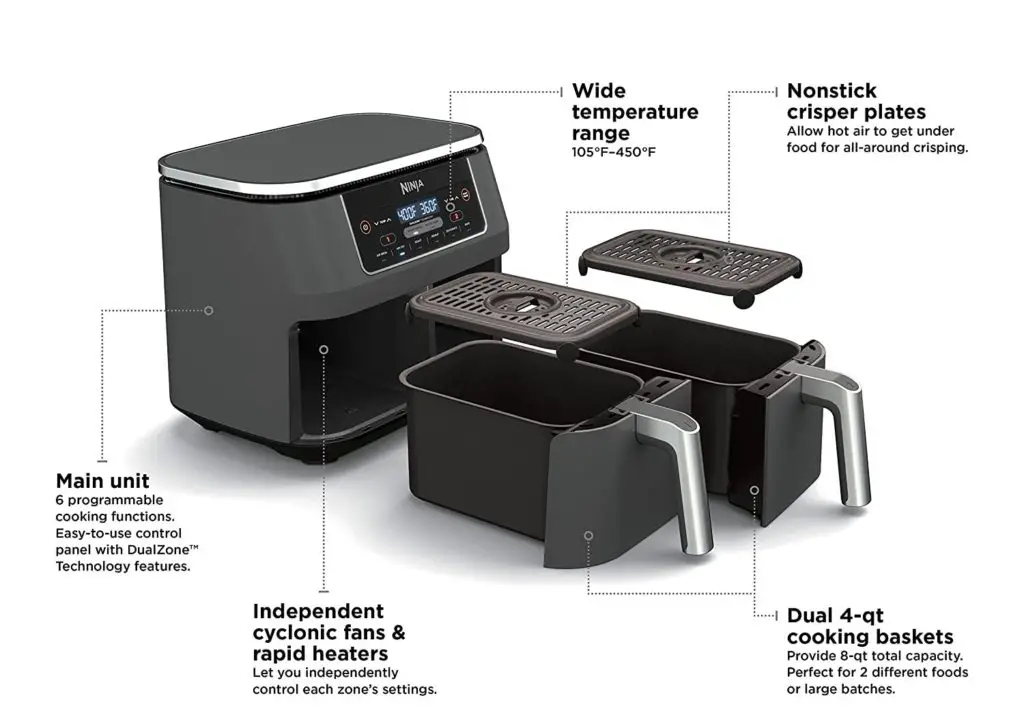 An air fryer is an essential kitchen gadget, especially if you're trying to lose weight or just want to maintain a healthy diet. Many chips and other fried snacks are high in fat and calories but by frying them in your Ninja air fryer you'll get similar taste with lower calories. Plus it uses little to no oil as compared to traditional frying methods.
Ninja Air Fryer Dz201 Cons
The Ninja Foodi dz201 review only mentions a handful of downsides, but I'll list them here for you. The biggest complaint seems to be that it's a bit too slow. The food takes a long time to cook – even with preheating – and has a longer cook time than other options on the market. Because of its size, many users don't find ninja to be as versatile as other air fryers.
Final Thoughts
The Ninja Foodi 2-Basket Air Fryer has many features that make it a convenient addition to any kitchen. It's still my go-to model to this day. It's easy to use, compact, fast, and it comes with enough attachments to make cooking any meal incredibly easy. It is a top-tier air fryer that's a little on the pricey side, but if you're going to invest in an air fryer it might as well be one of high quality. It looks great on your countertop and does an exceptional job preparing food that tastes as good as it would coming out of a deep-fryer.
No matter how many other bells and whistles a modern kitchen has. If it doesn't have a good quality air fryer, it's missing out on some truly fantastic cooking. With so many excellent features to offer, no one will regret adding Ninja dz201 air fryer to their countertop.