Air frying has become a popular cooking method due to its ability to fry foods with little to no oil, resulting in healthier and crispier meals.
However, not all air fryers are created equal, and it can be overwhelming to navigate the vast array of options available on the market. That's why we've put together a list of the best 2 quart air fryers that are sure to deliver delicious and nutritious meals every time. Whether you're cooking for one or a small family, these compact air fryers are perfect for saving space in the kitchen without compromising on taste.
So, let's dive into our top picks and find the perfect air fryer for you!
Use links below for easy navigation
Best 2 Quart Air Fryers – Our Top Picks
We've done the research and found the best 2 quart air fryers for any budget, from those under $50 to those over $100. All of these products are well-rated by customers and offer the best value to suit your needs.
Let's take a look at our top picks for Best 2 Quart Air Fryers.
Black Decker 2 Liter HF110SBD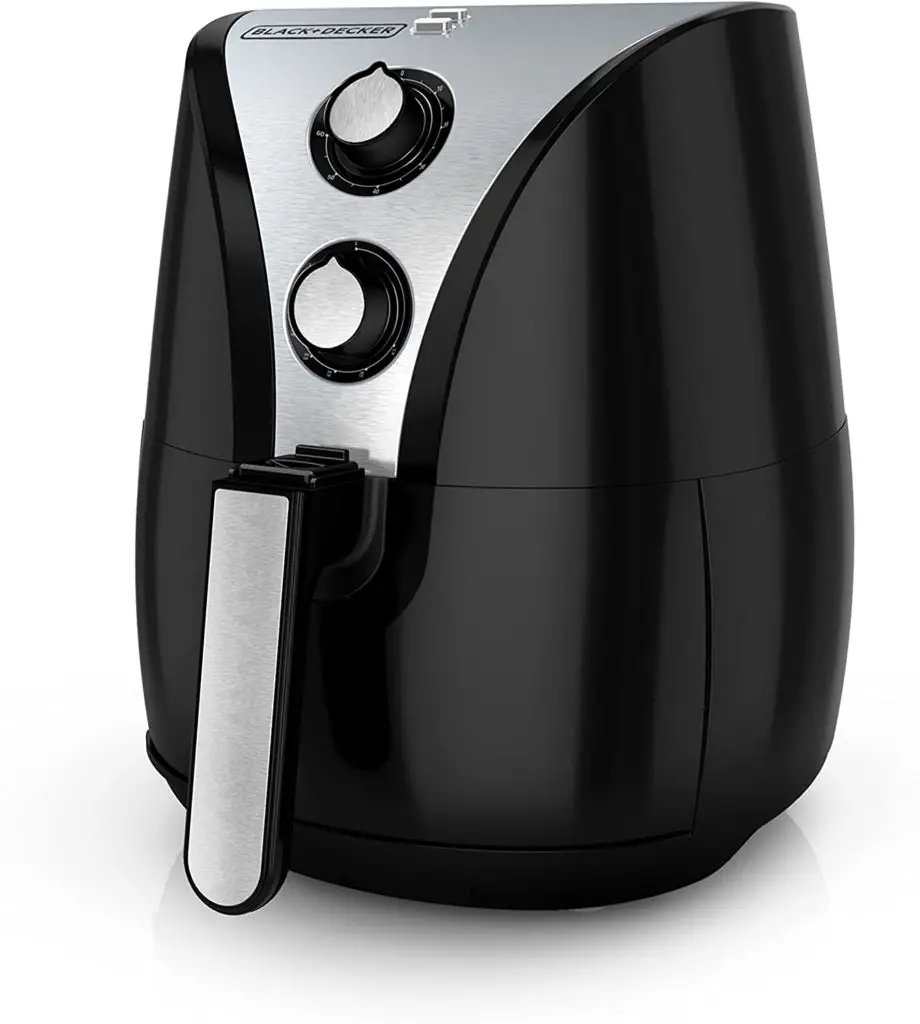 The BLACK+DECKER™ 2 liter Air Fryer makes innovative, delicious meals with up to 80% less fat than traditional frying. The 2-liter capacity allows you to prepare a meal for two people, so you can feel confident feeding your family a balanced meal.
The temperature control ranges from 175°F to 400°F and an indicator light lets you know when the temperature is reached, so you can stop worrying about burning the food.
Black Decker Air Fryer is an easy way to enjoy crispy fried foods without using excess oil. In addition to that, this air fryer's removable dishwasher-safe frying basket makes clean-up a breeze.
This two-quart air fryer also includes recipe cards to help get you started on delicious meals.
Pros
The removable, dishwasher-safe basket and basket separator allow for easy cleaning and storage for effortless food prep.
The device is compact and lightweight – perfect for small kitchens.
You can add in your favorite herbs and spices to create outstanding flavour combinations.
You can also use it to fry bacon or even chicken wings for an unusual treat.
Cons
It has analog dials.
The fan makes loud sounds.
GoWise 2 Quart Air Fryer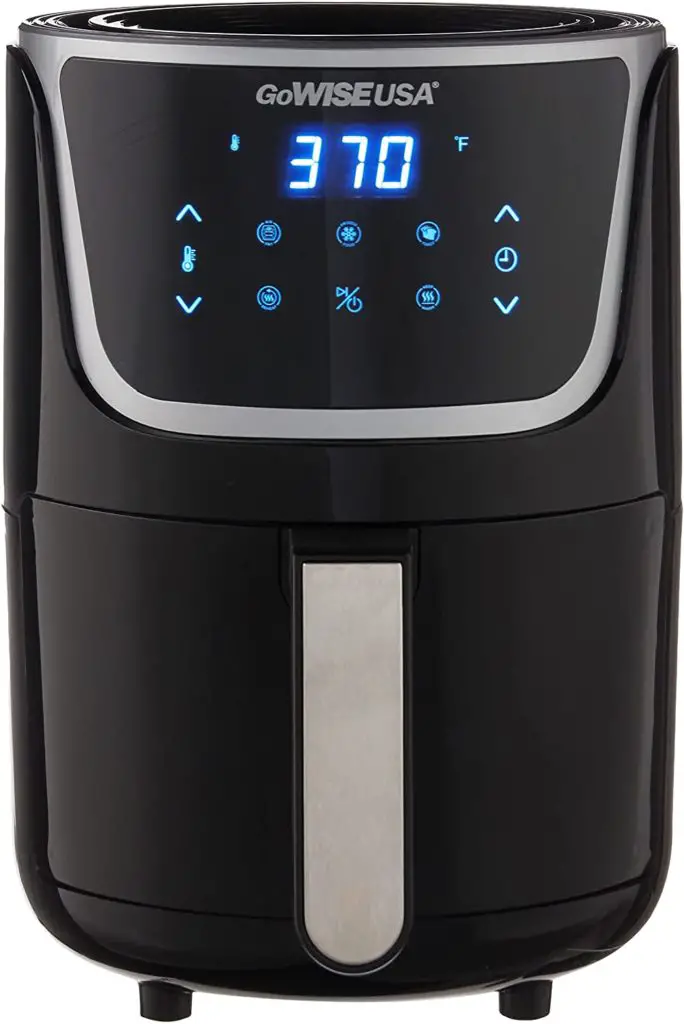 The GoWise USA 2-QUART AIR FRYER is a compact air fryer perfect for small kitchens or apartments. It comes with 5 preset buttons so you can enjoy your snack with the touch of a button. Moreover, it has an innovative design with a touchy screen panel to control the temperature. The temp ranges from 180F to 400F.
Although it's often found at a slightly lower price point than many of its competitors, it has a lot to offer in terms of versatility and convenience. You can use it to cook a variety of foods, including frozen French fries and wings, donuts, mozzarella sticks, pancakes, and more.
Check out our article on Best 10 Quart Air Fryer
Pros
You can easily get your guilt-free fried food at home.
The included recipe book will help you learn how to use your GoWise Air Fryer.
Comes with an easy-to-clean non-stick interior for easy cleaning.
The LCD display will provide full control to cook your food exactly the way you want it.
Perfect for small apartments or small food preparation areas.
Cons
Stops working after a few months.
Gives E1 Error after few uses.
Chefman 2 Quart Air Fryer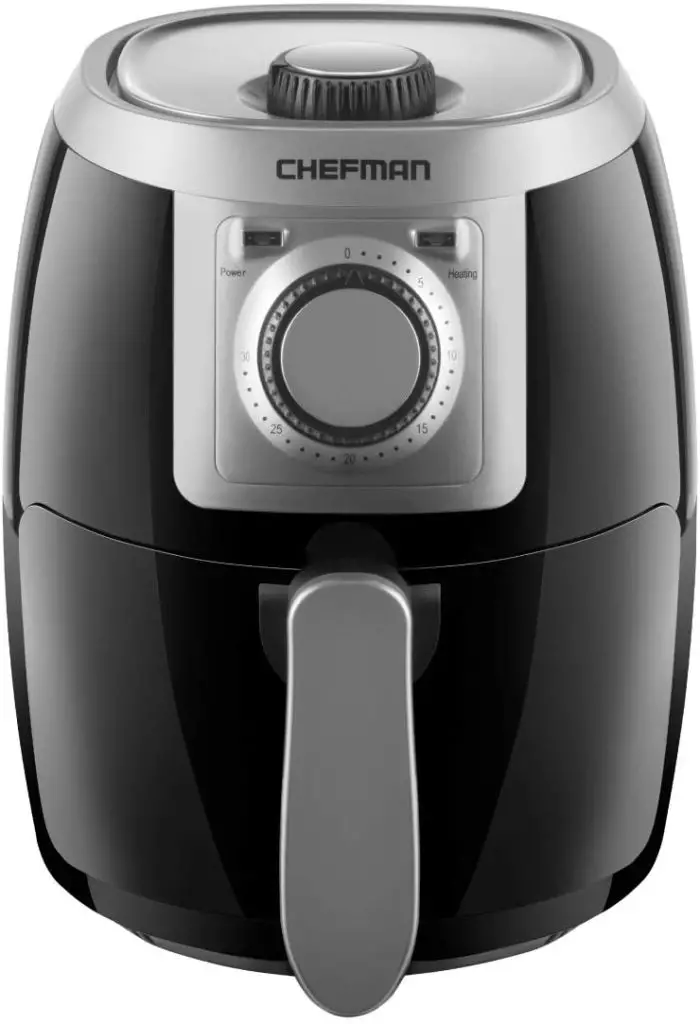 Chefman 2 quart air fryer is a simple and space-saving product to make your favorite recipes. It is powerful yet silent during operation with the lowest noise level of 31 dB. The Chefman air fryer has an adjustable temperature control dial that ranges from 200 ° F to 400 ° F which allows you to cook at your desired temperature.
The air fryer also has a built-in smart chip that maintains accurate temperature thus preventing overheating. Since it isn't huge, you can even take it with you on your travels, whether that be camping or business trips.
Related: Chefman Air Fryer Reviews
Pros
You can use it for Air frying chicken wings, popcorn shrimp, French fries, onion rings, chicken tenders, and more!
With a non-stick surface, detachable basket for easy filling and cleaning, and a cool-touch handle, you'll enjoy tasty dishes in no time at all.
Being lightweight in nature it will make your cooking experience efficient and fast.
Cons
No digital display.
Dash Compact 2 Quart Air Fryer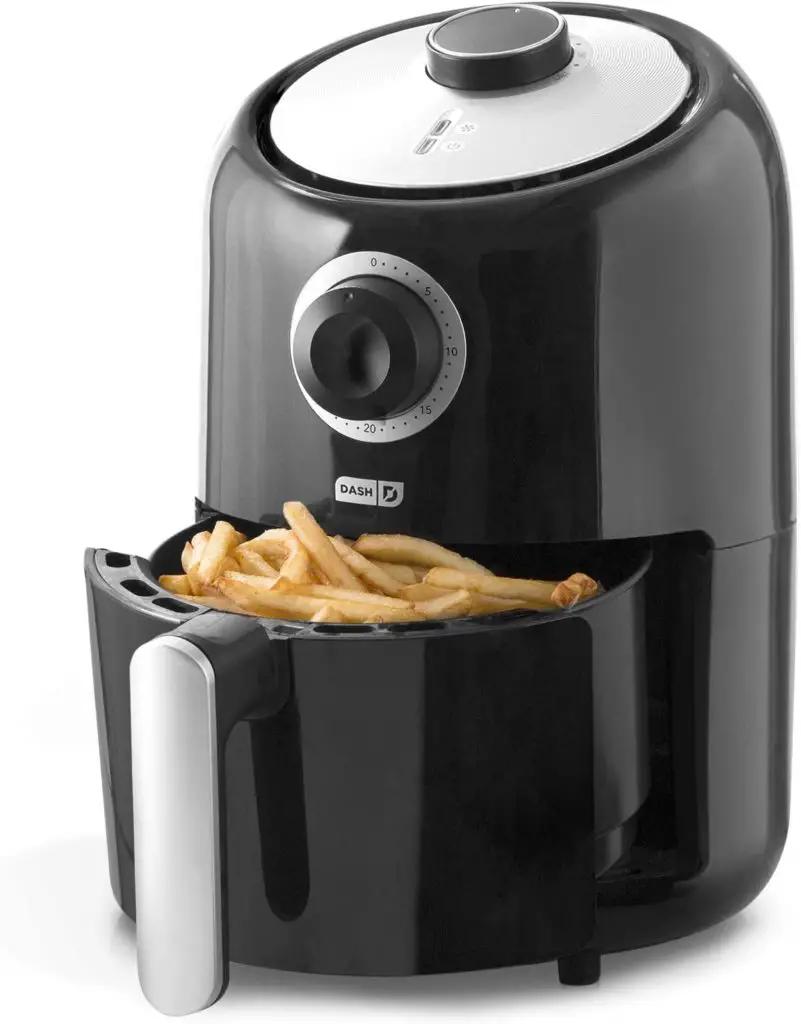 The Dash compact 2 quart air fryer uses AirCrisp technology to cook food, so you never have to heat up oil. It's easy to use and features auto-shutoff functionality, making it a secure and convenient way to cook your favorite foods. All you need is some fresh ingredients and some imagination.
The Dash Compact makes a perfect choice because it's affordable and efficient. With a price tag of only $50, it may seem like an inferior option compared to other models on our list—but don't judge a book by its cover! This fryer is made from premium materials and comes with excellent warranties.
Pros
The sleek design and compact space is perfect for any kitchen.
It can easily cook 12 chicken wings and 1 pound of French fries at once.
Compact design that'll fit any setting.
It comes with a recipe book to help you create your favorite fried foods from scratch.
Its compact design makes it easy to store in your kitchen.
Cons
Catches fire
Instant Vortex Mini 2 Quart Air Fryer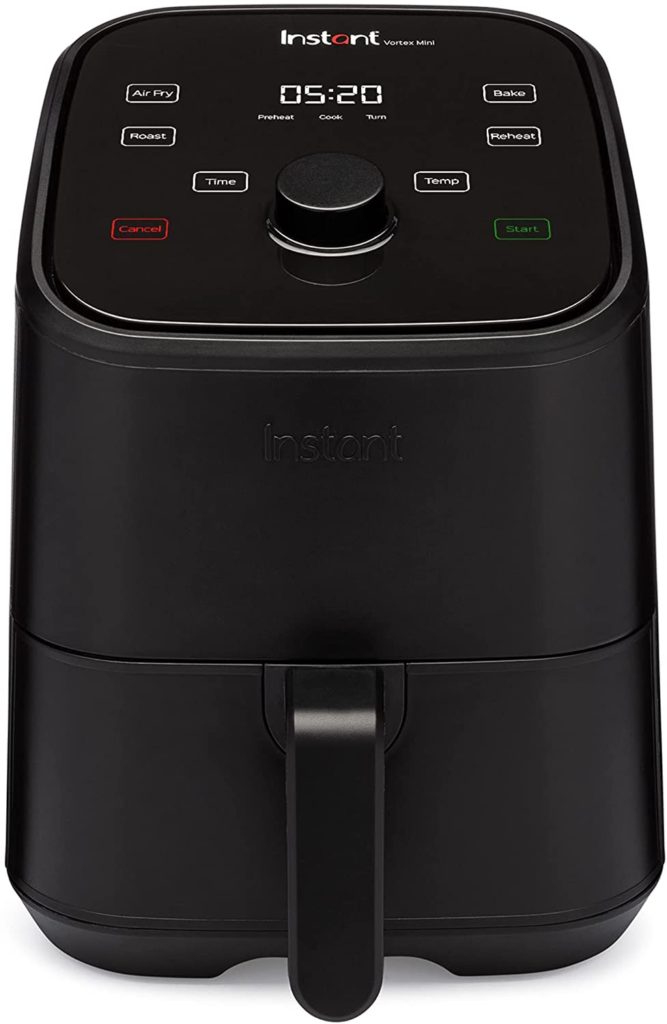 Instant Vortex 2 Quart air fryer is a versatile and multifunctional device that will revolutionize how you cook. Although compact and lightweight, the 2 Quart air fryer offers all of the cooking power and precision control that you could need.
For those of you who don't want to spend a lot of money on an air fryer, yet still want one that performs well, we recommend it. This product has a 2-quart capacity and comes with settings such as roast, toast, bake, and dehydrate. It heats up quickly and is very easy to use—perfect for newbies. We also like its nonstick coating, as it makes it easy to clean after use.
Pros
It has a 60-minute timer and dishwasher-safe accessories, so it's extremely easy to use and clean up.
The fan-forced convection makes delicious food with lots of flavors.
LCD digital display allows you to set the temperature and time easily.
Designed for smaller households and spaces.
Cook all your favorite food effortlessly with just the push of one button.
Cons
Its low capacity means you can only cook for one or two people at a time.
Final Thoughts
There are a lot of factors to consider when you're purchasing a new air fryer. Things like price, size, and whether or not it has preset functions can all affect your decision. Ultimately, what's most important is how well it works for you—whether that means multiple functions or just simple operations.
We at Kitchen Deets hope this article was helpful for you in selecting 2-quart air fryer.
We truly care about our user's satisfaction. If you couldn't find what you're looking for, please click here to let us know your needs and we will do our best to help you find the right 2 quart air fryer.